As is the case each and every season, each and every week, any omission below is not on purpose, it's merely intentional.
THUMBS UP
Bama bummer a boon for Buckeyes
Well, that escalated quickly.  With an Alabama-Florida State BCS title game tucked comfortably into the vast majority of people's minds, Auburn done went and did that damn thing: a stunning 100-yard return of a missed field goal with no time left on the clock to send Alabama to its first loss and very likely ending the SEC's streak of seven straight BCS titles.  And, at the same moment, sending the entire state of Ohio — and the bus carrying the Buckeyes back home — into a mix of stunned joy and utter elation.  Suddenly, Ohio State sits firmly in the driver's seat for one of the two spots in the BCS title, with only Michigan State in the Big Ten championship game standing between the Buckeyes and a trip to the Rose Bowl Jan. 7.
Let's also get this straight while we're here: a one-loss SEC champion Auburn/Missouri will not leapfrog an unbeaten Big Ten champion Ohio State.  They shouldn't, and they won't.  It's simply not going to happen, so that little meme — which is already being pushed by one SEC athletic director — needs to be nipped in the bud before it gains any type of serious traction.  Yes, it's quite possible Auburn/Missouri could jump past not only Ohio State but Florida State as well in the computer composite with a win next weekend; no, they won't jump either in the two human polls that make up the other two-thirds of the BCS rankings.  To put it in a historical context, no undefeated automatic-qualifying conference team has been ranked behind a one-loss team in the final rankings in the 15-year history of the BCS.
Boiled down?  If Ohio State and Florida State handle their respective conference business next weekend, it will be a Buckeyes-Seminoles BCS title game.  If one or both stumbles?  Some combination of Auburn, Missouri, Oklahoma State, Baylor, Michigan State and, yes, Alabama, could be right back in the mix.  The title-game scenario has the opportunity to be relatively simple and very straightforward… or turn into utter chaos once again.
As for the rest of the BCS bowl games, they are shaping up to look as follows if it's an OSU-FSU title game:
Rose Bowl: Stanford/Arizona State vs. Michigan State
Orange Bowl: Clemson vs. Alabama
Sugar Bowl: Auburn/Missouri vs. UCF
Oklahoma State/Baylor/Texas vs. Northern Illinois
Obviously, that's a very tentative look at how the BCS will look, depending on how next weekend plays out.  Still, it gives you a fairly solid idea of which direction the major bowls appear to be headed.
Exiting Week 14, the second-to-last BCS rankings that are released Sunday night should look as follows: No. 1 Florida State, No. 2 Ohio State, No. 3 Auburn, No. 4 Alabama, No. 5 Alabama.  Exiting Week 15?  Based on the past couple of weeks, who the hell knows.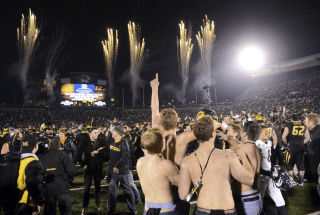 See ya in the ATL
In the SEC preseason media poll, Auburn was predicted to finish fifth in the West, Missouri sixth in the East — with some Nostradumbass picking each of them to finish dead last.  Absolutely no one picked either team, which combined for two league wins in 2012, to win the conference championship.  Four months and eight league games later?  Auburn and Missouri will meet in the SEC championship game next Saturday in Atlanta.  The West Tigers, of course, earned their trip to the Georgia Dome with the stunning upset of top-ranked Alabama.  The East Tigers wrapped up its first division title in just its second year in the conference with a win over Texas A&M Saturday night.  Mizzou needed the win as a loss would've dropped them into a tie with South Carolina, sending the Gamecocks to Atlanta based on the head-to-head tiebreaker.
All hail the feel-good Dukes
Yes, a beatdown is very likely in order six days from now, but don't let that impact the way you view what's transpiring on Tobacco Road this season.  With a thrilling two-point win over in-state rival North Carolina, Duke clinched its first-ever ACC Coastal crown and will face mighty Florida State in the conference championship game.  Can Cinderella trade its glass slipper for David's slingshot and slay Goliath?  Highly doubtful.  Then again, no one thought the Blue Devils would post the first 10-win season in school history, then get the opportunity to claim its first conference championship since 1989 and its first outright title since 1962.
Big 12 still up for grabs
With wins by Texas (over Texas Tech) and Baylor (over TCU) in Week 14, the chase for the Big 12 championship will, much to the delight of the league office, come down to the final weekend.  If Oklahoma State beats Oklahoma in Bedlam next Saturday, the Cowboys will win the conference and earn the league's automatic BCS bid.  However, if OU upsets OSU, the winner of the Baylor-Texas game — in Waco — would get the trip to the desert for the Fiesta Bowl and face an at-large team, very likely Northern Illinois if the Huskies win the MAC championship next week.
Ding, dong the streak is dead!
Which old streak?  The wicked streak!  Since playing in the Conference USA title game following the 2011 season and winning its bowl game, Southern Miss had gone winless and were carrying a 23-game albatross around its neck.  In its regular-season finale, however, the streak was snapped — and in resounding fashion, no less.  The Golden Eagles' 62-27 thumping of UAB Saturday was the program's first since the Dec. 24 Hawaii Bowl.  They had scored 68 points in their previous five games combined.  With Southern Miss' win, Georgia State and Miami of Ohio now have the onus of carrying the nation's longest losing streaks at 16 straight.
No WAC, no problem
Suffice to say, it's been a very successful first season for Utah State in its new league digs.  Moving from the now-defunct WAC to the Mountain West, the Aggies claimed the Mountain division title with its 35-7 win over Wyoming.  The win moved USU to 7-1 in conference play and one game ahead of 6-2 Boise State, which handed the Aggies their lone league loss earlier this year.  Not only did USU win a division in its first season in the MWC, it did so after losing head coach Gary Andersen to Wisconsin last offseason and handing the reins to first-time head coach Matt Wells.  Wells & Company will now face Fresno State in the inaugural MWC title game.
Rice a main C-USA dish

Marshall clinched a spot in the Conference USA championship game Friday night.  Saturday night, another surprise team did the same.  Courtesy of its 17-13 win over Tulane, Rice clinched the West division and will face the Herd in the conference title game next weekend.  It's the Owls first-ever division title, putting them in line to capture its first outright championship since 1957 in the old SWC.  Where the Owls-Herd game will take place will be determined by whichever team is ranked higher in tonight's BCS standings.  Last Sunday, Rice was 55th while Marshall was 65th.
Case-stating continues
If Jordan Lynch is going to be snubbed for an invitation to New York City let alone the actual trophy, he's going down fighting statistically.  In Tuesday night's romp over Western Michigan, the Northern Illinois quarterback rushed for a season-high 321 yards to help keep the Huskies undefeated and in line for an at-large BCS berth.  The performance broke the record for most rushing yards in a single game by an FBS quarterback… set by Lynch himself Oct. 19 against Central Michigan.  People will point to a pitiful passing performance — 5-17 for 39 yards — and use it as anti-Heisman ammunition but will miss the greater point: Lynch is one of the most outstanding football players at this level in 2013 and should be recognized with, at bare minimum, a mid-December vacation in the Big Apple.

THUMBS DOWN
College football fans
Sadly, the time has come.  Week 14 of the 2013 season marks the last full (extended) weekend of the 2013 season.  Yes, next week there will be a handful of conference championship games and regular-season-finales (seven of them) for teams whose leagues don't hold title games.  And then the iconic Army-Navy game the following weekend.  But, for the most part, the 2013 regular season for college football has come to an end.  And that makes me sad.  Very, very, very sad.  Pouring one out for you, 2013 college football regular season.  We'll miss you, bro.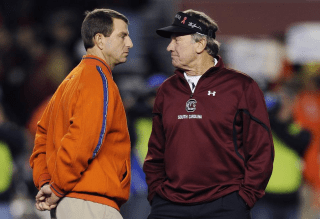 Property of The OBC
For whatever reason, Steve Spurrier has had Dabo Swinney's number the past few years.  Saturday night showed that nothing's changed.  On a warm night at Williams-Brice Stadium, South Carolina pulled away from Clemson with a pair of fourth-quarter touchdowns to secure a 31-17 win.  It was the fifth straight win in the in-state series for the Gamecocks, with all five wins coming by at least 11 points.  Until Swinney can figure out Spurrier — and Jimbo Fisher for that matter — Clemson will be nothing more than a nice, entertaining little football team.
B1G perception swing
The Big Ten in general and Ohio State specifically could ill afford to have one of its heavyweights stumble at the end of the season, even with Alabama's season going down in flames.  In Madison Saturday evening, that's exactly what happened.  Inexplicably, UW dropped a 31-24 decision to a Penn State team that came into the game under .500 in conference play and was a 20-plus-point underdog.  The Badgers entered Week 14 averaging 297.8 yards per game on the ground and 6.8 yards a carry; against an inspired Nittany Lions defense, the numbers were just 121 and four.  Any shot the Badgers had of overcoming the early-season Screwing in the Desert and earning an at-large BCS bid officially ended with the baffling defeat.
Andre 2000 malfunctions
This is actually kind of a sad story.  Just last week, Boston College's Andre Williams dove headfirst into the Heisman mix thanks to the combination of his FBS-leading rushing stats and a handful of contenders dropping like flies.  Unfortunately, it appears the running back's time in the stiff-armed limelight was very brief.  Williams was sidelined with an injury in the third quarter of BC's game against Syracuse and did not return, finishing with just 29 yards on nine carries.  Prior to the injury, Williams became just the ninth back in FBS history to eclipse the 2,100-yard mark.
TOP 25 TOO-CLOSE-FOR-COMFORT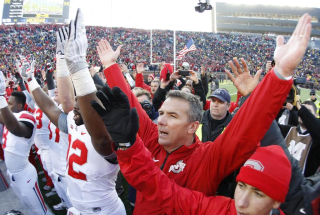 How ranked teams endured close shaves vs. unranked opponents
— No. 3 Ohio State 42, Michigan 41: It took an intercepted two-point attempt with less than a minute remaining, but the Buckeyes were able to extend its nation's best winning streak to 24 straight.  The one-point margin of victory was the closest in The Game since a 13-13 tie in 1992.
— No. 9 Baylor 41, TCU 38: The Bears, looking to bounce back from its first loss of the season, appeared comfortably ahead after taking a 34-17 lead early in the third quarter.  The Horned Frogs, though, pulled to within three early in the fourth quarter but could get no closer thanks to three three-an-outs and an interception in the final 14 minutes.
— No. 11 Michigan State 14, Minnesota 3: The Gophers only made it past midfield on five of their 13 drives, with just three of those going deeper than the Spartans' 40-yard line.  MSU, though, could never really deliver a knockout blow offensively, ostensibly keeping the Gophers in the game until the very end.
— No. 12 Oregon 36, Oregon State 35: The 117th edition of the Civil War turned into an unexpected thriller, with the Ducks scoring on a 12-yard touchdown pass with just :29 left and, following a two-point conversion, securing its 10th win of the season.  UO has now won at least 10 games in a season for six straight years, doing so under three different coaches.
— No. 15 LSU 31, Arkansas 27: It took a 99-yard drive and a last-minute score — and came at the expense of its starting quarterback — but the Tigers were able to fend off the conference-winless Razorbacks and put themselves in position for a prime, non-BCS bowl.
— No. 19 UCF 23, USF 20: Five turnovers would be enough to doom most teams, even against a two-win squad.    In late-fourth-quarter fashion, it didn't end up costing UCF as the Knights clinched both at least a share of the first-ever AAC title and remains in line to claim the conference's automatic BCS bid in a 23-20 win over USF.
— No. 24 Duke 27, North Carolina 25: Yep, the clock has yet to strike midnight on Duke's stunning Cinderella season.  I don't really have much else to add, other than this is such a great story for the football program in general and head coach David Cutcliffe specifically.  And, speaking of Cutcliffe, he will get my Coach of the Year vote for any and all of those awards in which I have a ballot.
CFT TOP FIVE
A snapshot look at how my ballot would look Sunday if I, ya know, had a real vote instead of a measly and meaningless preseason poll.
1. Florida State — The final body count from the past seven games: Seminoles 439, Opponents 72.  They've won every game this season by an average score of 53-10, with their "closest" call being a 48-34 win over Boston College on the road back in Week 5.  They have not scored less than 41 points in any game, and have allowed more than 17 points just once.  The Seminoles are easily the best team in college football heading into the postseason… and it may not matter who the 'Noles face in Pasadena Jan. 6. (Last week: No. 1)
Next up: vs. No. 24 Duke in ACC championship game
2. Ohio State — Regardless of how the media and fans of other programs want to portray them, the Buckeyes are a very good football team.  Not FSU good, but damn good nonetheless.  Of course, the level of play again in the Big Ten along with Luke Fickell's defense — that porous unit would serve as their Waterloo if they earn a spot in the BCS title game — does them no favors perception-wise. (Last week: No. 3)
Next up: vs. No. 11 Michigan State in Big Ten championship game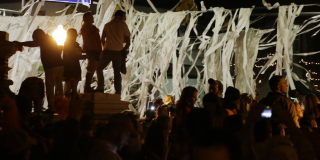 3. Auburn — When it happens two weeks in a row, does it cease being the impossible?  Whatever the case, it was Team Destiny 34, Team Dynasty 28 as the Tigers put themselves in a position to, if they can win the SEC championship, get back to the BCS title game for the first time since 2010.  Coming off a three-win season that included a big doughnut in SEC play, that is simply staggering.  And, if it weren't for what David Cutcliffe is doing at Duke, Gus Malzahn would easily be my choice as Coach of the Year. (Last week: unranked)
Next up: vs. No. in SEC championship game
4. Alabama — The loss and the way they lost certainly stings, but the Tide is still one of the best teams in the country.  Sometimes, there's just no process, even one that's won three of the last four BCS championships, that can compete with destiny. (Last week: No. 1)
Next up: regular season complete
5. Missouri — The Tigers clinch their  first SEC title game appearance in just its second season in the conference… and promptly drop one spot in my personal rankings.  Sorry about that, Mizzou. (Last week: No. 4)
Next up: vs. No. 4 Auburn in SEC championship game
(Dropped out: No. 5 Oklahoma State)
MY HEISMAN BALLOT
If I actually had a Heisman vote, this is what my ballot would look like if it were submitted after Week 14:
1. Jameis Winston, quarterback, Florida State
2. Aaron Donald, defensive tackle, Pittsburgh
3. Jordan Lynch, quarterback, Northern Illinois
(If Donald doesn't get an invitation to New York City after the season he's had and with all of the individual tumult, I'm going to throw a hissy fit.  That's all I'm sayin'.)
HE SAID IT
"If they wanna fire me, go ahead." — Nebraska head coach Bo Pelini, shortly after an embarrassing loss to Iowa and a day before a very public vote of confidence from his boss.
HE SAID IT, THE SEQUEL
"First time I ever lost a game that way. First time I have ever seen a game lost that way." — Alabama's Nick Saban after watching Auburn return a missed field goal 100 yards with no time on the clock in the most amazing and improbable ending in the storied history of the Iron Bowl rivalry.
HE SAID IT, THE THREEQUEL
"They don't play well when they play us." — Steve Spurrier after South Carolina beat Clemson for the fifth straight season.
SCREEN SNAP OF THE DAY
They say a picture is worth a thousand words.  Never has that saying been more appropriate than here, with an Alabama fan reacting to his team's stunning loss to Auburn:
Yep. That pretty much describes that ending to perfection.
VIDEOS OF THE DAY
When it comes to marching bands, and alongside TBDBITL, it doesn't get much better than the ones hailing from Grambling State and Southern.  In the annual Bayou Classic (on NBC), the two bands, as expected put on a show.  Here are clips from both performances, beginning with Grambling:

SAY WHAT?
From the fine folks in the Michigan State sports information department: with the 14-3 win over Minnesota, the Spartans became the first undefeated Big Ten team to win all of its league games by double-figure points since Michigan in 1943 (6-0 record).  The win against the Gophers served as the Spartans' closest call in B1G play.  Both MSU and Ohio State finished 8-0 in the conference, the first time since 2002 and just the second time since 1943 that two Big Ten teams finished with perfect marks.
TRUE STORY
Thanks to losses by Alabama and Fresno State, just three teams will end the regular season at a perfect 12-0: Florida State, Northern Illinois and Ohio State.  All three will play in their respective conference championship games this coming week.  On the flip side, wins by Hawaii and Southern Miss leaves two winless squads: Georgia State and Miami of Ohio.  Neither of those teams has won a game since October of last year.

FOR STATISTICAL PURPOSES ONLY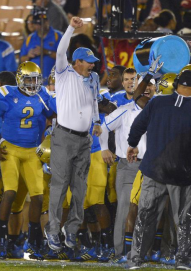 — From UCLA football: UCLA's 21-point margin of victory is the largest by the Bruins against USC in the all-time series at the L.A. Coliseum.  They've also won at least nine games in back-to-back seasons for the first time since 1997-98.
— In five games with Lane Kiffin as head coach, Javorius Allen ran the ball 14 times for 78 yards and no touchdowns and no receptions.  In the seven games since Kiffin's dismissal, the sophomore has ran for 621 yards and 12 touchdowns, while he's caught 18 passes for 219 yards and a touchdown.
— With eight receptions for 125 yards in a win over Wake Forest, Vanderbilt's Jordan Matthews now has an SEC-leading 107 receptions for 1,334 yards on the season.
— Over the past two seasons, Clemson is 0-4 versus Florida State and South Carolina and 21-0 against every other team they've faced.
— Stanford ran for 261 yards while holding Notre Dame to just 64 in the Cardinal's 27-20 win.  189 of Stanford's rushing yards came on a career night from Tyler Gaffney.
— Boise State's eight wins in the regular season are its fewest since it went 8-4 during a bowl-less 2001 season, its first year under Dan Hawkins.  Since then, the Broncos had 10 seasons of 10 or more wins, including a streak of seven straight double-digit wins that was snapped in 2013.
— Arizona running back Ka'Deem Carey ran for 157 yards in the Wildcats' rivalry game loss to Arizona State.
— Trevor Siemian threw for 414 yards and four touchdowns to lead Northwestern past Illinois 37-34, the Wildcats' first Big Ten win of the season.
— Marquise Williams rushed for a career-high 104 yards in North Carolina's loss to Duke, becoming the first Tar Heel quarterback to rush for 100-plus yards since Darian Durant had 110 vs. Clemson in 2003.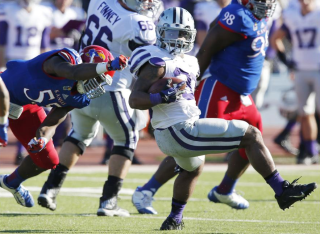 — John Hubert ran for a career-high 220 yards as Kansas State dropped Kansas 31-10 in the Sunflower Showdown.
— Indiana claimed the Old Oaken Bucket for the first time in three years, in large part due to Tre Robinson's six touchdown passes in the win over Purdue.
— North Texas' Brandin Byrd ran for 251 yards and three touchdowns in a 42-10 win over Tulsa.
— Quarterback Nick Mullens passed for 370 yards and five touchdowns as Southern Miss snapped its 23-game losing streak, with his 24 completions spread out to eight different receivers.
— Garrett Grayson passed for 395 yards and three touchdowns as Colorado State whipped Air Force 58-13.
— Speaking of Air Force, the Falcons ended the 2013 season at 2-10, the military academy's worst showing since going 2-9-1 in 1980.
— South Alabama wide receiver Shavarez Smith set a school game record with 194 yards receiving in the win over Georgia State.
— Vanderbilt has won 23 games the past three seasons under James Franklin.  Prior to Franklin's' arrival, the Commodores had 25 games in the previous six seasons.  Vandy won eight games in back-to-back seasons for the first time in 85 years.
— Wide receiver Stacy Coley caught two touchdown passes and ran for another  — a 73-yarder — as Miami closed out its first nine-win season since 2008 and just its second since 2005.  The Hurricanes can reach double-digit wins for the first time since 2003 with a bowl victory.
— Oregon wide receiver Josh Huff caught nine passes for 186 yards and three touchdowns in the Ducks' last-minute win over Oregon State.  The former two totals represent career highs for the senior, while the latter tied a career-high set against USC in November of last year.  It was Huff's seventh career 100-yard game, five of which have come this season.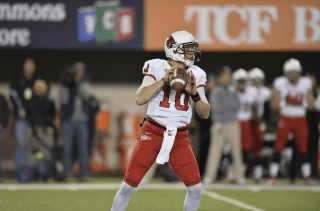 — Ball State's Keith Wenning passed for 445 yards and six touchdowns as Ball State blew out winless Miami of Ohio 55-14.  Three RedHawk receivers caught passes for more than 100 yards each.
— In the win over rival Eastern Michigan, Central Michigan running back Zurlon Tipton rushed for 216 yards and four touchdowns.  And, yes, part of the reason this little note is in here was so I could type the name "Zurlon Tipton."
— In its first season under Bret Bielema, Arkansas has not only gone winless in SEC play for the first time since joining the conference in 1992 but for the first time ever in any league in which its been a member.
— At the time of Carl Pelini's "resignation," FAU was 2-6; since then the Panthers have gone 4-0 and become bowl-eligible for the first time since 2008.
— For the first time since October of 2004, a span of 113 games, SMU was whitewashed in its 34-0 loss to Houston.  The dismal showing not only cost the Mustangs bowl eligibility but also did nothing to the ever-increasing warmth of June Jones' coaching seat.
— In its second season under Terry Bowden, Akron won five games in a single season for the first time since 2008.
— With 49 yards in Northern Illinois' win over Western Michigan, Cameron Stingily joined Jordan Lynch as a 1,000-yard rusher this season.  It marks the first time in that football program's history they've had two players crack that barrier the same year.