Hey, if a bulldog puppy can take the place of a baseball cap for a National Signing Day announcement, why not a live version of a non-human mascot?
At his press conference Wednesday morning, four-star Solomon Thomas was expected to pick between a trio of schools: Arkansas, Stanford and UCLA.  In making his announcement, Thomas did just what you'd expect: he pulled a tree out from under the table at which he was sitting to confirm that he will indeed be signing with the Cardinal.
Not only that, the Coppell, Tex., high schooler put on a pair of taped-up nerd glasses for which the Stanford football team has become famous.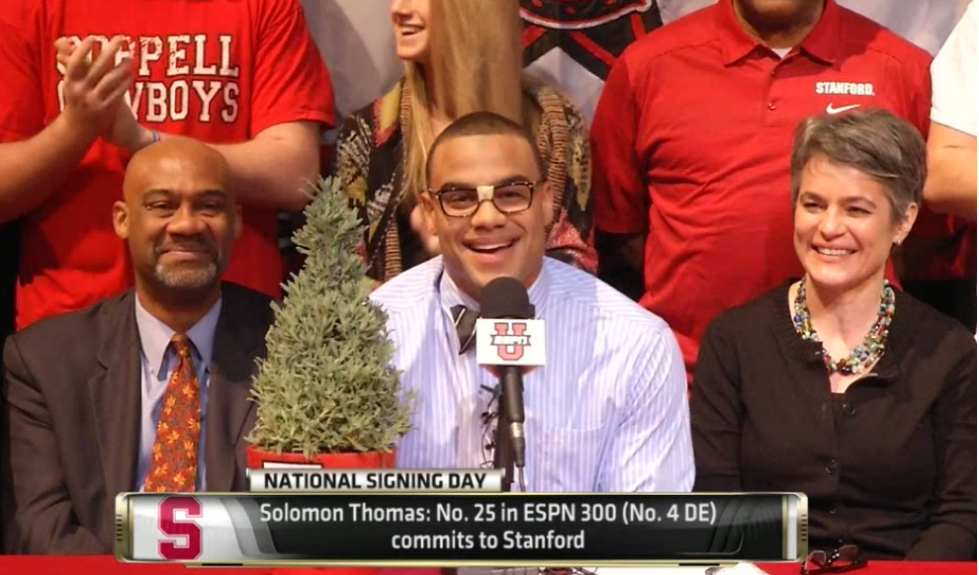 (Photo credit: @ESPNCFB)
The clever theatrics aside, Thomas is a significant get for the Cardinal.  A Rivals.com four-star recruit, Thomas is rated as the No. 3 end in the country and the No. 4 player in the talent-rich state of Texas.  He's rated as the No. 37 player at any position in the nation.