And the obscenely rich just keep getting richer.
Just a couple of days after the Alabama and Auburn coaching staffs attended his grandfather's 80th birthday party, Rashaan Evans announced, in what was a surprising move to most recruiting observers, that he would be signing with the Tide.
How surprising was the player's decision?  Prior to Evans' announcement, Auburn had posted the linebacker's bio (H/T: Martin Rickman) on its official website: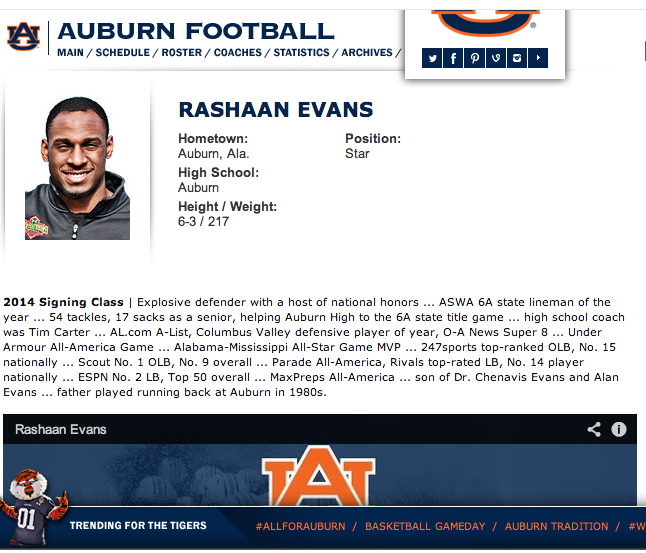 (In fairness, the bio was likely accidentally sent live, but still.)
Evans, the No. 1 outside linebacker in the country who attended Auburn High School, also had UCLA among his finalists.
In signing Evans, Alabama has now landed six five-star players as part of its 2014 recruiting class.  Rivals.com had just 33 players rated as five-star recruits heading into National Signing Day.
Barring something completely unexpected, the Tide will have the No. 1 recruiting class in the country for the fourth straight year and the sixth time in the last seven.  The lone exception was 2010, with USC pulling in the No. 1 class.  That year, Alabama was "just" No. 5.
UPDATED 12:21 p.m. ET: Here's Auburn's explanation, courtesy of the Sports Information Department, as to the profile imbroglio.