A sad week for the Miami Hurricanes football family turned devastating Wednesday with word that a recent member of the football program has passed away.
School officials confirmed late last night that JoJo Nicolas died earlier in the day from injuries he suffered in a car accident Tuesday morning.  According to news accounts, Nicolas, who had remained in critical condition since the accident, was pronounced dead at approximately 5 p.m. ET.
He was just 24 years old.
"The University of Miami community has suffered a deep loss, with the passing of JoJo Nicolas," head coach Al Golden said in a statement. "For all of us who were fortunate to know JoJo–to coach him, teach him, play alongside him or simply to befriend him–we will forever carry his memory with us.  Our prayers go out to his family and his loved ones, and he will always be a cherished member of our family."
The accident occurred around 5 a.m. local time in Miami when the vehicle in which Nicolas was driving slammed into the rear end of a refrigerated tractor-trailer, which was stopped at a red light.  The accident remains under investigation, with the Miami Herald writing that "[i]t was still not clear what led to the crash, but detectives were looking into whether speed, alcohol, texting or any other factors played a role."
This photo from the Herald shows the devastating aftermath of the wreck: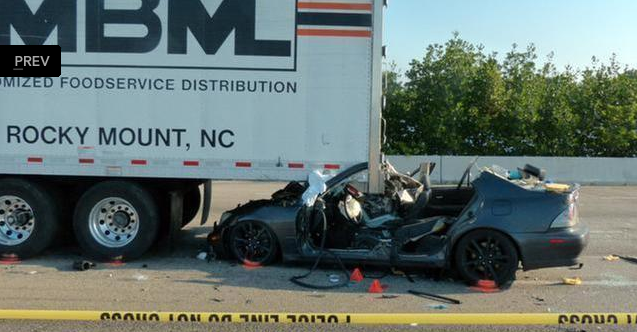 Nicolas played defensive back for the Hurricanes from 2007-11.  Condolences to all impacted by the tragedy.