Russell Wilson may not have finished his playing career at North Carolina State, but there are apparently no hard feelings between the two sides.
NCSU announced via a press release that the reigning Super Bowl-winning quarterback, along with former defensive standout Mario Williams, will have their respective jerseys — No. 16 for the former, No. 9 for the latter — honored to commemorate their Wolfpack playing careers.  The release stated that the jersey numbers "will continue to be worn by standout Wolfpack players."  However, "[i]n the future, any player designated by the head coach to wear those numbers will also wear a patch honoring Wilson or Williams."
Wilson will have his jersey honored during the April 12 spring game.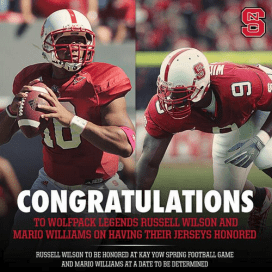 "This is truly an amazing honor and I am looking forward to being back in Raleigh and Carter-Finley Stadium," Wilson said in a statement. "My experience at NC State was an amazing one playing football and baseball but also accomplishing my goal of graduating in three years. My memories of playing as the quarterback for the Wolfpack are never-ending and the roar of the Wolfpack Nation still rings in my ear from memorable wins against FSU and UNC!
"I learned the value of great leadership, ultimate sacrifice, and the relentless belief that hard work pays off. I am grateful for all of my amazing teammates and players past, present, and future. I can still taste and sense the blood, sweat, and tears we all sacrificed to be successful."
While Wilson began his career at NCSU as an All-ACC performer, he finished it at Wisconsin after transferring to the Badgers in July of 2011 for his final season of collegiate eligibility.  Prior to that transfer, some type of "situation" between Wilson and then-head coach Tom O'Brien over baseball had developed, leading to the school granting Wilson a release from his scholarship in April of 2011.
Williams was a first-team All-American and two-time All-ACC player for the Wolfpack, parlaying that outstanding playing career into the overall No. 1 pick in the 2006 NFL draft.  He was the first — and still only — player from the ACC to claim that honor.
Williams' jersey will be honored at a to-be-determined regular season home game.
"These two players had outstanding careers for the Wolfpack and have gone on to do great things in the National Football League," said head coach Dave Doeren.  "We, along with our passionate Wolfpack fans, are so proud of them and their accomplishments and wanted to permanently honor them by adding their names to the State greats on display inside Carter-Finley Stadium.
"The recognition patch is an even more visible way to honor their contributions, because every time a player wearing those numbers steps on the field, he will carry their name on his uniform."