A riot-like disturbance on the Iowa State campus late Tuesday night appears to have a connection to the Cyclones football program.
In the midst of the annual VEISHA tradition (click HERE for an explanation of the acronym), the Ames Tribune wrote, "[m]ore than 1,000 students gathered in Campustown as cars were flipped, street signs were taken and light poles were broken."  Three people were arrested by Ames Police, while one student was hospitalized in serious condition in ICU after a light pole fell on him.
In the midst of that midst was, reportedly, ISU defensive lineman David Irving.  According to the Tribune, the newspaper was emailed a photo that showed an individual purported to be Irving walking across campus holding a traffic sign with a mob of students surrounding him.  Below is that photo, again courtesy of the Tribune: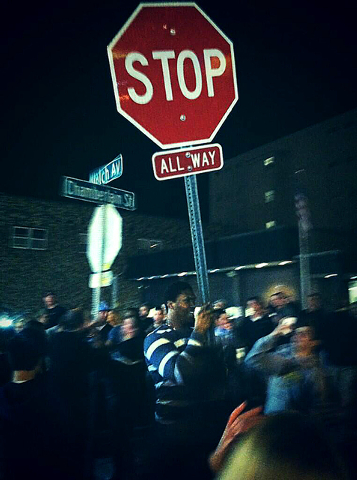 Now, in fairness to the 6-7, 281-pound player, carrying that particular sign with its very explicit message could very well have been the extremely large man's oversized way of letting the unruly crowd know they should cease and desist their riotous civil disobedience.  Or he was being a college student.  One of the two.
In a roundabout way, Irving's head coach addressed the situation Wednesday, stating that he had spoken to the player privately about the incident while also stressing that none of his players were arrested.
"There have been no arrests made to our knowledge as an athletic department and football program," Paul Rhoads said. "We have had no kids involved in any type of behavior that is criminal. We will certainly follow up if any leads from anybody about any of our kids' involvement."
In 2013, Irving started eight of the 10 games in which he played.  In mid-November, Irving was arrested on a domestic assault charge and was suspended for one game.  Charges against Irving related to that case were dropped two months later.