Former Mizzou backup quarterback Trent Hosick is on his way to Provo, though he'll have a layover in Miami, Okla.
Hosick will transfer to BYU in 2015, but instead of sitting on the sidelines for a year will ply his craft at the junior college level with Northeastern Oklahoma A&M.
Commit to NEO for the Fall… Become a QB for BYU… AND the @rascalflatts comes out?! Night can't get any better!

— Trent Hosick (@TrentHosick) May 13, 2014
Hosick, a native of Kansas City, decided to transfer from Mizzou last month after finishing spring practice third on the Tigers' depth chart. He'll arrive at BYU in 2015, which'll be the final year of eligibility for current starter Taysom Hill. The outstandingly-named Tanner Magnum will return from an LDS mission to Chile in 2015, too, giving Hosick some competition behind Hill.
Hosick's ask.fm page was passed around quite a bit yesterday, with the quarterback answering various questions about BYU (this was before he committed to play there). Currently, the last question on the page is this: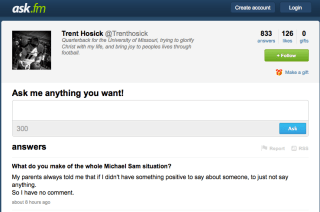 Just saying "no comment" probably would've worked better, instead of that preface that makes the no comment seem like a shot at Michael Sam. Whatever.