Despite losing to Florida State in the BCS title game this past January, it appears Auburn has managed to more than double its championship résumé.
Back in January, AU athletic director Jay Jacobs acknowledged that the athletic department was considering adding as many as seven national championships (1910, 1913, 1914, 1958, 1983, 1993 and 2004) to the two they already claimed (1957, 2010). While not going so far as to retroactively claim all seven, the football program appears to have added nearly half that number.
From the school's official website: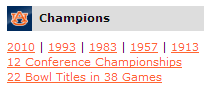 The school also states that "[t]he NCAA recognizes Auburn as National Champions in 2010, 1993, 1983, 1957 and 1913." That's not actually the case but, as it was when the Germans bombed Pearl Harbor, we won't stop 'em as they're on a roll.
The NCAA doesn't "recognize" any champions; rather, The Association, in its Football Bowl Subdivision Records book, lists various organizations or entities that have awarded national championships through the years, with "[t]he criteria for being included in this historical list of poll selectors is that the poll be national in scope, either through distribution in newspaper, television, radio and/or computer online." All told, the NCAA lists a whopping total of 38 "National Champion Major Selectors." In Auburn's case, the unbeaten 1913 team was named national champion by six organizations (Chicago and Harvard also claim titles for that year), the one-loss 1983 team by 10 (Miami was the AP, FWAA and UPI champ) and the undefeated 1993 team by four (Florida State was the AP, FWAA and UPI champ).
You could justify claiming the 1913 title — it was a century ago and who really knows? — as well as the 1983 title — Miami and Nebraska may have played the Game of the Century, but all three ended with one loss and AU beat more ranked teams than any of them — but to claim the 1993 title is laughable at best. Not only were the Tigers on probation that year — they were banned from television and postseason play, missing out on the SEC championship game a bowl berth — but Florida State had what was arguably one of the greatest teams in college football history.
But, who are we to argue when Blutarsky's rolling on The Plains?
(Tip O' the Cap: SBNation.com)