A story that had already hurtled past heartbreaking has taken an abrupt turn toward the horrific.
Last weekend, now-former Rutgers quarterback Philip Nelson was arrested in connection to what was reportedly a vicious assault outside of a Mankato, Minn., bar.  Nelson was ultimately charged with first- and third-degree assault in an incident that left the victim, former Div. II football player Isaac Kolstad, hospitalized and fighting for his life.
Saturday, Kolstad's family released a statement updating his status and it sounds, quite frankly, dire.
Kolstad is currently on life support after undergoing surgery Tuesday to relieve pressure on his brain, three days after allegedly being repeatedly kicked in the head by Nelson and another man who has been charged as well. "A significant amount of his brain tissue that was no longer viable [was] removed," the family's statement read, while also confirming Kolstad is not able to breathe on his own.  He underwent a tracheotomy Friday because of the damage to his lungs.
Kolstad is in a medically-induced coma and listed in critical condition.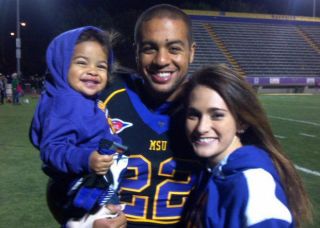 From the family's statement:
"The swelling in Isaac's brain remains significant. Isaac's lungs also sustained severe injury, resulting in the inability to breathe on his own. He also sustained a lack of oxygen to his brain.
"Isaac's care team of neurosurgeons, physicians, nurses, therapists and others are doing everything they possibly can each day to keep Isaac alive and fighting. We are blessed to have Mayo Clinic care so close to home for Isaac. There is no doubt in our minds he is receiving the very best care available."
The 24-year-old Kolstad is married and has a young daughter.
While Kolstad lays in a hospital fighting for his life, Nelson is free on a $20,000 bond.