Auburn may have beaten Alabama on a miracle last season, but the majority view the Tigers' bitter in-state rivals as the favorite this upcoming season.
In its annual poll of the 14 sports information departments released over the weekend, al.com revealed that the Crimson Tide were picked by eight of the departments to win the conference championship.  The Tide was also second on the other six ballots.
The defending champion Tigers were tapped first on a total of six ballots.  Three had AU second, three third while one, apparently flashing back to the 2012 season, have them slotted as the ninth-best team in the conference.
The Tide and Tigers were the only teams to receive first-place votes.  It should be noted that the SIDs weren't permitted to vote for their own football teams.
Not only are Alabama and Auburn 1-2, four of the top six are from the West division: LSU fifth (high of second by three voters, low of seventh by one voter) and Texas A&M (high of third by one voter, low of ninth by one voter).  The highest appearance by a school from the East is South Carolina, which
So, in other words, the SIDs foresee an Alabama-South Carolina SEC championship and, yes, the run-up to a Saban-Spurrier title game would be all kinds of fantastic and awesome.
At the opposite end of the spectrum is Kentucky, which, despite the recruiting inroads Mark Stoops has made, is easily the worst team in the conference according to the SIDs.  The Wildcats are projected no better than 10th, while eight of the 14 placing them at rock bottom.  UK garnered a total of just 21 points; the next worst was Arkansas' 33.
Courtesy of al.com, here's a handy graphic showing how all the voting played out: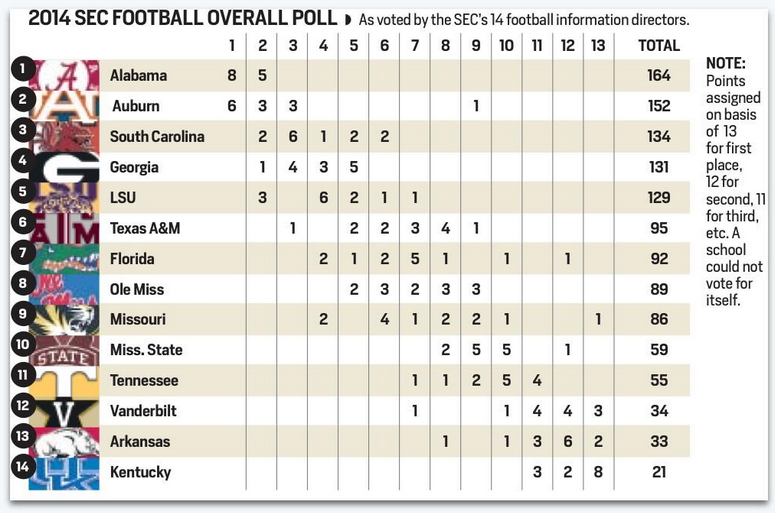 In addition to the preseason poll, the SIDs also released its all-conference teams.
Auburn led all schools with eight selections (three first-team, five second-team) while Alabama's four first-team performers were tops of any team. All schools but Vanderbilt had at least one player named.
Interestingly, Mississippi State, predicted to finish sixth in the West and 10th overall, tied the six total selections of Alabama and LSU. The voting thus takes on what's likely an unintended indictment of Dan Mullens' coaching ability.
For the entire teams, click HERE for the al.com article.