Earlier today it was reported that Notre Dame wide receiver Will Mahone was arrested on five charges, three of which are felonies, in connection to a disturbance over the weekend in Ohio.
The South Bend Tribune has since posted details of the incident, which paints a picture of a very inebriated football player who, among other things, threatened to kill police officers who had arrived on the scene of a party.  From the paper:
According to the police report filed by the Austintown Police Department, officers arrived on the scene about 10:30 p.m., Saturday after being called to respond to a fight. Officers observed about 20 people in the street pointing to a driveway on the north side of Rita Avenue. Some of them told police Mahone was highly intoxicated and head-butting and punching vehicles as well as trying to fight several people.

Police say an officer advised Mahone to calm down and get on the ground, to which Mahone responded with, "(Expletive), white boy." Police say an officer then took Mahone to the ground, but he repeatedly resisted arrest. Once Mahone finally was able to be handcuffed, police claim, he responded, "(Expletive), you white piece of (expletive). Takes these cuffs off and I'll kill you. I'll (expletive) kill you."

As Mahone was being led to the cruiser, police allege, he began to scream and shout and tried to pull away. Mahone is further accused of whipping his head back in an aggressive manor, striking a police officer on his forehead. Police accuse Mahone of trying to kick police after they again took him to the ground. At that point, an officer drive-stunned Mahone to gain compliance. As he was being taken to the cruiser, Mahone is accused of continually yelling, "Take these cuffs off, and I'll kill all of you."

Once placed in the cruiser, Mahone allegedly violently kicked the window in the back seat of the cruiser and had to be drive-stunned again. While police were outside interviewing witnesses, Mahone allegedly began to spit on the windows and the seats of the cruiser, at which time a spit net was applied over Mahone's head.

When Mahone was told he was being transported to St. Elizabeth's Hospital in Austintown to have a laceration on his left eye examined, Mahone allegedly responded, "Good, get me out of these cuffs and I'll kill you and all them bitches there." As the behavior escalated, the officer rerouted to Mahoning County Justice Center for incarceration. Mahone is accused of then stating to the officer, 'Bro, when I get out, I got a Glock 9 for your (expletive)," referring to a handgun.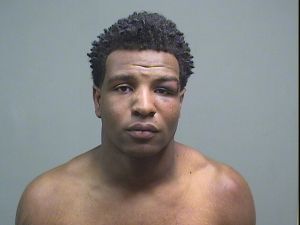 At the hospital, Mahone continued leveling threats, this time at medical personnel who were treating him.
Mahone was officially charged with disorderly conduct, resisting arrest, assault on a police officer, intimidation of a public servant and vandalism of a government entity. The latter three charges are the felonies.
At the very least, Mahone will be indefinitely suspended. There's also a very good chance that he could be punished by the Office of Residence Life, up to and including an expulsion from school.
As of yet, however, the school has not addressed Mahone's status with the team moving forward.
Mahone was a four-star member of the Irish's 2012 recruiting class, rated as the No. 18 running back in the country.  He moved from the backfield to receiver this spring.
(Upper right photo credit: Notre Dame athletics)