We all knew that college football conferences, especially the so-called Power Five, would be making money hand over fist with the implementation of the new College Football Playoff.
Now, courtesy of the USA Today's George Schroeder, we have an idea of just how much.
According to Schroeder, the Power Five conferences — ACC, Big Ten, Big 12, Pac-12 and SEC — will make $50 million each in the first year of the College Football Playoff.  In the final year of the BCS, it was just under $28 million, meaning the schools will nearly double their revenue — and that's just in the first season in the 12-year contract for the new postseason system.
And that's not all, either. From Schroeder as it pertains to additional CFP revenue streams:
The total TV revenue from ESPN hasn't been disclosed, and Hancock declined comment, but USA TODAY Sports has previously reported it will average at least $470 million annually over the life of the contract. Ticket and merchandising sales and sponsorship deals could add $40-50 million annually, on average.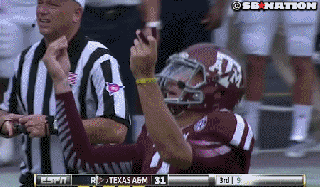 In other words, NCAA member schools — currently under assault in the courts and Congress and by a union movement for what some decry as "shamateurism"– from those elite conferences will be the beneficiaries of millions, if not tens of millions, dollars in new money thanks to the CFP.
It's not just the Power Five conferences that will benefit financially, albeit at not even remotely close to the same level.
Again, per Schroeder, the remaining five conferences will split a total of $75 million.  While that pales in comparison to the more powerful conferences, it's also five times the amount of money the five leagues — AAC, Conference USA, MAC, Mountain West, Sun Belt — shared under the BCS.
If the NCAA's lawyers thought their jobs were hard before….