As is the case each and every season, each and every week, any omission below is not on purpose, it's merely intentional.
THUMBS UP
Catchin' With Mr. Cooper
Midway through the first quarter of Alabama's blowout win over FAU, Amari Cooper already had four receptions for 81 yards and a touchdown.  The wide receiver ended up with six catches for 97 yards in the opening quarter, and finished with 13 catches for 189 yards and a 52-yard touchdown reception, with the receptions matching a single-game school record.  This season, Cooper has 25 receptions for 319 yards; the Tide's single-season marks are 78 (Julio Jones, 2010) and 1,133 (Jones, 2010), so Cooper is well on his way to not only eclipsing but shattering both of those standards.  For his career, Cooper now has 129 receptions for 2,055 yards, and, as a true junior, could this season surpass DJ Hall's career marks of 194 and 2,923 set from 2004-07.  Based on his early play, Cooper could also find himself in the Heisman mix as the season progresses.
Badger McBounce-back
Putting it mildly, Tanner McEvoy had a horrendous performance in the season-opening loss to LSU.  With a statline that consisted of 8-of-22 passing for 50 yards , no touchdowns and two interceptions, the Wisconsin quarterback had nowhere to go but up.  On Saturday, up McEvoy went there as, following a very slow start, he completed 23-of-28 passes for 283 yards and three touchdowns.  At one point, the converted safety completed 17 passes in a row. "I thought Tanner came on and, obviously, he caught some mojo there with 17 in a row," head coach Gary Andersen said.  Sure, the game was against an FCS-level opponent, but, from a confidence standpoint, it was a critical and much-needed performance for McEvoy specifically and the offense in general — especially if Melvin Gordon's struggles over the past six-ish quarters bleed deeper into the season (see below).
Brutally efficient Hogs
In the first two quarters of Arkansas' blowout win over Nicholls State, the Razorbacks' offense had run 20 plays… and scored eight touchdowns.  Amazingly, five of those drives consisted of just a single play; even more amazingly, four of those drives were 33 yards or more — 90, 82, 50 and 33.  In that first half, UA outgained its FCS foe 425-55.  They averaged 21.7 yards per carry and 19.8 yards per pass completion.  That efficiency continued on into the second half as UA's offense drove 48 yards in two plays to push the lead to 63-0 after just :52 had ticked off the third-quarter clock.  The Hogs took their hooves off the Colonels' necks the rest of the game, though, as the final score was 73-7.
Ameer-acle!
Yes, I went there.  And so did Nebraska's underrated superstar.  With just over 30 second remaining and the Cornhuskers' tied with McNeese State, Ameer Abdullah took a short pass on third-and-six and turned it into a game-winning 58-yard touchdown.  It was also a face-saving play as the Cornhuskers were at home against an FCS foe, a level of opponent to which NU has never lost in its long and illustrious history.  Abdullah's Herculean heroics came a week after he rushed for a career-high 233 yards.  While he was held to 54 yards rushing on the day, that highlight could very well take the running back from Heisman afterthought to, at minimum, someone to whom the stiff-armed voters will pay a little more attention moving forward.
Take that, Texas
We'll allow this tweet to stand on its own, with no commentary, and then just move on.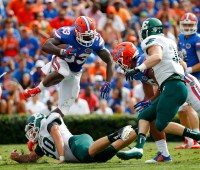 Productive debut
Based on its initial showing, it seems as if there will be a few fireworks shows in The Swamp this season.  After its scheduled season opener was wiped out by weather, Florida opened the season Saturday against an overmatched Eastern Michigan squad, with the Gators overwhelming the MAC school to the tune of 655 yards in a 65-0 woodshedding.  That total is the most for a UF offense since the Urban Meyer-coached Gators rolled up 663 yards in a 56-6 win over Troy in September of 2009.  With coordinator Kurt Roper's offense firmly in place, the Gators featured a fairly balanced attack as they passed for 396 yards and passed for another 259.  Four of their touchdowns came on the ground, three through the air.  Two quarterbacks threw passes that were caught by 12 different receivers, while eight Gators had at least one carry.  The real test for the revamped offense, though, comes in two weeks as UF travels to Tuscaloosa to tussle with Alabama and its talented, stingy defense.
Washington gone wild
If you're a fan of defense, turn your head.  Washington and Eastern Washington combined for 1,109 yards of offense and 111 points in UW's wild 59-52 win.  While the Huskies ran for 356 yards, the Eagles passed for 475.  The teams punted just three times while combining for 61 first downs — 35 of those by EWU.  Individually, EWU quarterback Vernon Adams Jr. tossed seven touchdown passes and accounted for all of the Eagles' passing yards.
What rough start?
Leonard Fournette has been one of the most-hyped true freshmen of late, with many calling the LSU Tiger the best running back prospect since Adrian Peterson a decade ago.  In his first game against Wisconsin, Fournette was held to a meager 18 yards on eight carries, setting off sirens of concern on the bayou and across the nation.  Against a much lesser opponent, Fournette's immense talent and potential were on full display.  In LSU's romp over FCS-level Sam Houston State, Fournette carried 13 times for 92 yards (7.1 yards per carry) and a touchdown run.  After scoring that touchdown, Fournette struck a pose — a Heisman pose — just days after head coach Les Miles chided the media for the hype they've heaped on the first-year player.
Lopsided homecoming
It may have felt like home again for Gary Pinkel, but it took on the look of a beatdown to his former team.  Missouri jumped out to a 28-7 halftime lead and never (really) looked back, beating up on Toledo by the score of 49-24.  Even as the Rockets pulled to within two touchdowns late in the third quarter, the game was never really in doubt as the Tigers scored the next two touchdowns to stretch their lead to 28.  Pinkel served as the Rockets' head coach from 1991-2000, and his 73 wins are the most in school history.  Pinkel is also Mizzou's all-time wins leader with 103 since coming to the Tigers in 2001.
Midwest versatility
The West Coast has Myles Jack as its star two-way performer.  The Midwest has a versatile answer, at least for one game, in the form of Jarvis West.  In Iowa State's upset of No. 20 Kansas State, West caught a 17-yard touchdown pass late in the first quarter… returned a punt 82 yards for a second score five minutes later… and threw a 29-yard touchdown pass late in the second quarter to finish off the unique first-half scoring trifecta.  Those three touchdowns, incidentally, were just two shy of the wide receiver's career total entering the game.
Let's get it (belatedly) started
Entering Week 2, there were six teams that had yet to make their 2014 debuts for a full game: Army,  Cincinnati, Florida, Kansas, Idaho and South Alabama.  Mother Nature saw to it that the Gators and Vandals didn't open until this weekend against Eastern Michigan and Louisiana-Monroe, respectively.  Four of those teams won — Army (Buffalo), UF, USA (Kent State) and Kansas (Southeast Missouri State, barely) — while Idaho (Louisiana-Monroe) was the only one that lost.  The Bearcats, meanwhile, remain the lone team yet to have its season opener; UC won't play its first game until Friday, Sept. 12, against Toledo.  After sitting the first two weekends, the Bearcats won't have another off week until Week 11, the first weekend of November.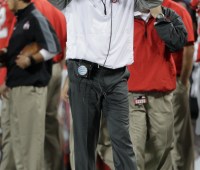 THUMBS DOWN
Bad B1G day
The very last thing the Big Ten needed was a day like today.  Already staggering and reeling in terms of national perception, the conference allowed everyone to pile on with a 8-5 day that featured embarrassment after embarrassment after embarrassment.  In three nationally-televised games involving Michigan, Michigan State and Ohio State, that trio was outscored 113-47.  Two of its teams lost to MAC schools, and another nearly lost to one from the same conference.  Nebraska, meanwhile, barely escaped with a win over an FCS opponent.  Maryland had to score 10 fourth-quarter points to beat USF by seven, while Illinois had to score three fourth-quarter touchdowns to beat Western Kentucky by eight. It was, simply put, a lost Saturday for a conference that desperately needed the exact opposite. And, in the process, it all but assured that, when it comes time for the College Football Playoff committee to select its field, the Big Ten won't have a chair at the four-seat table. As today proved, that would be a well-deserved fate.
Red zone(ish) woes
If you're looking for the most significant reason for USC's "upset" of Stanford, look no further.  Eight times the Cardinal drove to or inside the Trojans' 32-yard line.  How many points did they come away with?  To paraphrase a vacation t-shirt, "my team went to the red zone eight times, and all I got were these lousy 10 points."  That's right, 10 points when they were within scoring range, touchdown or field goal, eight times.  Outside of a touchdown and a field goal on those eight drives, the Cardinal missed two field goals on drives that ended at the 32- and nine-yard lines; a Kevin Hogan fumble on the first play of a drive that started at the USC 32 ended another one, as did the quarterback's fumble after they had driven to the Trojans' 25; a snap over the head of Wildcat quarterback Ty Montgomery on a play that started at the 13-yard line led directly to a punt from the 29-yard line; punted from the 32-yard line; and turned the ball over on downs after failing to convert a fourth-and-one from the Trojans' three-yard line.  That, my friends, is how you lose a very winnable football game.  Or, as head coach David Shaw said, "My passion is for football of course, but individually, inside of football, it's red zone and third down. We were solid on third down and not good enough in the red zone. When you're not good enough in the red zone, you lose games. You got to make field goals, you got to take advantage of field position. We just did not. This is what happens."
He's no Patsy
One of the most bizarre portions of a very bizarre USC-Stanford game didn't involve a player or a coach from either side.  Very early in the fourth quarter, USC athletic director Pat Haden abandoned his post in the press box and made his way down to the field — so that he could, unbelievably, verbally accost the officiating crew during the game. Haden, a former Trojans quarterback and current member of the College Football Playoff selection committee, was seen jawing with a pair of officials and, at one point according to ESPN color analyst Kirk Herbstriet, had to be pulled away by head coach Steve Sarkisian.  Haden was apparently miffed over a pair of sideline penalties levied on his Trojans, and was seeking some "clarity" on that situation after being texted that his coach wanted to speak to him.  Just a couple of weeks ago, Haden was hospitalized for undisclosed reasons; if the AD doesn't chill a bit, he could wind up back there.  Or find himself off the selection committee, either by choice or by force.
Mack Brown Appreciation Night in Austin?
Last year's BYU beatdown of Texas was the beginning of the end for Mack Brown.  Saturday's woodshedding at the hands of the Cougars could very well be the beginning of a long first season in Austin for Charlie Strong.  Last year it was BYU 40, UT 21.  This year?  BYU 41, UT 7.  Thew Longhorns did manage to allow fewer yards — 429 to 679 — but that was of little consequence as the 'Horns were physically abused by a team the SEC doesn't even consider to be of the level of a Power Five conference member.  It's going to take Strong time to change the malaise that has surrounded the football program; hopefully, the man gets the time he needs.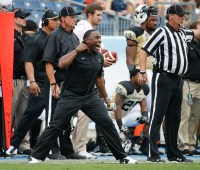 Not so dandy in Vandy
Things have not gotten off to a rousing start for Derek Mason at Vanderbilt.  The past three years under James Franklin, Vandy won 24 games, including nine each the past two seasons.  In their first year under Mason after Franklin bolted for Penn State, the Commodores' ship is quickly taking on water.  Coming off an embarrassing 37-7 loss in Week 1 to Temple — which lost 31-24 to Navy in Week 2 — the 'Dores were further embarrassed in a 41-3 home loss to Ole Miss in the SEC opener.  The offense couldn't move the ball and the defense couldn't stop it, a fact borne out by the 547-167 disadvantage in total offense.  It's not time to panic in Nashville, but it might be time to raise the concern alert level a notch or two.
Hot seat Hazellolol
If you're looking for the top contender for the hottest seat in the country after Week 2, don't forget to take a gander at West Lafayette.  Coming off a disastrous first season with Purdue that ended with a single win — that lone win came by six points to FCS-level Indiana State — Darrell Hazell needed a good start to stave of the pitchfork-carrying mob.  Unfortunately for the second-year coach, that hasn't remotely been the case.  Following a closer-than-expected win over lowly Western Michigan in the opener, another directional Michigan school, Central Michigan, embarrassed the Boilermakers 38-17 — at home, no less.  The chatter coming from in and around the football program is that Hazell could very well be the first coach sent to the unemployment line.  The task to presumably save his job doesn't get any easier for the team as half of their next eight games are against currently-ranked teams — Notre Dame, Michigan State, Nebraska and Wisconsin — as well as games against Iowa and Minnesota during that stretch.  Purdue could very easily be 2-8 after the second weekend of November — and Hazell could very easily find himself on the outside of the program looking in at that point.
Flush Gordon
Melvin Gordon, whose career 8.13 yards per carry average coming into Week 2 was second all-time to Houston's Chuck Weatherspoon's 8.14, had just eight yards on nine carries in the first half of Wisconsin's win over FCS-level Western Illinois.  Gordon had runs of -2, 4, 0, 4, 3, 0, 3, -1 and -3 in the first two quarters, meaning more than half of his carries were for no gain or less.  The second half wasn't much better for the preseason All-American as he finished with 17 carries for 38 yards.  That performance marked the first time in Gordon's career that he has carried the ball at least 15 times and totaled less than 60 yards.  It could also mark the end of whatever Heisman chances the back was entertaining.
SM(P)U
SMU has been on the receiving end of a beatdown in each of its first two games of the season (Baylor 45-0, North Texas 43-7) and has scored just seven points dating back to the Dec. 7 loss to UCF.  The Mustangs have been blanked in two of their last four games, and haven't scored two or more touchdowns in the same game since Nov. 23.  During their current four-game losing streak, SMU has been outscored 139-20.  June Jones, incidentally, was on the receiving end of a contract extension last December.
Gardner's road woes continue
In Michigan's five road games last season, Devin Gardner completed under 52 percent of his 149 passes while throwing just six touchdown passes versus five interceptions.  That substandard play contributed mightily to the Wolverines' 2-3 record away from the Big House.  Unfortunately for UM, that disturbing trend carried over into the 2014 season.  In the loss to Notre Dame, Gardner completed less than 60 percent of his 32 passes and, more importantly tossed three interceptions and no touchdowns.  Brady Hoke is already on the hot seat; isn't it time for Gardner to reside on a similarly heated surface?
Running nowhere
To say that Washington State has struggled running the ball under Mike Leach would be a significant understatement.  Wazzu has rushed for just 44 yards on 32 carries in their two losses this season, an average of 22 yards per game.  In 2013, the Cougars were 125th (out of 125 FBS teams) at 53.3 yards per game; they were dead-last at 29.1 ypg in 2012, as they were in yards per carry (1.4).  Their 2.9 yards per carry was tied for 121st in 2013.  They have no rushing touchdowns through two games after scoring 10 and six on the ground in 2013 and 2012, respectively.  On the flip side, Connor Halliday passed for 538 yards against Rutgers and 389 against Nevada Friday night.  Then again, both of those games were losses, so there's that.  And then there's this: Wazzu is 9-18 in two-plus seasons under Leach.
Scheduling noise
While not nearly as bad as the 50 games opening week, there were still 29 games played between FBS and FCS football teams Week 2.  As expected, the FBS feasted on their lower-level cupcakes with a near-perfect 28-1 mark (good job, Miami of Ohio).  That means FCS teams this year are just 3-76, the lone exceptions being North Dakota State's non-upset of Iowa State and Bethune-Cookman's win over FIU in Week 1 and Miami (OH) losing to Eastern Kentucky in Week 2.  There were also 29 Power Five/Non-Power Five games as the Big Boys went 26-3, the lone losses coming from Washington State (Nnevada), Purdue (CMU) and Northwestern (Northern Ilinois); nine Non-Power Five/Non-Power Five games; and seven Power Five/Power Five games, with three of those being non-conference contests and all involving teams from the Big Ten– Virginia Tech-Ohio State, Michigan State-Oregon and Michigan-Notre Dame.  Additionally, 24 of the Associated Press' Top 25 teams were in action — the lone exception being No. 6 Georgia — and featured two matchups of ranked teams: No. 14 USC at No. 13 Stanford and No. 7 Michigan State at No. 3 Oregon.  The higher-ranked teams were 1-1 in those games.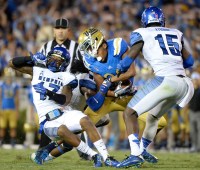 TOP 25 TOO-CLOSE-FOR-COMFORT
How ranked teams endured close shaves vs. unranked opponents
No. 11 UCLA 42, Memphis 35: Against a Tigers team that had won just one of their last 12 games against FBS teams, the Bruins found themselves tied at 35 a couple of minutes into the fourth quarter.  While they hung on for the win, they didn't carry the look of a team that, preseason expectations notwithstanding, could hang with the best the Pac-12 has to offer.
No. 18 Wisconsin 37, Western Illinois 3:  Until late in the second quarter, the Badgers led their FCS foes by just two points thanks to a safety on the opening kickoff.  UW ended up pulling away in the second half, but the way they performed in the first half has to give head coach Gary Andersen and his coaching pause and cause for concern.
No. 19 Nebraska 31, McNeese State 24: I'm going to go out on a limb and say that this game will cost the Cornhuskers in the polls when they're released early this afternoon.  The FCS team led 7-0 early on, and tied the game at 24-all with just over four minutes remaining before Abdullah happened.
No. 20 Kansas State 32, Iowa State 28: Talk about a game of runs.  K-State scored the first 13 points of the game… only to see the Cyclones responding with a 28-point run of their own to take a 15-point lead late in the third quarter… with the Wildcats closing out the game on an 19-point run to seal the come-from-behind road win.
No. 21 South Carolina 31, East Carolina 21: The Gamecocks are making me eat my preseason words that this is the most talented team The OBC has assembled in his decade in Columbia.  After getting embarrassed in Week 1 by Texas A&M, USC struggled mightily with the Pirates in the first half before pulling away.  The 'Cocks have plenty of work to do before they get into the heart of SEC play.
No. 21 North Carolina 31, San Diego State 27: Trailing 24-14 early in the fourth quarter, the Tar Heels scored 17 of the next 20 points to move to 2-0 on the season.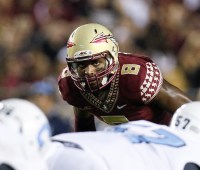 CFT TOP FIVE
A snapshot look at how my ballot would look Sunday if I, ya know, had a real vote.
1. Florida State — Aside from the team at No. 2, four of my Top Five played either FCS teams (FSU and Texas A&M) or Non-Power Five members (Alabama and Oklahoma).  Those four games were decided by the average score of (rounded off) 51-5, which means you can glean absolutely nothing from them, so this is about all we'll discuss when it comes to those teams. (Last week: No. 1)
Next up: vs. Clemson Sept. 20
2. Oregon — The Ducks showed tremendous resiliency in coming back from a  nine-point third-quarter deficit and essentially blowing out No. 7 Michigan State.  I nearly pulled the trigger on moving the Ducks past the Seminoles, but the weakness of the Big Ten wouldn't allow me to do it. (Last week: No. 2)
Next up: vs. Wyoming Sept. 13
3. Texas A&M — Nothing to see here.  Move on. (Last week: No. 3)
Next up: vs. Rice Sept. 13
4. Alabama — I said move on. (Last week: No. 4)
Next up: vs. Southern Miss Sept. 13
5. Oklahoma — Dammit, skip down a couple of lines. (Last week: No. 5)
Next up: at Tennessee Sept. 13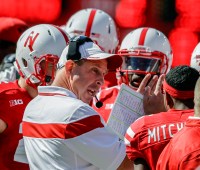 HE SAID IT
"We were our own worst enemy today. … They dared us to throw. We couldn't throw… We got outcoached. Our plan wasn't good enough on the offensive side." — an unhappy Bo Pelini, following Nebraska's narrow escape against McNeese State.
HE SAID IT, THE SEQUEL
"Don't kick a field goal on this next drive, it's embarrassing." — Alabama offensive coordinator Lane Kiffin, to quarterback Jacob Coker via SEC Network's Peter Burns.
HE SAID IT, THE THREEQUEL
"There were a couple firsts for me today. It's the first time I've ever had a game called off, and it's the first time I ever beat the media to the press conference." — Alabama head coach Nick Saban, fine-tuning his stand-up comedy routine.
HE SAID IT, THE QUADQUEL
"I give them credit, they made the plays and we didn't. They made the calls and we didn't. To miss two field goals and get turned away inside the five yard line, to go from a field goal position backed up to a punt position. Coaches and players, that's everybody, which is veiled to say that's me, that's me." — David Shaw, lamenting wasted opportunities in Stanford's loss to USC.
HE SAID IT, BONUS EDITION
"It's an embarrassment to the university and the program." — Charlie Strong, after Texas was thoroughly eviscerated and emasculated by BYU.
GAME DAY SIGN OF THE DAY
What's the old saying, "tis better to be silent and thought a fool, than to speak and remove all doubt" or something similar? Well…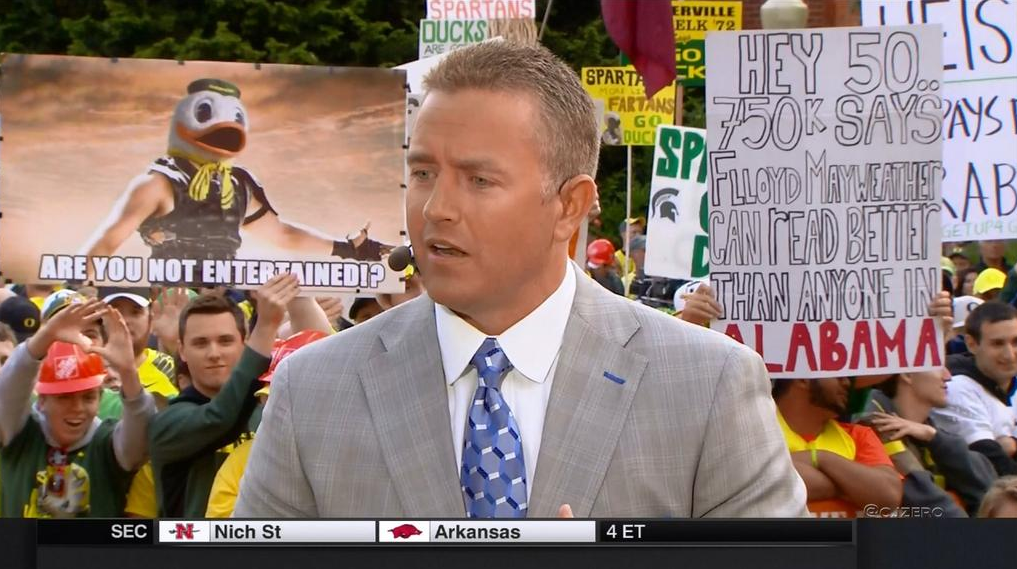 That may very well be the case, Oregon fan, but I'm guessing most if not all of the state of Alabama knows how to spell the name "Floyd."
(Tip O' the Cap: @cjzero)
VIDEO OF THE DAY
Here's something you don't see everyday: Wisconsin scored a safety against Western Illinois… on the opening kickoff.  While it was initially ruled a touchback, the officials ultimately — and correctly — awarded two points to the Badgers just one second into the game.
Amazingly, those were the only points of the first half scored by either team until the Badgers put a touchdown on the board late in the second quarter.
SCREEN SNAP OF THE DAY
Where do you think you're going? Nobody's leaving. Nobody's walking out on this fun, old-fashioned family Christmas. No, no. We're all in this together. This is a full-blown, four-alarm holiday emergency here. We're gonna press on, and we're gonna have the hap-hap-happiest Christmas since Bing Crosby tap-danced with Danny ****ing Kaye. And when Santa squeezes his fat white ass down that chimney tonight, he's gonna find the jolliest bunch of ***holes this side of the nuthouse.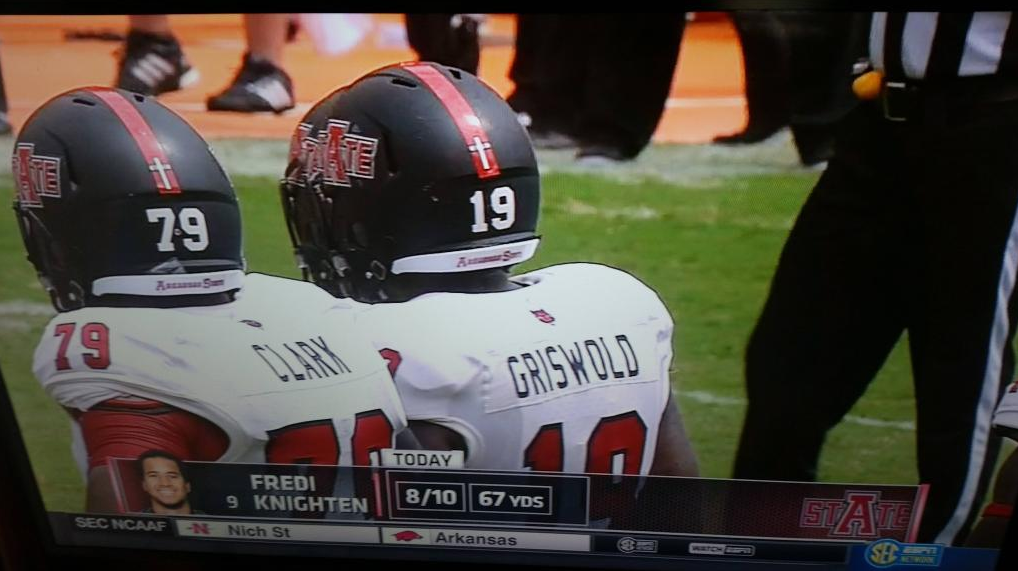 (Tip O' the Cap: @dixiefriedsport)
S.I.D. NOTE OF THE DAY
Below is a Top-Ten list of FBS teams with the most players who have already received their degrees:
1. Alabama and Boston College, 15
3. Utah State, 13
4. Virginia, 11
5. East Carolina and UNLV, 10
7. Maryland and San Jose State, South Carolina, 9
10. Clemson, Florida, Houston, North Carolina State, Toledo and Utah, 8
SAY WHAT?
With the win over East Carolina Saturday, Steve Spurrier now has 200 wins as an SEC head coach.  Of those 200, 122 came at Florida (1990-2001) and a school-record 78 have come while at South Carolina (2005-14).  Spurrier also won 20 games at Duke, giving him 220 for his career.  That total ranks T-47th all-time for all levels of college football and 13th among FBS/Div. I-A coaches. If the Gamecocks were to win 10 games this season, he'd move past, among others, Ohio State's Jim Tressel (229) and into a tie with Willard Bailey of Virginia Union/Norfolk State/Saint Paul's (VA) for 42nd all-time.  He's also currently second to Virginia Tech's Frank Beamer (270) among active FBS coaches.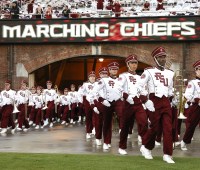 FOR STATISTICAL PURPOSES ONLY
— Florida State extended its winning streak to a nation's-best 18 straight, which also sets a new school record.  Thanks to Michigan State's loss to Oregon that ended its 11-game streak, FSU now owns the only double-digit winning streak in the country.  At the FCS level, North Dakota State ran its run of wins to 26 straight with a 17-point win over Weber State. Miami of Ohio, meanwhile, ran its losing streak to 18 in a row with an embarrassing loss to Eastern Kentucky of the FCS.  Arkansas and Virginia were the only other teams with double-digit losing streaks — 10 in a row for each — but those skeins ended Saturday as well.
— Playing in place of an injured Bryce Petty, Seth Russell threw for 438 yards and five touchdowns in Baylor's route of Northwestern State.
— Arkansas' Brandon Allen attempted just five passes in Arkansas' win over Nicholls State… and threw four touchdowns.
— With 300 yards in Oregon State's win over Hawaii, Oregon State's Sean Mannion now has now passed for at least 300 yards in 20 games in his career.
— In helping West Virginia pick up its first win of the year, Clint Trickett completed 35-of-40 passes for 348 yards against Towson.
— Dak Prescott accounted for 322 total yards and five touchdowns in Mississippi State's 47-34 win over UAB.
— Rakeem Cato totaled 410 yards — 267 passing, 143 rushing — in Marshall's 48-7 win over Rhode Island.
— Utah's Travis Wilson threw a career-high five touchdowns in the Utes' 59-27 win over Fresno State.
— Marcus Mariota broke two Oregon career records during the first half of the game against Michigan State: Bill Musgrave's record for 8,140 yards of total offense and Darron Thomas' record of 66 career touchdown passes.  In Week 1, Mariota set the school mark for total career touchdowns previously held by Joey Harrington.
— Maty Mauk accounted for six touchdowns — five passing, one running — in Missouri's win over Toledo.
— Christian Hackenberg tied the Penn State career record with six career 300-yard passing games. The true sophomore is just 14 games into his Nittany Lions career.
— Texas Tech's Justin Stockton rushed for 135 yards on just eight carries (16.9 ypc) in the Red Raiders' narrow escape over UTEP.  Stockton's teammate, wide receiver Bradley Marquez, caught three receiving touchdowns… on just three catches.
— Minnesota running back David Cobb rushed for a career-high 220 yards and two touchdowns in the Gophers' win over Middle Tennessee State.
— In the key Mountain West win over Colorado State, Jay Ajayi rushed for 219 yards and two touchdowns.
— D.J. Foster ran for a career-best 216 yards on just 19 carries as Arizona State cruised past New Mexico 58-23.
— UCLA linebacker Myles Jack and Washington linebacker Shaq Thompson both scored rushing touchdowns in Week 2.
— Quarterback-turned-tight end Blake Bell caught the first two passes of his career in the first half, including the first receiving touchdown of his career, in Oklahoma's drubbing of Tulsa.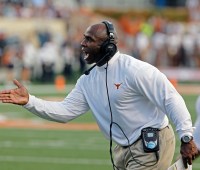 — The only numbers you need to know when it comes to the Charlie Strong era at Texas: eight and four.  The former is the number of players dismissed from the football program since Strong took over for Mack Brown, the latter is the number of players suspended for at least one game.  The Strong arm of the law indeed.
— James Conner rushed for a career-high 214 yards in Pittsburgh's win over Boston College Friday night, besting the 173 yards he had in a September win over Duke last season.  It also came the week after he rushed for a career-best four touchdowns in the opener against Delaware.
— Including the 174 in a hard-fought win over UT-San Antonio Thursday night, four-star true freshman running back Nick Wilson has rushed for 278 yards and a pair of touchdowns in the first two games of his Arizona career.  Wilson's averaging a robust 7.5 yards per carry.
— Baylor freshman KD Cannon tied a school single-game record with three touchdowns catches against Northwestern State, and he caught all three in the first quarter.  For the game, Cannon caught six passes for 233 yards; all of that came in the first half.
— Of the nine ACC players who have totaled 200 or more career receptions, three of them come from Duke: Conner Vernon (283), Jamison Crowder (212) and Donovan Varner (207). Crowder topped that plateau with seven catches in the Week 1 win over Elon.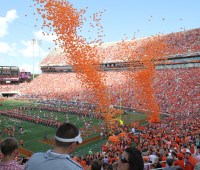 — The 73 points scored by Clemson in their 66-point win over South Carolina State were the football program's most since an 82-24 win over Wake Forest in 1981. It was also their largest margin of victory since beating Presbyterian College 66-0 in 1957.  The Tigers totaled 735 yards of offense, the third-highest single-game total in school history and the most yards ever against a non-conference opponent. Their 467 yards passing was one shy of tying the record set against Syracuse in 2013. Cole Stoudt threw for a career-high 302 yards while Artavis Scott caught six passes for 164 yards and a pair of touchdowns.
— The nickname of Western Illinois, Wisconsin's opponent Saturday, is the Fighting Leathernecks.  That is all.
— Michigan, in its first season under new offensive coordinator Doug Nussmeier, lost to Notre Dame 31-0, the first time the Wolverines have been shutout since 1984.  UM did have an NCAA-record streak of 365 games in which it had scored entering the weekend. It was also the first time in the history of their rivalry with the Irish, which is at least temporarily ending after this year, that they've been whitewashed.
— Michigan State didn't allow a pass play of 60-plus yards in any game last season; in the loss to Oregon, they allowed two… in the first half alone.
— Missouri has forced at least one turnover in the last 46 straight games, the longest such streak in the FBS.  The next closest to Mizzou?  Louisiana-Monroe at 27 straight.
— Georgia Tech and Tulane were founding members of the SEC and met on the gridiron Saturday for the first time in 32 years. Tulane left the SEC in 1966 to become a football independent — they joined Conference USA in 1996 — while Georgia Tech left in 1963 amidst complaints over Bear Bryant's non-discipline of an Alabama player as well as recruiting shenanigans conference-wide. Tech played as an independent for 19 years before joining the ACC in 1983.  As for the Green Wave-Yellow Jackets game Saturday?  Tech triumphed 38-21.
–LSU has won 41 consecutive home games against non-conference opponents, the longest such streak in the nation. Next up? The team LSU dropped in the opener, Wisconsin, at 30 in a row.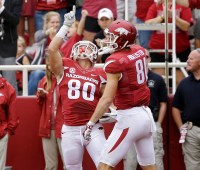 — From the Arkansas sports information department: with an average of 12.7 yards per play (54 plays for 684 yards), the Razorback offense shattered the previous record of 10.76 yards per play set in 1947 against Northwestern (La.) State.
— Maryland managed to beat USF 24-17 despite turning the ball over six times.
— Despite being outgained 432-330, Virginia managed to blow out Richmond 45-13.  How?  Seven Spider turnovers were turned into 21 Cavalier points.
— The win over Michigan State gives Oregon 49 since the start of the 2010 season, the most of any FBS program in that span.
— With Purdue's embarrassing 38-17 loss to Central Michigan, the MAC has now defeated a Big Ten opponent for the eighth consecutive season. That's the longest streak in that conference's history.  The MAC has also won 18 games against Big Ten members the past nine years, including Northern Illinois' 23-15 win over Northwestern Saturday.
— Army held a 47-17 lead on Buffalo with under nine minutes remaining in the game, only to see the Bulls score 22 points over the next 6:05 to pull within eight with 2:42 remaining.  Alas, that was as close as the MAC school would come as the service academy hung on for a 47-39 win.
— Duke's win over Troy was its sixth straight on the road, the first time that's happened since 1954-55. The school record for consecutive road wins, by the way, is nine in a row, set between 1936-39.
— After winning just one game in 2013, Cal has won their first two in 2014.
— Southern Miss led Alcorn State 20-7 at halftime.  It was the Golden Eagles' first halftime lead since Nov. 3, 2012.
— Georgia Southern scored a school-record 83 points in its 74-point shellacking of Savannah State.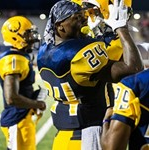 SMALL-SCHOOL MORSELS
— Texas A&M-Commerce set an NCAA Div. II record Thursday night by rolling up 986 yards of total offense en route to a 98-20 pasting of East Texas Baptist.  And, as it turns out, it was a pair of former FBS players doing a significant amount of the offensive damage. Quarterback Tyrik Rollison, who transferred from Auburn after spring practice in 2010, went 26-of-33 passing for 562 and six touchdowns. Running back Joe Bergeron (pictured, courtesy of A&M-C athletics), who transferred in from Texas just three weeks ago, led all Lions rushers with 137 yards. Bergeron, in fact, was one of three A&M backs to run for more than a 100 yards and two touchdowns on the night. The three-headed ground attack of Bergeron, Richard Cooper and Theo Wofford combined to rush for 358 yards on just 36 carries, an obscene 9.94 yards per carry.  Additionally, a trio of Lions receivers eclipsed the 100-yard plateau, with two of them catching a pair of touchdown passes each.
— On the other side of the ball, it was Tusculum (Tenn.) doing its own record-setting damage.  In Thursday night's 71-0 win over the College of Faith (NC), the Div. II school set an all-division NCAA record by allowing minus-100 total yards and minus-124 yards rushing (on 36 carries). The previous record for fewest total yards allowed was minus-69 by Div. II Fort Valley State (Ga.) against Miles (Ala.) in 1993, while the old mark for fewest yards rushing allowed was minus-112 by Div. III Coast Guard against Wesleyan (Conn.) in 1989.