Normally a simple football pep rally would catch zero percent of our attention.  This one's different, especially in light of the news that's dominated sports for the past five days and counting.
In mid-August, five-star 2014 Oklahoma signee Joe Mixon was suspended by the school for the entire 2014 season, a punitive measure that meant the running back would be excluded from any and all team activities.  The one-year suspension came about after Mixon was accused of punching a woman in a late-July confrontation, breaking four bones in her face and leaving her unconscious.  Media covering OU viewed a copy of the security tape that caught the exchange, including the knockout punch, between the woman and Mixon, who has pleaded not guilty to an act resulting in gross injury and whose attorney claims was preceded by racial slurs.
Thursday night. following an OU volleyball game, an event called the "RAH! Rally" was held to support the football team.  Football players and coaches were permitted on the court during the event, students weren't.  As a student Mixon was permitted to attend; as a student he was not permitted to be on the court with the football team, except he was.  And the reason we know that?  A tweeted photo sent out by the official OU Athletics Twitter account.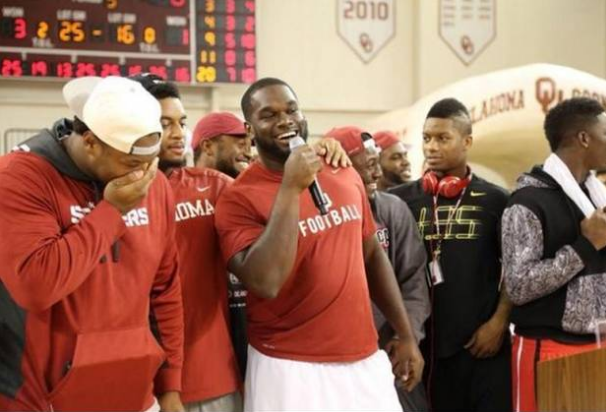 "My understanding of 'team activity' is something that's required," OU spokesman Pete Moris told The Oklahoman. "This is not an event where anyone was required to be there. It was a voluntary student event."
If this were a week go and the first time Mixon had blurred the line between student, which he is, and football player, which he's not right now, this likely would've created nary a ripple.  Given the bright spotlight on violence against women, his presence at an event that walked, talked and looked like a team activity, voluntary or not, was assured to pique the media's interest.  Also assuring media attention?  This is apparently the third time he's been observed by that same group overstepping the lines his suspension drew.
"[Mixon] also was seen on the sideline at a preseason scrimmage (not allowed) and later was seen walking into the Switzer Center from the practice field at the end of a practice (also forbidden)," Tulsa World's John Hoover wrote.
Hoover also noted, however, that Mixon was removed from the court — without incident, incidentally — when someone in charge recognized what was going on; Mixon himself had no idea he'd crossed a line; and "the person who photographed Mixon and posted the photos didn't realize who Mixon was and was deeply remorseful about the mistake," wrote Hoover.
That said, OU needs to figure out what it wants to do when it comes to Mixon.  If it wants to levy a hard-line punishment with particular and very specific parameters, enforce it to the letter of your law.  If not, drop the charade, stop hiding behind semantics and allow him back with the team, which he's apparently doing anyway, at least on a part-time basis.
Schools expect their football players to follow the rules; they should be able to do the same, especially when they're the ones that very publicly set the boundaries.