As is the case each and every season, each and every week, any omission below is not on purpose, it's merely intentional.
(Writer's note: I'm "playing" very severely under the weather this weekend, so I apologize in advance for any errors and/or typos you may come across.  Well any more than normal I should say.  Thanks in advance.)
THUMBS UP
Turn that Top Dozen upside down
Heading into Week 3, the schedule wasn't looking too promising on paper.  Exiting it? To steal from the imitable Ron Burgandy, boy, that escalated quickly… I mean, that really got out of hand fast — especially in the Top 12 of the rankings. Two teams in that rarefied air lost outright — No. 6 Georgia, to South Carolina; No. 9 USC, to Boston College — while No. 12 UCLA barely escaped against a fair-to-middlin' Texas team and looked unimpressive for a third straight game.  The first two will certainly tumble out of the Top 10, while the Bruins could slip a bit as well despite the win.  So, which teams will replace UGA and USC?  No. 11 Notre Dame is a mortal lock.  The second is murky as No. 12 is, of course, UCLA while No. 13 is one-loss Michigan State.  My guess would be No. 14 Ole Miss slides into the Top 10, just ahead of the Spartans.
Livin' the hug life
Instead of another one of the bigger stories in Week 3 appearing above the cyber fold, how about we toss in a really cool example of sportsmanship*?  Yeah, didn't think you'd mind.  UMass, 2-27 since early November of 2011, jumped out to a quick 14-o lead on Vanderbilt in Nashville and took a 31-20 lead into the fourth quarter.  Two Commodore touchdowns, however, gave them the lead with just over a minute to play.  The Minutemen would roar back, driving into position to kick a game-tying field goal and send the non-conference contest into overtime.  As time expired, though, UMass kicker Blake Lucas missed the chippy 22-yard attempt.  Then, this happened.
Yes, that would be Vandy defensive lineman Adam Butler giving Lucas a brief hug — and pat on the back — after the really bad miss.  Bravo, young man, for your short but welcome show of sportsmanship.
Loss puts UGA in SEC East driver's seat?
If those in and around the Georgia football program aren't nearly as upset and distraught over a divisional loss as you think they should be, don't worry.  There's a method to the apparent madness.  Yes, UGA was out-physicaled in its loss to South Carolina.  Yes, USC and UGA are now tied atop the SEC East at 1-1, with the former holding the head-to-head tiebreaker.  However, based on recent precedent, the Bulldogs have the rest of the division right where they want 'em.  You see, the last two times UGA has qualified for the SEC championship game as the East's winner (2011 and 2012), the Bulldogs lost to the Gamecocks the first month of the season. Yep, the Dawgs have 'em right where they want 'em.
Road Hogs
What's this "forward pass" you speak of?  The passing game might as well be a foreign language for Arkansas, which is just fine when you have the type of devastating and punishing running game it does.  In UA's 42-28 road win over Texas Tech, the Razorbacks ran the ball 68 times and passed it just 12.  The last Hogs pass of the game came with 8:05 remaining in the third quarter.  Eschewing the pass made sense as the Hogs rushed for 438 yards and scored all seven of their touchdowns on the ground.  In fact, UA had more rushing attempts (68) than passing yards (61).  Alex Collins led the team with 211 yards, while Jonathan Williams chipped in 146 and four touchdowns.  Who knows if this pound-and-grind ground game can hold up against SEC defenses on a weekly basis, but's certainly pointing the Hogs in the right direction after wandering around lost during a three-win 2013 season.
What's the rush?
Sticking with the running-game theme, all those who thought Boston College would manhandle USC at the line of scrimmage raise your hands.  Now put your hands down 'cause all y'all are lying.  In one of the more stunning turn of events on what turned out to be a wild weekend of football, the Eagles rushed for a whopping 452 yards in their shocking 37-31 win over the No. 9 Trojans.  BC averaged 8.4 yards per carry, while 'SC was held to a microscopic .7 ypc.   Just as unbelievable, the Eagles were credited with 16 tackles for losses in the game, meaning they controlled both sides of the line of scrimmage. Last season, BC lost to USC by 28, and were outgained on the ground 257-101 despite having one of the leading rushers in the country in Andre Williams.  Simply staggering how things have changed over the course of what was almost exactly 365 days.
Cooling temps
Entering the 2014 season, there weren't many coaches on hotter seats than Virginia's Mike London and West Virginia's Dana Holgorsen.  After what transpired in Charlottesville and College Park Saturday, however, those collective temperature have appreciably decreased.  For the time being.  Against heavily-favored and 21st-ranked Louisville, London's Cavaliers were able to hold off the Cardinals' fourth-quarter comeback — two touchdowns to give the UofL its first and only lead — before a late field goal ultimately sent fans storming the field following a 23-21 win.  While London is far from out of the woods, the fact that the Hoos moved to 2-1, with the lone loss being an eight-point defeat at the hands of then-No. 7 UCLA, bodes well for the beleaguered coach.  Meanwhile, WVU moved to 2-1 as well with its last-second win over Maryland on the road.  The Mountaineers' lone loss?  A 33-23 decision to No. 2 Alabama.  The true test of how far along WVU is thus far this season, though, will come next week when they host No. 4 Oklahoma in Morgantown.
Mr. Versatility
Dak Prescott is one of the more athletic quarterbacks not only in the SEC but in the country.  In Mississippi State's 35-3 win over South Alabama, Prescott showed it yet again.  In the game, Prescott threw a touchdown pass… ran for a touchdown… and caught a touchdown pass.  Making that feat all the more impressive?  It's the second time in his career he's pulled off that trifecta in the same game.
J.(ust) T.(ossing) TDs
Yes, it was against Kent State, but Ohio State in general and J.T. Barrett desperately needed a performance like the one on display Saturday afternoon.  In the 14-point upset loss to Virginia Tech in the Horseshoe last Saturday, the redshirt freshman completed just 9-of-29 passes and tossed three interceptions.  Seven days later, and against much lesser competition, Barrett tied a school record with six touchdown passes and threw for 312 yards — the first 300-yard game for an OSU quarterback since Terrelle Pryor's 334 yards in October of 2010 — as the Buckeyes rolled over the Golden Flashes 59-0.  With what appears to be a high-powered Cincinnati offense looming in Week 4 (see below), it's a good thing OSU got both its quarterback and its offense back on track after being derailed by the Hokies.
Lovin' life with Kiffin
There's no arguing who has been the biggest beneficiary of Lane Kiffin's first season as Alabama's offensive coordinator or Blake Sims' first season as starting quarterback.  In 2013, Amari Cooper caught 45 passes for 736 yards and four touchdowns.  Not bad, but nothing like this year as the All-SEC receiver has 33 receptions for 454 yards and two touchdowns.  Last season, Cooper didn't reach those totals until the 11th game (receptions), 10th game (receiving yards) and 8th game (receiving touchdowns).  At his current pace, Cooper would set school records with 132 receptions and 1,913 receiving yards.
Taking out the trash (talking)
Thanks to an egregious officiating error, Florida was able to hold off Kentucky in triple overtime.  It also meant that, technically, Jojo Kemp had to eat his words from earlier in the week and UK will be forced to wait yet another to snap The Streak.  With the (tainted) win, Florida has now won 28 straight over Kentucky, which ties Texas over Rice (1966-93) as the fifth-most consecutive wins over one opponent in an uninterrupted series.  Still ahead are Nebraska over Kansas State (29, 1969-97), Oklahoma over Kansas State (32, 1937-68), Nebraska over Kansas (36, 1969-2004) and Notre Dame over Navy (43, (1964,2006).  Penn State has a current winning streak of 30 straight over Temple, although those wins have been spread out over 63 years and counting.
Big House streak continues
There was some genuine concern heading into Michigan's home game against Miami of Ohio that the football program's NCAA-record streak of 100,000-plus crowds would come to an abrupt end.  That turned out to not be the case, at least officially, as the announced crowd for the Wolverines' lackluster win was 102,824 — official capacity: 109,901 — and pushed the streak to 253 straight. The last time UM failed to hit 100,000 in attendance? Oct. 25, 1975, when 93,857 witnessed the 55-7 pasting of Indiana.
Century trio
The fact that Baylor was without four of its top five wide receivers Friday night really didn't matter to either the Bears or Bryce Petty.  In the 63-21 road romp over Buffalo, Petty, who missed last weekend's game with a back injury, threw for 416 yards, with three of his receivers going over the 100-yard mark.  KD Cannon, a true freshman, led all receivers with 189 yards on his six catches.  This season, Cannon already has 14 catches for 471 yards and five touchdowns; 223 yards and three of the scores came in Week 2 alone.  Jay Lee chipped in with 136 yards in Week 3 while Lynx Hawthorne added 123.
UC, the thing is, they're in no hurry…
Prior to Week 3, every single one of the 128 teams at the FBS level had opened their respective seasons… except for Cincinnati. That changed Friday night as the Bearcats opened their 2014 season in uproarious fashion, "holding on" for a 58-34 win over Houston after jumping out to a 34-0 lead early in the second quarter. Gunner Kiel, making his first career start, passed for 418 yards and six touchdowns, the latter total being an FBS record for a first-time starter.  It's also the second consecutive season under Tommy Tuberville that UC has opened the season with a win of 20-plus points, the first being a 42-7 pasting of Purdue late last August.
Script Ohio4
When it comes to the pageantry and tradition of college football, it doesn't get much better than the Ohio State band performing "Script Ohio" at halftime of Buckeye games.  One of the few things better than that would be multiple Scripts during the same game at the same time — which is exactly what, along with the alumni band, The Best Damn Band In The Land did for OSU's matchup with Kent State in Columbus Saturday afternoon.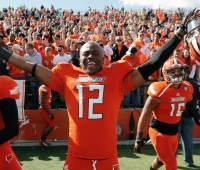 THUMBS DOWN
Another B1G MAC embarrassment
Last week, the Big Ten dropped two games to its Midwestern little brother the MAC.  At least in one B1G stadium, it was lather, rinse and repeat.  While Ohio State drubbed Kent State, Indiana was embarrassed by Bowling Green in a 45-42 loss.  That would be the same BGSU squad that was pummeled in the opener by 28 points by Western Kentucky, which beat Illinois in Week 2.  That loss was symptomatic of yet another weekend of conference-wide malaise as the league went just 3-6 against non-B1G schools, with two of the wins coming against the MAC (Ohio State-Kent State;Michigan-Miami) and one against a non-Power Five member (Nebraska-Fresno State).  Say what you want about there being a dozen or so weeks left in the season to turn things around, but the Big Ten looks far and away like the worst league — top, middle and bottom — of the Power Five conferences.  And they're still looking like a league that will be on the outside of the College Football Playoff window looking in.
WhUT the WhUT?
It' not been a good start to the Charlie Strong era at Texas.  A microcosm of that rough start"  The pregame coin toss, which was botched by Longhorn players…
… which did not make the head coach a happy camper.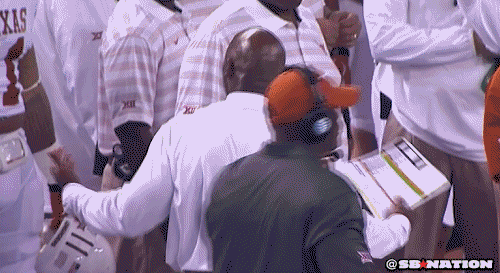 Chokies
Coming off the football program's biggest win in a handful of years, Virginia Tech had all the momentum.  They had rocketed up to No. 17 in the country on the strength of the road win against Ohio State and there were even whispers — very faint ones — that the Hokies could be the ACC team to challenge Florida State's dominance.  And then Week 3 happened.  East Carolina jumped out to a 21-0 first-quarter lead on the sleepwalking Hokies and hung on for the 28-21 win in Blacksburg.  Tech was actually able to come back and tie the game at 21-all before the Pirates scored with :16 left to drop VT to 2-1 on the season.  What it also does?  Makes Ohio State's loss look that much worse, for both the Buckeyes specifically and the Big Ten as a whole.  Speaking of which…
Jayhawk roadkill
And the (losing) beat goes on for Kansas football. Thanks to KU's dismal showing in a 41-3 loss to Duke, the Jayhawks still have not beaten a Power Five school on the record since edging Iowa State 35-33 on Oct. 4, 2008. They haven't won a road game against any team since Sept. 12, 2009, a 37-9 win over UTEP. Since winning the Orange Bowl to cap a 12-1 2007 season that included a perfect 4-0 road mark, KU has gone 22-51 overall and 2-27 away from Lawrence. Since Mark Mangino was (wrongly) dumped in 2008, that overall record is 9-39 under Turner Gill and his successor, Charlie Weis. Hey, though, it's not all bad for the Jayhawks — basketball season starts up in a couple of months.
Rutgers enters B1G world with tiny loss
Yes, Rutgers and its athletic programs officially joined the Big Ten July 1. Yes, RU played its first game as a member of the Big Ten two weeks ago. It hadn't, however, actually played a game against a team from its new conference until this weekend — and, based on the result, it might take a bit of time to recover from the psychological effects of the loss.  Prior to the game with Penn State, the crowd was amped… the players were amped… the coaches were even amped,.. and the team responded to the atmosphere, jumping out to a 10-point halftime lead.  That would be the last of the home team's scoring as the Nittany Lions scored the final 13 points to escape Piscataway with a narrow three-point win.  Incidentally, the PSU-RU game was the earliest Big Ten conference game since 1996. It was also the first time Rutgers has hosted Penn State on-campus since 1955.
They heart cupcakes
There are 65 members of the so-called Power Five conferences — the ACC, Big Ten, Big 12, Pac-12 and SEC. Of those 65, just 11 of them do not play another member of that elite Group of Five. Not so unexpectedly, the SEC is the conference with the most at four (Mississippi State, Ole Miss, Texas A&M, Vanderbilt). That league was followed by the Pac-12 (Arizona, Colorado, Oregon State) and ACC (North Carolina State, Wake Forest). That leaves the Big Ten (Penn State) and the Big 12 (Baylor) with just one apiece.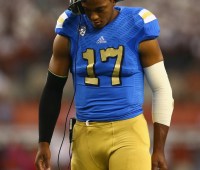 TOP 25 TOO-CLOSE-FOR-COMFORT
How ranked teams endured close shaves vs. unranked opponents
No. 12 UCLA 20, Texas 17: Of course, this game was greatly impacted by the Bruins' starting quarterback, Brett Hundley, going down early with some type of shoulder injury.  A late touchdown pass from Jerry Neuheisel — Rick's son — kept the Bruins from addressing an embarrassing loss.
No. 16 Arizona State, Colorado 24: Like their conference brethren, the Sun Devils were impacted by the loss of their starting quarterback, Taylor Kelly, to injury.
No. 20 Missouri 38, UCF 10: Mizzou led UCF just 14-10 at halftime and 21-10 after three quarters before 17 fourth-quarter points erased any hope of an upset for the winless Knights.
No. 25 BYU 33, Houston 25:  After jumping out to a 23-0 lead midway through the second quarter, it appeared the Cougars were poised for a blowout that had people, for whatever reason, talking playoff.  The Conference USA Cougars drowned out that noise by scoring 25 of the last 35 points of the game to nearly pull off a stunning comeback.
CFT TOP FIVE
A snapshot look at how my ballot would look Sunday if I, ya know, had a real vote.
1. Florida State — If there were a way to score during a bye week, I'm quite certain FSU and its embarrassing riches of offensive talent would find a way to do it.  Alas, the Seminoles will have to settle instead for having an extra week of rest and preparation for its ACC opener this coming weekend. (Last week: No. 1)
Next up: vs. Clemson, Sept. 20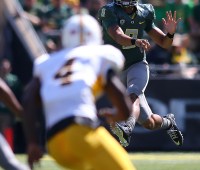 2. Oregon — The Ducks have won their three games this season 156-54.  UO has byes the next two weeks — including the Washington State game — before embarking on a five-game stretch that includes games against Arizona, UCLA, Washington and Stanford. (Last week: No. 2)
Next up: at Washington State, Sept. 20
3. Texas A&M — That romp over South Carolina in the opener looks even better now with the Gamecocks' win over Georgia, doesn't it?  The 38-19 cruise over Rice Saturday night didn't hurt, either. (Last week: No. 3)
Next up: at SMU, Sept. 20
4.  Alabama — Is it just me or is there something a little off on or slightly askew with the Tide's defense?  They gave up 23 against a so-so West Virginia team in the opener, then allowed 12 points to a woeful Southern Miss squad.  Regardless, UA is clearly one of the five best teams in th country right now. (Last week: No. 4)
Next up: vs. Florida, Sept. 20
5. Oklahoma — All the Sooners have done is beat their first three opponents of the 2014 season by an average of nearly 34 points per game.  I probably should move them ahead of Alabama, but just can't pull the trigger quite yet. (Last week: No. 5)
Next up: at West Virginia, Sept. 20
HE SAID IT
"I haven't talked to Josh Lambert since he got on campus, and we're going to keep it that way. I know his name and who he is but other than that I'm doing the hands off approach." — West Virginia head coach Dana Holgorsen, when asked what he said to his kicker prior to the game-winning field goal attempt.  Lambert, incidentally, is a redshirt sophomore who led the team in scoring in 2013.
HE SAID IT, THE SEQUEL
"I keep hearing about how student bodies across the country aren't showing up for games. Ours certainly is and I want to thank them. I never want to take them for granted, because one day you'll look up there and they won't be there for you. I think a big reason we jumped out fast was because of the environment created by our students and our fans, so I just want to make sure we show our appreciation." — Ohio State head coach Urban Meyer said of the capacity crowd that showed up for a noon kickoff against a MAC school.
HE SAID IT, THE THREEQUEL
"I'm proud of our team and staff. We had a tough loss at South Carolina. Coming back having to play another power away in a hostile venue was tough and I'm proud of our kids because we've been talking about the commitment since day one. To be able to see it grow in front of you is a beautiful thing to watch. That was a great win for our players." — ECU head coach Ruffin McNeill, following his squad's upset win over Virginia Tech.
HE SAID IT, THE QUADQUEL
"Arkansas burst into the line, which I think everybody started to almost brain fart, so to say, in that sense, because they hadn't shown up on film." — Texas Tech linebacker V.J. Fehoko, on the Red Raiders' miscommunications on defense as Arkansas rolled over Tech.
HE SAID IT, BONUS EDITION
"I knew we had a good chance to beat them when I heard [Paul] Finebaum pick them to win by 20 points." South Carolina head coach Steve Spurrier, after the huge win over Georgia.
HELMET OF THE DAY
Aug. 20, Kent State starting offensive lineman Jason Bitsko died of an undetermined medical issue after being found unresponsive at his residence.  The team is honoring their fallen teammate all season long, with the helmet below being the Golden Flashes' headgear of choice for the Ohio State game: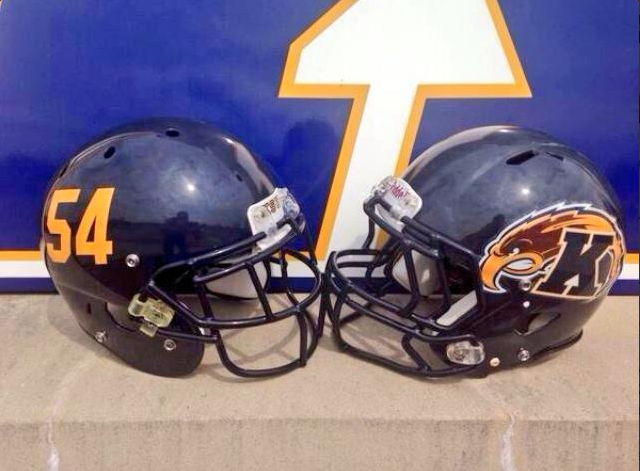 PIC OF THE DAY
Big Blue Nation may not have been able to see their team end its long losing streak to Florida, but at least one Kentucky fan was able to "clean" the tires of the Gators' bus.
A man with a mullet and wearing jorts taking a leak on a vehicle in the middle of the day?  Yep, that's Gainesville.
TWEET OF THE WEEK
There are very few things in life better than Barry Switzer busting testicles on Twitter.  The latest victim?  Former Oklahoma All-American Brian Bosworth.  And punters.
Don't change, Barry.  Don't ever, ever, ever change.
GIF OF THE DAY
Many people, myself and Barry Switzer included, give kickers and punters a hard time for not being "real" football players.  Try telling that Army's Alex Tardieu.  Or Stanford's Kodi Whitfield.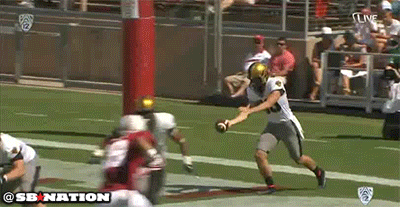 That, my friends, is Army strong.
S.I.D. NOTE OF THE DAY
Purdue's series with Notre Dame is tied with USC vs. Notre Dame and New Mexico vs. New Mexico State for the fourth-longest uninterrupted non-conference series in the FBS behind Notre Dame and Navy (since 1927), Army and Navy (since 1930) and Cincinnati and Miami (Ohio) (1945). The 86 games between the two programs is the most vs. a Big Ten opponent in Fighting Irish history. That uninterrupted streak will end next season, however, as the two football programs aren't scheduled to meet again until 2020.
S.I.D. NOTE OF THE DAY, THE SEQUEL
In addition to Chris Fowler, Kirk Herbstreit and Lee Corso, ESPN's College GameDay has had another constant – the [Washington State] flag, which this weekend [made] its 150th consecutive appearance on the weekly show, dating back to the beginning of the 2004 season. Two flags – Ol' Crimson and Gray – have been flown in the background of the GameDay set by dozens of friends and alumni. The Gray flag was added this year after Whitey was retired in honor of Steve Gleason's "No White Flags." WSU recognized the GameDay flag wavers in a pregame ceremony prior to the Montana State game in 2010. In addition to the flags that fly, there is a traveling flag signed by the holders after each episode. The traveling flag is retired after each season, the first of which is hanging in WSU's Alumni Center.
(Tip O' the Cap: Washington State athletics)
SAY WHAT?
Are you curious as to which college team had the most players on NFL rosters (excluding practice squads) opening weekend?  If so, here you go with a Top 10 list, courtesy of the NFL itself:
1. LSU, 38
2. USC, 37
3. Alabama, 36
4. Georgia, 34
T-5. Florida, 33
T-5. Florida State, 33
7. Miami, 31
T-8. Cal, 29
T-8. Ohio State 29
T-10. Notre Dame, 28
T-10. Tennessee, 28
FOR STATISTICAL PURPOSES ONLY
— Florida State, on a bye this weekend ahead of the Clemson game, remains the only team in the country with a double-digit winning streak (18).  The next closest?  LSU, Mississippi State, Oklahoma and Washington have each won six straight.  Miami of Ohio continues to have the nation's longest losing streak, with its loss to Michigan representing the 19th in a row.  With a loss to Cincinnati next Saturday, the RedHawks would tie Temple (2004-06) for the 14th-longest losing streak in FBS history.  Should the Oxford school lose its final nine games — they won't be favored in any of them — they'd own the second-longest such streak, trailing only Northwestern's 34 straight earned from 1979-82.
— Washington State's Connor Halliday threw for 544 yards and six touchdowns in a 59-21 win over Portland State. It's the second time in three games Halliday has thrown for 500-plus yards. He was 14 yards away from breaking his own single-game school record.
— Trevor Knight has two career 300-yard games, and both came in Oklahoma wins over SEC teams: 304 on Tennessee last night, 348 on Alabama in the 2014 Sugar Bowl.
— Brad Kaaya's 342 yards were the most by a true freshman quarterback in Miami history.
— In the first half of Ole Miss' blowout win over Louisiana-Lafayette, Bo Wallace completed 20-of-24 passes for 290 yards and three touchdowns.  He opened the game by completing his first 16 passes. After playing just over two quarters, Wallace finished 23-28 for 316 yards and four touchdowns.
— Marshall has rolled up 1,429 yards of offense the past two games, 705 in the Week 3 win over Ohio and 724 in the win over Rhode Island.  Quarterback Rakeem Cato has been responsible for 854 of those yards — 692 passing, 162 rushing.
— The 511 yards passing by Clint Trickett in West Virginia's 40-37 win over Maryland were the second-most in school history, behind Geno Smith's 656-yard explosion two years ago.  Trickett's main target was Kevin White, who caught 13 passes for 216 yards on the afternoon.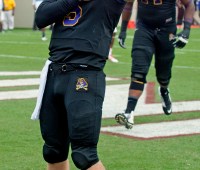 — Shane Carden accounted for all four of East Carolina's touchdowns (three passing, one rushing) in the 28-21 win over Virginia Tech.  The rushing score was the game-winner as Carden snuck in from a yard out with just :16 left.
— Bowling Green's James Knapke attempted 73 passes — completing 46 — and threw for 395 yards in the win over Indiana.    The attempts and completions set school records.  It was just the second career start for the redshirt sophomore.
— Texas' Tyrone Swoopes completed 18 straight passes over the course of two games: seven straight to end the BYU game, 11 to begin the UCLA game.  Unfortunately for Swoopes and the Longhorns, both of those games were losses.
— Shaun Wilson's 245 yards rushing in Duke's romp over Kansas were the most in school history.  Making that record even more impressive was the fact that Wilson carried the ball just 12 times.
— Backup running back D.J. Vinson's five rushing touchdowns set a UAB single-game record.  It also tied the Conference USA mark for a single game.
— Illinois' embarrassing loss to Bowling Green wasn't Tevin Coleman's fault as the running back rushed for 190 yards and scored three touchdowns on the ground.  He added four catches for 38 yards out of the backfield for good measure.
— Pittsburgh James Conner has 545 yards rushing this season, breaking Tony Dorsett's school record for most rushing yards in the first three games of a season set back in 1973.  The sophomore had 178 yards in the win over FIU.
— True freshman Nick Wilson has 449 yards and four touchdowns through three games for Arizona, all wins as the Wildcats are off to their third 3-0 start the last three years. They're cumulative record in their remaining games in 2012 and 2013? A middling 10-10.
— Arizona State's D.J. Foster has four rushes of 40 or more yards this year; no Sun Devil had more than two in 2013. As a team, ASU has seven40-plus-yard rushes in three games after having five for all of 2013.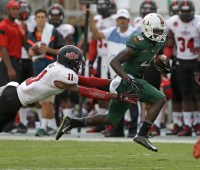 — In Miami's win over Arkansas State, Phillip Dorsett caught four passes for 201 yards and two touchdowns.  Last season, he had 272 yards receiving and two receiving touchdowns for the entire year.
— Florida wide receiver Demarcus Robinson is the first Florida player with consecutive 100-yard receiving games since Jabar Gaffney in 2001.
— LSU wide receiver Travin Dural caught a five-yard pass early in LSU's game against Louisiana-Monroe, the first time in his career (15 games) that a reception didn't go for either a first down or a touchdown.  Entering the game, Dural was averaging 48.5 yards per catch this year, with four of his six receptions going for touchdowns.
— Washington's Shaq Thompson returned an interception 36 yards for a touchdown and had a 52-yard fumble recovery for another score, the first time a Husky defensive player has done that since at least 1978.
— Marshall Morgan's field goal in the first quarter of Georgia's game at South Carolina was his 19th in a row, breaking the SEC record he had shared with Tennessee's Fuad Reveiz.  Morgan's streak ended at 20 consecutive makes as he missed from 44 yards out late in the second quarter.  He actually missed two in a row, the second coming with just over four minutes left that could've tied the game at 38.
— Cody Sokol tossed five touchdown passes, three in the second quarter, as Louisiana Tech dropped North Texas 41-21 Thursday night.
— Colorado State set a school record with 452 yards passing — starter Garrett Grayson had 425 of them — in the 49-21 win over UC Davis.
— Wake Forest was the antithesis of Boston College and Arkansas, rushing for minus-25 yards in the loss to Utah State.
— Alabama is 3-0 to start the season for the 11th straight year.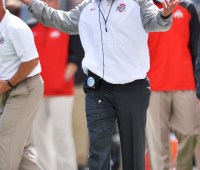 — A whopping 89 percent of Ohio State's 121 points this season have been scored by freshmen (true and redshirt) and sophomores. The present may have fizzled on the field in Week 2 vs. Virginia Tech, but the future for Urban Meyer and his Buckeyes looks bright, at least offensively.
— Saturday was the third-ever meeting between LSU and Louisiana-Monroe; including the 31-0 waxing last night, the Tigers have outscored the Warhawks 131-7 in the brief in-state series.
— Ohio State is also now 3-0 all-time against Kent State, outscoring the Golden Flashes 165-20. That includes the Buckeyes' 66-0 win Saturday afternoon.
— Stanford has allowed just 13 points through three games, with both of its wins coming via the shutout (45-0 over UC Davis in Week 1, 35-0 over Army in Week 3).  The Cardinal's lone loss came by three points in a 13-10 loss to USC last week.
— Utah State's game against Wake Forest — a USU win — was the first time the Aggies have ever played host to a team from the ACC. It was also USU's first win against a team from that conference in four attempts.
— Air Force's game against Georgia Southern — a 48-38 win for the service academy — marked the first time the Falcons played in the state of Georgia since Oct. 1, 1977, a 30-3 loss to Georgia Tech. The win also marked Air Force's 100th overall since joining the Mountain West in 1999.
— UNLV hosted Northern Illinois Saturday; the Rebels won't play another game at home until Oct. 10 vs. Fresno State. In between, they will take road trips to Houston, San Diego State (MWC opener) and San Jose State.
— Eastern Michigan scoffs in the general direction of UNLV's road warrior impersonation as the Eagles, after opening at home, play four straight away from Ypsilanti. Two of those games were/will be paycheck games against Florida and Michigan State. The other two were /will be games against Old Dominion (?) and the MAC opener against Akron. It's not like much home-cooking is in EMU's future after that stretch, either, as three of its last seven are on the road, leaving the team with just five home dates in 2014.
— A whopping 10 different Cincinnati players caught passes in the Bearcats' win over Toledo.
DID YOU KNOW THAT…
… Tulsa has the smallest undergraduate enrollment of FBS schools with 3,429 students? On the flip side, and per the ever-reliable Wiki, Arizona State has the largest enrollment at 60,168.