As is the case each and every season, each and every week, any omission below is not on purpose, it's merely intentional.
THUMBS UP
Exorcising the Raleigh ghosts
When it comes Raleigh, NC, that college town has served as Florida State's kryptonite over the past couple of decades.  Six times since 1998 a ranked FSU squad lost to North Carolina State, the most recent coming in 2012.  The Wolfpack were looking to continue that rather bizarre run of success, jumping out to a 24-7 first-quarter lead and holding a 10-point lead with just over six minutes remaining in the third quarter.
The reigning Heisman winner and one of his backfield sidekicks, however, weren't having any of that.
In his first game since a one-game suspension, Winston tossed a pair of third-quarter touchdown passes to give the 'Noles their first lead of the game at 42-38.  A Karlos Williams one-yard touchdown run three minutes into the fourth quarter essentially put the game away — Winston's inexplicable interception, which had Jimbo Fisher downright irate, notwithstanding — while Williams' 12-yard scamper with just over two minutes remaining put the exclamation point on the closer-than-it-looked 56-41 win.  Winston wound up completing 26-of-38 passes for 365 yards and four touchdowns while Williams added 126 yards and three touchdowns to stave off the upset bid.
The win kept FSU's winning streak alive, extending its school record to 20 straight.  However, the Seminoles have already seen its stranglehold on the top spot in the Top 25 rankings loosened over the past couple of weeks; it's highly likely that support will weaken yet again when the polls are released Sunday afternoon.  Will it be enough to knock them off the perch?  Probably not this week, but it certainly wouldn't be surprising if a team like Oklahoma or Alabama leapfrogged the defending BCS champions.
Good gawd Gurley
You would have to do a pretty damn good job to convince me that Todd Gurley is not the best football player in the country this year.  In Georgia's nail-biting  35-32 win over Tennessee Between the Hedges, the junior running back rushed for a career-high 208 yards and a pair of touchdowns; 129 of those yards came in the pivotal fourth quarter.  One of the scores was a 51-yard thing of beauty that put the back's exceptional vision and cutting ability on full display.   On his next run after that, he hurdled a Vols defender on his way to a 26-yard gain midway through the fourth quarter.  Provided he stays healthy the remainder of the season, there's simply no way Gurley won't at least receive a mid-December invitation to New York City for the Heisman Trophy ceremony.  If Mark Richt & Company continues to feed the beast, that is.
Elementary, my dear Watson
Against North Carolina Saturday, Deshaun Watson became the first true freshman to start at quarterback for Clemson in 20 years (Nealon Greene, 1994 vs. South Carolina). Watson's debut as a starter was a monster one as the five-star 2014 signee completed 27-of-36 passes for 434 yards and six touchdowns.  The scoring tosses are a school record for a freshman, or for any other class for that matter, as well as an ACC record for a frosh. According to a note from the school, the Tigers are now 5-12 all-time in games started by first-year freshman quarterbacks; three of those five wins have come at the expense of the Tar Heels.  Based on Watson's play in his first outing, it appears likely he'll get the opportunity to add to that overall win total as, barring injury, there's little doubt it's his job moving forward.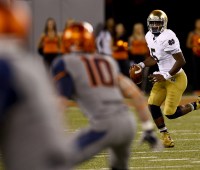 Golson Redemption Tour a smash hit
By now most of you know the Everett Golson story.  Kicked out of Notre Dame for cheating on a test after leading the Irish to the 2012 BCS title game and then sitting out the 2013 season, Golson returned and reclaimed his starting job this offseason.  Saturday, he added yet another chapter to his story of redemption as the quarterback tied the school record for consecutive completions — and nearly set the FBS record (East Carolina's Dominique Davis, 2011, 26) — with 25 in a row as the Golden Domers dropped Syracuse 31-15.  Golson went from 14 minutes left in the second quarter to just over seven minutes left in the fourth quarter without throwing an incompletion, and ended up 33-40 for 363 yards and four touchdowns… and two picks, one of which was returned for a touchdown.  The interceptions notwithstanding, not only was the performance yet another step toward redemption, but it also further strengthened Golson's early-season Heisman case.
Lengthy SEC skein ends
It appears Kentucky's inroads on the recruiting trail are beginning to pay off on the field.  UK's sloppy 17-7 win over Vanderbilt snapped a conference-high 17-game SEC losing streak, giving the Wildcats their first league win since a 10-7 triumph over Tennessee on Nov. 26, 2011.  It's also UK's first double-digit SEC win since a 38-20 victory over Vandy on Nov. 13, 2011.  With UK's win, Arkansas now owns the conference's longest league losing streak at 14 in a row thanks to the 35-28 overtime setback to Texas A&M.
Sprucing up the Rockies
One of the most underrated wide receivers in the country resides in the pass-happy Pac-12.  Entering the Cal game, Colorado's Nelson Spruce was leading the nation in touchdown receptions (seven), and was fourth in receptions per game (9.3) and fifth in receiving yards (153.3).  Spruce did nothing to hurt his national standing in Week 5.  In a wild 59-56 loss, Spruce caught 19 passes for 176 yards and three touchdowns, the third one coming 25 yards out with no time left on the clock to send the game into overtime.  The receptions are the most at the FBS level in 2014, but a bit off the single-game record of 23 set twice: UNLV's Randy Gatewood (1994) and Eastern Michigan's Tyler Jones (2008).
Wild, wild East
Oh that wild and wacky SEC East.  Last week, while Steve Spurrier was undressing his South Carolina Gamecocks following an ugly win over Vanderbilt, Missouri was getting stunned at home by Indiana.  A week later, the two teams met, with USC taking what seemed to be a relatively comfortable 20-7 lead in the middle of the fourth quarter.  However, Mizzou scored a pair of touchdowns in the final 6:49 to stun the Gamecocks in Columbia.  Suddenly, Missouri, the 2013 East champions, is the only team in that division without a conference loss (1-0).  Georgia, Florida and Kentucky are all at 1-1, while USC falls to 2-2 and face an uphill climb to get back to the SEC championship game for the first time since 2010.  Meanwhile, UGA has to like where it's currently sitting.  Not only do the Bulldogs control its own destiny — win out and they claim the East — but the last two times they lost to the Gamecocks they made it to the conference title game; Sept. 13 of this year, UGA fell to USC 38-35.  Yep, they've got the division right where they want it.
Surprise, surprise, surprise
If you're compiling a list for surprise teams through five weeks of the 2014 season, don't overlook Colorado State.  Coming off an 8-6 season in his second year at the school — they won six of their last eight — Jim McElwain was confident his squad was ready to take the next step and surprise some people.  Saturday, they did just that.  Traveling to Chestnut Hill to take on Boston College, which just a couple of weeks ago stunned a ranked USC team, the Rams went back to the Rockies with a come-from-behind 24-21 win.  The Rams had entered the fourth quarter trailing 21-14.  With the win, CSU improves to 3-1 for the first time since 2011.  Based on their play through the first third of a season, the Rams appear to hold a more than middling shot at qualifying for the football program's first-ever Mountain West championship game and earning their first conference title since 2002.
Ass pass
Other than a fat guy touchdown, there's not much better when it comes to the game of football than a good old-fashioned pass that hits the backside of an offensive lineman.  Well, at least in my warped world there's not.  Anyway, Kentucky is the latest to accomplish this rare feat, although this one came with a twist: the football actually slipped  out of quarterback Patrick Towles' hand before it targeted Nick Haynes' rear:
Record-setting pace
Last season in 12 games played, Amari Cooper had 45 receptions for 736 yards and four touchdowns. This season in four games, the Alabama wide receiver has 43 catches for 655 yards and five touchdowns. He entered Week 5, the Tide's first of two bye weekends, first in the country in both receptions per game (10.8) and yards per game (163.8). Assuming he kept up his current pace, and assuming the Tide plays in 13 games — they could play in 15 — Cooper would break the FBS record for yardage in a season with 2,129 (Nevada's Trevor Insley, 2,060 in 1999) but would come up just shy (140) of Bowling Green's Freddie Barnes' 155 receptions in 2009.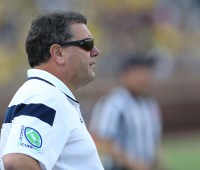 THUMBS DOWN
Little Brown Mugging
Stick a fork in Brady Hoke; he's done.  Embattled and beleaguered for the past couple of years, Hoke and his Michigan squad have hit rock-bottom the past four games.  In Week 2, the Wolverines were embarrassed by Notre Dame 31-0.  The last two weeks, UM has lost to Utah (26-10) and, Saturday, Minnesota (30-14) — with both of those losses coming in the Big House.  Hoke benched a struggling Devin Gardner for Shane Morris, but it was a similar result of an offense that's patently offensive.  Through three quarters, UM had just 102 yards of total offense — 53 rushing, 49 passing.  They would finish the game with  171 yards.  Morris, making his first regular-season start, completed 7-of-19 passes for a microscopic 49 yards and a pick-six before being injured and giving way to Gardner (3-6, 39 yards).  The loss drops the Wolverines to 2-3 on the season; it marks the first time in the football program's storied history, going back to 1879, they've had three losses before October.  And, barring an unexpected turnaround and with fans in full revolt, UM will be searching for its third head coach the last seven years upon the completion of these last seven games.
Woo Pig… Fooey!
This game was the dictionary definition of snatching defeat from the jaws of victory.  Arkansas entered the fourth quarter with a 28-14 lead on Texas A&M and seemed to have all of the momentum on its side.  Two touchdowns by the Aggies — on a pair of Kenny Hill scoring tosses — sent the game into overtime.  Yet another Hill pass pushed the Aggies to its first lead since early in the first quarter in the first overtime.  The Razorbacks, who came into the game with the seventh-best rushing attack in the country, were stuffed on a fourth-and-two run to hand the Aggies the come-from-behind win.  The heartbreaking loss extended what's now the longest losing streak in SEC play to 14 straight.  Make no mistake, though; this is a better football team than the one that won just three games in Bret Bielema's first year, and that streak will come to an end sooner rather than later.
Kickin' themselves in the…
As if Florida didn't have enough going against it, Jacoby Brissett had to go and do that.  In North Carolina State's near-upset of Florida State, the Wolfpack quarterback passed for 359 yards and three touchdowns.  He added 38 yards on the ground for good measure.  Essentially, Brisset was the reason NCSU stayed in the game for as long as it did.  And to think, he could've been under center for the Gators.  In January of 2013, Brissett announced he would be transferring from UF as Jeff Driskel seemed entrenched as Will Muschamp's starter.  After sitting out the 2013 season to satisfy NCAA transfer rules, Brissett entered the FSU game as  the 15th-most efficient quarterback in the country (166.7) and ranked 36th in total offense (280.8); Driskel is 97th (111.1) and 60th (239.7), respectively, in those two categories.  Again, what could've been, with plays like below just adding salt to the wound.
Bayou QB controversy?
Actually, there should really be no controversy at all when it comes to the position.  After watching true freshman Brandon Harris nearly lead LSU to an improbable come-from-behind win against Mississippi State, head coach Les Miles allowed that, even as Anthony Jennings was reaffirmed as the starter, things "could change."  In the romp over New Mexico State, Jennings completed 4-of-5 passes for 11 yards; unfortunately, two of those completions were to the defense.  Harris, on the other hand, went 11-of-14 for 178 yards and three touchdowns.  The talented frosh also ran for two touchdowns and led the Tigers on seven consecutive scoring drives.  Whether Miles pulls the trigger on a change — the Tigers' next two games are on the road against Auburn and Florida — remains to be seen.  What seems to be patently obvious, however, is that Harris will be handed the reins at some point this season.  Hell, if it were up to the fans, the trigger would already have been pulled.
Not very Christian-like
Christian Hackenberg is widely viewed as one of the top young quarterbacks in the country.  Saturday, the true sophomore was anything but that.  In Penn State's inexplicable 29-6 loss to Northwestern in Happy Valley, Hackenberg completed less than 50 percent of his passes (22-45) for the second time in his 17-game career.  His 216 yards were the sixth-lowest of his career.  And then there were the turnovers.  His lone interception of the game was returned for a touchdown, while a fourth-quarter fumble led to another three points for the Wildcats.  The offensive line did Hackenberg no favors, certainly, but it's essentially the same line that was in place when he threw for 454, 319 and 309 yards the first three games of the 2014 season.
The Pitts
The Big Ten has taken a significant amount of flack for its out-of-conference performance thus far this season.  In fairness, it's time to point out a woeful outing from another Power Five conference.  Entering Saturday's game, Akron had just one win on the season — against an FCS school no less — while its two losses came by 18 points to Penn State and 31 to Marshall.  Somehow, someway, the Zips went into Pittsburgh and tripped up the Panthers 21-10.  The Zips came into the game 85th nationally in rushing yards allowed per game at 179.3; the Panthers were held to a season-low 129.  James Connor, the nation's leading rusher through four weeks with 699 yards, was held to just 92 yards on 25 carries.  It was the first time in six games Conner failed to crack the 100-yard mark.
Trouble Brewering in Blacksburg
To say that Michael Brewer has struggled this season would be an understatement.  Including the two in the closer-than-it-should've-been win over Western Michigan, the Virginia Tech quarterback has tossed a whopping 10 interceptions through the first five games of the season.  The only game in which he didn't have multiple picks was in the opener against FCS-level William & Mary, with a high of three in the loss to Georgia Tech last Saturday.  After what started out as looking like a promising season coming off the huge road win over Ohio State, the play of Brewer has led directly to the stumbling the last three weeks.  Would Frank Beamer turn to fifth-year senior Mark Leal or sophomore Brenden Motley?  If the Hokies want to keep the season from further slipping away, they may very well have no choice but to make a change under center.
Down goes the scoreboard! Down goes the scoreboard!
Because of renovations to Warren McGuirk Alumni Stadium, UMass had not played an on-campus football game in almost three years. Let's just say that the lid-lifter for the revamped stadium didn't go exactly as planned. First of all, the Minutemen fell to 0-5 on the season thanks to a 47-42 loss to Bowling Green. And, to add insult to injury, the scoreboard at the stadium toppled over during the third quarter of the loss. Thankfully no one was hurt, unless you count the football program's pride. Below are some before and after shots of the collapse.
https://twitter.com/nickjomalley/status/515973461001641984/photo/1
http://twitter.com/hasselESPN/status/515973793219887106/photo/1
Anti-Army strong
One of the service academies has officially hit rock-bottom, and the calendar still hasn't flipped from September to October.  Army had to receive special permission to be able to add Yale to its 2014 schedule.  Much to the Black Knights chagrin, the Bulldogs made them pay for the permission as the Ivy League school took out Army 49-43 in overtime.  The two teams combined for 1,222 yards of offense, while Yale was able to overcome a 2-0 deficit in turnovers.  Army, now 1-3 on the season, becomes the first FBS team to lose to an Ivy League team since Navy fell to Penn in 1986.
100-loss plateau — twice
With Tennessee Tech's 50-7 loss to Northern Iowa Saturday, Watson Brown saw his career record as a collegiate head coach fall to 128-200-1.  Brown thus becomes the first collegiate coach to reach the 200-loss plateau and, in the process, broke his tie with the legendary Amos Alonzo Stagg for most all-time losses.  The big difference is Stagg accumulated his 199 losses over the course of 57 years, while Brown hit 200 in his 30th year.  And it's not like Brown did this with programs far off the FBS or even Div. I grid; rather, he's been the head coach at Cincinnati (1983), Rice (1984-85) Vanderbilt (1986-90) and UAB (1995-2006) in addition to FCS stops at Austin Peay and his current employer.  And, for those who aren't aware, Brown is the older brother of former Texas head coach Mack Brown.  He's also a player who turned down Bear Bryant face-to-face so that he could play at… Vanderbilt.  For an excellent look at Brown's quirky story, click HERE for Ivan Maisel's outstanding piece.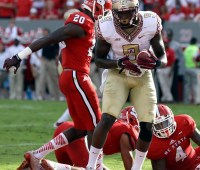 TOP 25 TOO-CLOSE-FOR-COMFORT
How ranked teams endured close shaves vs. unranked opponents
No. 1 Florida State 56, North Carolina State 41: After trailing 24-7 at the end of the first quarter and 38-28 late in the third quarter, Jameis Winston and Karlos Williams — and the FSU defense — restored order to extend it's nation's-best winning streak.
No. 6 Texas A&M 35, Arkansas 28:  This game had loss written all over it as the Aggies stumbled to a 14-point fourth-quarter deficit.  Three touchdowns by Kenny Hill, the last coming in overtime, allowed A&M to push its record to 5-0 for the first time since 2001.
No. 10 Ole Miss 24, Memphis 3: Peeking ahead to Alabama a bit?  The Tigers are actually a better team than given credit?  I'll go with a combination of the two as the Rebels very nearly spoiled what will be a huge showdown in Oxford in Week 6, sleepwalking to a 7-3 halftime lead and then slowly pulling away for the win with 17 fourth-quarter points.  The Rebels are 4-0, the first time they've started a season with that mark in 44 years.
No. 12 Georgia 35, Tennessee 32: The Bulldogs couldn't put the spunky Vols away until a fumble in the end zone was recovered by Josh Dawson for a touchdown with 4:27 left in the fourth quarter.  Well, that and a Todd Gurley run on fourth-and-three with under a minute remaining.
No. 18 USC 35, Oregon State 10: The Beavers just hung around and hung around and hung around as the Trojans were never able to completely put OSU away through three quarters.  A touchdown early in the first quarter on the legs of Javorius Allen, though, gave the Trojans enough room to breathe for the remainder of the period, while Justin Davis' score with just over five minutes remaining officially iced it..
No. 16 Stanford 20, Washington 13: The Cardinal's red zone struggles continued, but they made enough plays at the end to avoid an 0-2 start in Pac-12 play.  A five-yard run by quarterback Kevin Hogan with 4:29 remaining proved to be the difference.
No. 19 Wisconsin 27, USF 10: The Badgers and Bulls were tied 3-3 at halftime before UW woke up and slammed the door on any hope the visitors had in coming into Madison and stealing a road win.
No. 22 Ohio State 50, Cincinnati 28: After jumping out to a 30-7 first-half lead, the Buckeyes took just a 30-21 lead into the halftime locker room.  The Bearcats pulled to within 33-28 early in the third quarter before home-standing OSU wore down the UC defense and pulled away.
CFT TOP FIVE
A snapshot look at how my ballot would look Sunday if I, ya know, had a real vote.
1. Oklahoma — Out of all the teams vying for the Top Five, the Sooners have been the most consistently impressive squad of the group. The bye this week didn't hurt, either, as OU makes a huge jump up in the rankings. (Last week: No. 5)
Next up: at TCU, Oct. 4
2. Oregon — The struggles in the closer-than-expected win over Washington State are somewhat of a distant memory, allowing the Ducks to remain at No. 2.  UO was also the second of three teams in the Top Five on a bye this weekend. (Last week: No. 2)
Next up: vs. Arizona, Oct. 2
3. Florida State — In three of their four wins, the Seminoles haven't even remotely resembled the 2013 squad that steamrolled its way to the BCS championship.  Fair or not, this year's team will be judged by last year's juggernaut as much as they will with those teams around them.  All that said, I had no choice but to drop FSU a couple of spots. (Last week: No. 1)
Next up: vs. Wake Forest, Oct. 4
4.  Alabama — The third of three teams on a bye weekend, the Tide spent this past week getting healthy ahead of what's turned into a huge divisional matchup against Ole Miss. (Last week: No. 4)
Next up: at Ole Miss, Oct. 4
5. Texas A&M — Thanks to A&M's struggles against Arkansas in overtime, I very nearly moved Auburn into the rankings for the first time this season.  I simply couldn't pull the trigger, however.  At least, not yet I can't.. (Last week: No. 3)
Next up: at Mississippi State, Oct. 4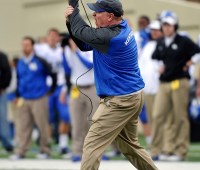 HE SAID IT
"Again, I've only been here one year and one game, so that one year was long! So let's not talk about that anymore! All right?" — a laughing Mark Stoops, when asked if he was happy to get Kentucky's first SEC win in three years.
HE SAID IT, THE SEQUEL
"I've been in football a long time. When things go bad, these are the things that happen. The tackling gets bad and you make some dumb decisions as a football player. It's like having a bad month, rather than a bad day." — interim head coach Tom Mason, on SMU's fourth straight loss by at least 37 points to start the 2014 season.
HE SAID IT, THE THREEQUEL
"Another great showing by @SMU_Football Something needs to be done. #Embarrassing" — former SMU great Eric Dickerson in a tweet, on the latest pitiful performance by his Mustangs. Lately, Dickerson has been highly critical of his former school and football program.
HE SAID IT, THE QUADQUEL
"Today was ugly…that is MY fault. We WILL get better because we have GREAT young men w/ POSITIVE attitudes that aren't afraid to WORK." — a tweet from Penn State offensive line coach/run-game coordinator Herb Hand, on the Nittany Lions' ugly home loss to Northwestern.
HE SAID IT, BONUS EDITION
"I think this team can still win the [Big Ten] championship.  I really do." — Michigan head coach Brady Hoke, presumably with a straight face and everything.  On a completely unrelated note, it's unclear what UM's drug-testing policy is for coaches.
JUG OF THE DAY
GAMEDAY SIGN OF THE DAY
Being self-aware in all walks of life is a highly underrated quality for an individual to possess.  At least one person in Columbia, SC, however, has such a quality.  In spades.
BODYSLAM OF THE DAY
If you want to run out onto the field with Ohio State and you're technically not allowed to do as much, make sure that you avoid assistant Anthony Schlegel at any and all costs.
BLOCK OF THE DAY
Randy Gregory didn't just block an Illinois offensive player following an interception; the Nebraska defensive lineman absolutely obliterated him.
Damn.  My grandkids haven't even been born yet and they still feel that.
HATER TWEET OF THE DAY
Some Michigan Men are better at this grammar thing than others.  And some aren't even remotely close at being good at it.
It's not very often that you see the #your/#its/#a triple play in the same two-sentence tweet.  Kudos, anonymous butcher of the English language.  Kudos.
TWEETED STAT THAT MAY ONLY INTEREST ME
I have no idea what the following means, but here ya go:
In those 10 games, the Vols are 4-6.
STREAKING
Florida State has won a nation's-best 20 straight games, extending the record for an ACC school. The Seminoles' last loss came Nov. 24, 2012, a 37-26 home setback to in-state rival Florida. With the exception of the last Saturday's game against Clemson (23-17 in overtime), the 2014 season opener against Oklahoma State (37-31), the BCS title game against Auburn (34-31) and the 2012 regular-season finale against Georgia Tech (21-15), FSU has won every one of its games during this current streak by at least 14 points. Of those 16, 10 wins have come by 30-plus points, with three of those being by 50-plus points and two by 60-plus. FSU is currently the only team in the country with a double-digit winning streak. Oklahoma has the next-longest at nine straight, while Mississippi State has won eight in a row. At the opposite end of the W/L spectrum is Miami of Ohio, which has now lost 21 straight games. That ties Ball State (1999-2000), South Carolina (1998-2000), Kent State (1981-83) and New Mexico (1967-69) for the 10th-longest losing streak in FBS history. The RedHawks have not won a game since a 23-20 victory over No. 23 Ohio Oct. 27, 2012. Idaho, at (11) straight, is the only other FBS team with a double-digit losing skein.
S.I.D. NOTE OF THE DAY
15 – The number of non-conference games ACC teams will play against teams ranked this week in the Associated Press Top 25, the largest number by any of the Power Five Conference. ACC teams in the regular season will face No. 8 Notre Dame (4), No. 11 UCLA, No. 12 Georgia (2), No. 13 South Carolina, No. 18 Southern California, No. 20 Brigham Young, No. 21 Nebraska, No. 22 Ohio State, No. 23 East Carolina (2) and No. 24 Oklahoma State. Eight of the 15 non-conference games are road contests.
(Tip O' the Cap: the ACC sports information department)
S.I.D. NOTE OF THE DAY II
In a 44-14 win over Ohio on Sept. 13, Marshall joined Hawaii as the only schools in FBS history with two 100-touchdown passers. With four touchdown passes vs. Ohio, Cato hit 100 in his career (joining Houston's Case Keenum as the only Conference USA quarterback with 100). Chad Pennington threw 15 TD passes as a freshman in 1995 at the FCS level and threw an additional 100 in FBS play for the Herd from 1997-99. Cato now has 101 TD passes. Hawai'i posted 117 TD passes from Timmy Chang in 2000-04, then had 131 from Colt Brennan in 2005-07.
(Tip O' The Cap: Conference USA sports information department)
S.I.D. NOTE OF THE DAY III
By reaching a bowl game last year for the fourth season while just five years removed from a winless season, Washington pulled off a rare feat. The Huskies were just the second team in the last 50 years of major college football to have gone from winless to four bowl games within five seasons. The only other program to accomplish that feat is Florida (winless in 1979; bowl games in 1980, 1981, 1982 and 1983).
(Tip O' the Cap: Washington sports information department)
OFF THE CHARTS
Below is a list of the Top Five in most total yards by an active quarterback at the FBS level:
1. Taylor Heinicke, Old Dominion, 14,268
2. Rakeem Cato, Marshall, 11,871
3. Sean Mannion, Oregon State, 10,888
4. Cody Fajardo, Nevada, 10,641
5. Marcus Mariota, Oregon, 9,158
SAY WHAT?
Through four games, SMU is the only team in the country with four quarterbacks who have attempted 10 or more passes: Garrett Krstich (54), Neal Burcham (48), Kolney Cassel (34) and Matt Davis (11).  Burcham, named the starter heading out of summer camp, suffered a season-ending injury in Week 2, leading to the wild quarterback carousel.  Krstich is a walk-on who entered summer camp No. 4 on the depth chart, and who started Saturday's loss to TCU.  Three of those quarterbacks — Burcham, Cassel, Krstich — have started games for the winless Mustangs, who have been outscored 202-12 in those four losses.  That includes the 56-0 pasting at the hands of TCU Saturday.  The Mustangs' lone touchdown this year came with no time left on the clock in the Week 2 loss to North Texas.
DULY NOTED
Entering Week 5, Wisconsin was the lone FBS team to boast three players among the nation's top 75 in rushing: running back Melvin Gordon 7th (143.7 yards per game), quarterback Tanner McEvoy 51st (84.3), running back Corey Clement t-72nd (71.0).  That will likely change exiting Week 5 as, while Gordon rushed for (181) yards and Clement 77, McEvoy was held to just 23.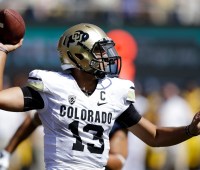 STATISTICALLY SPEAKING
— Colorado's Sefo Liufau connected on seven touchdown passes and threw for 449 yards in the double-overtime loss to Cal. Five different Buffalo receivers caught scoring passes. The total is a school record, but four off Houston's David Klingler's FBS record of 11 in 1990.  Cal's Jared Goff literally matched Liufau stat for stat as he threw for 449 yards and seven touchdowns as well.  This marked the first time in FBS history where two quarterbacks have each thrown for seven touchdowns in the same game.
— With 324 yards passing in the win over Cincinnati, Ohio State's J.T. Barrett now has 300-plus yards in back-to-back games.  He's the first Buckeye quarterback to do that since Heisman winner Troy Smith at the end of the 2005 season. With 330 passing yards and 79 rushing yards, Barrett's 409 yards of total offense ranks second all-time, behind only the 412 posted by Art Schlichter against Florida State in 1981.
— With his 417-yard performance against Utah, Washington State's Connor Halliday now has 19 career 300-yard performances, 10 400-yard games, four 500-yard games, 12 four-touchdown performances including five 5-touchdown games and two 6-touchdown games. All of those totals are school records.
— Rutgers is 19-4 in games Gary Nova starts when the quarterback throws one or zero interceptions, while the Scarlet Knights are just 2-9 when the same player tosses two or more picks in a game.  Nova had one interception in the win over Tulane.  Additionally, a 93-yard touchdown pass in the middle of the second quarter to Andrew Turzilli was the 60th of his career, setting the school's all-time career mark for touchdown passes (Mike Teel, 59, 2006-08).
— In Western Kentucky's 37-26 win over Navy, Brandon Doughty passed for 387 yards.  Already this season, Doughty has passed for 593 yards and 5469 yards.
— With the 24-10 win over Purdue, C.J. Beathard became the first Iowa quarterback to win his first career start in a road game since Jason Manson in 2006.
— TCU's Trevone Boykin accounted for six touchdowns — four passing, two rushing — in the blowout win of SMU.
— UMass' Blake Frohnapfel completed 36-of-61 passes for 589 yards and five touchdowns in the 47-42 loss to Bowling Green.
— Wade Freeback's second career start will likely be one he'll want to forget as the true freshman completed 8-of-25 passes for 85 yards and three crippling interceptions.  The Commodores' 17-7 loss to Kentucky drops them to 1-4 in the first season under head coach Derek Mason.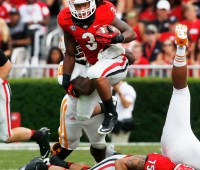 — Todd Gurley's 208 yards rushing were the most by a Bulldog since 1992 when Garrison Hearst ran for 246 versus Vanderbilt, and he's the first to go over 200 since Verron Haynes went for 207 versus Ga. Tech in 2001.
— With 3,810 career yards, including 208 in Nebraska's win over Illinois, Ameer Abdullah trails only Ahman Green (3,880) and 1983 Heisman Trophy winner Mike Rozier (4,780). Abdullah will need to average 121.25 yards per game over the next eight games (including bowl game) to top Rozier's school record; while he's averaged 84.7 yards per game in his career, he's at 108 the past two-plus seasons and 136 in 2013-14.
— From ESPN's College Gameday Twitter account: Ezekiel Elliott's 182 rush yards are the most by an Ohio State player in a non-conference game since Maurice Clarett in '02 (230 vs Wash St).
— David Cobb totaled 233 yards — 183 rushing, 50 receiving — in Minnesota's win over Michigan.
— Tevin Coleman ran for 122 yards and a touchdown in Indiana's loss to Maryland.  It's the running back's sixth straight 100-yard rushing game, a streak that's tied for tops in the nation.  He also has scored a rushing touchdown in 13 consecutive games, which is not only tops in the country but sets the school record.
— Charles Jones rushed for just 76 yards on 12 carries, but he did score three touchdowns in Kansas State's 58-28 thumping of UTEP.  Jones now has eight rushing touchdowns through the first four games of the season.
— Kansas State's receiver Tyler Lockett racked up 246 all-purpose yards — 84 receiving and 162 in returns — to help K-State get past UTEP.
— Wide receiver Quan Bray accounted for three touchdowns — two receiving, one punt return — as Auburn thumped Louisiana Tech 45-17.
— Utah's Kaelin Clay has three punt returns for touchdowns this season after his 58-yard return against Washington State, tying the school record after just four games. The record he tied was set by Steve Smith, incidentally.
— Griffin Oakes' 58-yard field goal in Indiana's loss to Maryland set a school record.
— Brett Hundley accounted for five touchdowns — four passing, one rushing — in UCLA's 62-27 evisceration of Arizona State Thursday night. The Sun Devils' Mike Bercovici, meanwhile, threw for 488 yards in the loss. His 42 completions were spread out to 11 different receivers.
— In Oklahoma State's 45-35 win over Texas Tech Thursday night, Daxx Garman threw for 370 yards and four touchdowns on just 17 completions.  An astounding 11 of those completions went for at least 14 yards, with eight of those going for 20-plus yards.  Also, eight different Cowboy players caught passes.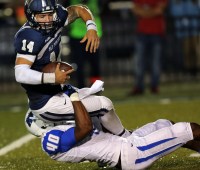 — Old Dominion's Taylor Heinicke threw for 362 yards and four touchdowns in the Friday night loss to Middle Tennessee State.  He also, though, threw three interceptions in the 41-28 setback.
— From the Associated Press' Ralph Russo: Through four weeks, FBS teams are averaging 31.64 points per game. That would be a record, breaking the one set last season (29.53), which broke the record set the year before (29.48).   In the 54 games played in Week 5, 45 teams scored 32 or more points.
— Ohio State set a school record with 45 first downs in its 50-28 win over Cincinnati, besting the mark of 39 set back in 1935 vs. Drake (the university, not the rapper).  It also tied the FBS record originally set by Texas Tech (2003).  The Buckeyes also went over 700 yards of total offense (710) for the third time in school history.
— In the 20-13 win over Washington, Stanford allowed fewer than 30 points for the 27th time in as many games, the longest such streak in the nation.
— Kentucky held Vanderbilt to just 139 yards of total offense, the fewest yards allowed in an SEC game since holding Vandy to 91 total yards in 1996.
— Saturday was the first time ever a Kansas team with a winning record faced a Texas team with a losing record.  The Longhorns got back to .500 and sent the Jayhawks back there thanks to a 23-0 win.
— With the loss Saturday, Oregon State still has not beaten USC in Los Angeles since a 14-0 road win in since 1960, a streak of 23 straight losses.  That win came when the Pac-12 was named the Athletic Association of Western Universities, eight years before the name was formally changed to the Pac-8.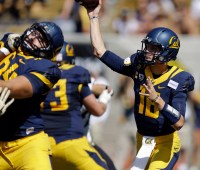 — In their previous two games against Cal in Berkeley, Colorado had scored a total of one touchdown; the Buffaloes scored three in the first quarter alone in their double overtime loss to the Bears.  The Buffs went on to score five more the remainder of the game.
— Prior to the 24-10 win over Purdue, all four of Iowa's games this season had been decided by one possession.  The Hawkeyes' first three wins came by a total of 12 points, their lone loss by three.
— Duke's streaks of six straight wins on the road and 12 consecutive regular-season victories were unceremoniously snapped in a 22-10 loss to Miami.
— With the 50-28 win over Cincinnati, Ohio State still hasn't lost to an Ohio team since a 7-6 loss to Oberlin in 1921.  The Buckeyes are 46-0-1 vs. in-state foes since that game.  Tommy Tuberville, meanwhile, fell to 2-1 all-time vs. an Urban Meyer-coached team.  Tuberville and Nick Saban (2-1) are the only two head coaches with a winning record against Meyer.
— The 1,780 miles to Chestnut Hill Colorado State traveled for its game against Boston College was the farthest east they have played since a 1959 game against Army at West Point.
— Auburn's win over Louisiana Tech pushes the Tigers' all-time record at what's now called Jordan-Hare Stadium to 300-74-7 since the place was opened Nov. 30, 1939.
— Boise State's game against Air Force was the football program's first-ever at the home of a service academy.  The Broncos likely won't want to return anytime soon as BSU turned the ball over seven times — five interceptions, two fumbles — in the 28-14 loss to the Falcons.
— This is only the second time in history that both BYU (4-0) and Utah (4-0) have started a season winning each of their first four games. The only other time it's happened in the 93 years the two football programs were active at the same time was 2008. That season both teams were undefeated through Week 7 (Utah 7-0, BYU 6-0) before the Cougars lost to TCU.
— The Army-Yale game is the first FBS-Ivy League matchup since Stanford-Cornell in 1991. The Cardinal won 56-6 in the midst of an 8-4 season under Dennis Green and a year prior to Bill Walsh taking over The Farm a second time.
— In its 47-42 win over UMass, Bowling Green totaled 668 yards of offense on 108 plays.
— Georgia Southern ran the ball 60 times — versus 12 pass attempts — for 408 yards in Thursday's 34-14 win over Appalachian State.  The Eagles came into that game second in the country in rushing yards per game, with their 357 ypg behind only Wisconsin's 359.7.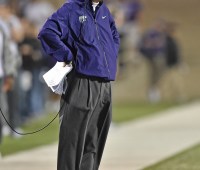 DID YOU KNOW THAT…
… Bill Snyder is one of only four head coaches — and the only active one — to coach a team in a stadium that bears his name (Bill Snyder Family Stadium)? The others are Alabama's Bear Bryant (Bryant-Denny Stadium), BYU's LaVell Edwards (Lavell Edwards Stadium) and Ralph Jordan (Jordan-Hare Stadium).
… Nebraska's win over Miami in Week 4 was its 400th all-time victory at Memorial Stadium, making Nebraska the fifth school to win 400 games in its current stadium? NU joins Tennessee, Ohio State, Michigan and LSU on that list.
.. LSU leads the nation with 49 straight nonconference regular season wins, which is also an FBS record? The last loss came Sept. 1, 2002, to Virginia Tech in Blacksburg in Nick Saban's third season with the Tigers. The most recent was Saturday's bounce-back win over New Mexico State in LSU's 2014 non-conference finale.
… Ole Miss and Memphis have played a total of 60 times, making it the Rebels' most frequent rivalry with any school not currently or formerly in the SEC? Ole Miss, incidentally, now holds a 48-10-2 edge in the all-time series thanks to last night's 24-3 win.
… USC doesn't have a single player on its roster from the state of Oregon, while Oregon State has 42 from the state of California? I don't know what that means, but the team with the most Cali players (Trojans, 77) beat up on the Beavers to the tune of 28-10.
… Air Force has the smallest offensive and defensive lines in college football? The Falcons' average offensive lineman is 6-foot-2 and 263 pounds, while the average defensive lineman stands 6-2 and weighs 261 pounds.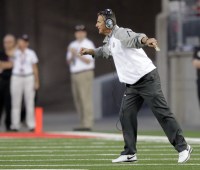 …Urban Meyer's sister, GiGi has been on the faculty and administrative staff at Cincinnati, Ohio State's opponent in Week 5, since 1991 and she is currently vice provost for undergraduate affairs? Additionally, Meyer's grandfather, father, another sister and wife all received their degrees from UC. Oh, and so did Meyer himself.
… Boise State's Matt Miller has the longest active streak of consecutive games with a reception at 44? That streak is third all-time in the Mountain West behind only UNLV's Casey Flair and Wyoming's Jovon Bouknight, who caught passes in 47 straight games earlier this century. Miller currently leads the Broncos with 461 yards and three touchdown catches on 28 receptions.
.. Clemson's Vic Beasley current leads all active FBS players in career sacks with 27? Washington's Danny Shelton currently leads in 2014 sacks with seven.
… Oregon has a nation's best streak of 63 wins in a row when leading at halftime? Oklahoma is second at 46 straight.
… Ohio is the only the team in FBS that has kept the same head coach (Frank Solich), offensive coordinator (Tim Albin) and defensive coordinator (Jimmy Burrow) for the past 9 seasons?
… Texas Tech has had six different defensive coordinators since the start of the 2009 season: Ruffin McNeill (2009), James Willis (2010), Chad Glasgow (2011), Art Kaufman (2012), Matt Wallerstedt (2013-14) and Mike Smith (2014, interim).
… Louisiana-Monroe's streak of 30 straight games causing a turnover is the nation's longest?