SATURDAY RESET
Below is a list of links out to gamers posted by the CFT crew, placed in one handy and convenient space for you, our beloved and dear readers.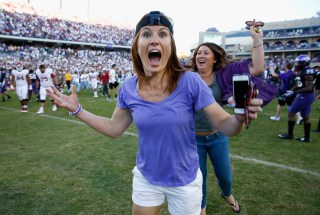 HISTORIC WEEK OF CHAOS
For those who were looking for utter chaos and a massive shakeup in the polls, Week 6 was Christmas, New Year's Eve and Flag Day all rolled into one uproarious ball of "Holy $*&!".
During this glorious weekend of football, including Thursday night, the Nos. 2 (Oregon), 3 (Alabama), 4 (Oklahoma) and 6 (Texas A&M) teams in last week's Associated Press poll all lost.  It's the first time since November of 1990 (No. 1 Virginia, No. 3 Nebraska, No. 4 Auburn, No. 5 Illinois) and only the second time since 1936 that four of the top six teams in the country had gone down to defeat the same weekend.  Three of those losses featured the higher-ranked team on the road — and came by a combined 12 points — with the lone home loss being the Ducks losing by seven in Eugene.
Add in No. 8 UCLA's upset loss to unranked Utah at home, and it's the first time in the history of college football — EVER — that five of the top eight teams have been knocked off in a single week.  Let that sink in for a minute.  The first-ever college football game was played in 1869… the AP poll debuted in 1934… and today, Oct. 4, 2014, was the first time that has happened in this great game.
Amazing.
That said, and by default, Florida State will likely remain No. 1 in the eyes of the AP voters, while Auburn will likely slide into the No. 2 hole.  Or those two could be flip-flopped.  After that?
You could state a case for both No. 12 Mississippi State and No. 11 Ole Miss, after the greatest day of football in that state's history, to leap into the Top Five, especially the former on the strength of back-to-back wins over Top -10 teams. Any combination of No. 7 Baylor, No. 8 UCLA and No. 9 Notre Dame could find themselves in that rarefied ranking air as well.  And what of No. 25 TCU's dispatching of No. 4 Oklahoma?  Rocketing up 20 or more spots into the Top Five certainly may be asking a little too much of the voters, but perhaps it shouldn't.
One thing that is fairly certain amidst all of the chaos is that this is likely far from being the last upsetting weekend ahead of what should be an epic first year of the College Football Playoff.  Speaking of which, godspeed to the 13-person CFP selection committee; based on the way this weekend played out, you're going to need it.  And earmuffs.  Lots and lots of big, bulky earmuffs.
CELEBRATING A HALLIDAY
If you've followed the past two seasons of Connor Halliday's career, you got the feeling that setting a significant national passing record was a matter of time.  Saturday night turned out to be that time.  In Washington State's wild 60-59 loss to Cal that would've made defensive purists' collective heads explode, the senior quarterback threw for a whopping 734 yards.  That breaks the FBS single-game record of 716 yards yards by Houston's David Klingler Dec. 2, 1990, against Arizona State.  It's also the second-most ever at any level of the NCAA, behind only Div. III Eureka College's Sam Durley's 736 yards in 2012.  Halliday's counterpart, Jared Goff, threw for 527 yards in the win.  The combined 1,263 yards passing is also an FBS record.
The record and the 812 yards of total offense are no doubt bittersweet for all involved as Wazzu missed a 19-yard field goal — 19 YARDS!!! — with 15 seconds remaining in the game that would've given them the win.  Instead, the Golden Bears, winners of one game in 2013, now sits atop the Pac-12 North at 2-1 in conference play and 4-1 overall.
CFT TOP FIVE
A snapshot look at how my ballot would look Sunday if I, ya know, had a real vote.  And, after a string of upsets in Week 6 mentioned directly above this, I'm just going to scrap last week's Top Five and start the hell over.
1. Auburn — You happy now, Plains people?  After weeks of snubbing last season's BCS runners-up, the Tigers have vaulted to the very top of this meaningless Top Five.  The blistering of No. 15 LSU was AU's third quality win of the season, joining the season-opening 24-point smackdown of 3-2 Arkansas and the win over No. 20 Kansas State in Manhattan in Week 4.  The Tigers have another big test next week with yet another ranked team. Speaking of which… (Last week: unranked)
Next up: at No. 12 Mississippi State, Oct. 11
2. Mississippi State — In back-to-back weeks, you went into Death Valley and easily beat No. 8 LSU, then followed that up with a beatdown of No. 6 Texas A&M in Starkville.  In my book, that résumé puts you near the very top.  Actually, it should probably put the Starkville boys at No. 1, the more I think about it.  Another big test, though, awaits. (Last week: unranked)
Next up: vs. No. 5 Auburn, Oct. 11
3. Florida State — The Seminoles have more talent than just about any team in the country, but simply haven't played like it for the vast majority of the season.  It's also very likely FSU is being compared to the 2013 version that steamrolled the competition en route to a BCS title, so that likely has hurt and will continue to hurt its standing as well.  . (Last week: No. 3)
Next up: vs. Wake Forest, Oct. 4
4.  Ole Miss — The fact that this is just the Rebels' second win over a Power Five team this season, and the first came against woebegone Vanderbilt, means the Oxford 11 will have to settle for a spot just inside the Top Five.  The fact that they are even inside the Top Five, however, is surprising in and of itself.  There's no rest for the West weary, however, as the Rebels will head out on the road against a team that will be pissed off and looking to bounce back from its first loss of the season. (Last week: unranked)
Next up: at No. 6 Texas A&M, Oct. 11
5. Baylor — The Bears' résumé is easily the weakest of the group, with wins over Iowa State and Texas not nearly enough to offset wins over SMU, Northwestern State and Buffalo the first three weeks of the season.  In fact, it was nearly the reason why Notre Dame was sitting in this spot instead of BU.  I'll give it to you this week, Bears, but I'm keeping my eyes on you moving forward. (Last week: unranked)
Next up: at No. 25 TCU, Oct. 11
(Dropped out: No. 1 Oklahoma, No. 2 Oregon, No. 4 Alabama, No. 5 Texas A&M)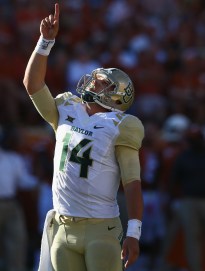 TOP 25 TOO-CLOSE-FOR-COMFORT
How ranked teams endured close shaves vs. unranked opponents
No. 7 Baylor 28, Texas 7:  The Bears led a mediocre Longhorns team — and that's being kind — just 7-0 at halftime.  BU's offense was out of sync throughout, with its 389 yards of offense well below its seasonal average of 641 yards per game, the best in the nation.  The good news for Art Briles and his Bears is they have games against West Virginia and Kansas, plus a bye, before they face Oklahoma the first Saturday in November.
No. 21 Oklahoma State 37, Iowa State 20: The replay booth, much to the dismay of its athletic director, gave the Cowboys a controversial touchdown with no time left and a 13-6 halftime lead.  A kickoff return for a touchdown to open the second half, however, gave OSU some breathing room and it went on to cruise, relatively speaking, in Ames.
No. 22 East Carolina 45, SMU 24: Anytime you allow a team that's lost its first four games this season by the combined score of 202-12 to come within three touchdowns of you, you're going to make the cut for this list.  The woeful Mustangs were actually down by 11 at 35-24 at the end of the third quarter before the Pirates's scored 10 fourth-quarter points put to rest any thoughts of an upset.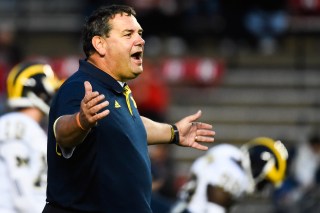 COACHING HOT SEAT
I begin my weekly look at a trio of the current head coaches who could most likely be ex-head coaches by season's end — if not sooner.
1. Brady Hoke, Michigan
Michigan's dumpster fire of a season continued unabated, with a 26-24 loss to Rutgers dropping the Wolverines to 2-4 on the season.  That's the football program's worst start since going 2-4 in Rich Rodriguez's first season in 2008, and its first 0-2 start in Big Ten play since 1967.  Add in a 3-9 record in conference play over the past 12 games and the Shane Morris debacle, and it's very safe to assume that Hoke will not make it to a fifth season in Ann Arbor in 2015.
2. Will Muschamp, Florida
While the head coach was pleased as pie with the Yugo with spinnin' rims that was the 10-9 win over Tennessee, his team's performance in that near-loss is yet another data point for those who are looking for the head coach's ouster sooner rather than later.  The further away the Gators get away from players recruited by Urban Meyer, the more UF's record has taken a  downward turn.  In 2011 and 2012, Years 1 & 2 post-Meyer, the Gators were 18-8; since, they are 7-9.  In the talent-rich state of Florida, the Gators simply don't have the talent to compete with the SEC heavyweights — or even its middleweights — and that should be the most disturbing sign to Muschamp's boss.
3. Tim Beckman, Illinois
Beckman entered the season on one of the hottest seats in America, but quieted that talk somewhat with a 3-2 start to 2014.  Then, Purdue happened.  Saturday, the Boilermakers dropped the Illini to end their nine-game Big Ten losing streak and crank up the heat under Beckman's seat yet again.  In his first two-plus seasons in Champaign, Beckman is 9-21 overall and a staggering 1-17 in conference play.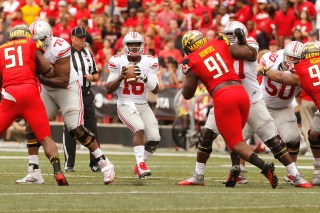 HEISMAN RACE, BY THE NUMBERS
A statistical look at how some — stressing the word "some" — of the top contenders for this year's stiff-arm trophy fared this weekend, listed in alphabetical order so as not to offend any of the delicate sensibilities readers in the audience may possess or get their unmentionables all wadded up over "their" player being excluded.  Also, each week one name will be sliced from a list that begins at a baker's dozen:
J.T. Barrett, QB, Ohio State (4-1, No. 20)
Saturday: 18-23 (78.3%), 267 yards, four touchdowns, zero interceptions; 71 yards rushing, one touchdown
Season: 88-133 (66.2%), 1,354 yards, 17 touchdowns, five interceptions; 276 rushing yards, two touchdowns
Shane Carden, QB, East Carolina (4-1, No. 22)
Saturday: 31-41 (75.6%), 410 yards, four touchdowns, zero interceptions; 47 yards rushing
Season: 142-219 (64.4%), 1,879 yards, 15 touchdowns, three interceptions; 66 rushing yards, three touchdowns
Rakeem Cato, QB, Marshall (5-0, unranked)
Saturday: 18-23 (78.3%), 198 yards, two touchdowns, two interceptions; 20 rushing yards
Season: 87-144 (60.4%), 1,361 yards, 12 touchdowns, four interceptions; 195 rushing yards, four touchdowns
James Conner, RB, Pittsburgh (3-2, unranked)
Saturday: 21 carries for 83 yards (four ypc)
Season: 156 carries for 874 yards (5.6 ypc), nine touchdowns; two catches for 20 yards
Amari Cooper, WR, Alabama (4-1, No. 3)
Saturday: nine receptions, 91 yards
Season: 52 receptions, 746 yards, five touchdowns; 29 rushing yards
Everett Golson, QB, Notre Dame (5-0, No. 9)
Saturday: 20-43 (46.5%), 241 yards, two touchdowns, one interceptions; 34 rushing yards
Season: 114-178 (64.1%), 1,383 yards, 13 touchdowns, three interceptions; 138 rushing yards, four touchdowns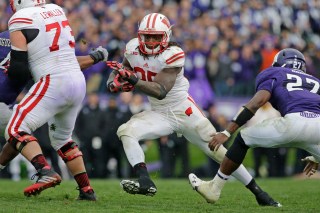 Melvin Gordon, RB, Wisconsin (3-2, No. 17)
Saturday: 27 carries for 259 yards (9.59 ypc, one touchdown
Season: 105 carries for 871 yards (8.3 ypc), nine touchdowns; five receptions, 27 yards, one touchdown
Todd Gurley, RB, Georgia (4-1, No. 13)
Saturday: 25 carries for 163 yards (6.5 ypc), two touchdowns; two receptions, 24 yards; 1-1 (100%), 50 yards passing
Season: 94 carries for 773 yards (8.2 ypc), eight touchdowns; 11 receptions, 53 yards; 1-1 (100%), 50 yards passing
Brett Hundley, QB, UCLA (4-0, No. 8)
Saturday: 16-21 (76.2%), 269 yards, two touchdowns, one interception; 16 carries for minus-24 rushing yards
Season: 91-125 (72.8%), 1,310 yards, nine touchdowns, two interceptions; 53 carries for 122 rushing yards, two touchdowns
Marcus Mariota, WR, Oregon (4-1, No. 2)
Thursday: 20-32 (62.5 percent), 276 yards, two touchdowns, zero interceptions; nine carries for one rushing yard; one reception, 26 yards
Season: 111-160 (69.4%), 1,687 yards, 17 touchdowns, zero interceptions; 72 carries for 215 rushing yards, three touchdowns; one reception, 26 yards
Nick Marshall, QB, Auburn (5-0, No. 5)
Saturday: 14-22 (63.6%), 207 yards, two touchdowns, zero interceptions; 16 carries for 119 rushing yards, two touchdowns
Season: 55-95 (57.9%), 755 yards, eight touchdowns, one interception; 58 carries for 392 rushing yards, four touchdowns
Dak Prescott, QB, Mississippi State (5-0, No. 12)
Saturday: 19-25 (76%), 259 yards, two touchdowns, zero interceptions; 23 carries for 77 rushing yards, three touchdowns
Season: 77-13 (58.8%), 1,323 yards, 13 touchdowns, two interceptions; 85 carries for 455 rushing yards, six touchdowns
Jameis Winston, QB, Florida State (5-0, No. 1)
Saturday: 23-39 (59%), 297, one touchdown, one interception; seven carries for 34 rushing yards, one touchdown
Season: 96-144 (66.7%), 1,288 yards, eight touchdowns, five interceptions; 19 carries for 42 rushing yards, two touchdowns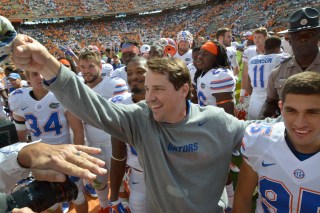 HE SAID IT
"It's great to see all these people out here getting disappointed. I love it." — Will Muschamp, acting a little too cocky for a head coach who just watched his Florida team bumble and stumble its way to an unimpressive 10-9 win over Tennessee.
HE SAID IT, THE SEQUEL
"Our receivers know how to catch the ball. We just had an off day today." — Texas A&M quarterback Kenny Hill, after watching his receivers inexplicably drop myriad passes in the loss to Mississippi State.
HE SAID IT, THE THREEQUEL
"This was just a dominate performance. We talked about this being a momentum Saturday for us and I'm just so proud of them. They put all three phases together – offense, defense and special teams. Just really proud of our guys. Really proud of our defensive performance. Those three turnovers were huge." — Dabo Swinney said following Clemson's 41-0 win over North Carolina State, his first shutout as a head coach.
HE SAID IT, THE QUADQUEL
"It wasn't necessarily clean. The weather was a factor. But it was a factor for both teams. You saw the ball come out of both quarterback's hands funny. Saw some missed balls that guys typically don't miss but once again it was even" — Stanford's David Shaw, on his team's sloppy loss in South Bend to Notre Dame.
HE SAID IT, BONUS EDITION
"I'm just so proud of our young men. You can't lose a game in 30 or 45 minutes. You have to play for 60 minutes and that is something we've preached since we've been here. … At the end of the day, you get in this job to mentor young men, first. I preach that to our staff. I have the best staff of men that you want your kids around. These are great life lessons. Sometimes you're on the other side of it and it stings and hurts. We've had our share of those. We have tremendous respect for Coach (Nick) Saban and Alabama. It's a huge win for our program and our fans. It's been a tremendous day." — Hugh Freeze, after Ole Miss' historic upset of Alabama.
POST-GAME CELEBRATION OF THE DAY
How happy were Ole Miss fans about their team's upset win over Alabama?  Not only did they take the goal posts out of the ground, but they managed to get them out of the stadium and paraded them around Oxford.
And that came after this sensual, on-field post-game celebration
[/slow clap for all aspects of the celebrations]
PHOTO OF THE DAY
Tennessee announced earlier in the week that it wanted fans attending Saturday's game against rival Florida to "checkerboard" Neyland Stadium.  The fans responded in resounding fashion to give the place a very cool look:
https://twitter.com/CollegeGameDay/status/518437302671265794/photo/1
GAMEDAY SIGHT OF THE DAY
Not only did guest picker/pop diva Katy Perry manage to hit on both Oklahoma quarterback Trevor Knight and former Ohio State quarterback Kirk Herbstreit in the same segment, but she also managed to reference…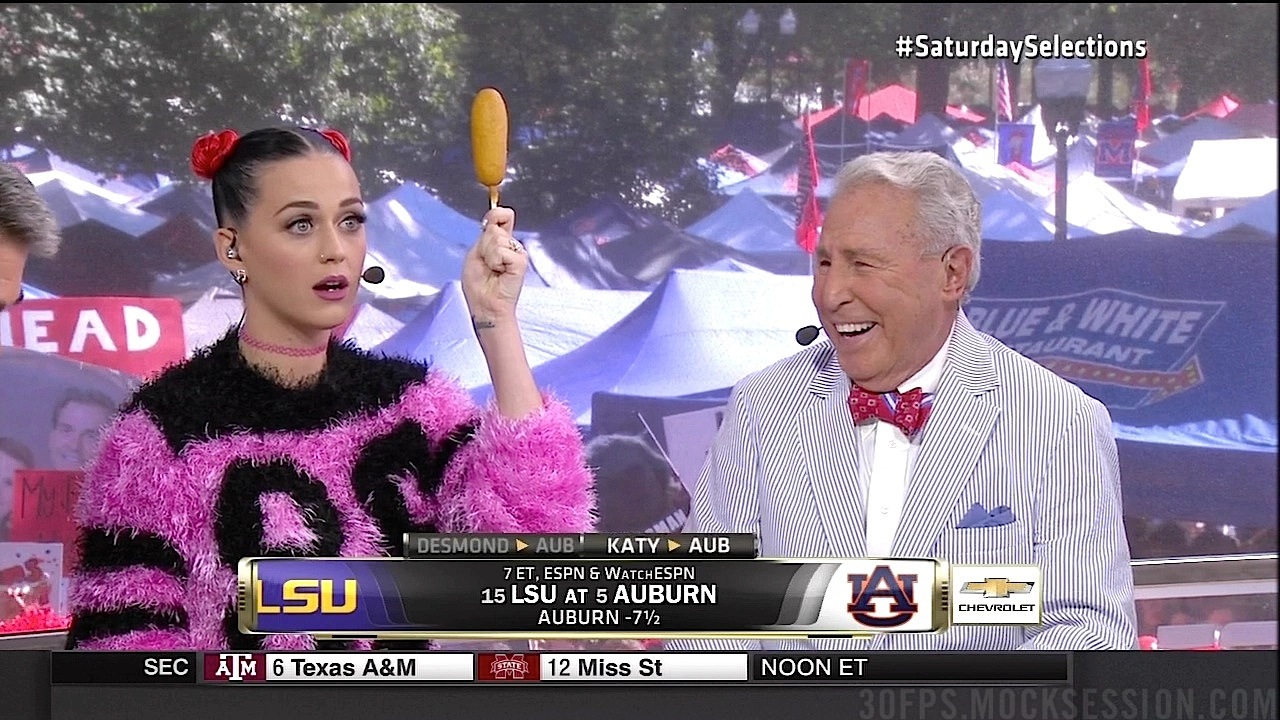 … corn dogs in picking the winner of the LSU-Auburn game.  And throwing said corn dogs at the ESPN cameras.  I had my doubts going in, but well-played, Katy.  Well-played.
Not well played was Knight following Perry's flirtation.  In OU's 37-33 loss to TCU, Knight completed just 14-of-35 passes and tossed a pair of interceptions, the last of which was returned 41 yards for the game-winning score.
TWEET OF THE WEEK
Following Arizona's upset of Oregon Thursday night, the Wildcats' second straight win over the Ducks, the UA athletic department's official Twitter account went to a video game of the past to sum up the last two meetings between the teams.
Yes, that would be Georgia running back Todd Gurley completing a 50-yard pass in the win over Vanderbilt, and as a lefthander at that.  That pass, incidentally, was UGA's longest completion of the season, which may be the most serious indictment of the Bulldogs' limp passing attack to date.
FAT GUY FALL OF THE DAY
This is the GIF of Nebraska offensive lineman Jake Cotton — untouched, mind you –falling backwards that makes me laugh uncontrollably every single time I watch it.  Enjoy.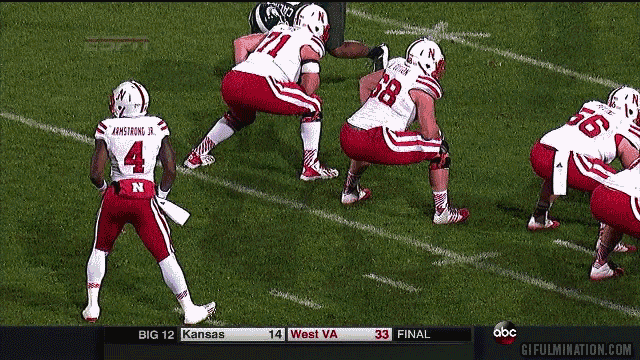 Tiiimmmberrr…
RETWEETING MYSELF
Discuss…
STREAKING
Florida State has won a nation's-best 21 straight games, extending the record for an ACC school by beating up on Wake Forest Saturday. The Seminoles' last loss came Nov. 24, 2012, a 37-26 home setback to in-state rival Florida. With the exception of the last Saturday's game against Clemson (23-17 in overtime), the 2014 season opener against Oklahoma State (37-31), the BCS title game against Auburn (34-31) and the 2012 regular-season finale against Georgia Tech (21-15), FSU has won every one of its games during this current streak by at least 14 points. Of those 16, 10 wins have come by 30-plus points, with three of those being by 50-plus points and two by 60-plus. FSU, thanks to Oklahoma's loss, is the only team in the country with a double-digit winning streak, although Mississippi State at nine in a row is closing in. At the opposite end of the W/L spectrum is Idaho and UMass at 12 straight.  Thanks to Miami of Ohio's win, the Vandals and Minutemen are the only FBS team with a double-digit losing streak.
S.I.D. NOTE OF THE DAY
Pittsburgh's 81 underclassmen — 55 freshmen (true and redshirt) and 27 sophomores (true and redshirt) — listed on its current roster is the highest total for any FBS team in the country. That's 78.7 percent of its roster; Penn State, at 72.4 percent (76/105), is second.
S.I.D. NOTE OF THE DAY II
East Carolina's Shane Carden currently ranks fourth among all active FBS quarterbacks in engineering "game-winning" drives (i.e. offensive scoring drive in the 4th quarter or overtime that puts the winning team ahead for the last time), two behind Louisiana-Monroe's Pete Thomas (seven) and one behind Ohio State's Braxton Miller (six) and San Diego State's Quinn Kaheler (six).
OFF THE CHARTS
The most total yards for an FBS team since 2000, courtesy of, as you'd expect, the sports information department of the team at No. 1:
1. Texas Tech (88,018)
2. Oklahoma (83,905)
3. Oregon (83,169)
4. Hawaii (82,966)
5. Houston (82,945)
OFF THE CHARTS II
The 10 longest consecutive game-scoring streaks in the country are…
Florida, 326 (1988-Present)
TCU. 272 (1992-Present)
Air Force, 263 (1992-Present)
Tennessee, 251 (1994-Present)
Virginia Tech, 249 (1995-Present)
Ohio State, 248 (1993-Present)
Georgia, 241 (1995-Present)
Nebraska, 238 (1996-Present)
Wisconsin, 224 (1997-Present)
Kansas State, 221 (1996-Present)
SAY WHAT?
There are only 16 football programs nationally that returned its entire coaching staff intact from the 2013 season: Arizona, Auburn, Baylor, Boston College, BYU, Colorado, Colorado State, Kansas State, Louisiana-Lafayette, Michigan State, Mississippi, San Diego State, South Carolina, Tennessee, UTEP and Washington State.
DULY NOTED
True freshmen have accounted for 20 of LSU's 27 offensive touchdowns. Quarterback Brandon Harris has accounted for nine scores (three rushing, six passing), while running back Leonard Fournette and wide receiver Malachi Dupre have four each and running back Darrel Williams three. The 14 touchdowns produced by that quartet are the most by an LSU true freshman class since running backs Justin Vincent (10) and Alley Broussard (four) combined for 14 in all of the 2003 season.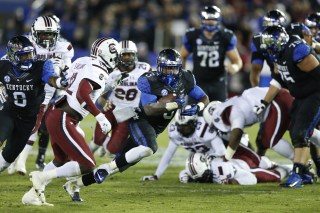 STATISTICALLY SPEAKING
— Jojo Kemp ran for 131 yards and three touchdowns on 17 carries as Kentucky "upset" South Carolina. The win pushed the Wildcats to 4-1 on the year; UK had won just four of its previous 24 games prior to this season.
— Alabama has gone 4-3 in its last seven games.  In the Tide's previous 42 games dating back to November of 2010, UA had gone 39-3.
— UCLA's Brett Hundley was sacked a whopping 10 times in the Bruins' upset loss to Utah.  Six different Utes were credited with sacks, with Hunter Dimmick and Nate Orchard contributing three apiece.
— Cal's Trevor Davis returned back-to-back kickoffs for touchdowns in the win over Washington State, one going for 98 yards and the other 100.
— Arizona State's Jaelen Strong had 10 catches for 212 yards and three touchdowns as ASU stunned USC 38-34.  The last of the three TD catches was the Hail Mary with no time left.  Mike Bercovici passed for 510 yards in the win.  In the first two starts of his career, Bercovici has passed for 998 yards and eight yards.
— Trailing UMass 41-14 very late in the second quarter, Miami of Ohio stormed its way back to end its school-record 21-game losing streak with a stunning 42-41 win. It was the RedHawks first win since Oct. 27, 2012.  In a losing effort, quarterback Blake Frohnapfel threw for 389 yards and four touchdowns. Frohnapfel has now passed for 968 yards the past two weeks.
— Coming off a stunning performance in his debut as a starter, Deshaun Watson totaled 350 yards of offense (267 passing, team-leading 83 rushing) and scored a pair of touchdowns both passing and rushing in Clemson's 41-0 win over North Carolina State.  Jacoby Brissett, who was brilliant in NCSU's near-upset of Florida State, was held to just 35 yards passing by the Tigers' defense.
— With 410 yards passing in the win over SMU, Shane Carden became ECU's all-time leader in passing yards(now has 9,134 career), surpassing passing David Garrard (9,029 from 1998-2001).
— Austin Grammer completed 21-of-26 passes for a career-high 332 yards and two touchdowns in Middle Tennessee State's 37-31 win over Southern Miss.
— Todd Gurley totaled 237 all-purpose yards in Georgia's 44-17 win over Vanderbilt: 163 rushing, 24 receiving and 50 passing.  Just give the man the damn Heisman already as he's clearly the best football player in the country.
— Melvin Gordon ran for a career-high 259 yards on 27 carries, yet Wisconsin still found a way to lose 20-14 to Northwestern.  Actually, the way was three interceptions by two different Badger quarterbacks, which the Wildcats turned into 10 points.
— Speaking of which, Northwestern safety Godwin Igwebuike picked off all three of the passes in the win over Wisconsin. Those were the first interceptions of the redshirt freshman's career.
— Akeem Hunt's 177 yards rushing was part of Purdue's 349-yard effort on the ground as the Boilermakers upended Illinois 38-27.
— Central Michigan's Thomas Rawls ran for a career-high 229 yards and two TDs in a 28-10 win over Ohio.  The career day came three weeks after Rawls was initially charged with a trio of felonies.  He reached a plea deal a week later and rejoined the team.
— Rashard Higgins set a school record with four touchdown receptions as Colorado State whooped Tulsa 42-17 to push its record to 4-1.  The Rams are off to their first 4-1 start since 2006, when they finished 4-8.
— East Carolina wide receiver Justin Hardy has caught a pass in 41 straight games — the third-best active streak — and has caught at least two passes in every single game of that streak. Hardy now has 303 career receptions, and will need to average nearly six catches per game over the next eight contests (including a bowl game) to surpass Oklahoma's Ryan Broyles' FBS record of 349. Incidentally, Hardy has averaged 7.4 receptions per game in his career, and 8.4 the last 19 games.
— Mississippi State linebacker Richie Brown tied a school record with three interceptions as MSU "upset" Texas A&M in Starkville Saturday.
— Utah State's Darell Garretson threw three first-half touchdown passes and finished with 321 yards passing, his third-career 300-yard game, as USU upended BYU 35-20 Friday night.  The Aggies are now 4-51 lifetime vs. ranked teams, although they've won the last three such meetings.
— Mississippi State's win over No. 6 Texas A&M marks the first time since the program began playing football in 1895 that the Bulldogs have beaten ranked teams in back-to-back games.  Last Saturday, MSU dropped eighth-ranked LSU in Death Valley.
— Clemson came into the North Carolina State game as the least penalized team in the country with 11 in four games, and hadn't had more than four in a single contest.  In the win over NCSU, the Tigers were flagged nine times.
— UT-San Antonio has been flagged just once in the last 20 games for holding (the 2014 opener against Houston).
— The Florida-Tennessee game Saturday was the first time both teams entered the contest unranked since 1955.  The Vols have now lost nine straight in the rivalry, with the last victory coming Sept. 18, 2004.
— SMU had scored one touchdown in its first five games this season; against East Carolina, the Mustangs scored three touchdowns in the first three quarters of what would become a 45-24 loss.
— Stanford has held opponents under 30 points in each of its past 28 games, the nation's longest such streak. Louisville and Ole Miss are tied for second (12).
— Ohio State has now won 17 straight regular season games in Big Ten play, the second-longest streak in conference history behind the 20 straight by the Buckeyes in 2005-07.  Also, the Buckeyes have never lost a true road game under Urban Meyer (11-0).
— With the win over Kent State, Northern Illinois has now won 28 straight games at home and 24 straight MAC games.
— New Mexico State is the only FBS team that has yet to allow a sack this season.
— With two in the win over Navy, 4-1 Air Force has forced 10 turnovers this season; they forced nine turnovers in 12 games last season.
— Utah State's "upset" win over BYU Friday night was its first in Provo since Oct. 7, 1978.  The win snapped a 17-game losing streak to the Cougars on the road.
— Oregon has lost as many Pac-12 games under Mark Helfrich in less than two seasons (three) as the Ducks did the last four years under Chip Kelly (three).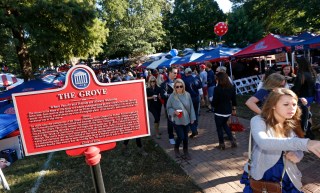 DID YOU KNOW THAT…
… with the visit to Ole Miss, there are now 15 Power Five schools that haven't played host to ESPN's College GameDay show, which is now in its 22nd year on-campus? Those not-so-fine 15 are Baylor, Cal, Illinois, Indiana, Iowa State, Kansas, Louisville, Maryland, Minnesota, Mississippi State, Rutgers, Virginia, Wake Forest and Washington State.  That list will likely be sliced to 14 as the preeminent pregame show is expected to head to Starkville for the huge MSU-Auburn showdown.
… the three longest active streaks of being ranked in the Top 10 of the Associated Press poll belongs to Alabama (56), Florida State (22) and Auburn (14)?
… the nation's two oldest FBS programs met for the first time ever Saturday as Rutgers hosted Michigan? The Scarlet Knights have played the most games in NCAA history (1,294) while the Wolverines (1,273) rank third — Navy is No. 2 at 1,276. Rutgers is playing its 145th year of football while Michigan is in its 135th year.
… After losing its first seven games to Nebraska, Michigan State has now won the last two? Along with Saturday's win in East Lansing, the Spartans beat the Cornhuskers 41-28 in Lincoln last season.
… Wake Forest is the only school in the nation starting a true freshman at QB and at center?  That helps explain why the Demon Deacons have the worst offense in the ACC.
… the MAC (Northwestern, Purdue, Indiana, Pittsburgh) and the Mountain West (Colorado, Washington State, Wake Forest, Boston College), with four apiece, have the most wins vs. Power Five teams among the Group of Five conferences in 2014? The AAC (Virginia Tech, North Carolina, Vanderbilt) is next with three, followed by the Sun Belt (Wake Forest) with one. Conference USA is the only Group of Five league without a win over a Power Five opponent.
… of Kansas State's five regular captains for the 2014 season, three — offensive lineman B.J. Finney, defensive end Ryan Mueller (pictured) and linebacker Jonathan Truman — began their careers as walk-ons? If you add special teams captain Weston Hiebert, K-State has four of six captains that were not on scholarship at the beginning of their careers.
… USC has just one player on its roster from Arizona (longsnapper Peter McBride), while Arizona State feature 31 Californians? Meanwhile, Utah, which faced UCLA, has 10 starters and 35 players total from the state of California.
… San Jose State has allowed just 187 yards passing the past three games? They allowed seven passing yards to Minnesota in Week 4, 64 to Nevada in Week 5 and 116 to UNLV in Week 5.
… Fresno State's game against San Diego State was that football program's 1,000th in its history? Thanks to the win over the Aztecs, the Bulldogs are now 580-420 over the course of 93 seasons. Those are the most all-time wins of any team currently in the Mountain West.
… Louisiana-Monroe's game against Arkansas State was its first outside of the state of Louisiana in 2014? Three of the Warhawks first four games were home contests (Wake Forest, Idaho, and Troy) while the fourth was played in Baton Rouge vs. LSU.
… Temple has the fewest number of seniors on its roster with eight? The Owls and Tennessee, with six apiece, have the fewest number of seniors on the two-deep depth chart. Baylor has just seven.
… In his 48th season calling Washington State football games, Bob Robertson is the longest-tenured collegiate announcer in the country. Bill Hillgrove, in his 44th season calling Pittsburgh games, is second.
IN CLOSING
Have you ever wondered what an in-season day in the life of an Army football player is like? Thanks to that service academy's sports information department, you can take a peek below into the very busy life of senior defensive lineman Joe Drummond: