As is the case each and every season, each and every week, any omission below is not on purpose, it's merely intentional.
NO. 1 A MOVING, FLUID TARGET
There wasn't the historic Week 6 shakeup in Week 7, but there's certainly going to be some tweaking in the Top 10 of the new Top 25 polls.  And, perhaps, even at the very top.
Florida State came into the weekend ranked No. 1 by both the Associated Press and the coaches, although the Seminoles have seen their lead in the former poll decrease every week since the final preseason Top 25 and just reclaimed the top spot in the latter poll after Alabama's Week 6 loss.  Depending on voter preference, there could be a seismic shift as Mississippi State has certainly proven its poll mettle over the past three games against ranked teams.
Then again, so has Ole Miss the past two weeks.  Either of the Mississippi Power Five teams could rightly stake their respective claims to the top spot over FSU — and in what kind of bizarro world are we living in when such a scenario involving that state is even possible in the game of college football?
Some in Big 12 country would point to Baylor as a potential No. 1, as would some Midwesterners when it comes to Notre Dame; neither of those teams has the résumé that the other three have, although both should sit comfortably in the Top Five Sunday afternoon.  Then again, FSU's résumé, like BU's and ND's, contains only one win over a team that was ranked at the time the game was played, although the Seminoles can add Oklahoma State (unranked in the opener, No.16 after Week 6) to its portfolio to justify a spot ahead of those two.
Adding to the upper-echelon murkiness?  Florida State plays Notre Dame next weekend, while Mississippi State and Ole Miss will square off in the regular-season finale, further guaranteeing additional upheaval in and around the top of the rankings moving forward.
Yes, it's virtually meaningless which team is No. 1 at what's almost the midway point of the 2014 regular season; hell, the first meaningful rankings won't be released for another 16 days.  The positioning for seeding in the first-ever College Football Playoff — and a potentially favorable locale for a semifinal game —  has begun in earnest, however, and that's something that will shape the storyline in the sport for the remaining eight weekends left on the regular-season calendar.
SATURDAY RESET
Below is a list of links out to a handful of the gamers posted by the CFT crew, placed in one handy and convenient space for you, our beloved and dear readers.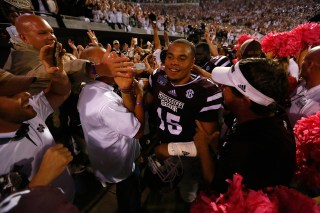 CFT TOP FIVE
A snapshot look at how my ballot would look Sunday if I, ya know, had a real vote.
1. Mississippi State — The last three games, MSU has beaten (rankings at the time) No. 8 LSU on the road, No. 6 Texas A&M and No. 2 Auburn at home in Starkville.  They are just the fifth team in FBS history to pull of that feat.  That's more than good enough for me to pull the trigger on a change at the top. (Last week: No. 2)
Next up: bye
2.  Ole Miss — The last two weeks, the Rebels beat then-No. 3 Alabama (not as impressive after today's Fayetteville debacle) and No. 14 Texas A&M.  While you may never know which Bo Wallace you're going to get on a week-to-week basis, that Landshark defense is as stifling and as real as it gets, and is a unit that could almost single-handedly carry the Rebels into an epic Egg Bowl at the end of the regular season. And, yes, Mississippi State and Ole Miss being 1-2 in any football rankings, regardless of how meaningless, is the fourth sign of the apocalypse, so stock up now. (Last week: No. 4)
Next up: vs. Tennessee, Oct. 18
3. Florida State — The defending BCS champions have extended its winning streak to 22 straight despite numerous injuries that have played a significant role in FSU's uneven play.  All the Seminoles have to do is win out and they will claim one of the four seats at the College Football Playoff table.  At least on paper, their next big test could also be its last prior to the postseason. (Last week: No. 3)
Next up: vs. No. 6 Notre Dame, Oct. 18
4.  Baylor — The Bears were down 21 points with just under 12 minutes remaining at home to the No. 9 team in the country.  That and a weak résumé coming in — no wins over ranked opponents — prevents Baylor from leap-frogging FSU into the No. 3 hole. (Last week: No. 5)
Next up: at West Virginia, Oct. 18
5. Notre Dame — With the addition of the Irish, the Seminoles are the only team that was in my Week 1 Top Five that remains there six weeks later.  The Golden Domers, though, have been less than aesthetically pleasing, so I very nearly pulled the trigger on one-loss Oregon in this spot.  In the end, the unblemished record wins out… for now. In six days, the entire country will see just how real the Irish are — or aren't — in 2014. (Last week: unranked)
Next up: at No. 1 Florida State, Oct. 18
(Dropped out: No. 1 Auburn)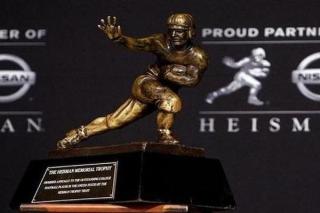 HEISMAN RACE, BY THE NUMBERS
A statistical look at how some of the top contenders for this year's stiff-armed trophy fared this weekend, listed in alphabetical order so as not to offend any of the delicate sensibilities readers in the audience may possess or get their unmentionables all wadded up over "their" player being excluded. Also, each week at least one name will be sliced from a list that began in Week 6 at a baker's dozen and, if need be, names will be added as well.
J.T. Barrett, QB, Ohio State (4-1, No. 20)
Saturday: bye weekend
Season: 88-133 (66.2%), 1,354 yards, 17 touchdowns, five interceptions; 276 rushing yards, two touchdowns
Shane Carden, QB, East Carolina (4-1, No. 22)
Saturday: 24-33 (72.7%), 250 yards, one touchdowns, one interception; seven rushing yards
Season: 166-252 (65.9%), 2,129 yards, 16 touchdowns, four interceptions; 73 rushing yards, three touchdowns
Rakeem Cato, QB, Marshall (5-0, unranked)
Saturday: 17-33 (51.5%), 337 yards, three touchdowns, one interception; five rushing yards, one touchdown
Season: 104-177 (58.7%), 1,698 yards, 15 touchdowns, five interceptions; 202 rushing yards, four touchdowns
James Conner, RB, Pittsburgh (3-2, unranked)
Saturday: bye weekend
Season: 156 carries for 874 yards (5.6 ypc), nine touchdowns; two catches for 20 yards
Everett Golson, QB, Notre Dame (5-0, No. 9)
Saturday: 21-38 (55.3%), 300 yards, three touchdowns, one interception; 71 rushing yards
Season: 135-216 (62.5%), 1,683 yards, 16 touchdowns, four interceptions; 209 rushing yards, four touchdowns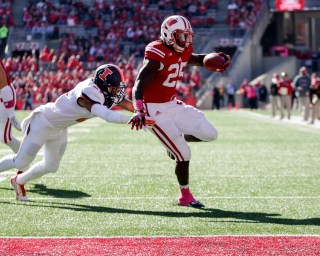 Melvin Gordon, RB, Wisconsin (3-2, No. 17)
Saturday: 27 carries for 175 yards (6.5 ypc), four touchdowns
Season: 132 carries for 1,046 yards (7.9 ypc), 13 touchdowns; six receptions, 27 yards, one touchdown
Marcus Mariota, QB, Oregon (4-1, No. 2)
Thursday: 17-27 (63 percent), 210 yards, two touchdowns, zero interception; 75 rushing yards, two touchdowns
Season: 128-187 (68.4%), 1,897 yards, 19 touchdowns, zero interceptions; 215 rushing yards, five touchdowns; one reception, 26 yards
Bryce Petty, QB, Baylor (6-0, No. 5)
Saturday: 28-55 (50.9%), 510 yards, six touchdowns, two interceptions; 23 rushing yards
Season: 101-178 (56.7%), 1,534 yards, 15 touchdowns, three interceptions; 109 rushing yards, three touchdowns
Dak Prescott, QB, Mississippi State (5-0, No. 12)
Saturday: 18-34 (52.9%), 246 yards, one touchdown, two interceptions; 121 rushing yards, two touchdowns
Season: 96-156 (61.5%), 1,569 yards, 15 touchdowns, four interceptions; 576 rushing yards, eight touchdowns
Jameis Winston, QB, Florida State (5-0, No. 1)
Saturday: 30-36 (83.3%), 317, three touchdowns, zero interceptions; minus-three rushing yards
Season: 126-180 (70%), 1,605 yards, 11 touchdowns, five interceptions; 19 carries for 39 rushing yards, two touchdowns
(Dropped out: Georgia running back Todd Gurley, the Heisman front-runner whose off-field NCAA situation has his availability for the remainder of the season in doubt, Auburn quarterback Nick Marshall, UCLA quarterback Brett Hundley and Alabama wide receiver Amari Cooper. )
(Added: Baylor quarterback Bryce Petty.)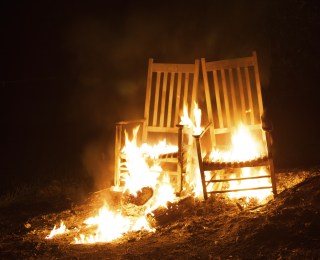 COACHING HOT SEAT
I begin my weekly look at a trio of the current head coaches who could most likely be ex-head coaches by season's end — if not sooner.
1. Brady Hoke, Michigan
In what turned out to be Rich Rodriguez's last season at Michigan in 2010, the Wolverines' began the year 6-1; in what could turn out to be Hoke's last season at Michigan, the Wolverines are 3-4.  From Oct. 3, 2009, through Oct. 9, 2010, UM went 7-8 under Rodriguez; from Oct. 12, 2013, through Oct. 11, 2014, UM has gone 5-10 under Hoke.  In his first 31 games at UM, Rodriguez was 14-17; in his last 31 games at UM, Hoke is 16-15.  You see where this is going, right?  So should Hoke, athletic director Dave Brandon and the entire UM football program as a different direction is needed on that hallowed sideline.
2. Will Muschamp, Florida
Let's take another dip from the comparison well, shall we?   In his three years at UF, Ron Zook was 23-14 overall and 16-8 in the SEC.  Since beginning his Gator career at 4-0, Muschamp has gone 22-19 overall and an even 13-13 in the conference.  The last 17 games, Muschamp's record is 7-10 and 5-7.  In other words, there's been nothing but regression instead of the progression that an 11-2 second season portended.  The worst part?  There's no hope as far as the eye can see.
3. Tim Beckman, Illinois
With the loss to Wisconsin, the Flailing Illini are now 9-22 in Beckman's two-plus seasons in Champaign.  That mark includes an embarrassing 1-18 record in Big Ten play.  The lone conference win came in 2013 against a Purdue team whose only victory in the midst of an 11-loss season came against a team from the FCS.  The media covering the team makes it appear like it's a matter of when, not if, Beckman is canned.  Based on the record, that tack makes perfect sense.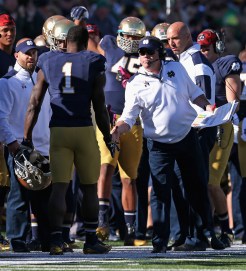 TOP 25 TOO-CLOSE-FOR-COMFORT
How ranked teams endured single-digit close shaves vs. unranked opponents
No. 6 Notre Dame 50, North Carolina 43: Entering their game against the Tar Heels, Irish opponents had scored 26 points off of ND's eight turnovers the first five games.  UNC produced 21 points off of three Irish turnovers in Week 7, nearly turning what's been a dream season thus far for the Irish into a nightmare.  Still, the skin-of-their-teeth win sets up a midseason battle of unbeatens next weekend: No. 6 Notre Dame vs. No. 1 Florida State in Tallahassee in a game that will go a long way in setting up a portion of the four-team College Football Playoff field.
No. 7 Alabama 14, Arkansas 13: Was AJ McCarron correct in his midweek admonishment of his former team?  No, but the Tide picked an inopportune time to lay another offensive egg.  In its win over a Razorbacks team that has now lost 15 straight SEC games, the Tide managed just 227 yards of offense and 10 first downs.  Even more stunningly, the Tide ran for just 66 yards and averaged a paltry 2.1 yards per carry.  This comes one week after scoring 17 points and putting up less than 400 yards of total offense (396) for the first time this season in its first loss of the year to Ole Miss.  It may not be fair to say teams have figured out Lane Kiffin's offense, but it is to state they now have a book on which to study.  Now it's up to Kiffin to counter… if he can.
No. 11 Oklahoma 31, Texas 26: The first four games of the season you could've made a very good case for OU being the best team in the country.  The last two, not so much.  So, just what's happened?  Katy Perry, that's what.  Since the pop superstar propositioned Trevor Knight during ESPN's College GameDay pregame show in Week 6, the Sooners starting quarterback has completed 26-of-55 passes (47.3 percent) for 438 yards, two touchdowns and two interceptions.
No. 16 Oklahoma State 27, Kansas 20: A 99-yard Tyreek Hill kickoff return for a touchdown was the only thing standing in the way of an embarrassing loss for the Cowboys, one that would've served as the Jayhawks' first win over a ranked team since Sept. 11, 2010 (28-25 over No. 15 Georgia Tech), and their first win over a ranked Big 12 team since Nov. 29, 2008 (40-37 over No. 12 Missouri).
HE SAID IT
"The physical nature of the Stanford players. Our technique has to be sharper, we have to play harder, we got to play better. I think their defensive line and their offensive line exposes any weakness and we have to be sharper technically in order to offset, because their bigger and stronger than we are." — Washington State head coach Mike Leach, when asked what the difference was in the 27-17 loss to Stanford Friday night.
HE SAID IT, THE SEQUEL
"No." — Oklahoma linebacker Eric Striker, when asked if Texas quarterback Tyrone Swoopes (384 yards of total offense) showed him anything in OU's win.
HE SAID IT, THE THREEQUEL
"Obviously we're remarkably disappointed. I'm responsible. … It's about execution and obviously we're struggling right now. We turned the ball over five times; I don't ever remember in my career if we've turned the ball over five times before." — Gary Pinkel, following Missouri's shutout home loss at the hands of Georgia.
HE SAID IT, THE QUADQUEL
"I've been doing this 36 years, and this was the greatest game ever. You tell everyone I said that, tell everyone!" — Baylor defensive coordinator Phil Bennett, after watching his defense give up 58 points in a wild three-point win over TCU.
HE SAID IT, BONUS EDITION
"What was he doing?" — lip-reading Alabama offensive coordinator Lane Kiffin after Blake Sims' vertical quarterback sneak on fourth-and-one failed, giving the ball back to Arkansas midway through the fourth quarter near midfield. Nick Saban lit into Sims as well as he was coming off the field, after the game labeling it the "ugliest-looking quarterback sneak I've ever seen."
TWEET OF THE DAY
If you wanted to encapsulate the sentiment that one of the greatest rivalries in college football, the Oklahoma-Texas Red River Shootout, was reduced to a mere afterthought in 2014, the must-follow Twitter feed of the Dallas Morning News' Chuck Carlton does the trick in less than 140 characters:
(Seriously, give Chuck a follow HERE, especially if you're a Big 12 fan)
KICKER TWEET OF THE DAY
That's West Virginia's Josh Lambert, booter of the game-winning 55-yard field goal against Texas Tech, referencing Dana Holgorsen's assertion earlier this season that the head coach had never spoken to the kicker.
CROWD OF THE DAY
Or lack thereof, as is ofttimes the case at Miami.  Saturday afternoon was no exception as The U's non-conference home game, at least near the start of the contest, was sparsely attended by Hurricane "fans."
The scant few who were in attendance were witness to this flying ominously over the stadium.
I don't know that Al Golden's job is in danger, but I do know that some of his assistants, especially his defensive coordinator, should probably be concerned about remaining a part of the Hurricanes beyond 2014.
GOLF SHOT OF THE DAY
Here's Wisconsin alum and professional golfer Steve Stricker at halftime of his alma mater's game vs. Illinois, hitting off what appears to be a crappy driving range mat consisting of worn-out Astroturf.
BEER OF THE DAY
The OU-UT game may not have meant as much nationally, but the hatred in the rivalry was just as real and just as visceral as it's ever been on the alcohol front.
JUXTAPOSITION OF THE DAY
Want startling visual proof of the Kyle Field expansion?
That's staggering.
CATCH OF THE… EVER?
This was last weekend, but it bears mentioning as it's astounding and superhuman and un-freaking-believable all rolled into one.
That would be Fabian Guerra of Nick Saban's old West Virginia stomping grounds Fairmont State making one of the best one-handed catches you'll ever see.  Just, wow.
STREAKING
Florida State has won a nation's-best 22 straight games, extending the record for an ACC school by beating up on Syracuse  Saturday. The Seminoles' last loss came Nov. 24, 2012, a 37-26 home setback to in-state rival Florida.  FSU has won 18 of those games during this current streak by at least 14 points. Of those, 11 wins have come by 30-plus points, with three being by 50-plus points and two by 60-plus. FSU is the only team in the country with a double-digit winning streak, although Mississippi State at nine in a row is closing in.
At the opposite end of the W/L spectrum is Idaho's 13 straight losses. UMass had lost 12 straight until beating winless Kent State this weekend.
GOING BOWLING
For the first time this season, we had teams reach bowl eligibility.  Six of them, in fact.  Here they are:
Baylor
Florida State
Marshall
Mississippi State
Notre Dame
Ole Miss
S.I.D. NOTE OF THE WEEK
With 36 states represented on the Army roster, the Black Knights lead the nation in the stately reach of their squad. Fellow service academy Navy is next at 32. The non-service academy with the most players from different states is Nebraska with 25, followed by Alabama and Syracuse with 24 each.
S.I.D. NOTE OF THE WEEK II
Prior to the Week 7 game against Toledo (4-2), Iowa State's first five opponents had a combined 22-3 overall mark, the highest opponent winning percentage (92.0 pct.) in the FBS. The Cyclones have faced three ranked teams (Kansas State, 4-1; Baylor, 5-0; Oklahoma State, 4-1). Iowa (4-1) was receiving votes at kickoff and North Dakota State (5-0) is the No. 1-rated team in FCS and three-time defending national champion. The three losses by Cyclones' opponents: ISU, No. 1 Florida State, No. 2 Auburn.  After Week 7, ISU's opponent winning percentage is at 80 percent (24-6).
OFF THE CHARTS
Courtesy of the Air Force sports information department, with GSR standing for "graduation success rate":
OFF THE CHARTS II
Courtesy of the North Carolina State sports information department, a chart featuring the top dozen teams with the most freshmen currently on their roster: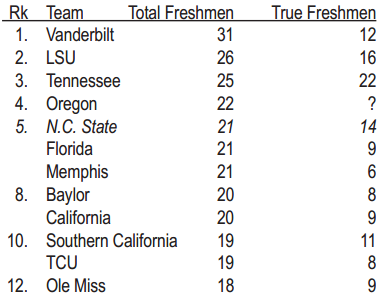 SAY WHAT?
Entering Week 7, the Big Ten featured four of the top six rushers in the nation in average yards per game. Wisconsin's Melvin Gordon led all FBS players with 174.2 yards per contest, followed by Indiana's Tevin Coleman at 168.2 yards per game. Nebraska's Ameer Abdullah ranked fourth with an average of 146.3 yards per outing while Minnesota's David Cobb was sixth at 144.4 yards per contest.  Two of those surpassed their season averages this weekend — Coleman (219) and Gordon (175) — while one didn't — Cobb (97).  Abdullah and the Cornhuskers were on a bye.
DULY NOTED
The five youngest head coaches at the FBS level are Western Michigan's P.J. Fleck (33), Toledo's Matt Campbell (34), Texas Tech's Kliff Kingsbury (35), Boise State's Bryan Harsin (37) and USF's Willie Taggart (38). Fleck, Campbell and Harsin all have birthdays coming up in November.
DID YOU KNOW THAT…
… Alabama (77), Boise State (73) and Oregon (72) are the only FBS teams that have won 70-plus games since 2008? LSU is next-closest to that plateau with 66.
… in conference games this season, Pac-12 visiting teams are 14-4?  The only home team of the four league games contested in Week 7 to win was Stanford.
… Michigan hosting Penn State Saturday marked the first-ever Big Ten night game in Michigan Stadium's 88-year history? It was also the third ever played under the Big House lights, with the other two coming against Notre Dame in 2011 and 2013.  With the win, the Wolverines are now a perfect 3-0 at night in Ann Arbor.
… the 2014 Red River Shootout (screw the PC police) was the 86th consecutive game in the Oklahoma-Texas rivalry played in Dallas? 91 of the 109 games in the rivalry have been played in that city. The last non-Dallas game came in 1923, in Austin.
… Saturday marked the first time since 1989 that both LSU and Florida went into the game unranked?
… No. 5 Baylor's game against No. 10 TCU was its first Top-10 matchup since the No. 6 Bears' Cotton Bowl loss to No. 9 Alabama following the 1980 season? It's the football program's first in the regular season since 1956 (No. 8 Baylor vs. No. 7 Texas A&M).
… with the last-second loss to West Virginia, Texas Tech is 0-3 in conference play to start a season for the first time since 1990?  The Red Raiders have also lost eight Big 12 games in a row, making the Kliff Kingsbury contract extension on the eve of the 2014 season opener look even more suspect.  Six of those eight losses have been by 10 or more points.
… Minnesota is 5-1 to start a season for the first time since 2008?  They're also 2-0 in Big Ten play for the first time since 2004.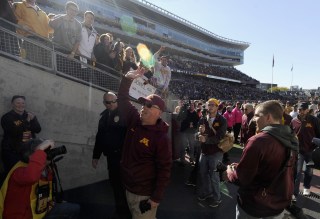 … Jerry Kill has six of his former players — H-back/tight ends coach Rob Reeves, offensive grad assistant Trevor Olson, director of player personnel Jeff Jones, defensive quality control coach Melvin Rice and defensive grad assistants Cory Hanson and Mike McElroy — on his Minnesota staff? The loyalty doesn't extend to only his former players as three other members of his staff — strength & conditioning coach Eric Klein (21). defensive coordinator Tracy Claeys (20) and offensive coordinator Matt Limegrover (16) — have been with Kill for more than 15 years total.
… Alabama and Boston College, with 15 apiece, have the most players currently on their rosters who have already graduated? Cincinnati, Minnesota and Utah State are next with 13 each.
… Marshall is the only team at the FBS level to have scored 40-plus plus in every game this season? The Herd came into the Middle Tennessee State game averaging 47.6 points per game, fourth in the nation behind Baylor (51.0), Cal (50.0) and Texas A&M (47.8).  They scored 49 in the win over MTSU.
… three American Athletic Conference teams (Memphis, USF, Temple) have already matched or exceeded their wins totals from last season?
… among the Group of Five schools, Navy has the most wins over Power Five conferences since 2003 with 20? BYU is second with 17.