A numerical snapshot of the week that was in college football…
-26 — Washington State's rushing total against Stanford Friday night, the first time the Cardinal has allowed negative rushing yards in a game since Nov. 3, 2012, at Colorado (-21). It was Wazzu's lowest rushing total since Oct. 10, 2009, at Arizona State (-54).
.676 — Winning percentage of both Urban Meyer (25-12) and Bob Stoops (50-24) in their head-coaching careers vs. Associated Press Top 25 teams, currently the best at the FBS level. Stoops' wins all came at Oklahoma, while Meyer spread his out over tenures at Utah, Florida and Ohio State. Nick Saban, incidentally, is third in this category at .581 (50-36 during his time at Michigan State, LSU and Alabama).
0 — Times Georgia had shut out a ranked opponent in a true road-game victory prior to its 34-0 whitewashing of No. 23 Missouri in Columbia Saturday afternoon.
4 — Through six games, the combined number of interceptions (zero) and sacks (four) for which the Wyoming defense has been credited.  The Cowboys are the only team in the country without a pick, and their eight turnovers, all fumble recoveries, are tied for 83rd in the nation.
4 — Iowa's offense and defense officially touched the ball that many times in a span of just under four minutes late in the first quarter against Illinois; the Hawkeyes scored a touchdown on all four of those touches — Jake Rudock 12-yard pass to Jake Duzey; Desmond King 35-yard interception return; Rudock 72-yard pass to Damond Powell; and a Jonathan Parker 60-yard run.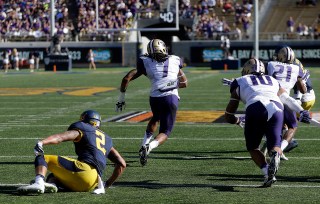 5 — Number of touchdowns Washington linebacker Shaq Thompson has scored this season.  Thompson has returned three fumbles for scores, including a school-record 99-yarder in the win over Cal, along with one interception return and one rushing touchdown.
5 — Number of touchdowns Justin Worley accounted for (three passing, two rushing) in Tennessee's 45-10 win over Chattanooga.
7 — Number of teams that, through Week 6, had fewer passing yards for the entire season than Washington State's Connor Halliday had in a single game in Week 6 (FBS-record 734). Those teams were Navy (595), Georgia Tech (663), Boston College (666), Air Force (683), UTEP (702), North Texas (705) and UCF (714). Halliday's record-setting performance was very near the season total for USF (740), Georgia Southern (748) and Wisconsin (749) as well.  Speaking of Halliday, the senior was held to under 300 yards passing (292) in the loss to Stanford Friday night for the first time this season and the first time since the regular-season finale against Washington (282), a streak of seven straight games.
7 — Including this year, the number of times Kentucky has started a season 5-1 since 1950, with the others being 1950, 1976, 1977, 1983, 1984, 2007.
7.1 — Average yards per touch for Buck Allen in USC's upset of previously-unbeaten Arizona Saturday night.  The running back carried the ball 26 times for 205 yards (7.9 yards per carry) and totaled four receptions for 28 yards (7.0 yards per catch) for good measure.
9 — Teams remaining that have either won all of its games or lost all of them.  There are still six of the former — Baylor, Florida State, Marshall, Mississippi State, Notre Dame, Ole Miss.  There were 10 entering Week 7, with Arizona, Auburn, Georgia Tech and TCU falling from the ranks of the unbeatens.  The three remaining winless teams are Idaho, Kent State and SMU.  UMass, against Kent State, picked up its first win of the year Saturday.
9 — School record for career 300-yard passing games by Garrett Grayson, who hit that standard with 326 yards in Colorado State's 31-24 win over Nevada.
10 — Total number of fumbles in the Louisiana-Monroe-Kentucky game (five apiece), although ULM had the only lost fumble of the contest.
11 — Navy players with at least one carry as the Midshipmen ran for 352 yards in a 51-14 rout of VMI.
16 — Consecutive games in which Davis Webb has thrown at least one touchdown pass, a Texas Tech record.
22.4 — Average yards per touch for Kentucky's Stanley "Boom" Williams, coming off a suspension, in UK's blowout win over Louisiana-Monroe.  Williams totaled 104 yards on seven carries and 75 yards on a kickoff return.
23 — Number of teams that have won 100-plus games since the start of the 2002 season:
Boise State (140); Ohio State and Oklahoma (133); LSU (130); USC (129); Georgia and Texas (122); Virginia Tech (120); Alabama (119); TCU (118); Oregon (117); Florida State (116); Auburn and Wisconsin (114); Florida (113); Virginia (110); West Virginia (109); Utah (107); Nebraska (106); Miami of Florida and Texas Tech (102); Iowa (101); Michigan (100).
25 — Les Miles' wins at LSU coming off a loss, with the win over Florida pushing his Baton Rouge record to 25-1 in such games. The only time LSU has lost back-to-back games under Miles was in 2008 when the Tigers fell to Ole Miss and Arkansas in November.
26 — Current number of SEC West wins vs. non-SEC West teams, with a total of zero losses.
29 — Career sacks for Vic Beasley, surpassing the Clemson record of 28 previously held by Michael Dean Perry (1984-87) and Gaines Adams (2003-06).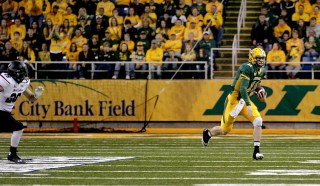 30 — The FCS-record winning streak for North Dakota State, extended with a 38-10 win over No. 13 Southern Illinois.  The Bison's last loss was 17-14 to Indiana State Oct. 13, 2012.  NDSU is now 49-2 in its last 51 games dating back to the beginning of the 2011 season.
33 — New Mexico State had not allowed a sack in 246 pass attempts this season, including the first four attempts in Saturday's game against Troy.  In their final 33 attempts in the loss to the Trojans, however, Aggie quarterbacks were sacked four times.
37 — Seven individuals were arrested during and 30 ejected from the third-ever night game at Michigan Stadium. According to mlive.com, 16 ejections were for bringing alcohol into the stadium, 12 for disorderly conduct, one for urinating in public and the other for fraudulent use of ID. Meanwhile, five of the seven arrests were for minors in possession of alcohol, one for resisting and obstructing police, and the other for disorderly conduct
38 — Carries for Nick Chubb in his first career start in the win over Missouri, eight more than Todd Gurley's career high for rushes in a game (30 vs. South Carolina, Sept. 7, 2013) in his 29 games played.  Chubb averaged just 3.8 yards per carry, though.
38 — Games in a row Marshall's Rakeem Cato has thrown a touchdown pass, tying Russell Wilson's FBS record.
41 — Days between Washington's first 2014 road game (Aug. 30 at Hawaii) and its latest trek away from home (Oct. 11, at Cal).  Oklahoma State, meanwhile, played its first road game of the season against Kansas in Lawrence in Week 7.
43.5 — Maty Mauk's quarterback rating in Missouri's loss to Georgia after completing 9-of-21 passes for 97 yards, no touchdowns and four interceptions.  Mauk came into the game with a passer efficiency rating of 138.6, tied for 51st in the country.
45 — In win over Indiana, most points scored by Iowa in a Big Ten game since scoring 45 against the Hoosiers in 2011.
47.3 — Percentage of passes Oklahoma's Trevor Knight has completed since being propositioned by Katy Perry.
50 — Number of different headgears Lee Corso has donned during his time on ESPN's College GameDay pregame show.
52 — Alabama's Amari Cooper is off to the fastest five-game start by any wide receiver in SEC history. His 52 catches heading into this weekend shattered the old mark set by Florida's Carlos Alvarez, who totaled 43 receptions in 1969.  The Tide receiver was held to just two catches for 22 yards in the narrow win over Arkansas, his lowest reception total since Game 2 in 2013 and his lowest yardage output since Game 2 of the 2012 season.
55 — Length, in yards, of Josh Lambert's game-winning field goal with no time left to lift West Virginia to a stunning 37-34 road win over Texas Tech.  That field goal also marked Lambert's career-long make, and was his second game-winning kick this season.  The Mountaineers, incidentally, trailed the Red Raiders 34-20 before scoring 17 points in the last 5:55 of the fourth quarter.
91 — Length of Aaron Ross' first-half kickoff return for a touchdown for Oklahoma, becoming the first Sooner to return a kickoff for a score vs. Texas.
93 — The most combined points ever in a game in Notre Dame Stadium history (built in 1930) in the Irish's 50-43 win over North Carolina. The previous high under the watchful eye of Touchdown Jesus was 92 on October 8, 2011, a 59-33 Irish win over Air Force.
99 — Touchdowns Alabama's defense has allowed has allowed since the beginning of the 2009 season, easily the least given up in that span. Next closest? LSU's 143 and Florida's 145.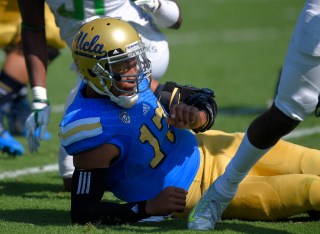 110 — Times Brett Hundley has been sacked in 33 career games. The UCLA quarterback was sacked 52 times (in 14 games) as a redshirt freshman in 2012, 35 times (in 13 games) in 2013 and 23 times thus far in six games in 2014.
110 — In a 31-13 loss to Bowling Green, that's the school-record number of plays ran by the Ohio offense.  That's five short of the FBS record of 115 set by three different teams, most recently BYU last year.  The Bobcats also had 16 penalties for 153 yards.
140 — Wisconsin's Melvin Gordon rushed for at least that many yards for the fifth time in six games this season and the 14th time in the last 21 games, including Saturday's 175-yard effort in the win over Illinois.
152 — Temple's Jahad Thomas' total number of rushing yards in the 35-24 win over Tulsa, 94 more than his previous career-high of 58 yards set three weeks ago.
171 — Points Cal has scored in its last four games vs. Arizona (45), Colorado (59), Washington State (60) and Washington (7) are the most for the Bears in a 4-game stretch since the 1920 team scored 357 points (88 vs. Mare Island Marines; 127 vs. Saint Mary's; 79 vs. Nevada; 63 vs. Utah).
174.2 — Rushing yards per game averaged by Wisconsin's Melvin Gordon entering the weekend, a total that topped 65 of the 125 FBS teams, including 29 teams from Power Five conferences. In the bounce-back win over Illinois, the running back totaled, as mentioned above, 175 yards.
202 — Eastern Michigan's Reginald Bell's career-high rushing total in helping EMU to 337 yards as a team in the 37-27 win over Buffalo.
246 — Career-high rushing total for Donnel Pumphrey, on just 20 carries, in San Diego State's 24-14 win over New Mexico Friday night.
270 — In Central Michigan's stunning upset of Northern Illinois, Thomas Rawls' ground production that played a significant role in the Chips' ending NIU's 28-game home and 24-game MAC winning streaks.
351 — Career-best passing yardage for Iowa State's Sam Richardson in the 37-30 win over Toledo.
362 — Combined yards for wide receiver Josh Harper (187, 12 catches) and running back Marteze Waller (137, 17 carries; 38, four receptions) in Fresno State's 30-27 overtime loss to UNLV Friday night.
435 — Total number of yards (303 passing, 132 rushing) produced by North Carolina's Marquise Williams in the loss to Notre Dame.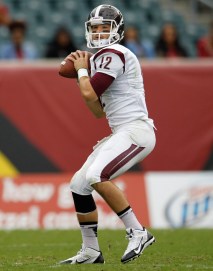 450 — First-half passing yard for Fordham's Mike Nebrich in what would turn into a 60-20 win over Penn.  Nebrich finished the game with 566 yards passing and six touchdowns.
753 — Combined number of passing yards for Appalachian State's Taylor Lamb (397) and Liberty's Josh Woodrum (356) in the latter's 55-48 win.
1,267 — Total number of yards for both team's in Baylor's wild 61-58 win over TCU, 782 for the former and 485 for the latter.  510 of the Bears' yards and six of their seven touchdowns came off the arm of quarterback Bryce Petty; both of those were new career-highs.
1956 — Texas' record after six games in that season was 2-4, matched for the first time since by the 2014 Longhorns in Charlie Strong's first season in Austin.
1962 — Last year Ole Miss started a season 6-0. The Rebels finished that year 10-0 and claimed a share of the national championship. Their No. 3 ranking is the program's highest since being ranked No. 1 in the 1964 preseason poll.
1999 — Last year Marshall started a season 6-0. That year was the first, and only, undefeated season in the Thundering Herd's history. The Herd's current seven-game winning streak, incidentally, is the longest among Group of Five schools.
4,427 — Career all-purpose yards for Duke Johnson, surpassing Ottis Anderson (4,265) and Santana Moss (4,394) Saturday for the most career all-purpose yards in Miami Hurricanes history.
110,633 — Largest crowd to ever witness a game of football at any level in the state of Texas, with that record number witnessing Texas A&M's loss to Ole Miss.  The total also set an SEC record previously held by Tennessee.
For this week's "The Fifth Quarter: Week 7 Rewind," click HERE.