As is the case each and every season, each and every week, any omission below is not on purpose, it's merely intentional.
FSU IN SEEDING DRIVER'S SEAT
Entering Week 8, seven weekends of the 2014 college football season were already in the books. Seven more after this weekend await. That means Week 8 served as the official midway point of the regular season… and again reminded us of the chaos awaiting us at season's end.
Thanks to losses by Baylor and Notre Dame, there are just three undefeated teams left at the Power Five level: Mississippi State, Ole Miss and Florida State.  The first two will square off in what could be an epic Egg Bowl at season's end, meaning there will be, at most, two undefeated teams at season's end — and that's provided either the Bulldogs and the Rebels make it through the SEC West meat grinder unscathed leading into the rivalry game.
At least on paper, however, FSU looks like a shoe-in to make it out of the regular season unblemished.  The five remaining teams on the Seminoles' schedule — Louisville, Virginia, Miami, Boston College, Florida — are a combined 21-14. The road trips the remainder of the season consist of visits to the Cardinals and the Hurricanes.  Should FSU run that no-so-daunting gauntlet sans a loss, the defending BCS champions will cement a seat at the first College Football Playoff table, and likely either a No. 1 or No. 2 seed.
The chaos of the last couple of weeks, though, is ensuring that a gaggle of one-loss teams remain very much a significant part of the discussion — and that a two-loss team could be part of it as well.
Counting the three remaining undefeated teams, there are more than a baker's dozen squads, with seven weeks left in the regular season, who could make a valid argument that they should be a serious part of the playoff discussion: Baylor, Kansas State, TCU, Michigan State, Ohio State, Notre Dame, Oregon, Georgia, Alabama and Auburn.  And that's without even mentioning teams like 5-1 Arizona, 5-1 Arizona State, 6-1 Nebraska or 7-0 Marshall, the only Group of Five member still unbeaten.
And what of a team like a two-loss LSU?  Down the stretch, they have games remaining against No. 3 Ole Miss, No. 7 Alabama and No. 21 Texas A&M.  If they were to run the table, what kind of case could the Tigers make, especially if all hell continues to break loose at or near the top of the polls?
In that same vein, a number of those one-loss teams mentioned above could possible absorb one more loss and potentially remain in the mix.
Any way you slice it, we're in for one hell of  stretch run in college football.  And for all of the doom and gloomers when it comes to the new system for determining a national champion?  We'll let Dan "Death to the BCS" Wetzel handle that part of the equation.
As has been evidenced the past couple of weeks, what was always a straw man's argument that "a playoff would devalue the regular season" has been further exposed for what it was: a scare tactic by those too narrow-minded to realize that the exact opposite would happen with a bigger postseason field.
SATURDAY RESET
Below is a list of links out to a handful of the gamers posted by the CFT crew, placed in one handy and convenient space for you, our beloved and dear readers.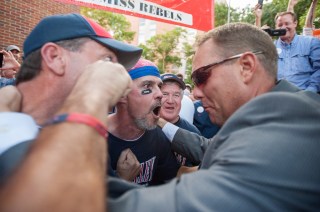 CFT TOP FIVE
A snapshot look at how my ballot would look Sunday if I, ya know, had a real vote.
1. Mississippi State — After ascending to No. 1 in the polls for the first time in the football program's history, the Bulldogs were able to rest and relax and bask in the top-spot glow. That basking should come to an end post-haste, if it hasn't already, as MSU will go on the road next week to face a team that is no longer a gimme.(Last week: No. 1)
Next up: at Kentucky, Oct. 25
2.  Ole Miss — No one who's sober will ever confuse Tennessee's offense with Baylor's, but holy hell is this "Land Shark" defense for real.  In the 34-3 win over the Vols, the Rebels allowed zero rushing yards on 28 UT carries and 191 total yards. Unlike in year's past, that unit has the talent and ability to compensate for the offense even when "bad" Bo Wallace makes an appearance. (Last week: No. 2)
Next up: at LSU, Oct. 25
3. Florida State — This was FSU's narrowest margin of victory during the regular season in its lengthy winning streak, but it was also the Seminoles' most impressive and complete performance of the 2014 season.  Despite all of the off-field tumult, Jameis Winston showed in the second half exactly why he is the reigning Heisman Trophy winner.  As explained earlier, FSU now has the easiest path to a spot in the CFP. (Last week: No. 3)
Next up: bye weekend
4. Notre Dame — After one of the best college football games you'll ever witness, there's no way I could drop the Irish out of the Top Five.  In fact, thanks to Baylor's loss, the Golden Domers actually moved up a spot from a week ago.  While the loss to FSU will be crushing emotionally in the here and now, the Irish are still very much in the thick of the playoff race. (Last week: No. 5)
Next up: bye weekend
5. Oregon — Thanks to Baylor's loss, the Ducks make their way back into the Top Five after falling out following a Week 6 loss to Arizona.  Still, UO hasn't quite looked like the complete team it appeared to be the first three games in the last four. (Last week: unranked)
Next up: vs., Oct. 24
(Dropped out: No. 4 Baylor)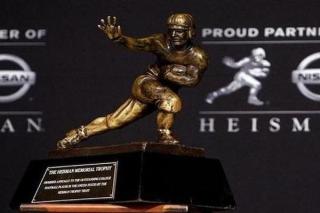 HEISMAN RACE, BY THE NUMBERS
A statistical look at how some of the top contenders for this year's stiff-armed trophy fared this weekend, listed in alphabetical order so as not to offend any of the delicate sensibilities readers in the audience may possess or get their unmentionables all wadded up over "their" player being excluded. Also, each week at least one name will be sliced from a list that began in Week 6 at a baker's dozen and, if need be, names will be added as well.
J.T. Barrett, QB, Ohio State (5-1, No. 23)
Saturday: 19-31 (61.3), 261 yards, three touchdowns, zero interceptions; 107 rushing yards, two touchdowns
Season: 107-164 (66.2%), 1,615 yards, 20 touchdowns, five interceptions; 383 rushing yards, four touchdowns
Trevone Boykin, QB TCU (5-1, No. 12)
Saturday: 26-39 (66.7%), 410 yards, three touchdowns, one interception; 41 rushing yards
Season: 146-247 (59.1%), 1,873, 14 touchdowns, three interceptions; 356 rushing yards, three touchdowns
Shane Carden, QB, East Carolina (5-1, No. 18)
Saturday: bye weekend
Season: 166-252 (65.9%), 2,129 yards, 16 touchdowns, four interceptions; 73 rushing yards, three touchdowns
Rakeem Cato, QB, Marshall (7-0, No. 25)
Saturday: 15-27 (55.5%), 214, four touchdowns, one interception; 23 rushing yards
Season: 119-204 (58.3%), 1,912 yards, 19 touchdowns, six interceptions; 225 rushing yards, four touchdowns
James Conner, RB, Pittsburgh (4-3, unranked)
Thursday: 16 carries for 85 yards (5.3 ypc), two touchdowns; two catches for 10 yards
Season: 172 carries for 959 yards (5.6 ypc), nine touchdowns; four catches for 30 yards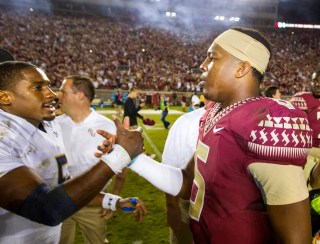 Everett Golson, QB, Notre Dame (6-1, No. 9)
Saturday: 31-52 (59.6%), 313 yards, three touchdowns, two interceptions; 33 rushing yards
Season: 166-268 (61.9%), 1,996 yards, 19 touchdowns, six interceptions; 242 rushing yards, four touchdowns
Melvin Gordon, RB, Wisconsin (4-2, No. 17)
Saturday: bye weekend
Season: 132 carries for 1,046 yards (7.9 ypc), 13 touchdowns; six receptions, 27 yards, one touchdown
Marcus Mariota, QB, Oregon (6-1, No. 2)
Saturday: 24-36 (66.7%), 336 yards, two touchdowns, zero interceptions; minus-one rushing yards
Season: 152-223 (68.2%), 1,897 yards, 21 touchdowns, zero interceptions; 214 rushing yards, five touchdowns; one reception, 26 yards
Dak Prescott, QB, Mississippi State (6-0, No. 1)
Saturday: bye weekend
Season: 96-156 (61.5%), 1,569 yards, 15 touchdowns, four interceptions; 576 rushing yards, eight touchdowns
Jameis Winston, QB, Florida State (7-0, No. 2)
Saturday: 23-31 (74.2%), 273 yards, two touchdowns, one interception; eight rushing yards
Season: 149-211 (70.6%), 1,878 yards, 13 touchdowns, six interceptions; 47 rushing yards, two touchdowns
(Dropped out: Baylor quarterback Bryce Petty)
(Added: TCU quarterback Trevone Boykin)
COACHING HOT SEAT
My weekly look at a couple of the current head coaches who could most likely be ex-head coaches by season's end — if not sooner.
1. Will Muschamp, Florida
(Writer's note: I'm just going to trot this same note out week after week, with the records updated, until athletic director Jeremy Foley finally and mercifully puts Gator Nation out of its collective misery.)
In his three years at UF,Ron Zook was 23-14 overall and 16-8 in the SEC.  Since beginning his Gator career at 4-0, Muschamp has gone 22-20 overall and an embarrassing 13-14 in the conference.  The last 18 games, Muschamp's record is 7-11 and 5-8.  In other words, there's been nothing but regression instead of the progression that an 11-2 second season portended.  The worst part?  There's no hope as far as the eye can see.
2. Brady Hoke, Michigan
(Writer's note: same goes for the UM fan base.)
In what turned out to be Rich Rodriguez's last season at Michigan in 2010, the Wolverines' began the year 6-1; in what could turn out to be Hoke's last season at Michigan, the Wolverines are 3-4 as they had a bye in Week 8.  From Oct. 3, 2009, through Oct. 9, 2010, UM went 7-8 under Rodriguez; from Oct. 12, 2013, through Oct. 11, 2014, UM has gone 5-10 under Hoke.  In his first 31 games at UM, Rodriguez was 14-17; in his last 31 games at UM, Hoke is 16-15.  You see where this is going, right?  So should Hoke, athletic director Dave Brandon and the entire UM football program as a different direction is needed on that hallowed sideline.
TOP 25 TOO-CLOSE-FOR-COMFORT
How ranked teams endured single-digit close shaves vs. unranked opponents
No. 20 Utah 29, Oregon State 23 (2-OT): If the Utes, currently one of four Pac-12 South teams with just one conference loss, go on to win the division, they can look back at this game and thanks their lucky stars for Devontae Booker.  In the double-overtime win over the Beavers, the running back ran for 229 yards and scored three touchdowns.  The last of those scores was the game-winner in the second overtime.  Booker has now rushed for 563 yards the last three games after rushing for just 179 the first three.
No. 24 Clemson 17, Boston College 13: Now we see how much Deshaun Watson meant to Clemson's offense.  In the two full games the true freshman started, the Tigers averaged 45.5 points per game; the last two games, including the one Watson left early due to injury, the Tigers are averaging 20 points per game.  Dabo Swinney and Company had better figure a way to turn things around offensively as Watson will miss up to five weeks after undergoing hand surgery last week.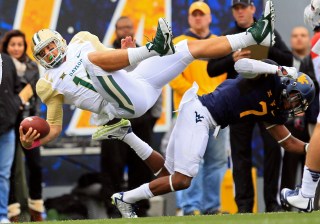 HE SAID IT
"Any game's hard to lose. Losing sucks." — Baylor quarterback Bryce Petty, following the stunning upset at the hands of West Virginia.
HE SAID IT, THE SEQUEL
"However you cut it that performance was unacceptable and embarrassing." — Texas A&M head coach Kevin Sumlin, after watching his Aggies suffer a 56-0 evisceration at the hands of Alabama.
HE SAID IT, THE THREEQUEL
"Right now will be a true test of character for us. As men. As coaches. And players. And certainly as a team. You finish this one up tomorrow afternoon. Tomorrow night you go out to practice and get ready for the next game." — Oklahoma State head coach Mike Gundy, following a 33-point loss to TCU.
HE SAID IT, THE QUADQUEL
"What some of our guys need to do is look in the mirror. They need to play better." — Florida head coach (for now) Will Muschamp after an embarrassing loss to Missouri, not indicating whether or not he and his coaching staff will take a peek too.
HE WROTE IT
"The smell of this performance is something the Gator fans in attendance won't be able to get out of their clothes for awhile. It was rotten milk and burnt hair poured into a used diaper and left in the sun for a month." — Gainesville Sun columnist Pat Dooley, perfectly summing up the stench emanating from The Swamp Saturday evening.
GAMEDAY SIGN OF THE DAY
Tallahassee brought its sign game to GameDay, but this one had me chuckling well into the afternoon and on into the evening.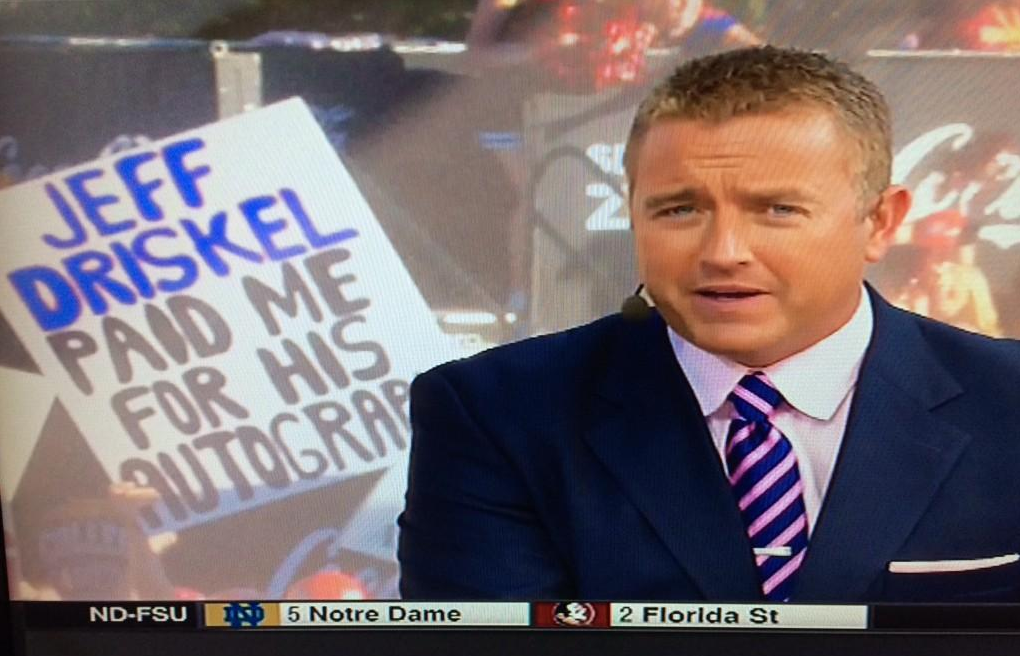 Well played, 'Noles.  Well played.
EX-PLAYER HISSY FIT OF THE DAY
Apparently, former USC great LenDale White was not very pleased with athletic director Pat Haden.
The reason for the outburst, the tweet of which was subsequently deleted?
Here's to guessing White most certainly won't be allowed in his old locker room moving forward either.
AWESOME OF THE DAY
Have you ever wondered what it's like skydiving into a college football stadium? If so, today's your lucky day. Prior to the Oct. 3 Washington State-Stanford, the U.S. Navy Parachute team made a grand entrance, which, thanks to a helmet-mounted camera, you can get a first-hand view of below (fast-forward to the 1:55 mark to see the actual beginning of the jump).
That. Is. Awesome.
THE CURIOUS CASE OF THE SCORING KICKER
It's not often kickers get the opportunity to score a touchdown. Even rarer? Scoring a touchdown on their own kickoff. That's the situation Dayton's William Will found himself in last weekend, when he, well, did this:
In all my years of watching football, I can't say that I've ever seen that play before at any level. Kudos to the player with two first names. Work on your post-touchdown celebration, though. That was pathetic, even for a white dude.
STREAKING
Florida State has won a nation's best 23 straight games, extending the record for an ACC school by knocking off previously-unbeaten Notre Dame. The Seminoles' last loss came Nov. 24, 2012, a 37-26 home setback to in-state rival Florida.  FSU has won 18 of those games during this current streak by at least 14 points. Of those, 11 wins have come by 30-plus points, with three being by 50-plus points and two by 60-plus. FSU is the only team in the country with a double-digit winning streak, although Mississippi State at nine in a row is closing in.  Idaho, meanwhile, snapped a 13-game losing streak with a win over New Mexico State, leaving SMU's eight straight losses as the longest such streak.
GOING BOWLING
After the first six teams qualified for the postseason in Week 7, a total of 10 did the same in Week 8.  Here they are:
Alabama
Colorado State
Duke
Georgia
Louisville
LSU
Michigan State
Minnesota
Nebraska
Oregon
S.I.D. NOTE OF THE WEEK
Arkansas' game against Georgia marked the 83rd consecutive season the Razorbacks have played a game in the state's capitol. The Hogs are 167-69-4 all-time in that city. The UGA-UA game, incidentally, was the first time the two teams have ever met in Little Rock.
S.I.D. NOTE OF THE WEEK II
Entering Week 8, Iowa's State's first six opponents had a combined 30-6 overall mark, the highest winning percentage (83.3 %) in the FBS. The Cyclones have faced three ranked teams (No. 4 Baylor, No. 14 Kansas State, No. 15 Oklahoma State). Iowa was 5-1, while unbeaten North Dakota State is the top-ranked FCS team and 4-3 Toledo sits atop the MAC West.
OFF THE CHARTS
Courtesy of the Arkansas sports information department, and entering Week 8, the six FBS quarterbacks who have seen the greatest increase in passing efficiency from a year ago.
OFF THE CHARTS, ENCORE
The 10 coaches with the best winning percentages during the first five years of a career.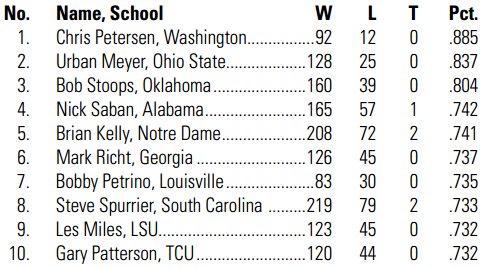 SAY WHAT?
The three tallest FBS players in the country are Kentucky's John Gruenschlaeger, who is 6'11", and Arkansas' Dan Skipper and Minnesota's Nate Wozniak, who are both 6'10". Gruenschlaeger and Skipper are offensive linemen — the former a guard, the latter a tackle — while Wozniak is a tight end. Skipper has started every game at left tackle for the Razorbacks this season.
DULY NOTED
North Carolina State is the only FBS team with a kicker (Niklas Slade), punter (Wil Baumann) and long-snapper (Scott Thompson) who are starting together for the fourth straight year? The trio came to the Wolfpack in 2011 and have been the starters at their respective positions since the first game of that season.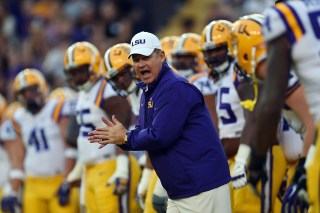 DID YOU KNOW THAT…
… Les Miles is the only coach at the FBS level to beat all three Stoops brothers when they were head coaches?  He beat Bob Stoops (Oklahoma) when Miles was the head coach at Oklahoma State in 2003 and 2004, and Mike Stoops (Arizona) in 2006 and Mark Stoops (Kentucky) in Week 8 of this season.
… Oregon's Marcus Mariota now has the longest streak without an interception (353 attempts) and the second-longest (232) in Pac-12 history?
… Army's leading receiver is named Edgar Poe? And, yes, his middle name is Allan for good measure. The original AEP also attended West Point, and rose to the rank of sergeant major, although the totality of his military career at the service academy didn't go nearly as well as this current pass-catching cadet's.
… UNLV punter/kicker Nicolair Bornand is also officially listed as a linebacker on the Rebels' roster? Bornand, who handles kickoffs and long-range field goals, has been credited with two tackles defensively, both of them solo.
… six FBS quarterbacks lead their respective teams in passing and rushing? Those are BYU's Taysom Hill (albeit out for the year with an injury), Boston College's Tyler Murphy, Iowa State's Sam Richardson, Georgia Tech's Justin Thomas, Kansas State's Jake Waters and North Carolina's Marquise Williams.
…entering Week 8, USC running back Javorius "Buck" Allen was the only player in the country with at least 750 yards rushing (781 entering, 909 exiting) and 250 yards receiving (278 then, 290 now)? Boise State's Jay Ajayi (709-to-867 rushing, 280-to-317 receiving) joined Allen in that select company in Week 8, while Miami's Duke Johnson (787, 187), on a bye, is on the verge of doing the same.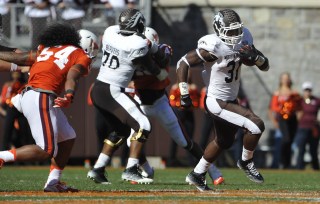 … entering Week 8, a true freshman, Western Michigan's Jarvion Franklin, led the nation in rushing touchdowns (15) and scoring (90), and was sixth in both rushing yards (843) and rushing yards per game (140.5)?  He had one rushing touchdown and 149 yards in an easy win over Bowling Green.
… since the start of the 2013 season, Indiana running back Tevin Coleman leads the nation in 20- (15), 30- (14), 40- (11), 50- (7), 60- (7), and 70-yard (3) touchdown runs?
… the last time Ole Miss started off a season 7-0, minimum wage was $1.25 an hour; a gallon of gasoline cost .25¢; the average price of a new car was $2,500; a first-class stamp was .04¢; and the average price of a new home was $15,000? The year was 1962, incidentally.
… with the loss to Maryland, Iowa is now 0-3 in their first-ever meetings with the three newest Big Ten teams? The Hawkeyes lost to Penn State in 1993 and to Nebraska in 2011. Iowa and the other new B1G member, Rutgers, are scheduled to meet on the football field for the first time on Sept. 24, 2016, so schedule your wagers accordingly.
… the road trip to Minnesota Saturday was Purdue's first game outside of a 100-mile radius of West Lafayette this season? Five of the Boilermakers' first seven games were played at home, while the other two were played in Indianapolis (Notre Dame) and Champaign (Illinois), which according to Mapquest.com are approximately 65 and 95 miles away from campus, respectively.
…USC has no players from the state of Colorado on its roster, while the Buffaloes have 55 from the state of California on theirs?