Just as surgeons are highly unlikely to announce they botched it, officials are very reluctant to announce one of their one got it wrong. Especially in a high-profile case like the decisive call that took Notre Dame's would-be game-winning touchdown off the board Saturday night at Florida State.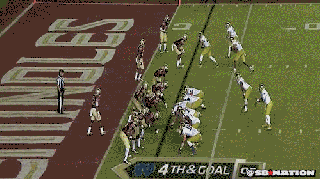 In the wake of the call, the ACC trotted coordinator of football officials Doug Rhoads out to explain the ruling.
"Offensive players on passing plays are restricted from going downfield and blocking anytime from the snap," he said. "If the ball is first touched behind the line of scrimmage then that would be legal and it's okay, but if it's touched beyond the line then it's offensive pass interference."
Instead of kicking an extra point to take a 34-31 lead over second-ranked and defending national champion Florida State, Notre Dame faced a fourth-and-goal from the 18-yard line. Fighting Irish quarterback Everett Golson was pressured by Seminoles defensive back Jalen Ramsey, and his hurried pass sailed through the back of the end zone untouched. Final score: Florida State 31, Notre Dame 27.
Rhoads' explanation isn't going to make the loss any easier to swallow for Notre Dame head coach Brian Kelly. In fact, Kelly said he had less clarity about the penalty a day later than he did when the flag first hit the Doak Campbell Stadium grass.
Brian Kelly on the PI call: "FSU blew the coverage and they were rewarded for it." — JJ Stankevitz (@JJStankevitz) October 19, 2014