A numerical snapshot of the week that was in college football…
0 — Rushing yards for Tennessee as it was tripped up by Ole Miss in Oxford.  Three different Vols had negative yards rushing, led by quarterback Justin Worley's minus-41.
0 — Through seven games, the number of interceptions Wyoming has, the only team in the country to not yet pick off a pass this season.
1 — True road games each played by Ohio State, Texas and Wisconsin through eight weeks, the lowest total at the FBS level. The Badgers don't play on the road again until Nov. 1 (Rutgers), while the Buckeyes and Longhorns will travel to Penn State and Kansas State, respectively, next weekend.
1-2 — Oklahoma's record since Katy Perry propositioned quarterback Trevor Knight on ESPN's GameDay show prior to the loss to TCU.  Knight has thrown a pick-six in both losses, including the "upset" at the hands of Kansas State.
2 — Number of wins shy Ohio State's current 18-game Big Ten winning streak is from tying the Buckeyes' conference record of 20 straight set in 2005-07.
2 — FBS quarterbacks who have attempted at least 100 passes without an interception this season, with both coming from the Pac-12: Oregon's Marcus Mariota (188) and Utah's Travis Wilson (111).
4 — Non-offensive touchdowns (punt return, kick return, interception return, fumble return) in Missouri's 42-13 pasting of Florida that could very well mark the end of the Will Muschamp error era.
4-3 — South Carolina's record in 2014, its worst to start a season since 2005. That year also happened to be Steve Spurrier's first season with the Gamecocks.
5 — Since 1944, the number of times Duke has started a season 6-1 or better: 7-0 in 1994, 6-1 in 2014, 1960, 1953 and 1952.
7 — School-record touchdown passes Cody Kessler tossed in USC's blowout win over Colorado.  Kessler threw those seven touchdowns in just 27 attempts.
8 — Consecutive games in which Clint Trickett has thrown for 300-plus yards, including 322 in West Virginia's upset of Baylor in Morgantown in Week 8.  That extends Trickett's school record he set earlier this season.
8.8 — Yards per carry average on 15 attempts by Indiana's Tevin Coleman, the nation's leading rusher, in the loss to Michigan State.  MSU came into the game giving up 2.8 yards per carry, good for ninth in the country.
9 — Boise State players who caught passes in Friday night's win over Fresno State, none of whom totaled more than 43 yards receiving.
13 — Nation's longest current home winning streak by Alabama, Auburn and Baylor. Marshall, at 11 in a row, has the longest of the Group of Five schools.
14 — Fewest number of 100-yard rushers allowed since 2005, by Alabama. Following the Tide are Ohio State (19) and Boston College (21).
29 — Unanswered points scored by Nevada to overcome a 28-13 halftime deficit in beating BYU 42-35.
30 — Number of consecutive opponents Stanford has held under 30 points, the longest such streak in the country. Louisville and Ole Miss are tied for second at 14 straight.
35 — Points in the second quarter of Alabama's woodshedding of Texas A&M, the most in a quarter in program history (records dating from 1945 to present). The previous high was 34 at Ole Miss on Oct. 7, 1989. The 56-point win was the Tide's largest margin of victory since downing Vanderbilt 66-3 on Sept. 29, 1979 and the largest shutout win since beating Tulane 62-0 on Oct. 12, 1991.
37.9 — Jeff Driskel's quarterback rating in Florida's embarrassing loss to Missouri.  The NCAA's official stats website lists 114 quarterbacks in its passing efficiency ratings; Driskel is dead last at 95.5.
38-3 — Record of Urban Meyer-coached teams coming off bye weeks, which Ohio State defines as "season openers, games after an 'off' or open week, and bowl games." Meyer went 5-1 at Bowling Green, 7-0 at Utah, 19-1 at Florida and is 7-1 at Ohio State. The three losses were to Miami of Ohio while at BGSU in 2001; to Michigan in the Capital One Bowl following the 2007 season; and to Clemson in the Orange Bowl following the 2013 season.
39 — Total number of points SMU has scored this season in six games. There are 13 teams averaging more points per game than the Mustangs have put on the scoreboard in 2014.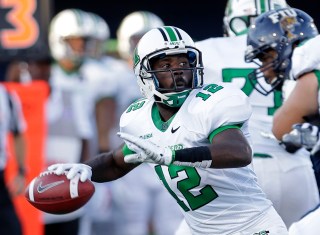 39 — Marshall's Rakeem Cato consecutive game streak of throwing a touchdown pass, breaking his tie of 38 straight he had held for a week along with Russell Wilson. Oregon's Marcus Mariota (33 straight) can surpass Wilson's old mark this season as well. Mariota, incidentally, has thrown at least one touchdown pass in every game in which he's played the past two-plus seasons, while Cato didn't throw one in three of the first seven games of his Herd career (2011) but has thrown one in every game since.
43 — Kansas State has won that many games in a row when leading at halftime, including Saturday's road win against Oklahoma.  That's the best current streak in the nation and three behind tying OU's all-time record of 46 straight.
53 — Unranked opponents in a row beaten by Alabama, tops in the nation. The Tide's last loss to a non-Top-25 team was in 2007 to Louisiana-Monroe. Clemson is a distant second with (23) in a row.
100 — Wins for Div. III Wisconsin Whitewater's Larry Leipold in his first 106 games, making him the fastest head coach to reach the century mark in college football history.  Michigan's Fielding Yost had held the all-division record at 108 for over a century, with Yost's 100th win coming during the 1908 season.
150 — Receiving yards running back Jahad Thomas had on three receptions during Temple's loss to Houston Friday night.  Two of Thomas' receptions went for 74 and 72 yards, although neither resulted in a touchdown.  The sophomore came into the contest with 66 receiving yards in his career.
194 — David Cobb's rushing total in Minnesota's 39-38 win over Purdue that pushed the Gophers to 3-0 in Big Ten play for the first time since 1990 and made them bowl-eligible for the third year in a row as well.
197 — Receiving yards for Oklahoma's Sterling Shepard, on 15 receptions, in the loss to Kansas State.  The junior's topped 100 yards receiving in five of seven games this season, including efforts of 215 and 177.
202 — In his second game replacing Todd Gurley, Nick Chubb's rushing yards in Georgia's easy win over Arkansas in Little Rock.  Along with Herschel Walker and Rodney Hampton, Chubb is one of three UGA freshmen to rush for 200-plus yards in a single game.
216 — Career-high receiving yards for Carlos Harris in North Texas' loss to Southern Miss.  His previous career high was 120 set two weeks ago.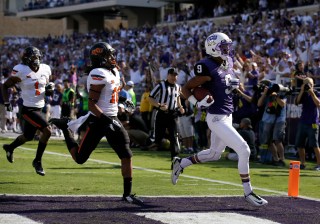 225 — Receiving yards for TCU's Josh Doctson in the win over Oklahoma State, one shy of the school record 226 by Jimmy Young against Wyoming in October of 2008.
250 — Mississippi State and Ohio State are both averaging more than that number per game in both rushing and passing yards, the only two teams coming out of Week 8 that can make that claim.
287 — Combined rushing yards for Nick Hill and Jeremy Langford in Michigan State's thumping of Indiana.  Hill, incidentally, averaged 11.1 yards on his 16 carries.
313 — Combined rushing yards for Drew Hare and Cameron Stingily in Northern Illinois' win over Miami of Ohio.
314 — After 272 in Week 8, number of yards Oregon State quarterback Sean Mannion needs to surpass USC's Matt Barkley (12,327, 2009-12) as the Pac-12's career leader in passing yards.  This week, Mannion passed another former USC quarterback, Carson Palmer (11,818, 1998-2202), for No. 2 on the conference's all-time list.
 323 — Career victories by Carson-Newman coach Ken Sparks, tying him with Alabama legend Bear Bryant for sixth on the NCAA's career list.
333-104 — Cumulative score of the USC-Colorado series, with the Trojans owning a 9-0 all-time advantage.
351 — Penalties yards for both teams in West Virginia's win over Baylor.  The Bears had 213 of those yards, eclipsing the Big 12 record of 183 set by Texas Tech in 2007.  The FBS record for one team, incidentally, is 238 (Arizona State vs. UTEP 1961), while the Div. I record for two teams is 421 (Grambling vs. Texas Southern 1977).
360 — Career-high in passing yards for Colin Reardon in Kent State's win over Army.
364 — Days between Texas Tech's last Big 12 win (37-27 over West Virginia Oct. 19, 2013) and its most recent (34-21 over Kansas Oct. 18, 2014).
408 — Passing yards for BYU's Christian Stewart in a losing effort to Nevada.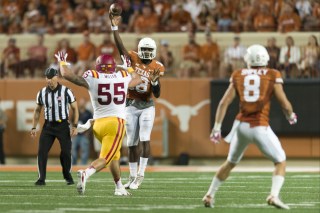 416 — Yards of total offense (321 passing, 95 rushing) for Tyrone Swoopes in Texas' win over Iowa State.
424 — Yards of total offense (330 passing, 94 rushing) for Brett Hundley in UCLA's win over Cal.
441 — Rushing yards for Appalachian State in its 53-14 blowout of Troy.  The Mountaineers averaged 8.2 yards on their 54 carries.
463 — Yards of total offense (390 passing, 73 rushing) for Marquise Williams in North Carolina's win over Georgia Tech, the second-highest total in Tar Heels history.  Williams also set school records for completions in a game (38) and a half (23).
489 — Games, out of 490, in which BYU has scored in since 1975, the lone exception being a 3-0 loss to Utah in 2003.
551 — Yards in receptions for Colorado State's Rashard Higgins the last three games, including 187 in the three-point win over Utah State.
563 — Yards Utah's Devontae Booker has gained the last three games after rushing for just 179 the first three. 229 of those yards came in the double-overtime win over Oregon State Thursday night.
1,000 — With 1,024 yards this season, Ameer Abdullah becomes the first player in the storied history of Nebraska football to rush for 1,000-plus yards in three straight seasons.
1,065 — Days since Michael Dyer's last 100-yard rushing game.  The running back rushed for 173 yards in Louisville's win over North Carolina State, his first 100-plus rushing effort since a 157-yard performance against Samford Nov. 19, 2011, when he was a member of the Auburn Tigers.
1940 — Until Saturday, the last year Notre Dame had lost its seventh game of the year after starting a season 6-0. The loss to Florida State snapped a 15-game winning streak in such contests.
1990 — Last year Minnesota had started its season 3-0 in Big Ten play before it moved to that mark with the one-point win over Purdue.
106,795 — Attendance at Ohio Stadium Saturday, the largest crowd to witness a Rutgers football game in its 145-year history