As is the case each and every season, each and every week, any omission below is not on purpose, it's merely intentional.
CALM(ISH) BEFORE THE STORM
After a few weeks worth of utter tumult, we were due.
Entering Week 9, we were looking at a slate of games heavy on the mundane and light on intrigue.  Exiting it, the landscape is essentially the same as it began — with one very large exception.
No. 3 Ole Miss' loss to No. 24 LSU was easily the most high-profile upset of the day, even as it probably shouldn't be referred to as an upset.  Playing in Death Valley, at night no less, is no easy task for any squad regardless of how highly-ranked they are, especially facing a Tiger team riding an emotional roller coaster after the death of their head coach's mother Friday night.
Certainly there were, in the weekend before Halloween, some scares for the Top 25.  No. 5 Auburn was able to survive an upset bid by South Carolina, exiting Jordan-Hare with a seven-point win.  No. 13 Ohio State and No. 25 UCLA were even more fortunate, getting taken to double-overtime by Penn State and Colorado, respectively, before scrambling back to Columbus and Los Angeles, respectively, with their closer-than-expected wins.  Even No. 1 Mississippi State had its "lemon-booty" moments in a 14-point win over Kentucky on the road.
That, though, was essentially the gist of the Week 9 tumult, as it were.
Of the 16 teams that played an unranked team this week, exactly none went down in defeat.  The average margin of victory in those games was 17.6.  A whopping 13 of the 16 were decided by at least 10 points, with five of them coming by 20 or more.  Of course, there was also that 55-point shellacking that we mention below.
The four remaining Top 25 teams that hit the field this weekend played each other, with the lower-ranked team winning one (the previously referenced Ole Miss-LSU game) and the higher-ranked team winning the other (No. 19 Utah over No. 20 USC).
In other words, expect very little change in the Top 25 when the polls are released Sunday afternoon, the last polls, incidentally, before the first release of the newly-minted College Football Playoff rankings Tuesday night.
SATURDAY RESET
Below is a list of links out to a handful of the gamers posted by the CFT crew, placed in one handy and convenient space for you, our beloved and dear readers.
A head-scratching decision at game's end was the highlight — or lowlight if you lean toward Oxford — of the biggest upset of the day, Ole Miss' loss to LSU under the lights in Death Valley.
On the road against Kentucky, top-ranked Mississippi State looked downright vulnerable but came away with a 45-31 win.  The margin of victory was the Bulldogs' second-closest of the year, behind only the five-point victory at LSU that wasn't even remotely as close as the 34-29 final score indicated.
Auburn's offense continued to roll, which was fortunate for the Tigers as so did South Carolina's as AU was able to hold off the upset-minded Gamecocks for a 42-35 victory on The Plains.
It was the Ameer Abdullah show in Lincoln as the talented and prolific running back set a school record with 341 yards (225 rushing, 26 receiving, 90 on kickoff returns) in Nebraska's 42-24 pounding of Rutgers.  The senior back, if he wasn't already, should be in the thick of the Heisman discussion.
It wasn't aesthetically impressive — it very rarely ever is when a Bill Snyder-coached team is involved — but Kansas State still did enough to shut out Texas 23-0, the first time the Longhorns have been whitewashed since 2004.  It was also enough to keep K-State (4-0 in Big 12 play) just ahead of the one-loss conference teams of Baylor, TCU and West Virginia.  The Wildcats will face all three of those teams in the last five games.
There's taking a team to the woodshed, and then there's what TCU did to Texas Tech Saturday night.  The Horned Frogs hung a 82-spot on the Red Raiders, most in a league game in Big 12 history; eviscerated Tech by 55 points, it's largest margin of victory in a Big 12 game; and dropped a school-record 785 yards of total offense.  That, Double-T, is what happens when you get on the wrong side of Gary Patterson.
Surprising West Virginia was able to easily handle Oklahoma State on the road 34-10.  Next up for WVU?  A home date with rampaging TCU, with College GameDay possibly coming to Morgantown.
Lane Kiffin was the storyline entering the Alabama-Tennessee game, but it was Amari Cooper who stole the show on gameday as the Tide rolled over the Vols 34-20 at Neyland Stadium.
Michigan State drove yet another nail in Brady Hoke's coffin in embarrassing in-state rival Michigan 35-11.  The Spartans, heading into its last bye of the season, will now get an extra week to prepare for the Big Ten Game of the Year Nov. 8 against Ohio State.
Ohio State didn't deserve it, but the Buckeyes were able to slink back to Columbus with a double-overtime steal of a win over Penn State.  To say the aforementioned B1G Game of the Year lost a little luster would be an understatement.
UCLA avoided an embarrassing double-overtime loss to Colorado — and staved off the "Most Disappointing Team in America" label for at least another week.  If the Bruins, 3-2 in Pac-12 play, are going to get back into/remain in the South Division chase, they will have to play better than they did Saturday. Or all season, really.
Arizona tied a school record for points in a Pac-12 game as it thumped Washington State 59-37.  Connor Halliday's 489 yards passing in a losing effort was his sixth 400-plus effort of the season in eight games.
Arizona State used a couple of fourth-quarter touchdowns to both drop Washington and remain one of three Pac-12 South teams, along with Arizona and Utah, with just one conference loss on the ledger.
Minnesota had the opportunity to reach 4-0 in Big Ten play for the first time since 1967, but fumbled that chance as Illinois shocked the Gophers 28-24 in Champaign.  The win was huge for the hot-seated Tim Beckman, who watched his Illini win for the first time in the conference this season even as he improved to just 2-18 in league play in two-plus years.
CFT TOP FIVE
A snapshot look at how my ballot would look Sunday if I, ya know, had a real vote.
1. Mississippi State — Go on the road and beat a quality team like Kentucky (yes, UK is quality in something other than basketball)?  Yep, you keep your spot at the head of the class. (Last week: No. 1)
Next up: vs. Arkansas, Nov. 1
2. Florida State — FSU saw its lead in the polls gradually erode until MSU overtook them earlier this month.  With the Seminoles on a bye and the Bulldogs "struggling," the 'Noles could very well return the favor this afternoon. (Last week: No. 3)
Next up: at Louisville, Oct. 30
3. Notre Dame — The further away we get from last Saturday night, the more impressive the Irish's performance in Tallahassee becomes.  Like FSU, the Golden Domers were on a bye after their Week 8 thriller. (Last week: No. 4)
Next up: vs. Navy (Landover, Md.), Nov. 1
4. Oregon — After a couple of weeks of wobbling, the Ducks have righted what some would describe as a listing ship.  That righting comes at a most opportune time with the annual grudgefest with Stanford on tap. (Last week: No. 5)
Next up: vs. Stanford, Nov. 1
5.  Ole Miss — (What, you thought I'd move Alabama into the Top Five and drop Ole Miss?  No thanks, I'm not the coaches' poll; I don't rank teams with the same number of losses over teams that have already beaten them.)  The Rebels loss to LSU wil certainly sting, especially the way the coaching staff and the quarterback bungled the ending, but Ole Miss remains very much in the thick of the SEC West race.  In fact, like Mississippi State and Auburn, they control their own fate: win out, and they're in Atlanta the first week of December for the SEC championship game. (Last week: No. 2)
Next up: vs. No. 5 Auburn
(Dropped out: none)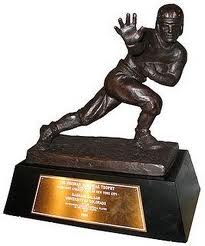 HEISMAN RACE, BY THE NUMBERS
A statistical look at how some of the top contenders for this year's stiff-armed trophy fared this weekend, listed in alphabetical order so as not to offend any of the delicate sensibilities readers in the audience may possess. Also, each week at least one name will be sliced from a list that began in Week 6 at a baker's dozen and, if need be, names will be added as well.
Ameer Abdullah, RB, Nebraska (7-1, No. 16)
Saturday: 19 carries for 225 yards (11.8 ypc), three touchdowns; two catches for 26 yards; two kickoff returns for 90 yards
Season: 161 carries for 1,024 yards (6.4 ypc), 14 touchdowns; 11 catches for 143 yards, two touchdowns; nine kickoff returns for 182 yards (20 ypr)
Trevone Boykin, QB TCU (6-1, No. 10)
Saturday: 22-39 (56.4%) 433 yards, seven touchdowns, zero interceptions; 28 rushing yards
Season: 168-247 (68%), 2,306, 21 touchdowns, three interceptions; 403 rushing yards, three touchdowns
Shane Carden, QB, East Carolina (6-1, No. 18)
Thursday: 38-64 (59.4%), 445 yards, two touchdowns, one interception; 32 rushing yards
Season: 204-316 (64.6%), 2,574 yards, 18 touchdowns, five interceptions; 105 rushing yards, three touchdowns
Rakeem Cato, QB, Marshall (8-0, No. 23)
Saturday: 13-24 (54.2%), 218, one touchdown, zero interceptions; 32 rushing yards
Season: 132-228 (57.9%), 2,130 yards, 20 touchdowns, six interceptions; 255 rushing yards, five touchdowns
Everett Golson, QB, Notre Dame (6-1, No. 7)
Saturday: bye week
Season: 166-268 (61.9%), 1,996 yards, 19 touchdowns, six interceptions; 239 rushing yards, four touchdowns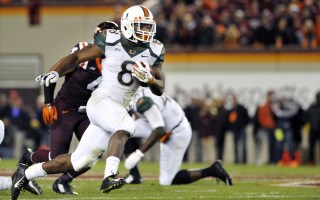 Melvin Gordon, RB, Wisconsin (5-2, unranked)
Saturday: 22 carries for 122 yards (5.5 ypc), three touchdowns; two receptions, 12 yards
Season: 154 carries for 1,168 yards (6.7 ypc), 16 touchdowns; eight receptions, 39 yards, one touchdown
Duke Johnson, RB, Miami (5-3, unranked)
Thursday: 29 carries for 249 yards (8.6 ypc), one touchdown; two receptions, 37 yards, one touchdown;
Season: 139 carries for 1,036 yards (7.4 ypc), seven touchdowns; 19 receptions, 224 yards, one touchdown
Marcus Mariota, QB, Oregon (7-1, No. 6)
Friday: 18-30 (60%), 326 yards, five touchdowns, one interception; 36 rushing yards
Season: 150-218 (68.8%), 2,283 yards, 24 touchdowns, one interceptions; 325 rushing yards, five touchdowns; one reception, 26 yards, one touchdown
Dak Prescott, QB, Mississippi State (7-0, No. 1)
Saturday: 18-33 (54.5%), 216 yards, one touchdown, one interception; 88 rushing yards, two touchdowns
Season: 114-189 (60.3%), 1,694 yards, 15 touchdowns, five interceptions; 664 rushing yards, 10 touchdowns
Jameis Winston, QB, Florida State (7-0, No. 2)
Saturday: bye week
Season: 149-211 (70.6%), 1,878 yards, 13 touchdowns, six interceptions; 47 rushing yards, two touchdowns
(Dropped out: Ohio State quarterback J.T. Barrett, Pittsburgh running back James Connor)
(Added: Nebraska running back Ameer Abdullah, Miami running back Duke Johnson)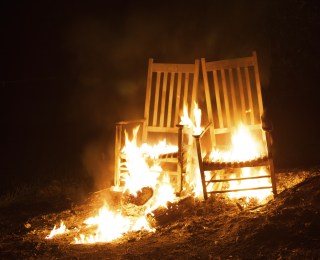 COACHING HOT SEAT
My weekly look at a couple of the current head coaches who could most likely be ex-head coaches by season's end — if not sooner.
1. Will Muschamp, Florida
(Writer's note: I'm just going to trot this same note out week after week, with the records updated, until athletic director Jeremy Foley finally and mercifully puts Gator Nation out of its collective misery.)
In his three years at UF,Ron Zook was 23-14 overall and 16-8 in the SEC.  Since beginning his Gator career at 4-0, Muschamp has gone 22-20 overall and an embarrassing 13-14 in the conference.  The last 18 games, Muschamp's record is 7-11 and 5-8.  In other words, there's been nothing but regression instead of the progression that an 11-2 second season portended.  The worst part?  There's no hope as far as the eye can see.
2. Brady Hoke, Michigan
(Writer's note: same goes for the UM fan base.)
In what turned out to be Rich Rodriguez's last season at Michigan in 2010, the Wolverines' began the year 6-1; in what could turn out to be Hoke's last season at Michigan, the Wolverines are 3-5.  From Oct. 3, 2009, through Oct. 9, 2010, UM went 7-8 under Rodriguez; from Oct. 12, 2013, through Oct. 25, 2014, UM has gone 5-11 under Hoke.  In his first 31 games at UM, Rodriguez was 14-17; in his last 31 games at UM, Hoke is 16-15.  You see where this is going, right?  So should Hoke, athletic director Dave Brandon and the entire UM football program as a different direction is needed on that hallowed sideline.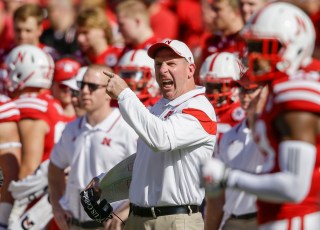 HE SAID IT
"We got the win. I'm happy about that. That's about all I'm happy about. I thought we were sloppy, inconsistent and we didn't play at the standard we needed to." — a happily unhappy/unhappily happy Bo Pelini following Nebraska's 42-24 thumping of Rutgers to improve to 7-1 on the season.
HE SAID IT, THE SEQUEL
"We try to design something that makes as little sense as possible." — Arkansas head coach Bret Bielema, on lining up an offensive lineman in the shotgun and having him throw a touchdown pass to a long-snapper (see below).
HE SAID IT, THE THREEQUEL
"I think that's why the women come to the game, to be honest." — Mississippi State running back Josh Robinson, when asked about his ample buttocks following his 198-yard, two-touchdown performance in the win over Kentucky.
HE SAID IT, THE QUADQUEL
"Why don't you let us think about it tonight?" — Michigan head coach Brady Hoke, when asked if Devin Gardner is still Michigan's starting quarterback.
HE SAID IT, BONUS EDITION
"I said it going in I thought he w a top-three Heisman guy. After watching him live and in-person, he's got to be the frontrunner. He's that good. He's the best player in the country in my opinion." — Texas Tech head coach Kliff Kingsbury, after watching TCU's  Trevone Boykin throw for 433 yards and seven touchdowns.
FROM-THE-HEART HE SAID IT
"After the game, I can't tell you the number of young men that threw their arms around me and said that they love me coach, which is as touching as anything I've had happen. They hand me the game ball, which I only accept on behalf of a great team. A team that really comes out and says we can be a whole lot better, we can improve and they go to work. You guys hear me say this, they're going to improve, they're coming, we're going to be special, this team is ambitious. So, I accept it. Martha Miles, this is a great night considering. I miss you Ma." — LSU head coach Les Miles, whose mother passed away Friday night.
FLY-OVER OF THE DAY
You want a photographic proof of how bad it's gotten for Michigan?
That sign requesting the retention of Brady Hoke was flying over Spartan Stadium in East Lansing prior to Michigan State's game with its "big brother." When stuff like that happens, the end is truly nigh, which should somewhat assuage the anguish of the great Wolverine fans all across the nation.
FAT GUY TD PASS OF THE DAY
(I touched on this already, but this kind of once-in-a-lifetime greatness deserves an encore.)
That's right, "Fat Guy" and "TD pass" in the same headline… and it doesn't involve a lineman-eligible play.  Instead, 350-pound Arkansas guard Sebastian Tretola lined up in the shotgun — in the shotgun! — and tossed a six-yard touchdown pass.  Here it is, in all of its fat-guy glory.
"What's the big deal?" — Jared Lorenzen, at a buffet somewhere.
Incidentally, Tretola's career quarterback rating is 480.4
Oh, and the player on the receiving end of the pass?  Long-snapper Alan D'Appollonio. All things considered — Tretola busted out the Heisman pose for good measure — it's likely the greatest touchdown in the history of college football at any level ever. Or close to it.
DEER RUN OF THE DAY
There were reports that someone was blasting air horns at four in the morning outside of the hotel in which Ohio State was staying prior to Saturday night's game against Penn State.  As it turns out, that wasn't the only thing happening at a Happy Valley hotel at that time of the morning.
The "what the what," deer-in-the-hotel look on dude's face makes me chuckle every time.
(Tip O' the Cap: Land-Grant Holy Land)
FACEMASK OF THE DAY
There are facemask penalties, and there are facemask penalties.  What happened to LSU's Leonard Fournette was the quintessential facemask penalty.
That one might've deserved a 20-yard penalty.
HELMET OF THE DAY
I'm not a fan of myriad uniform combinations that have enveloped the game of college football.  I am, though, a huge fan of retro looks in general and Oklahoma State's back-to-the-past lid specifically.
OSU may have lost to West Virginia — its second straight loss to drop to 5-3 overall and 3-2 in Big 12 play — but at least they looked good doing it.
STREAKING
Florida State has won a nation's best 23 straight games, a record for an ACC school.  The Seminoles' last loss came Nov. 24, 2012, a 37-26 home setback to in-state rival Florida, and FSU has won 18 of those 23 games by at least 14 points.  Mississippi State, at 10 in a row, is the only other FBS team with a double-digit winning streak, although Marshall is closing in with its own nine-game streak.
SMU's nine straight losses serve as the longest losing streak in the country, and they remain the only winless team at the FBS level in 2014.  Georgia State, meanwhile, has lost seven in a row.
GOING BOWLING
For the third straight week, six or more teams officially qualified for postseason play.  There are now 32 teams eligible to play in this year's 38 bowl games.  Below are the 16 teams that hit the six-win minimum this week.
Arizona
Arizona State
Clemson
Georgia Southern
Georgia Tech
Kansas State
Louisville
Missouri
Northern Illinois
Ohio State
South Alabama
TCU
UCLA
Utah
West Virginia
Wisconsin
S.I.D. NOTE OF THE WEEK
In his first career game against Toledo on Sept. 12 this year, Cincinnati quarterback Gunner Kiel recorded the most passing touchdowns (six) for a quarterback in his FBS debut. The record was previously held by Florida's John Reaves, who threw five against Houston in 1969. Reaves' son, David, is the quarterbacks coach for USF, the Bearcats' opponent in Week 9.
S.I.D. NOTE OF THE WEEK II
In the last two weeks, North Carolina has played in the highest scoring game in Notre Dame Stadium history (93 points, first season in 1930) and the most total offense yards combined (1,190) in Kenan Stadium history (first season in 1927).
OFF THE CHARTS
Entering Week 9, below are the teams with the biggest margins of victories this season:

1. Marshall 30.8
2. Ohio State 26.3
3. Baylor 26.0
4. Michigan State 25.4
5. Mississippi 24.8
6. TCU 24.5
7. Alabama 23.8
8. Georgia 23.4
9. Mississippi State 21.8
10. Nebraska 21.1
OFF THE CHARTS, ENCORE
Entering Week 9, here are the…


SAY WHAT?
Washington State's Connor Halliday is on pace to throw for 5,749 yards on 775 pass attempts.  The current FBS records are 5,833 yards passing and 719 attempts by Texas Tech's B.J. Symons in 2003 in 13 games.  As Wazzu is currently 2-6, it's highly doubtful the Cougars qualify for a bowl game, so Halliday will have to do in 12 games what Symons did in 13.
DULY NOTED
There are four FBS teams that have scored a touchdown on at least 40 percent of its possessions in 2014: Marshall, Michigan State, Ohio State and Oregon.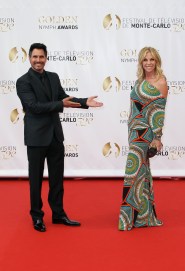 DID YOU KNOW THAT…
… Indiana's starting quarterback, Zander Diamont, is the son of former "Young and the Restless" and current "The Bold and the Beautiful" soap opera actor Don Diamont?
… Wake Forest's starting quarterback, true freshman John Wolford, is the brother of Boston College's starting fullback, junior Bobby Wolford?  The older brother's Eagles got the best of the youngster's Demon Deacons Saturday afternoon by the score of .
… Utah State's Nick Vigil is the only player in the country to start on both offense and defense in the same game this season?  The sophomore started at both linebacker (his main position) and running back in the Week 7 win over Air Force.  He's played on both sides of the ball each of the past four games, and this season has ran for 118 yards and two touchdowns on 33 carries — and he's completed both of his pass attempts as for good measure.  His 55 yards in the win over UNLV led the team.
… Colorado State's Rashard Higgins was the first receiver in the FBS to register at least 175 yards in three consecutive contests since Michael Crabtree accomplished the feat for Texas Tech in 2007?  That streak was stopped in Week 9… when Higgins grabbed 174 yards worth of receptions in the win over Wyoming.
… Les Miles is the fastest coach in LSU history to reach 10 wins (11 games), 20 wins (24 games), 30 wins (35 games), 40 wins (48 games), 50 wins (63 games), 60 wins (76 games), 70 wins (87 games), 80 wins (98 games), 90 wins (112 games) and 100 wins (126)?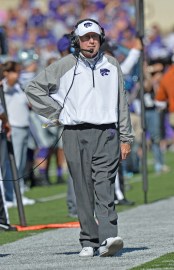 … Kansas State has beaten Oklahoma and Texas in the same season twice in the last three years?  Prior to that, that double-dip had only happened once: 1926.
… the Notre Dame-Florida State rating of 7.9 last weekend was the highest-rated college football game of the season on ESPN and the highest on that family of networks since the Notre Dame-USC game Thanksgiving weekend of 2012?
… Virginia and North Carolina met for the 119th time Saturday in what the schools describe as the South's Oldest Rivalry, a series that was first played in 1892?  Thanks to the win Saturday, UVa./UNC now trails/leads the series (60-54-4).
… at 4-4, South Carolina is off to its worst start to a season since the winless 1999 campaign in the first year under Lou Holtz?  The Gamecocks have also lost three straight in SEC play for the first time since 2009.
… Oregon State is the only Power Five conference team that will play four of its final five games this season at home?
… Wake Forest will not leave the state of North Carolina for its final six games of the season?  The Demon Deacons have four home games and road trips to Duke and North Carolina State remaining.
… Louisiana-Monroe and UMass are the only FBS teams to have a non-conference schedule comprised entirely of Power Five teams? The former has already played Wake Forest, LSU and Kentucky, with a game against Texas A&M still on tap, while the latter has already played Boston College, Colorado, Vanderbilt and Penn State. The two teams are a combined 1-6 in those games, with the lone win being ULM's 17-10 triumph in the opener against Wake.
… exiting Week 9, Pac-12 road teams are 20-9 in conference games?
(For the latest "Week 9, Statistically Speaking," click HERE.)