0 — Lost fumbles for UNLV in eight games this season, the only FBS team that can make that claim.  At the opposite end of the spectrum is Eastern Michigan, which has lost 14 in 2014.
0 — Games UCF has lost in American Athletic Conference play, vs. 11 wins.  The Knights are the only AAC team to have never lost a game in that conference's brief history.
2 — Times this season, in seven games, SMU has scored more than six points in a single game, including the 48-10 loss to Memphis.  The winless Mustangs are averaging exactly seven points per game,with a high-water mark of 24 in Week 6.
2-5 — Whatever it means, that's the record of teams the next game after playing Navy this season.  Rutgers and Temple are the only ones to avoid "The Curse of the Middies" in 2014.
3.07 — Yards per play Maryland averaged in its ugly 52-7 loss to Wisconsin.
4 — 200-yard rushing games for Nebraska's Ameer Abdullah this season; no other back at the FBS level has more than two.  The running back also totaled a school-record 341 all-purpose yards (225 rushing, 26 receiving, 90 on kickoff returns) in NU's 42-24 win over Rutgers (previous record: 321 for Roy Helu Jr. vs. Missouri in 2010).
4 — Quarterbacks Vanderbilt has started this season, the only school that has had to reach that deep into its depth chart at the position.  Utah State will hit that mark in Week 10 as the Aggies lost their third starter of the year to injury, while SMU could very well reach the same number the same week.
4.6 — Number of receptions per game East Carolina's Justin Hardy needs to average over the next five contests to break the FBS record of 349 career receptions set by Oklahoma's Ryan Broyles.  Hardy is averaging 8.7 catches per game in 2014 and 7.6 for his career.
5 — First-quarter lost fumbles by Pittsburgh, tying the one-quarter FBS record set by East Carolina (1980) and San Diego State (1982).  Pitt finished with six lost fumbles — on seven total fumbles — in its 56-28 loss to Georgia Tech.
7 — Games in which Dak Prescott has thrown for 200-plus yards to start the season, the first Mississippi State player to accomplish that feat in the football program's 115-year history.
10-0 — Stanford's record under David Shaw coming off a loss.
11.2 — Yards per carry for true freshman Mike Boone as he rushed for a career-high 212 yards in Cincinnati's 34-17 win over USF Friday night.
13 — Different players who caught passes in TCU's 82-27 evisceration of Texas Tech.  No player caught more than four passes.
15.6 — Yards per completion Blake Frohnapfel averaged in throwing for 438 yards and five touchdowns in UMass' 42-35 loss to Toledo.
20-0 — Jameis Winston's record as a starting quarterback at Florida State, the only quarterback in the ACC to ever start a career off with 20 consecutive wins.
33 — Consecutive seasons Nebraska won at least nine games in a season from 1969-2001, an NCAA record.  It's not really relevant to this weekend's action, but I just wanted to bring it up as it's still simply a staggering statistic.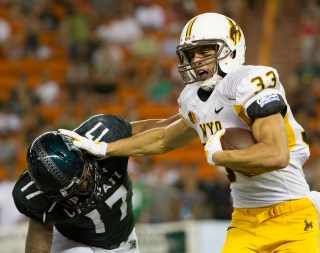 45 — Consecutive games in which Wyoming's Dominic Rufran has caught at least one pass, the longest such current streak in the country.  The school and Mountain West record is 47 straight by Jovon Bouknight (2002-05), while UNLV's Casey Flair (2005-08) holds a portion of the conference mark as well. The FBS record is 54 straight by Central Michigan's Bryan Anderson (2006-09).
46 — Consecutive games in which Kansas State has scored a rushing touchdown, the longest streak in the country.  Navy and Stanford are next at 30 straight.
70 — Yards of total offense for UT-San Antonio in its shutout loss to UTEP.  The Roadrunners averaged just 1.52 yards per play.
85.7 — Percentage of his 21 passes Garrett Grayson completed in throwing for 390 yards and a career-high five touchdowns during Colorado State's 45-31 Border War win over Wyoming.
93 — From the fourth quarter of the Arkansas game Oct. 11 through the second quarter of the Tennessee game Saturday, the number of consecutive points scored by Alabama while its opponents were scoreless.
94 — Gap in years between games involving Nebraska and Rutgers (1920, at the Polo Grounds in New York and 2014 in Lincoln) is the largest for any opponent in Cornhusker history.
98 — Yards rushing for Washington linebacker Shaq Thompson in the loss to Arizona State, leading the Huskies in that category.
212 — Receiving yards for Western Michigan's Corey Davis in a 42-21 win over Ohio.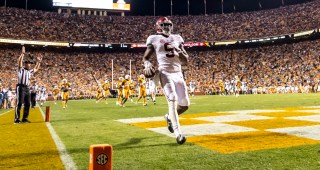 224 — New Alabama single-game receiving yards mark set by Amari Cooper in the win over Tennessee, breaking the record of 210 set by Julio Jones vs. the Vols in 2010.  With four games left in the regular season, Cooper is now eight receptions and two yards away from breaking Jones' single-season records of 78 and 1,133. One more: Cooper now ranks second in Tide history for career receiving yards with 2,868 (DJ Hall, with 2,923 from 2004-07, holds the all-time school record).
249 — Career-high rushing yards for Duke Johnson in Miami's whipping of Virginia Tech Thursday night.  The junior's previous career-best was 186 in the 2013 opener against FAU.
251 — Most rushing yards for an FBS quarterback this season, by Keenan Reynolds in Navy's win over San Jose State.
251 — Combined passing yards for South Alabama and Troy in the former's Friday night win.  Entering Week 9, 48 teams were averaging more than that per game.
272 — Devon Johnson's school-record rushing total in Marshall's closer-than-it-looked 35-16 win over FAU.  Johnson has now rushed for 100-plus yards in seven of eight games this season.
290 — Combined rushing yards for running back Paul Perkins (180) and quarterback Brett Hundley (110) as UCLA outlasted Colorado in double overtime.  It was the second 100-yard rushing game of Hundley's career, with the first (161) coming in the Bruins' bowl game last season.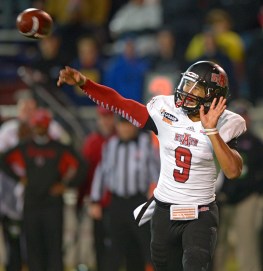 344 — First career 300-yard passing day during Arkansas State's Tuesday night win over Louisiana-Lafayette for junior Fredi Knighten.
410 — Career-high passing yards Friday for Boise State's Grant Hedrick in the 55-30 win over BYU.  His four touchdown passes were one off his career-best effort.
423 — Career-high passing yards for Louisiana Tech's Cody Sokol in the win over Southern Miss.  It also marked Tech's first win in Hattiesburg since 1982.
445 — Passing yards for Shane Carden in East Carolina's closer-than-expected win over UConn Thursday night.  It's the sixth 400-plus performance of his career, with three of those coming in 2014.  His career-high of 480 yards came in an October overtime loss to Tulane last year; that marks the only loss during one of Carden's 400-yard games.
471 — Passing yards for Old Dominion's Taylor Heinicke in a 66-51 loss to Western Kentucky.
616 — Rushing yards for Georgia Southern in its 69-31 waxing of Georgia State.   That's more rushing yards than eight teams had all season entering Week 8, but still 152 yards behind Oklahoma's 1988 FBS record in a game against Kansas State.  The Eagles averaged 10.1 yards on its 61 carries.
1,244 — Combined yards of total offense for Old Dominion (643) and Western Kentucky (601) in the latter's 66-51 win.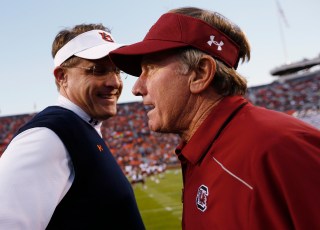 1931 — Last year Georgia Tech had played in the state of Pennsylvania prior to Saturday's game against Pittsburgh.  The matchup with the Panthers in Week 9 was also the Yellow Jackets' first in the city of Pittsburgh since 1920.
1933 — Last year South Carolina beat Auburn in football.  That equates to an eight-game losing streak for the Gamecocks, including Saturday night's loss to the Tigers.
2001 — Last year Trinity (Conn.) College lost a home football game prior to a 27-7 loss to Middlebury (Vt.) Saturday.  The loss snapped a 53-game home winning streak for the Div. III Bantams at Jessee/Miller Field.
2002 — Until 2014, the last year Colorado State won six consecutive games in a single season.
2004 — Prior to the 23-0 loss to Kansas State, the last year Texas was shutout in a game.  After losing to Oklahoma 12-0 Oct. 9 of that year, the Longhorns had scored in 132 straight games before the Week 9 whitewashing.
2010 — Stanford played in a game Saturday unranked for the first time since the opener four years ago.  The Cardinal had been in at least one of the major polls for a school-record 72 straight weeks.
2010 — Last time Utah played a game as a ranked team vs. another ranked team until Saturday's No. 20 USC Trojans vs. No. 19 Utes matchup.
8,343 — Career passing yards for Bill Musgrave, which was an Oregon record until Marcus Mariota surpassed it in the win over Cal.  Mariota now has 8,625 in his Ducks career thanks to a 326-yard effort in the 59-41 win over Cal Friday night.  It wasn't all statistical puppy dogs and rainbows for Super Mariota, though, as the junior threw his first interception of the season, breaking a streak of 235 straight attempts without a pick.
(For the latest "The Fifth Quarter: Week 9 Rewind," click HERE.)