As is the case each and every season, each and every week, any omission below is not on purpose, it's merely intentional.
CONFERENCE CHASES CLEARING UP
With some added clarity (in most cases) in Week 10, we'll take a quick trip through each of the Power Five conference races and see exactly (again, in most cases) where things stand with five weeks left in the regular season.
ACC
Atlantic
This is one of the easiest one in the country to figure out.  All Florida State (5-0) has to do is avoid losing two of its last three games while Clemson (5-1) sweeps its last two — the Seminoles own the head-to-head tiebreaker on the Tigers — in order to get back to the ACC championship game in early December.
Coastal
This one could be just as easy as its Atlantic big sister.  If Duke (3-1) wins out, it'll be a second consecutive Blue Devil-Seminole title tilt.  Should Duke stumble once in its last four conference games, and if Miami (3-2) wins out and Georgia Tech (4-2) loses one more, it'd be the Hurricanes headed to Charlotte based on the head-to-head win over the Blue Devils in late September.  Tech is the only remaining two-loss league team and is still in the mix as well.  The Yellow Jackets own the head-to-head over the Hurricanes, although the Blue Devils hold that edge over Tech.  Duke would win a three-way tiebreaker over those two teams if all three end up 6-2.
BIG TEN
East
Like the ACC Atlantic, this one is very simple: barring a complete collapse by the triumphant team, the winner of the Ohio State-Michigan State game next Saturday, which they will both enter at 4-0, will represent the division at the Big Ten championship game in Indianapolis.  Just one other squad in the seven-team division (Maryland) has as few as two losses.
West
In no way, shape or form is this division clear; in fact, it's essentially a muddy mess of possibilities.  There are four teams currently with one B1G loss: Nebraska at 4-1, Iowa, Minnesota and Wisconsin at 3-1.  All but two of the remaining games — Minnesota vs. Ohio State, Iowa vs. Illinois – will involve those four teams facing each other.  In other words, this division may very well not be decided until the clock strikes midnight on the 2014 regular season.  Here's to guessing, though, that the conference would love for a one-loss Cornhuskers to meet up with a one-loss Spartans/Buckeyes in the league championship game.  That's the only scenario in which the Big Ten could possibly elbow its way into the College Football Playoff.
BIG 12
Depending on Kansas State, this division-less conference race could very well be straightforward.  If K-State (5-0) wins out — no easy task, with three of its four remaining games coming against West Virginia, TCU and Baylor — the Wildcats will win the league and possibly represent it in the College Football Playoff.  A KSU loss, though, would bring TCU and Baylor, both 4-1, right into the thick of the mix.  If K-State really stumbles and Baylor and TCU trip up at least once, Oklahoma and WVU could rejoin the conversation.
PAC-12
North
Thanks to the win over Stanford (3-3), Oregon (5-1) has all but clinched this division.  The only way the Ducks cannot win the division and make it to the Pac-12 title game is to lose all three of their remaining games (Utah, Colorado, Oregon State) and the Cardinal wins its last two.  A win over Utah next Saturday, regardless of what Stanford does, would officially clinch the division for UO.
South
Utah (3-2) had it right there in the palm of its hands… and blew it.  The Utes were on the verge of exiting Week 10 in complete control of the division, the only team with one loss as well as holding the head-to-head tiebreakers over UCLA, USC and Arizona State.  Instead, the overtime loss to ASU means the Sun Devils now sit in what was looking like the Utes' spot as the only team in the division with one loss.  There are now four teams in the division with two losses: Utah, USC (5-2), UCLA (4-2) and Arizona (3-2).  ASU's path to the title game, however, is the clearest one of them all as their three remaining league games are against Oregon State, Washington State and in-state rival Arizona.
SEC
East
Georgia's stunning upset at the hands of Florida sent this division into a tumultuous mini-tumble.  If UGA (4-2) had merely done the expected and beaten UF, it's mission would've been simple because of its earlier win over Missouri: win out, and you're in the SEC championship game.  That inexplicable loss to the Gators, however, leaves the Tigers (4-1) in sole possession of first place in the East, and leaves them in the proverbial driver's seat for the early-December trip to Atlanta.  Every team other than the Tigers and Bulldogs have at least three SEC losses, so, barring an epic collapse by both teams, it'll come down to Mizzou and UGA the next four weeks.  Mizzou's last three SEC games are on the road against Texas A&M and Tennessee and at home against Arkansas in the season finale, while UGA travels to Kentucky and hosts Auburn the next two weeks to finish out the conference portion of its 2014 schedule.
West
Mississippi State (5-0) is firmly in control, but Auburn (4-1) and Alabama (4-1) are lurking.  MSU has already beaten AU, so the Bulldogs would own the tiebreaker should both finish with the same number of league losses.  'Bama has yet to face either, and those two games — both in Tuscaloosa, with MSU coming Nov. 19 and Auburn two weeks later — will very likely decide which team from the wild, wild West represents the division in the conference championship game.
A STAR IS BORN
Unlike some did with Kenny Hill, I'm not going to crown Josh Dobbs as a Heisman front-runner or anything of the sort.  I will, though, highlight a brilliant performance by a player who has the potential to do some very special things.
In the stunning comeback win over South Carolina that left Steve Spurrier nearly speechless, the sophomore Tennessee quarterback was simply brilliant.  Statistically, it was one of the greatest games in UT's history.  In his first start this season and fifth of his young career, Dobbs accounted for 467 yards of offense (301 passing, 166 rushing) and five touchdowns (two passing, three rushing).  The rushing total broke, by 60 yards, the school record for a quarterback.
And it wasn't just the raw numbers, either; it's how and when they came.
The Vols trailed by 14, 42-28, with less than five minutes left in the fourth quarter.  Dobbs, though, led UT on a pair of touchdown drives, accounting for both scores himself — a three-yard run with 1:50 left, a nine-yard pass with :11 seconds left to send the game into overtime.
An Aaron Medley field goal in the first extra session put the Vols ahead, while the defense sacked Gamecocks quarterback Dylan Thompson on back-to-back plays on the ensuing possession to essentially push USC out of field goal range.
Yes, Dobbs' breakout performance came against a porous 'Cocks defense.  Still, that shouldn't minimize what he did.  On the flip side, it also shouldn't be blown out proportion.  Just take it for what it was — a maestro-like performance by a very talented young man.
SATURDAY RESET
Below is a list of links out to a handful of the gamers posted by the CFT crew, placed in one handy and convenient space for you, our beloved and dear readers.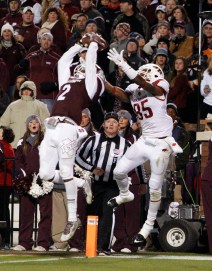 CFT TOP FIVE
A snapshot look at how my ballot would look Sunday if I, ya know, had a real vote.
1. Mississippi State — For the second consecutive week, MSU struggled somewhat to put away a vastly inferior opponent.  It didn't hurt them in the polls after the Kentucky game last week; will it hurt this week?  Actually, it doesn't really matter poll-wise as the only concern for the Bulldogs is their placement in the College Football Playoff rankings.  Based on the entirety of the season, it's No. 1 ranking should hold firm. (Last week: No. 1)
Next up: vs. UT-Martin, Nov. 8
2. Florida State — In their final real test of the season, the Seminoles passed… barely.  FSU fell behind unranked Louisville 24-7 midway through the third quarter before outscoring the Cardinals 35-7 the rest of the way to post yet another double-digit win.  You never know what'll happen in in-state rivalry games — two of its four remaining games are against Miami and Florida — but FSU will very likely be favored by 10-plus points in every  game left on the slate. (Last week: No. 2)
Next up: vs. Virginia, Nov. 8
3. Oregon — The Stanford monkey is again off Oregon's back.  After losing to the Cardinal each of the past two seasons, the Ducks had little problem in dispatching its nemesis in Eugene Saturday night.  If UO can get past a ranked Utah squad next week, all they'll have to do is handle their business against Colorado and Oregon State to get back to the Pac-12 title game for the first time since the inaugural game in 2011. (Last week: No. 4)
Next up: at No. 17 Utah, Nov. 8
4. Auburn — Let's go to the résumés, shall we?  Auburn has two quality wins (Ole Miss, LSU), while Alabama has one (West Virginia, in the opener); advantage, AU.  The Tigers' loss came at the hands of what's now the No. 1 team in the country, Mississippi State, in Starkville, with the Tide's lone loss at the hands of what's now a two-loss Ole Miss squad; advantage, again, to AU.  And therein lies the reason why Auburn, not Alabama, is sitting in this spot. (Last week: unranked)
Next up: vs. Texas A&M, Nov. 8
5. Alabama — In its first game since a tough road loss to Florida State two weeks ago, Notre Dame played like it hadn't played in two months in barely holding off the .500 Midshipmen of Navy. Because of that, and because of the résumé advantage, the Tide rolls its way back into the Top Five on its last bye week of the season.  (Last week: unranked)
Next up: at No. 19 LSU, Nov. 8
(Dropped out: No. 3 Notre Dame, No. 5 Ole Miss)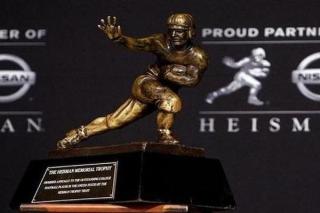 HEISMAN RACE, BY THE NUMBERS
A statistical look at how some of the top contenders for this year's stiff-armed trophy fared this past week. Also, each week at least one name will be sliced from a list that began in Week 6 at a baker's dozen and, if need be, names will be added as well.
Ameer Abdullah, RB, Nebraska (8-1, No. 15)
Saturday: 6 carries for 1 yard (.17 ypc)
Season: 186 carries for 1,250 yards (6.7 ypc), 17 touchdowns; 13 catches for 169 yards, two touchdowns; 11 kickoff returns for 262 yards (24.7 ypr)
Trevone Boykin, QB TCU (7-1, No. 7)
Saturday: 12-30 (40%), 166 yards, one touchdown, one interception; 49 rushing yards, one touchdown
Season: 180-316 (57%), 2,306, 22 touchdowns, four interceptions; 423 rushing yards, four touchdowns
Rakeem Cato, QB, Marshall (8-0, unranked)
Saturday: bye week
Season: 132-228 (57.9%), 2,130 yards, 20 touchdowns, six interceptions; 255 rushing yards, five touchdowns
Amari Cooper, WR, Alabama (7-1, No. 6)
Saturday: bye week
Season: 71 receptions, 1,132 yards, nine touchdowns; 14 rushing yards
Everett Golson, QB, Notre Dame (7-1, No. 10)
Saturday: 18-25 (72%), 315 yards, three touchdowns, one interception; 33 rushing yards, three touchdowns
Season: 184-293 (62.8%), 2,311 yards, 22 touchdowns, seven interceptions; 272 rushing yards, seven touchdowns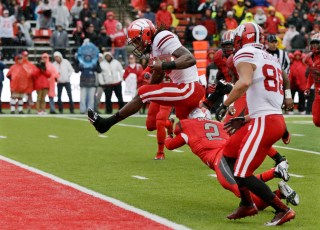 Melvin Gordon, RB, Wisconsin (6-2, unranked)
Saturday: 19 carries for 128 yards (6.7 ypc), two touchdowns
Season: 173 carries for 1,296 yards (7.5 ypc), 18 touchdowns; eight receptions, 39 yards, one touchdown
Duke Johnson, RB, Miami (6-3, unranked)
Saturday: 19 carries for 177 yards (9.3 ypc), two touchdowns; two receptions, 49 yards, one touchdown
Season: 158 carries for 1,313 yards (8.3 ypc), nine touchdowns; 21 receptions, 271 yards, two touchdown
Marcus Mariota, QB, Oregon (8-1, No. 5)
Saturday: 19-30 (63.3%), 258 yards, two touchdowns, one interception; 85 rushing yards, two touchdowns
Season: 169-248 (68.1%), 2,541 yards, 26 touchdowns, two interceptions; 410 rushing yards, seven touchdowns; one reception, 26 yards, one touchdown
Dak Prescott, QB, Mississippi State (8-0, No. 1)
Saturday: 18-27 (66.7%), 331 yards, one touchdown, two interceptions; 61 rushing yards
Season: 132-216 (61.1%), 2,025 yards, 16 touchdowns, seven interceptions; 725 rushing yards, 10 touchdowns
Jameis Winston, QB, Florida State (8-0, No. 2)
Thursday: 25-48 (52.1), 401 yards, three touchdowns, three interceptions; minus-three rushing yards
Season: 174-259 (67.2%), 2,279 yards, 16 touchdowns, nine interceptions; 44 rushing yards, two touchdowns
(Dropped out: East Carolina quarterback Shane Carden)
(Added: Alabama wide receiver Amari Cooper)
JT's Personal Top Five
Mariota (and it's not even close)
Gordon
Prescott
Cooper
Johnson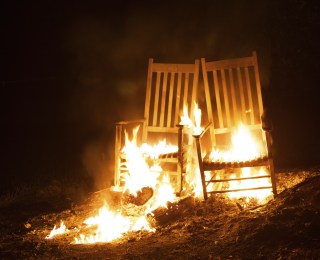 COACHING HOT SEAT
My weekly look at a couple of the current head coaches who could be ex-head coaches by season's end — if not sooner.
1. (In honor of Florida's upset of Georgia, I'll leave Will Muschamp's name off this list.  That doesn't mean, though, he's off the hot seat; far from it as he'll return to his spot of prominence next week.)
2. Brady Hoke, Michigan
The Wolverines are just 5-15 the last 15 games, including an unacceptable 3-6 mark in Big Ten play.  They're just 2-5 against UM's biggest rivals, Ohio State and Michigan State, with the gap between them and their rivals as great as it's ever been.  Add in the firing of UM's athletic director, and Hoke's time in Ann Arbor is rapidly coming to an end.  In fact, we're now at the point where it's a matter of when, not if, the fourth-year coach is summarily dismissed.
3. Kliff Kingsbury, Texas Tech
I don't know that Kingsbury's seat in Lubbock is indeed toasty, but the recent record suggest it likely should be.  After winning the first seven games in his first season as the Red Raiders' head coach last year, Kingsbury's charges have gone just 3-11 against FBS teams since.  During that same stretch, he's 1-10 in Big 12 play, with the only win coming at home against lowly Kansas.  After receiving a contract extension and raise prior to the start of the 2014 season, it seems unlikely that, barring some sort of off-field or NCAA misstep, Kingsbury would be on the firing line this year.  Should this current trend continue, however, he'll very much be on the hot seat entering the 2015 season.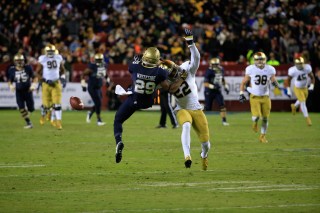 TOP 25 TOO-CLOSE-FOR-COMFORT
How ranked teams endured single-digit close shaves vs. unranked opponents
No. 1 Mississippi State 17, Arkansas 10: The top-ranked team in the country essentially slept its way to another SEC win.  The Bulldogs fell behind by 10 to a Razorbacks team that has now lost 16 straight conference games.  If this game were in Fayetteville, they might've been in trouble; in Starkville, the alarm clock went off, MSU woke up and got down to business by scoring the last 17 points.  It could've also been a case of looking ahead to the monumental Nov. 15 matchup with Alabama.  Whatever the case, and after a similar occurrence two weeks in a row, MSU needs to ensure it stops post-haste.
No. 10 Notre Dame 49, Navy 39: Out of all of the close calls this weekend, this one will likely hurt the winning team the most when the new CFP rankings come out Tuesday evening.    Certainly the Midshipmen's option-based offensive attack gives numerous teams fits; a Top-10 team like the Irish, though, cannot afford it, especially as it's in a heated fight to claim one of four playoff spots.  My guess is the ND will tumble out of the Top 10 behind at least Baylor and Arizona, and possibly even Arizona State.  The good news for the Golden Domers, however, is they have a remaining schedule that's very well-suited for a climb back up.
No. 24 Duke 51, Pittsburgh 48 (2OT): When these two teams get together, defense is merely a rumor.  Last season, it was the Panthers winning a shootout 58-55.  This year, the Blue Devil's exacted revenge after Pitt literally Blewitt in regulation, heading back to Durham with both the win and complete control of their division.  As it stands now, Duke is the only ACC Coastal team with one conference loss, and is the only team in the division that controls its own destiny.  With games left against Syracuse, Virginia Tech, North Carolina and Wake Forest remaining, it's very much looking like Duke will punch its ticket to a second-straight ACC championship game.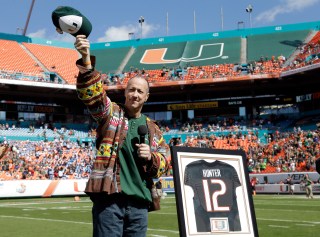 HE SAID IT
"I'm doing alright. With cancer you go through tough times and it's an up and down battle, but I live every day to its fullest. I enjoy myself. I have fun. I don't know what tomorrow holds, but I'll tell you what, I'm going to get everything out of today." — Cancer survivor Jim Kelly, who was honored by his alma mater Miami (Fla.) Saturday afternoon.
HE SAID IT, THE SEQUEL
"We have to play perfect almost every game." — Penn State linebacker Mike Hull on the defense, with what appeared to be a not-so-subtle jab at the Nittany Lions' sputtering offense.
HE SAID IT, THE THREEQUEL
"Sloppy. That's about it." — Bo Pelini, when asked for his assessment of Nebraska's offense in a 35-14 win over Purdue.
HE SAID IT, THE QUADQUEL
"I'm really happy for our fans and Gator Nation gets to sit and enjoy [the win]. It's great to see our side still full at the end and for our fans to be able to enjoy and bask in that. I'm really happy for them as well. I appreciate their support." — Florida head coach Will Muschamp, basking in the glow of his first-ever win over Georgia in eight tries as a coach/player.
HE SAID IT, BONUS EDITION
"We got our butts kicked. They came out and played tougher than we did. We take it like a man. We got beat, fair and square." — Georgia offensive tackle John Theus, putting a verbal bow on the upset.
HE SAID IT, OBC EDITION
"I don't need to take any questions. You guys watched it and I just need to get out of here.  Thanks." Steve Spurrier, concluding a 50-second(ish) press conference following South Carolina's jaw-dropping loss to Tennessee.
LEG TRUMPET OF THE DAY
In honor of Halloween, we give you a member of the Army band in full "uniform" for Saturday's game against Air Force.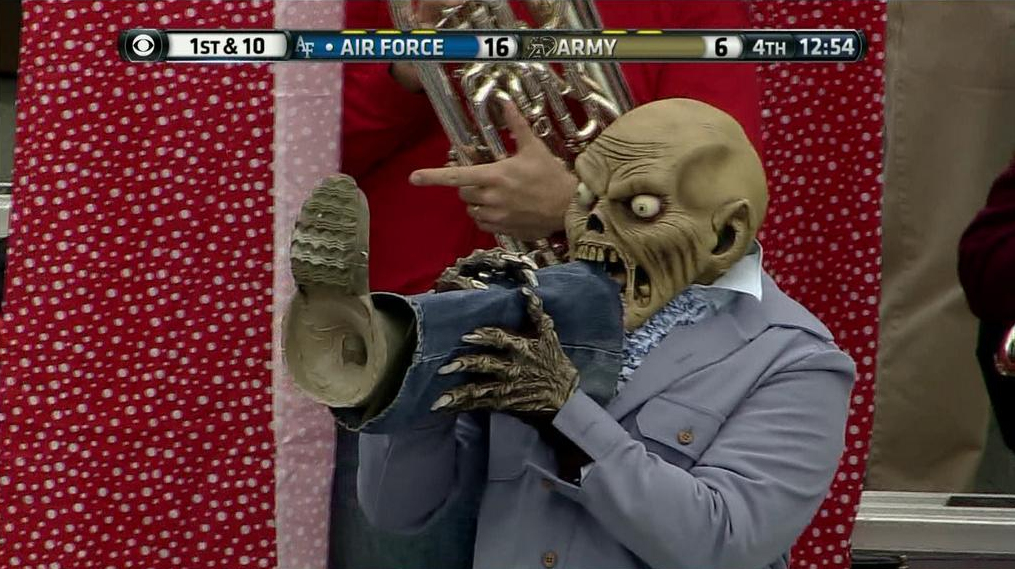 That.  Is.  Epic.
CHUCKLE OF THE DAY
For most people who don't live and die with Georgia football, inept Florida's upset of UGA elicited a hearty guffaw at the turn of events.  For the head coach of the football team it aided immensely, it brought a chuckle at around the :43 mark:
Yep, that pretty much sums up the day's events in Jacksonville.
ZEBRA WORD OF THE DAY
This one needs no explanation
TWEET OF THE DAY
The media types were decidedly not impressed with the brand of football being played by Texas and Texas Tech Saturday night.
VIDEO OF THE WEEK
Coming off the single greatest touchdown in the history of college football at any level, Arkansas released a, ahem, "Heisman hype" video for offensive lineman Sebastian Tretola.  While not nearly as well-done as the Pass Heard 'Round the World in Week 9, it's not bad at all.
STREAKING
Florida State has won a nation's best 24 straight games, a record for an ACC school.  The Seminoles' last loss came Nov. 24, 2012, a 37-26 home setback to in-state rival Florida, and FSU has won 18 of those 24 games by at least 14 points.  Mississippi State, at 11 in a row, is the only other FBS team with a double-digit winning streak, although Marshall, on a bye, has won nine in a row.
SMU's nine straight losses serve as the longest losing streak in the country, and they remain the only winless team at the FBS level in 2014.  Georgia State, meanwhile, has lost eight in a row after opening the season with a win.
GOING BOWLING
For the fourth consecutive week, six or more teams officially qualified for postseason play.  There are now 47 teams eligible for the 76 spots in this year's 38 bowl games.  Below are the 15 teams that hit the six-win minimum this week.
Air Force
Boston College
Central Michigan
Iowa
Louisiana Tech
Maryland
Miami (Fla.)
Nevada
Oklahoma
Texas A&M
USC
Utah State
Washington
Western Michigan
Wisconsin
S.I.D. NOTE OF THE WEEK
Wisconsin has forced opponents to punt on 58 percent of their possessions this season, the second-best rate of any FBS defense behind only Clemson (59.6 percent).
S.I.D. NOTE OF THE WEEK II
Oregon State plays four of its last five regular season games at home; only Army in the FBS plays more with five home games. UConn equals the Beavers with four home games as well.
S.I.D. NOTE OF THE WEEK III
Marshall's offense is averaging 45.9 points per game and it is the only FBS team to score at least 35 points in every game this season. Entering their last bye weekend in Week 10, the Herd led the nation in scoring (367 points), total offense (4,570 yards) and margin of victory at 29.4 ppg.
S.I.D. NOTE OF THE WEEK IV
Senior Kansas State wide receiver Tyler Lockett is within reach of the K-State career records for receptions, receiving yards and receiving touchdowns. Tyler's father, Kevin Lockett, played at K-State from 1993-96 and holds all three records.  The younger Lockett needs 26 receptions, 154 yards and four touchdowns to break his father's trio of standards.
OFF THE CHARTS
Below are the nation's five most difficult schedules entering Week 10, courtesy of the Clemson sports information department:

SAY WHAT?
In the six-plus seasons under David Cutcliffe, Duke has won 38 games. In the 17 seasons before Cutcliffe's arrival, beginning in 1991, the Blue Devils won a total of 39 games.
DULY NOTED
The four teams that have started the most true freshmen this season are Tulane (12), Tennessee (8), USC (8) and North Carolina State (7), according to the latter school's sports information department.
DID YOU KNOW THAT…
… Bob Marley's son (Rohan Marley) and grandson (Nico Marley) either played or are currently playing linebacker at Miami (Fla.) and Tulane, respectively?  Not only that, but Nick Montana, son of former Notre Dame quarterback and NFL Hall of Famer Joe Montana, is a part-time starter at quarterback for the Green Wave.
… when Arkansas faced No. 1 Mississippi State, it was the Razorbacks' fifth consecutive SEC game against a Top 10 opponent? That marked the first time in FBS history that a team played five straight conference games against Top-10 foes. Northwestern played four straight conference games against Top 10 teams in 1958.
… entering Week 10, Notre Dame and Wisconsin were the only FBS teams that hadn't played multiple true road games?  Both the Irish (at Navy) and the Badgers (at Rutgers) were away from home this weekend.
… Iowa State has not beaten Oklahoma in Ames since 1960? Thanks to Saturday's loss to the Sooners, ISU's last win over OU, period, came during the 1990 season.
… Georgia being installed as a 13-point favorite over rival Florida was nearly double the previous high for a point spread in the series? The previous high-water wagering mark for UGA was seven way back in 1980.
… Utah State is the only team in the nation that currently lists two true freshmen on its depth chart at quarterback? The Aggies have lost three starting quarterbacks to season-ending injuries the first eight games of the year.
… after playing games in four different states (Kentucky, Massachusetts, Ohio, Wisconsin) during the first five weeks of the season, Bowling Green plays the final seven games of the season in the state of Ohio?
… the Western Kentucky-Louisiana Tech game Saturday was the first meeting between the two football programs since the 1973 NCAA Division II playoffs?
… Oregon offensive coordinator Scott Frost's first collegiate touchdown pass was caught by current Stanford head coach David Shaw when the Cardinal played the Ducks in 1994?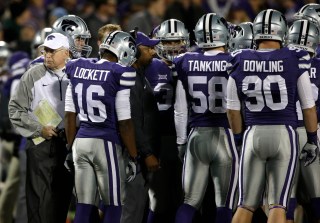 … Bill Snyder has five of his former Kansas State players on his Wildcats coaching staff, the most of any Power Five program?
… Wisconsin running back Melvin Gordon is averaging 34.6 per carry on his first run of the second half in eight games this season?  His first carry of the second half in UW's win over Rutgers was a 51-yard touchdown run.
… Cody Sokol became just the fifth quarterback in Louisiana Tech history to throw five touchdown passes in a single game and did so with two of the other five on hand? Tim Rattay is an assistant coach for the Bulldogs while Luke McCown was honored on the field during the second quarter.
… (10) FBS quarterbacks lead their respective teams in passing yards and rushing yards? That elite group consists of Eastern Michigan's Reginald Bell Jr., Maryland's C.J. Brown, Nevada's Cody Fajardo (585-525), Northern Illinois' Drew Hare, Boston College's Tyler Murphy, Navy's Keenan Reynolds, Iowa State's Sam Richardson, Georgia Tech's Justin Thomas, Kansas State's Jake Waters (370-388) and North Carolina's Marquise Williams.
… Illinois defensive back V'Angelo Bentley is the first player in program history to record a kick return, punt return, interception return and fumble return for touchdown in his career?