A numerical snapshot of the week that was in college football…
.850 — Duke's winning percentage with Anthony Boone as a starter (17-3), the highest mark in the program's history.  Worth Lutz's record of .846 has stood for 60 years (1951-54, 11-2).
0 — Number of intersectional foes that have played continuously longer than Notre Dame and Navy, meeting every year since 1927 (88 games).  The Irish's 43 straight wins over the Midshipmen from 1964-2006 remains the longest winning streak by one team over another in FBS history.
1 — FBS quarterbacks with at least 150 pass attempts who have not thrown an interception this season, that one being Utah's Travis Wilson (165 attempts).  Last season, Wilson's 16 interceptions — in just 237 attempts — were the second-most in the nation. Ball State's Jack Milas has not thrown a pick in 116 attempts.
1.1 — Number of interceptions Louisville's Gerod Holliman has averaged per game this season.  His 10 interceptions in nine games are the most for an FBS player since North Carolina State's David Amerson recorded 13 in 13 games in 2011.  The all-time FBS record for interceptions in a season is 14 by Washington's Al Worley in 1968.  I should also add that Ole Miss' Senquez Golson has nine picks in the same number of games.
1-34 — Kansas' record in Big 12 play over the last 35 conference games, stretching back to early November of 2010. The Jayhawks haven't won back-to-back league games since October of 2008.
3 — Players who have thrown for more than 3,000 yards through the first 10 weeks of the season, with Western Kentucky's Brandon Doughty and Cal's Jared Goff joining the group.  Entering this week's slate of games, there was one — Washington State's Connor Halliday, who sustained what turned out to be a season-ending injury Saturday.
3 — Teams that are 4-0 on the road in 2014: Arizona State, Marshall and UCLA.
3 — Current FBS head coaches who won FCS national titles as head coach: Wyoming's Craig Bohl (North Dakota State, 2011-13), Georgia Tech's Paul Johnson (Georgia Southern, 1999 & 2000) and Virginia's Mike London (Richmond, 2008). The latter two squared off in Week 10.
4.75 — Receptions per game East Carolina's Justin Hardy needs to average over the next four regular season games to break the career mark of 349 set by Oklahoma's Ryan Broyles in 2008-11.  Hardy currently has 331 career catches.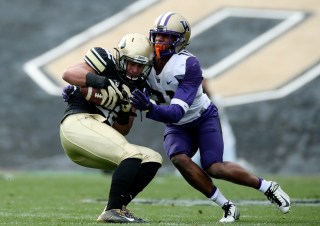 5 — Players who have more than 1,000 yards receiving through the first 10 weeks of the season (Colorado State's Rashard Higgins, Alabama's Amari Cooper, West Virgina's Kevin White, Colorado's Nelson Spruce, Washington State's Vince Mayle).  Entering this week's slate of games, there were three.
5 — Rushing touchdowns, tying a Sun Belt record, for Arkansas State's Michael Gordon on just 17 carries in the win over Idaho.
5 — Fumbles lost by East Carolina in its 20-10 upset loss to Temple.  The Owls turned those turnovers into 14 points.
6 — Games in which Georgia Southern has rushed for 400 or more yards this season, the only FBS team that can make that claim.  The Eagles have a high of 631 yards and a low of 246.  The latter was one of only two games in which they rushed for fewer than 300 yards.
6 — Total touchdowns for quarterbacks Trevor Knight (three passing, three rushing) and Everett Golson (three passing, three rushing) in Oklahoma's beatdown of Iowa State and Notre Dame's escape against Navy, respectively.
7 — Using records that date back to 1951, the most defensive touchdowns scored by Washington in a single season set through nine games this year.
7 — Starters lost to season-ending injuries by Utah State this season, the only team that can make that claim.  Three of those starters have been quarterbacks.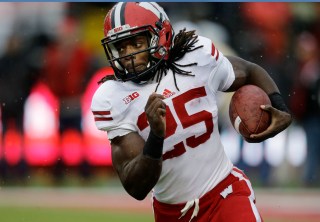 7.86 — Yards per carry Wisconsin's Melvin Gordon has averaged in his career, which would be an FBS record for players with a minimum of 415 carries. The NCAA officially recognizes the mark of 7.16 set by Nebraska's Mike Rozier as the record at this level, although USC's Reggie Bush finished his career at 7.32 ypc (that was vacated by the NCAA Committee on Infractions).  The FBS record for a minimum of 300 rushes is Army's Glenn Davis at 8.26, while the mark for a minimum of 800 carries is 6.4 by Northern Illinois' Garrett Wolfe.
8 — Combined turnovers for Louisiana Tech and Western Kentucky in the former's 59-10 win.  WKU had five of them (four interceptions, one fumble) while Tech had three (two fumbles, one interception).
10 — Teams undefeated in conference play through Week 10:
Florida State, ACC, 5-0
Kansas State, Big 12, 5-0
Michigan State, Big Ten, 4-0
Ohio State, Big Ten, 4-0
Louisiana Tech, Conference USA, 5-0
Marshall, Conference USA, 4-0
Toledo, MAC, 4-0
Mississippi State, SEC, 5-0
Georgia Southern, Sun Belt, 6-0
Louisiana-Lafayette, Sun Belt, 4-0
10 — Active NFL stadiums in which Notre Dame has played, the most of any team in college football. Those stadiums are Soldier Field, Heinz Field, EverBank Field, Mercedes-Benz Superdome, M&T Bank Stadium, FedEx Field, AT&T Stadium, MetLife Stadium, Sun Life Stadium and Lucas Oil Stadium.
10 — First-quarter points allowed by Ole Miss through the first nine games of the season, the least allowed by any team at the FBS level.  Seven of those points came in Saturday's game against Auburn.
10 — Consecutive games in which Indiana's Tevin Coleman has rushed for 100 or more yards, the longest current streak in the country and the longest in IU history.  The junior, who entered the weekend as the nation's leading rusher in yards per game, is the only player at this level to run for 100-plus yards in every game this season.
11 — Games Florida State, UCLA and West Virginia will play against Power Five programs this season. Arizona State, Clemson, Georgia, Kansas State, Stanford, Notre Dame, Oklahoma, Oregon, TCU and Utah all play 10 games apiece against the power conferences.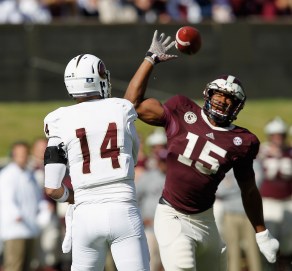 11 — Sacks for Texas A&M's Myles Garrett, breaking the SEC freshman record of eight set by South Carolina's Jadeveon Clowney in 2011.  The defensive lineman had 3.5 of those 11 sacks in the win over Louisiana-Monroe Saturday, the third multi-sack game in his nine-game career.
13 — Players who have rushed for 1,000 or more yards through the first 10 weeks of the season (Nebraska's Ameer Abdullah, Marshall's Devon Johnson, Indiana's Tevin Coleman, Wisconsin's Melvin Gordon, Western Michigan's Jarvion Franklin, Minnesota's David Cobb, Pittsburgh's James Conner, Miami's Duke Johnson, Central Michigan's Thomas Rawls, USC's Buck Allen, UCLA's Paul Perkins, San Diego State's Donnell Pumphrey, UAB's Jordan Howard).  Entering this week's slate of games, there were 10.
18 — First-time starters for Tulsa this season, the most in the nation.
20 — Consecutive Big Ten regular season wins for Ohio State, tying the conference mark set by the Buckeyes from 2005-07.  OSU holds five of the top six winning streaks in league history.
21 — Percentage of head coaches at the FBS level who are either current or former MAC head coaches.
23-1 — Baylor's home record since 2011, the best mark in the country during that time.  The Bears have also won the last 18 games played they've played in the state of Texas.
25 — Wins in Big 12 play for Kansas State since 2011, tops among all conference schools during that time.
26 — Games in a row Florida State cornerback Ronald Darby claims he has held the opposing receiver without a touchdown. The last receiving touchdown he allowed was Nov. 17, 2012, to Maryland's Kevin Dorsey.
29 — Cents a gallon gas cost the last time Indiana beat Michigan in football (1967).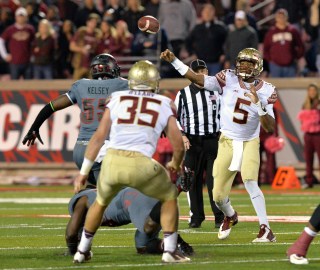 52.1 — Completion percentage for Florida State's Jameis Winston in Thursday night's win over Louisville, the lowest of his two-year career.  His previous low-water mark came against Bethune-Cookman in the third start of his career last year.
35 — Underclassmen listed on Oklahoma State's two-deep depth chart, the most of any FBS squad.  Temple, with five, has the fewest.
65-1 — Oklahoma's record under Bob Stoops when rushing for more than 200 yards, including the win over Iowa State Saturday in which the Sooners ran for 510 yards. OU's last — and lone — loss when rushing for 200-plus under Stoops came in September of 2006 against Oregon (34-33, in Eugene); since then, OU has won 37 straight when eclipsing the double-century mark on the ground.  The Sooners also had three players go over 100 yards in the same game for the first time since 1992.
68 — Career touchdown passes for UCLA's Brett Hundley, tying the school record first set by Cade McNown from 1995-98.  McNown made his mark over the course of four seasons, while Hundley has made his in less than three full ones.
214 — In his second game back from an injury that cost him the first seven games of the season, receiving yards for Louisville's DeVante Parker in the loss to Florida State Thursday.  He now has 346 yards on 17 receptions the last two games.
233 — School-record receiving yards for Pharoh Cooper in South Carolina's overtime loss to Tennessee.
263 — Career-high rushing yards for James Connor in Pittsburgh's double-overtime loss to Duke.
336 — Combined yards for a pair of true freshman — quarterback Kent Meyers (186 passing) and running back LaJuan Meyers (150 rushing) — in Utah State's win over Hawaii.  Meyers, making his first career start, completed 14-of-15 pass attempts in becoming the fourth Aggie to start a game under center in 2014.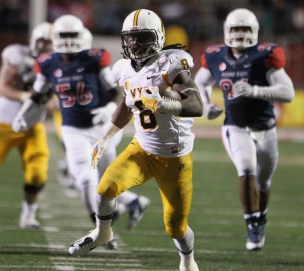 387 — All-purpose yards for Wyoming's Brian Hill in the win over Fresno State, setting a single-game Mountain West record (378, New Mexico's Deon Long in 2011).  He had 281 yards rushing, the most by an FBS player this season as well as 106 yards on three receptions.
389 — Combined rushing yards for Kelvin Taylor (197) and Matt Jones (192) in Florida's win over Georgia.  The Gators rushed for 418 as a team, the most for a Will Muschamp-coached team.
400 — Passing yards for Cody Kessler in USC's win over Washington State, the first 400-yard game in his career.  He also tossed five touchdown passes, giving him 14 over the last three games and 25 on the season.
404 — Career-high passing yards for New Mexico State's Tyler Rogers in the win over Texas State.
1960 — Last time Rice went unbeaten in the month of October prior to this season.
1990 — Last year Syracuse had four different players rush for 100 yards or more in a game in the same season.
1996 — Last year Army captured the Commander-in-Chief trophy.  Air Force, which had beaten Navy earlier in the year, claimed this year's trophy for a record 19th time with its win over Army Saturday.
1997 — Last time Colorado State won at least seven games in a row before its current seven-game streak.  That '97 Rams team ended up winning the last nine games of the season.
2006 — Prior to Saturday, the last time Fresno State started more than one quarterback in a season.
12,454 — Career passing yards for Oregon State's Sean Mannion, surpassing the 12,327 yards USC's Matt Barkley accumulated from 2009-12 and setting a new Pac-12 record in the process.
(For the latest "The Fifth Quarter: Week 10 Rewind," click HERE.)