As is the case each and every season, each and every week, any omission below is not on purpose, it's merely intentional.
SEPARATION SATURDAY
Thanks to a handful of games, the divisional and conference races have become, for the most part, much clearer in Week 11 than they were in Week 10.
Three of the divisional races in four of the Power Five conferences have either officially been decided (Pac-12 North) or are all but officially decided (ACC Atlantic, Big Ten East).  At the opposite end of the spectrum, the Big Ten West and SEC West are only slightly clearer than a week ago.
Below we take a quick trip through each of the Power Five conference races and see exactly where things stand with three weeks left in the regular season (four for the title game-less Big 12).
ACC
Atlantic
With the win over Virginia, all Florida State (6-0) needs to do is beat either Miami (Fla.) next week or Boston College the week after to claim the division title and a spot in the conference championship.  Clemson (6-1), which lost to FSU earlier in the season, would need to win its last ACC game against Georgia Tech in Week 12 and have the Seminoles lose both of their remaining league games to win the Atlantic.  Yeah, that's not gonna happen.
Coastal
With three weekends left in their regular seasons, the Coastal race is essentially a three-team chase: Duke (4-1), Georgia Tech (5-2) and Miami of Florida (3-2).  If the Blue Devils win out — Virginia Tech, North Carolina and Wake Forest, all at home — it'll be a second consecutive Duke-FSU ACC title game.  Should the Blue Devils and Yellow Jackets trip once and the Hurricanes win out — they still face FSU — it'd be The U in Charlotte based on the win over Duke earlier in the season.  The 'Canes, though, don't own the head-to-head over Tech, so they'll need to finish ahead of the Yellow Jackets.
BIG TEN
East
This one is very straightforward: all Ohio State (5-0) has to do is avoid losing two of its last three games while Michigan State (4-1) wins all three of its in order to stake its claim to a spot in the Big Ten title game.  The remaining games on the slate are certainly manageable, with contests left against Minnesota, Indiana and Michigan.  The win over the Spartans gives the Buckeyes the head-to-head tiebreaker and affords them a cushion should they slip up once the rest of the way.  Maryland, at 3-2, is technically still alive but unofficially eliminated.
West
Three teams are tied at 4-1 — Minnesota, Nebraska, Wisconsin — and one is at 3-2 — Iowa — in what's easily the most muddled divisional race in the land.  The last three games for NU and UW are all against teams from that group of four, while the Gophers will face the two teams it's currently tied with plus Ohio State.  The Hawkeyes, who lost to the Gophers in Week 11,  have Illinois remaining in addition to Nebraska and Wisconsin.  Given how the schedule is assembled, the B1G East very likely won't be decided until the final weekend late this month.
BIG 12
Thanks to TCU's win over Kansas State, and Baylor's thumping of Oklahoma, the Big 12 now features a trio of one-loss teams.  TCU holds the head-to-head tiebreaker over K-State, while BU holds the same over them.  The Bears and Wildcats meet in the regular season finale; the winner of that game and the Horned Frogs could very well finish in a tie if everything goes to form.  Based on the head-to-head, you can bet your behind that they'll be rooting like mad for K-State.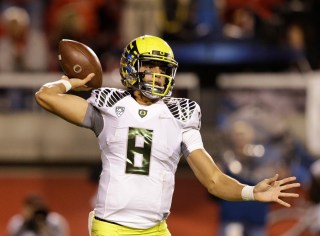 PAC-12
North
This one's wrapped up.  Oregon is now 6-1 in Pac-12 play with two games remaining.  Even if they were to lose their next two games, the Ducks would still finish tied with Stanford at 6-3 if the Cardinal (3-3) wins its three remaining league games.  As UO holds the head-to-head tiebreaker on the basis of a win over Stanford last weekend, it has officially clinched the Pac-12 North and a spot in the conference championship game.
South
Arizona State, which stepped out of conference Saturday to claim a huge win over Notre Dame, remains in the driver's seat at 5-1, with games remaining against Oregon State, Washington State and in-state rival Arizona.  Win out, and it's the Sun Devils facing the Ducks in the conference title game.  Trip up at least once, however, and the likes of USC (5-2), UCLA (5-2) and Arizona (4-2) are lurking close behind.  The Sun Devils hold the head-to-head tiebreaker with Trojans, but don't on the Bruins.  USC and UCLA, of course, will meet in the second-to-last game of the year in what'll be a rivalry game with real conference implications for the first time in quite a while.
SEC
East
Keep it simple, stupid.  If Missouri (4-1) wins its last three games — Texas A&M, Tennessee, Arkansas — the Tigers will repeat as SEC East champs.  If Mizzou slips up once, and Georgia (5-2) wins its last conference game against Auburn,  it'll be UGA dancing in Atlanta as the East's representative as the Bulldogs dropped the Tigers earlier this year.  If UGA should stumble at home to AU next Saturday, Mizzou could afford one more loss and still maintain its repeat hopes.  Suffice to say, UGA's inexplicable loss to Florida in Week 10 could very well prove to be extremely damaging for the Bulldogs.
West
What was a three-horse race entering Week 11 is now essentially down to a pair of thoroughbreds: Mississippi State, 5-0, and Alabama, 5-1.  While Auburn's upset loss to Texas A&M doesn't officially knock the Tigers out of the race, at 4-2 they'll need some significant help in the coming weeks to have any shot.   A great deal of clarity in this division will be gained next week as the Bulldogs travels to Tuscaloosa to take on the Tide.  A win by MSU all but wraps up the West; a UA win will leave them just one win away from a division title, although that one remaining game is against Auburn in the Iron Bowl.
SATURDAY RESET
Below is a list of links out to a handful of the gamers posted by the CFT crew, placed in one handy and convenient space for you, our beloved and dear readers.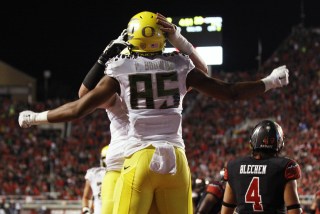 CFT TOP FIVE
A snapshot look at how my ballot would look Sunday if I, ya know, had a real vote.
1. Mississippi State — There's not much you can glean from a midseason scrimmage against an FCS team like UT-Martin.  The Bulldogs' next real test, however, is a doozy, and it comes up next Saturday.. (Last week: No. 1)
Next up: at Alabama, Nov. 15
2. Florida State — And the drumbeat goes on for the Seminoles.  25 straight wins, with a whopping 19 of them coming by at least two touchdowns.  Included in that was the 34-20 score that was FSU's win over Virginia Saturday.  Barring an unexpected slip-up in the next four games, including the ACC championship, the 'Noles are locked and loaded for a spot in the first-ever College Football Playoff. (Last week: No. 2)
Next up: at Miami (Fla.), Nov. 15
3. Oregon — Quality wins over Michigan State, UCLA and Utah leaves the Ducks with one of the most impressive résumés in the country.  Even UO's lone loss was "impressive," a seven-point decision at the hands of 7-2 Arizona.  Add everything up, and the Ducks are the best one-loss team in the country. (Last week: No. 3)
Next up: bye week
4. Alabama — It was far from pretty, but most games between Alabama and LSU trend toward the ugly.  Still, coming out of Death Valley at night with a win will always be viewed in a positive light, even if the Tigers are somewhat down as they are this year.  Next week, though, UA better bring its "A" game. (Last week: No. 5)
Next up: vs. No. 1 Mississippi State, Nov. 15
5. Baylor — Baylor and TCU both have one loss.  The Bears beat the Horned Frogs in a head-to-head matchup.  Therefore, BU gets the nod over TCU; how the CFP has that reversed is beyond me, regardless of BU's schedule.  Actually, I very nearly pulled the trigger on Arizona State following its impressive win over Notre Dame, but just couldn't as Baylor's win over TCU is immensely more impressive.  And, no, Ohio State was given very little consideration for this spot as that Virginia Tech loss is still an albatross around tOSU's neck. Win on the road at an improved Minnesota squad, however, and I might reconsider. (Last week: unranked)
Next up: bye week
(Dropped out: No. 4 Auburn)
HEISMAN RACE, BY THE NUMBERS
A statistical look at how some of the top contenders for this year's stiff-armed trophy fared this past week. Also, each week at least one name will be sliced from a list that began in Week 6 at a baker's dozen and, if need be, names will be added as well.
Ameer Abdullah, RB, Nebraska (8-1, No. 13)
Saturday: bye week
Season: 186 carries for 1,250 yards (6.7 ypc), 17 touchdowns; 13 catches for 169 yards, two touchdowns; 11 kickoff returns for 262 yards (24.7 ypr)
J.T. Barrett, QB, Ohio State (8-1, No. 13)
Saturday: 16-26 (61.5%), 300 yards, three touchdowns; 86 rushing yards, two touchdowns
Season: 150-233 (64.4%), 2,156 yards, 26 touchdowns, seven interceptions; 582 rushing yards, eight touchdowns
Trevone Boykin, QB TCU (8-1, No. 6)
Saturday: 23-34 (67.6%), 219 yards, one touchdown; 123 rushing yards, three touchdowns
Season: 203-350 (58%), 2,525, 23 touchdowns, four interceptions; 546 rushing yards, seven touchdowns
Rakeem Cato, QB, Marshall (9-0, unranked)
Saturday: 13-19 (68.4%), 186 yards, two touchdowns; 92 rushing yards, two touchdowns
Season: 145-247 (58.7%), 2,130 yards, 22 touchdowns, six interceptions; 347 rushing yards, seven touchdowns
Amari Cooper, WR, Alabama (8-1, No. 5)
Saturday: eight receptions, 83 yards, one touchdown
Season: 79 receptions, 1,215 yards, 10 touchdowns; 14 rushing yards
Melvin Gordon, RB, Wisconsin (7-2, No. 25)
Saturday: 25 carries for 205 yards (8.2 ypc), one touchdown; three receptions; 44 yards, one touchdown
Season: 198 carries for 1,501 yards (7.6 ypc), 19 touchdowns; 11 receptions, 83 yards, two touchdowns
Duke Johnson, RB, Miami (6-3, unranked)
Saturday: bye week
Season: 158 carries for 1,313 yards (8.3 ypc), nine touchdowns; 21 receptions, 271 yards, two touchdown
Marcus Mariota, QB, Oregon (8-1, No. 4)
Saturday:
Season: 169-248 (68.1%), 2,541 yards, 26 touchdowns, two interceptions; 410 rushing yards, seven touchdowns; one reception, 26 yards, one touchdown
Dak Prescott, QB, Mississippi State (9-0, No. 1)
Saturday: 14-23 (60.9%), 206 yards, two touchdowns; 54 rushing yards, one touchdown
Season: 146-239 (61.1%), 2,231 yards, 18 touchdowns, seven interceptions; 779 rushing yards, 11 touchdowns
Jameis Winston, QB, Florida State (9-0, No. 2)
Saturday: 22-35 (62.8%), 261 yards, one touchdown, two interceptions; 16 rushing yards, one touchdown
Season: 196-294 (66.7%), 2,540 yards, 17 touchdowns, 11 interceptions; 60 rushing yards, three touchdowns
(Dropped out: Notre Dame quarterback Everett Golson)
(Added: Ohio State quarterback J.T. Barrett)
JT's Personal Top Five
Mariota (and it's not even close)
Gordon
Prescott
Johnson
Barrett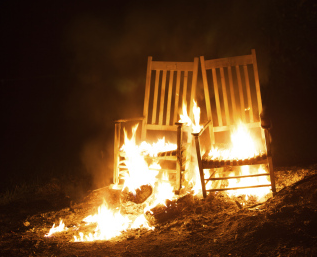 COACHING HOT SEAT
My weekly look at a couple of the current head coaches who could be ex-head coaches by season's end — if not sooner.
1. Will Muschamp, Florida
In his three years at UF, Ron Zook was 23-14 overall and 16-8 in the SEC.  Since beginning his Gator career at 4-0, Muschamp has gone 23-20 overall and an 15-14 in the conference.  The last 21 games, Muschamp's record is 9-12 and 7-8.  Will a two-game winning streak, including the upset of rival Georgia, and a potential four-game winning streak heading into regular season finale against Florida State be enough for Muschamp to hang onto his job for another year?  It's impossible to know at the moment.  Since gaining bowl eligibility is a near-certainty — the Gators face FCS Eastern Kentucky in two weeks — would that be enough?  If that's what Jeremy Foley sees as progress, then the football program is in deeper trouble than most thought.
2. Brady Hoke, Michigan
The Wolverines are just 7-11 the last 18 games, including an unacceptable 5-8 mark in Big Ten play.  They're just 2-5 against UM's biggest rivals, Ohio State and Michigan State, with the gap between them and their two biggest rivals as great as it's ever been.  Add in the firing of UM's athletic director, and Hoke's time in Ann Arbor is rapidly coming to an end.  In fact, we're now at the point where it's a matter of when, not if, the fourth-year coach is summarily dismissed.
3. Norm Chow, Hawaii
"It would be beyond shocking if Chow were not fired at the end of the season."  That's what one person with knowledge of the situation told me, and it's not exactly a revolutionary thought.  10 games into his third season with the Rainbow Warriors, Chow holds an overall record of 6-28 and a Mountain West mark of 2-19.  Chow's a very nice man, but appears to be in over his head as a head coach.  If he is indeed dismissed, the 68-year-old Chow will either go back to what he was born to do — coordinate an offense — or step away from coaching entirely.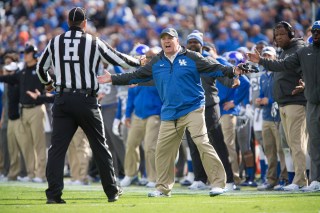 HE SAID IT
"Very embarrassing effort by our team, our coaching staff, starting with myself. Not acceptable. Just very disappointed in the way we played, the way we're playing. Like I said, embarrassing is the word that comes to mind." — Kentucky head coach Mark Stoops, following the 63-31 evisceration at the hands of Georgia.
HE SAID IT, THE SEQUEL
"There was something about this game. This game, for me, was circled, dotted, starred, whatever you want to call it on the calendar. I don't like to make that public because every game's a big game, but I really wanted to win this game." — Baylor quarterback Bryce Petty, after the historic win over Oklahoma.
HE SAID IT, THE THREEQUEL
"This [feces] never happened when I was here." Hall of Fame former Oklahoma running back Billy Sims during the fourth quarter of his alma mater's loss to Baylor.
HE SAID IT, THE QUADQUEL
"It hurts. It hurts our team. We have goals and dreams, and we did not get it done tonight. It is unfortunate, but we didn't get it done. But you have to be a big boy, you have to man up, you have to be better in the future." — Auburn head coach Gus Malzahn, following the Tigers' upset loss to Texas A&M.
HE SAID IT, BONUS EDITION
"Oh, you're kidding.  So what?" — Oklahoma head coach Bob Stoops, when told after the loss to Baylor that OU fans on social media weren't happy.
HURDLER OF THE DAY
Move over, Edwin Moses (young ones, click HERE); Oklahoma's Trevor Knight has got this.
TIP TOES OF THE DAY
Maxx Williams set a school record for a tight end with three touchdown receptions in Minnesota's surprise blowout of Iowa, but it was a non-scoring grab catch that grabbed the most attention.
Williams, incidentally, came into Week 11 with just four touchdown catches the first seven games he's played this season.
STREAKING
Florida State has won a nation's best 25 straight games, a record for an ACC school and tied for 20th all-time with Michigan (1946-49), Army (1944-46) and USC (1931-33).  The Seminoles' last loss came Nov. 24, 2012, a 37-26 home setback to in-state rival Florida, and FSU has won 19 of those 25 games by at least 14 points.  Mississippi State, at 11 in a row, and Marshall, 10 in a row, are the only other FBS team with double-digit winning streaks, although Colorado State at eight in a row is gaining on it.
SMU's ten straight losses serve as the longest losing streak in the country, and they remain the only winless team at the FBS level in 2014.  Georgia State, meanwhile, has lost nine in a row after opening the season with a win.
GOING BOWLING
For the fifth consecutive week, six or more teams officially qualified for postseason play.  There are now 51 teams eligible for the 76 spots in this year's 38 bowl games with four weeks remaining before bids are handed out.  Below are the six teams that hit the six-win minimum this week.
Arkansas State
Bowling Green
Louisiana-Lafayette
Memphis
Rice
Toledo
S.I.D. NOTE OF THE WEEK
Kansas State's 25 wins and .757 winning percentage are tops among all Big 12 schools in league games since 2011. Oklahoma is second at 24-9 (.727), while Oklahoma State (23-10, .697) and Baylor (23-10, .697) are the only other teams with a league winning percentage better than .680 in that span.
S.I.D. NOTE OF THE WEEK II
Air Force has the most improved scoring defense in the country, improving by 17.9 points per game over last season. The team's improvement is 4.3 points better than the next closest team (UAB).
S.I.D. NOTE OF THE WEEK III
With three touchdown runs and three touchdown passes at Iowa State in Week 10, Oklahoma quarterback Trevor Knight joined current Sooner co-offensive coordinator and former OU quarterback Josh Heupel as the only players in school history to accomplish that feat. Heupel did it in a 50-13 win vs. No. 13 Texas A&M (10/23/99).
(Tip O' the Cap: Clemson sports information department)
(Tip O' the Cap: Oklahoma sports information department)
SAY WHAT?
Kansas State had just 299 wins in its first 93 seasons (3.2 wins per year), but has totaled 201 victories over the last 26 years (7.7 wins per year).
DULY NOTED
FBS teams with most players having 20-plus receptions
7 – Washington State
6 – Cal, Texas A&M, Western Kentucky
5 – Arizona, Bowling Green, Colorado, Louisiana Tech, San Jose State, UCLA, Virginia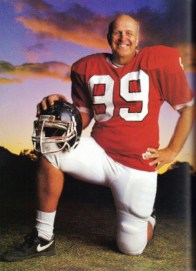 DID YOU KNOW THAT…
… Utah defensive back Brian Blechen's grandfather, Bob Blechen (pictured, courtesy of the Salt Lake Tribune), was drafted by the Detroit Lions in 1956 and played either professional or semi-pro football until he was 64 years old?
… Duke wide receiver Ryan Smith is the son of Syracuse running backs coach DeAndre Smith?  The youngster's Blue Devils got the best of dad's Orange Saturday afternoon to maintain its ACC Coastal lead.
… with a touchdown scored in five different ways in his career (pass, rush, receiving, punt return, kick return), Iowa State wide receiver Jarvis West is the only current FBS player who can make that claim?
… a pair of Conference USA players — Old Dominion's Taylor Heinicke (127), Marshall's Rakeem Cato (113) — have thrown the most career touchdowns of current FBS quarterbacks?  Cato's the only one of the two, however, to have every scoring toss come at the FBS level.
… the coaches with the most Twitter followers are LSU's Les Miles (145,000), Tennessee's Butch Jones (144,000), Georgia's Mark Richt (137,000), Ohio State's Urban Meyer (134,000) and Notre Dame's Brian Kelly (118,000)?
… Oklahoma has lost back-to-back home games for the first time in Bob Stoops' 16 seasons with the Sooners?  OU lost to Baylor in Norman Saturday, and to Kansas State Oct. 18.
… the Big 12 is the only conference with 50 percent of its teams rated in the Top 25 of the first two editions of the College Football Playoff poll?
… Notre Dame, UCLA and USC are the only FBS programs that have not faced a non-FBS opponent since the current setup was established in 1978?
… LSU faced a Top-Five team in back-to-back regular-season games for just the third time in school history (No. 3 Ole Miss Oct. 25, No. 4 Alabama Nov. 8)? The other times came in 1981 (No. 4 Alabama, No. 4 Notre Dame) and 2010 (No. 5 Auburn, No. 5 Alabama).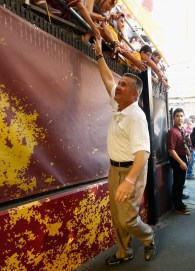 … Arizona State's game against Notre Dame was the fourth straight home game for the Sun Devils against a team ranked the the AP Top 25, an occasion that has never happened before in ASU history?
… Baylor has been ranked in five straight seasons for the first time since being ranked in five straight from 1953-57? The Bears have never been ranked in six consecutive seasons, although that will change in 2015, probably as early as the preseason Top 25.
… Ole Miss has been ranked in the Top 25 in all 11 weeks this season, which is its longest streak of being ranked since appearing in 17 straight polls from 1969-70?
… unbeaten Marshall is the only FBS team that entered Week 11 ranked in the Top 10 in scoring offense (No. 3, 45.9 ppg) and scoring defense (No. 7, 16.5 ppg)?  The Herd did little or nothing to hurt those rankings as they scored 63 and gave up 17 in their romp over Southern Miss.
… Colorado State has started a season 9-1 for the first time since 1994 and just the third time in school history, with 1949 being the other?  The Rams have only been 10-1 once before, in '94.
… Utah State is bowl-eligible for a fourth straight season, the first time that's happened in the football program's history?
… with its win over UAB, Louisiana Tech is 6-0 in conference play for just the third time in school history?  The other two occasions occurred in 1931 and 1955.