A statistical snapshot of the week that was in college football…
-9 — Rushing yards for Northwestern in the one-point loss to Michigan.  Quarterback Trevor Siemian totaled minus-37 yards rushing, while the Wildcats' leading rusher, Justin Jackson, had plus-35.
.844 — Overall career winning percentage (54-10, fifth season) for Florida State's Jimbo Fisher, the best for any ACC head coach with three or more seasons.  His winning percentage of .842 in ACC games is best of all-time, ahead of the legend he replaced at FSU, Bobby Bowden (.814).
1.3 — Interceptions for Louisville's Gerod Holliman after a three-pick performance against Boston College.  Holliman now has 12 interceptions with two regular season games and a bowl game remaining; the all-time FBS record for interceptions in a season is 14 by Washington's Al Worley in 1968.  Incidentally, there are only 17 FBS teams with more interceptions this season than Holliman.
2 — FBS players and who have accounted for more than 9,000 yards passing and 3,000 yards rushing in a career, and both played at Nevada: Cody Fajardo (9,084 and 3,025, 2011-present) and Colin Kaepernick (10,098 and 4,112, 2007-10). Kaepernick's 14,210 yard of total offense is No. 1 in FBS history, while Fajardo's (12,109) is currently 16th.
2 — Rushing touchdowns allowed by Alabama's defense this season, the fewest in the FBS.  Next lowest?  Utah's allowed five.
2-7 — Record of teams the game after playing Navy this season.  That includes Notre Dame's second loss of the season, a 55-31 decision to Arizona State this weekend.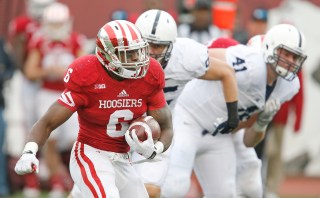 3 — Weeks in a row a player from Rutgers' opponent has been named as the Big Ten's Player of the Week.  That streak temporarily came to an end this week as the Scarlet Knights are on a bye, although Indiana — and the nation's second-leading rusher Tevin Coleman — await next week and could easily extend the streak to four straight.
4-3 — Touchdowns vs. incompletions for Hutson Mason in Georgia's blowout win over Kentucky.
5 — FBS players who have ever totaled 200-plus yards rushing and 100-plus yards receiving in a single game: Brian Hill, Wyoming vs. Fresno State, Nov. 1, 2014 (281 rushing, 106 receiving); Donald Buckram, UTEP vs. Tulane, Nov. 7, 2009 (234, 109); Steve Slaton, West Virginia vs. Pittsburgh, Nov. 16, 2006 (215, 130); Emmett White, Utah St. vs. New Mexico St., Nov. 4, 2000 (322, 134); and Thomas Jones, Virginia vs. Buffalo, Nov. 13, 1999 (221, 110).
10.1 — Ohio State's J.T. Barrett leads the FBS in passing touchdown percentage (26 TDs on 233 attempts; 11.1 percent).
11 — Games in a row Oregon's Marcus Mariota has thrown two or more touchdown passes, the longest such streak for an FBS quarterback.
13.1 — Nick Chubb's yards per carry average as he ran for 170 yards on just 13 rushes in Georgia's blowout win over Kentucky.
14 — 300-yard passing games for Baylor's Bryce Petty, breaking the school record of 13 previously held by Heisman winner Robert Griffin III.
17 — Times Kansas State has played or will play in a bowl game in Bill Snyder's 23 seasons in Manhattan, including 2014.  In the 96 seasons not coached by Snyder, K-State played in one bowl game (1982).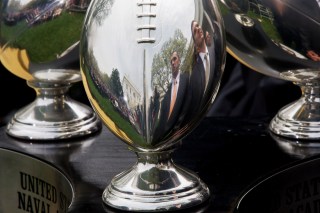 19 — Commander-in-Chief's Trophies won by Air Force, the most of any service academy.  Navy has 14 (last in 2013) and Army has six (1996).  Four times in the 43-year history of the round-robin competition the trophy has been shared, the last coming in 1993.
20-0 — Oklahoma's record in its first 20 meetings with Baylor.  The Bears, however, have won three of the last four games vs. the Sooners, including Saturday's 48-14 spanking.  The win over OU also marked BU's first-ever win in Norman in 12 meetings.
21 — Consecutive bowl appearances for Virginia Tech, the second-longest streak in the country behind Florida State's 32.  That streak is in jeopardy, however, as the 4-5 Hokies must win two of their last three games (at Duke, at Wake Forest, vs. Virginia) in order to reach bowl eligibility.
24 — Points Bowling Green scored off of five Akron turnovers in the Falcons' 27-10 win over the Zips Tuesday night.
28 — Games in a row won by Wisconsin when the contest kicked off at noon ET.  UW's last loss with that kickoff time was Oct. 17, 2009, to Iowa.
28 — Season-high in points put up by SMU in its loss to Tulsa Saturday.  77 FBS teams average more than that on the season.
33 — North Dakota State's all-division-best winning streak that was snapped in Week 11 by Northern Iowa in resounding fashion, with the Panthers coming away with a 23-3 home win.
37 — Road games in a row Baylor had lost in a row to ranked teams prior to the win over Oklahoma, a streak that had stretched all the way back to 1991.  That was the longest such streak in the country; that "honor" now falls to Kentucky and its 23 straight.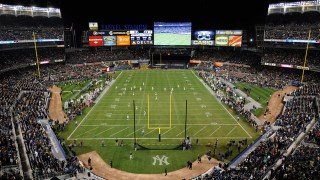 41 — Times Army has played a football game at new/old Yankee Stadium, including Saturday's game against UConn.  The Black Knights were 14-19-5 at the old Bronx home of the Yankees, 1-2 at the new version including the Week 11 win to the Huskies.  That win, incidentally, was the service academy's first at Yankee Stadium in 54 years.
43 — FBS teams that average less than Wisconsin running back Melvin Gordon's 166.8 rushing yards per game.
47 — Games in a row with a reception for Wyoming's Dominic Ruffin, the best current streak in the FBS and tying a school and Mountain West record held by Jovon Bouknight (2002-05).  The all-time FBS record of 53 is held by Central Michigan's Bryan Anderson (2006-09).  As the Cowboys have at most four games remaining, the senior Ruffin won't be able to match or exceed Anderson's standard.
92 — Yards on Bill Belton's second-quarter scoring jaunt against Indiana, the longest rushing touchdown in the history of Penn State football.  Blair Thomas also had a 92-yard run in 1986, but that didn't result in a score.
94 — FBS teams with fewer rushing touchdowns than Western Michigan true freshman running back Jarvion Franklin's 22.
221 — Rushing yards for Cameron Artis-Payne in Auburn's loss to Texas A&M.  His previous career-high was 177, set in the 2014 opener against Arkansas.
224 — Receiving yards for Corey Coleman in Baylor's win over Oklahoma.  His previous career-high was 167, set a week before against Kansas.
386 — Total offense (300 passing, 86 rushing) for Ohio State's J.T. Barrett in the huge road win over Michigan State.  The redshirt freshman also tossed three touchdown passes and scored two on the ground.
402 — Rushing yards for Ole Miss in the win over Presbyterian, its most since 1969.  The 640 yards of total offense was second in school history (751 vs. Troy last season).
446 — Passing yards for Everett Golson in Notre Dame's loss to Arizona State.  It was Golson's first 400-yard passing game, and bested his previous career-high of 362 set against Syracuse Sept. 27 this year.
471 — In his first career start, passing yards for redshirt freshman Luke Falk in Washington State's surprise 39-32 win over Oregon State.
498 — Total offense (367 passing, 131 rushing) produced by Grant Hedrick in Boise State's wild win over New Mexico.  Hedrick also accounted for six touchdowns, four passing and two rushing.
505 — Rushing yards for New Mexico in its 60-49 loss to Boise State.
582 — Total offense for Auburn vs. Texas A&M, its most ever in a loss.
965 — Rushing yards for Boston College's Tyler Murphy entering Week 11, the most for any quarterback in the country (Mississippi State's Dak Prescott had 725) and more than 16 teams had totaled all season.  The Florida transfer added 41 yards to that total in BC's game against Louisville, his lowest out put of the season.
1942 — Last year Georgia scored more points in an SEC game than UGA did in Saturday's 63-31 win over Kentucky.  In that 1942 game, they beat Florida 75-0.
1956-57 — Prior to 2013-14, the last time Duke was ranked in the Associated Press Top 25 in back-to-back seasons.
1967 — Last year Minnesota won both the Little Brown Jug (Michigan) and Floyd of Rosedale (Iowa) rivalry trophies in the same season.
2,951 — Career receiving yards for Amari Cooper, breaking Alabama's all-time record (DJ Hall, 2,923, 2004-07).  Cooper also broke Julio Jones' school record for single season receiving yards (1,133) in 2010, and now has 1,215 with three regular season games plus at least one postseason game remaining.