Despite continuing to win games, Florida State could not hold on to the second spot in this week's College Football Playoff rankings. The Oregon Ducks moved into the second spot in the rankings ahead of undefeated Florida State following a road win at Utah. Mississippi State remains atop the ranking this week for the third straight week.
TCU also moved into the top four to round out the top four spots in the College Football Playoff ranking. Alabama and Arizona State are this week's first two teams out.
Here is this week's ranking, according to the College Football Playoff selection committee.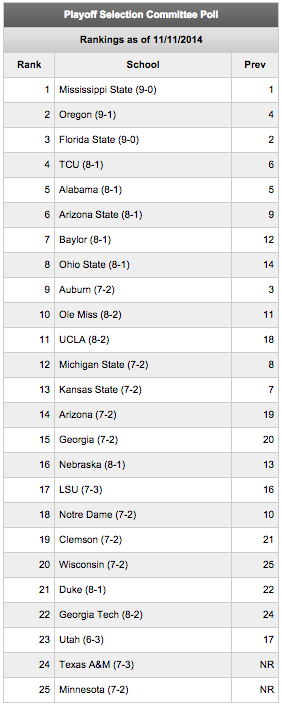 Some quick observations and thoughts…
Once again, a reminder this is not a finished product and there will still be some scores settled on the field before we can take these rankings as a faithful projection of which four teams will play in the first College Football Playoff. So when you see Mississippi State and Alabama both appearing in the top five, keep in mind this is very likely to change this week after Alabama and Mississippi State play. The question that may be worth asking is how far Mississippi State would fall if they lose at Alabama. Alabama would be a lock to appear in the top four with a win, but could Mississippi State all of a sudden fall out fo the top four with one loss, on the road, against a top-four Alabama?
Oregon over Florida State?
This is what happens when the selection committee respects one conference more than the other. There is not much other way to explain why a one-loss Oregon would have passed an undefeated Florida State. The Seminoles may have been lacking in consistent dominance, but they have managed to respond under a variety of situations this season to keep their perfect record going. Oregon's lone loss was at home to Arizona, but the Pac-12 is clearly a more respected conference right now than the ACC. In addition to a handful of quality Pac-12 wins, Oregon also has a victory over Michigan State, which still carries more weight than Florida State's neutral site victory over Oklahoma State and home win against Notre Dame.
So, about TCU and Baylor…
Clearly the selection committee is still favoring TCU after getting through the toughest spots on its schedule to this point with one loss. Of course, that lone loss came against Baylor. Baylor's last few games likely present a tougher stretch than what TCU will play, so there could still be a chance to see the feeling about the Big 12 leaders change.
Is there time for Ohio State or Nebraska?
With the way this week's rankings played out, absolutely. Of course, neither team can afford another loss. Ohio State moved into striking distance and now gets a game against another top 25 team according to the committee. Minnesota checking in at No. 25 gives Ohio State one more respected opponent. As long as Ohio State continues to win, they will have wins on the road against Michigan State, Minnesota and could add another against a ranked Nebraska or Wisconsin in the Big Ten championship. The Buckeyes may still need a little help from around the country though, but the path to a playoff spot is realistic enough to discuss.
The same holds true for Nebraska, although the Cornhuskers may need just a slight bit more help.
The committee loves UCLA
UCLA has been one of the shakiest two-loss teams this season, but that 62-point outburst at Arizona State sure looks better and better as Arizona State continues to climb the rankings. Ona  related note, Utah is still in the top 25 in the eyes of the committee despite losing two straight games (to Arizona State and Oregon)
Still no Group of Five
Another week, still no Marshall. Where the selection committee ranks teams like Marshall and Colorado State and Boise State and East Carolina remains a mystery to the public. This is a bit frustrating for fans of these schools, not knowing where their team stands in the race for an access bowl spot. Eventually, the committee will have to make this insight available, but there is no rush to do that just yet. We only need an official update for the final rankings to determine which Group of Five conference champion is going to a big bowl game.