As is the case each and every season, each and every week, any omission below is not on purpose, it's merely intentional.
PROJECTING CFP TOP FOUR
Thanks to fifth-ranked Alabama's win over top-ranked Mississippi State and sixth-ranked Arizona State's upset loss at Oregon State, there will certainly be a shakeup when the College Football Playoff committee releases its updated Top 25 rankings this Tuesday night.
Just how big of a shakeup?  That's hard to say, if for nothing more than we have very little data on the the 13-person group's thought process.
The Tide was leapfrogged by No. 4 TCU last week, seemingly because of the strength of the latter's résumé.  Nothing, though, quite strengthens the ol' résumé like a win over the No. 1 team in the country.  Mix in the Horned Frogs struggling on the road against lowly Kansas, and that Big 12 school will likely find itself on the outside of the Fine Four.  So will another from that conference, Baylor, thanks to its strength of schedule, or lack thereof.
Speaking of résumés, No. 3 Florida State's took a significant shot this weekend.  FSU has what some would've consider three quality wins this season, Clemson, Notre Dame and Louisville; those first two teams suffered bad losses in Week 12, meaning the Seminoles, despite being undefeated, could find themselves at No. 4 when the rankings are released.  Some "experts" have even suggested they could be outside the Top Four entirely.  While the latter scenario seems far-fetched, the former certainly isn't.  Remember, the committee moved one-loss Oregon ahead of FSU in the last set of rankings.
It would not be surprising at all to see the Tide, No. 2 Oregon and, yes, the Bulldogs ahead of the 'Noles come Tuesday night.  MSU's résumé is certainly much stronger than FSU's, with wins over LSU, Auburn and Texas A&M surpassing anything the team from Tallahassee has done this season.  The Bulldogs, though, lost some luster aside from its first loss as each of those teams mentioned as quality wins lost in Week 12.
The other one-loss team in the Top Ten, No. 8 Ohio State, simply doesn't have the strength of schedule to move up more than the one spot ASU's loss hands them.  Plus, they have the albatross that is the still-inexplicable loss to Virginia Tech earlier in the year hanging around its neck, although some — some — of the stink of that loss came off as Tech upset No. 21 Duke earlier today.
Again, it'll all come down to what the committee values more: overall résumé or overall record.  As we saw last week, it was decidedly the former, so I'm predicting the Top Four come Tuesday will look like this:
1. Alabama
2. Oregon
3. Mississippi State
4. Florida State
I'm not saying it's right, and I'm not saying it's what I would do — scroll down a little to see who would be in my Top Four — I'm just saying it's how I think the committee will look at the current state of the top of its rankings.  Or not.  One of the two.
CONFERENCE CHASE CLARITY
Well, for the most part.
With 12 weeks in the books, and just two more remaining in the regular season (three if you're the Big 12), more than half of the nine Power Five division/league races have either been claimed (ACC Atlantic,  Pac-12 North) or have a very clear front-runner (Big Ten East, SEC East, SEC West).
The Big 12, Big Ten West and Pac-12 North, however, remain a relative mess in comparison.
Below is a look at where each Power Five division/conference stand heading into Week 13.
ACC
Atlantic
Thanks to its win over Miami in Week 12, Florida State will be making its third straight appearance in the ACC championship game as it officially clinched the Atlantic division title.  It will also be the Seminoles' fourth appearance in the last five league title tilts.  Incidentally, FSU would've clinched the Atlantic even with a loss in South Florida as Clemson, playing without star true freshman quarterback  Deshaun Watson for most of the game, was embarrassed by Georgia Tech.
Coastal
Because of its head-to-head win over Georgia Tech (6-2, conference schedule complete), Duke (4-2) would win the division with home victories over 5-5 North Carolina and 2-8 Wake Forest.  A loss in either of those games, however, and the title — and an unlikely spot in the ACC title game vs. the Seminoles — would go to the Yellow Jackets.  The loss to FSU Saturday night, incidentally, officially eliminated Miami (3-3) from divisional contention.
BIG TEN
East
All Ohio State (6-0) has to do to clinch the division is beat either 3-7 Indiana or 5-5 Michigan, both in Columbus, the next two weeks in order to make it back-to-back trips to the Big Ten championship game.  OSU would also wrap up the division with one Michigan State loss; the Spartans (5-1) close out the season with a home game against 6-4 Rutgers and a road trip to 6-4 Penn State.
West
Entering the weekend with four teams that did, Wisconsin (5-1), Minnesota (4-2) and Iowa (4-2) still are the West contenders that control its own destiny.  The latter, however, is sitting in the driver's seat.  If the Badgers, regardless of what anyone else does,  wins its last two games — Iowa, Minnesota — they claim the division.  The Gophers (4-2) can win the West by beating Nebraska and Wisconsin in back-to-back weeks to close out the season, regardless of what anyone else does.  All the Hawkeyes would have to do is beat the Badgers and the Cornhuskers, again regardless of what anyone else does.  Because of the head-to-head that favors UW with today's loss to the Badgers, the Cornhuskers would need to win out — Gophers next week, Iowa in finale — while the Badgers lose out.  Incidentally, with the Week 12 results and as confirmed by a conference official, a three-way tie is no longer possible.
BIG 12
Three teams will head into Week 13 with just one loss in conference play: TCU (6-1), Baylor (5-1) and Kansas State (5-1).  Here's each team's remaining schedule:
BU: vs. Oklahoma State (Nov. 22) vs. Texas Tech (Nov. 29), vs. Kansas State (Dec. 6)
KSU: at West Virginia (Nov. 20), vs. Kansas (Nov. 29), at Baylor (Dec. 6)
TCU: at Texas (Nov. 27), vs. Iowa State (Dec. 6)
Kansas State currently holds the head-to-head tiebreaker on Baylor, while Baylor holds it on TCU and TCU holds it on Kansas State.  If everything goes to form, all three will head into Week 14 with a 7-1 conference mark.  That would mean if Baylor beats Kansas State, and TCU beats Iowa State, Baylor would win the Big 12.  If Kansas State beats Baylor, and TCU beats Iowa State, TCU would win the conference.  In other words, the Bears and Horned Frogs are in the co-driver's seat while K-State has to hope either Texas or Iowa State upsets TCU to have any chance.
PAC-12
North
The Oregon Ducks clinched one of the two spots in the Pac-12 championship with its Week 11 win over Utah.  This will mark the Ducks' first league title-game appearance since the inaugural one in 2011.
South
This is as messy a division as there is in college football as four teams head into Week 13 with two conference losses: USC (6-2), UCLA (5-2), Arizona State (5-2) and Arizona (5-2).  The former two play each other next week, the latter to the week after; those two games will likely pare the possibilities down to two.  ASU owns the head-to-head tiebreaker over USC, but not UCLA.  Both USC and UCLA hold that tiebreaker over UA.  The bottom line is that, if UCLA wins out, it will represent the South vs. the North.  Anything other than that makes my head begin to hurt and, as it's 2:30 ET Sunday morning, I'm done with this divisional noise.
SEC
East
Georgia (6-2) posted a huge win over Auburn Saturday night, but it's Missouri (5-1), still, in the East driver's seat.  UGA has completed conference play, so the math on this one is simple: if Mizzou beats 5-5 Tennessee in Week 13 and 5-5 Arkansas in Week 14, it's the Tigers who will be making their second straight trip to the league title game.  However, because of UGA's head-to-head tiebreaker, if Mizzou trips up at least once the Bulldogs would go to Atlanta for the third time the last four years.
West
There are four potential outcomes in this three-school race, and two of them favor the team from Tuscaloosa. If Alabama (6-1) beats Auburn in the Iron Bowl, the Tide heads back to the SEC championship game. If Alabama loses the Iron Bowl, but Mississippi State (5-1) loses to either Vanderbilt or Ole Miss, the Tide takes the title courtesy of Saturday's win over MSU. If Alabama loses the Iron Bowl, and Mississippi State beats both Vanderbilt and Ole Miss, MSU heads to Atlanta as West champs.  If Alabama loses the Iron Bowl, and if Mississippi State loses the Egg Bowl, Ole Miss would get the West nod — provided the Rebels survive this Saturday's road trip to Arkansas, of course.  Auburn (4-3) was officially eliminated from contention thanks to its loss to Georgia.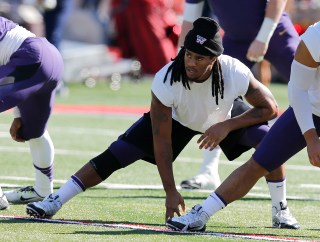 HEISMAN LOVE SHAQ?
I've been just as negligent as most everybody else on this front, but it's time to rectify that wrong.
Entering Week 12, Shaq Thompson had been nothing short of sensational two ways to Saturday… and I mean that quite literally.  Through the first 11 weeks of the 2014 season, the Washington junior was the Huskies' leading rusher with 456 yards.  Oh, and that's just during his "side" job; in his "regular" job, as a linebacker, he was the team's fourth-leading tackler.  Even more impressive?  He's scored six touchdowns in 2014… and four of them have come while he's been on the defensive side of the ball.
His defensive prowess, which was his primary focus in Week 12, alone should garner him some level of stiff-armed attention.  Add in more-than-ably filling in at an offensive position riddled with injuries, and, well, the argument grows stronger.
I don't know if the running-backer — or, running-Shaqer if you will — should or shouldn't get a mid-December invite to New York City for the Heisman Trophy ceremony; what I do know, though, is that he should be more a part of the discussion than he currently is.
SATURDAY RESET
Below is a list of links for all of the Week 12 posted by the CFT crew, placed in one handy and convenient space for you, our beloved and dear readers.
In one fell swoop, Mississippi State lost control of the SEC West and Dak Prescott saw his Heisman chances fade away as Alabama claimed a huge win that could very well propel them to No. 1 in the rankings.
It wasn't pretty, and it was extremely close, but Florida State just does what Florida State does — win — in snatching a 30-26 win over Miami from the jaws of defeat.
Chaos reigns in the Pac-12 South thanks to Arizona State's upset loss at the hands of Oregon State.
Melvin Gordon rumbled over, through, around and back over again the Nebraska defense in setting an FBS record with 408 yards rushing.  Oh, and UW grabbed control of the Big Ten West in the process.
Ohio State kept its stranglehold on the Big Ten East and stayed within earshot of a College Football Playoff berth with its not-as-close-as-it-looked win over Minnesota in the Minneapolis snow and cold.
Missouri maintained control of the SEC East with a hard-fought win over Texas A&M.
An impressive win over reeling Auburn could prove to be costly for Georgia as Todd Gurley, in his first game back from a four-game suspension, sustained what some are fearing is a significant knee injury.
If only by default, Duke maintained control of the ACC Coastal race despite the upset loss to Virginia Tech.
Michigan State bounces back from a tough loss to Ohio State last weekend with a romp over Maryland this weekend.
Florida can't put game away as South Carolina blocks Gators' hopes of becoming bowl-eligible.
Washington fumbles away a chance to upset Arizona, with the Wildcats kicking a field goal late to claim a 27-26 win.
CFT TOP FIVE
A snapshot look at how my ballot would look Sunday if I, ya know, had a real vote.
1. Florida State — Unlike the committee, I value a Power Five team that can make its way through its schedule without taking a hit in the loss column.  Is it FSU's fault that Oklahoma State and Clemson are down this season, or that Notre Dame tripped all over itself against Northwestern?  Of course not.  Thus, the Seminoles move into the No. 1 spot vacated by Mississippi State, although the struggle against Miami made the slotting a little more uncertain. (Last week: No. 2)
Next up: vs. Boston College, Nov. 22
2. Alabama — You beat the No. 1 team in the country, and you do so convincingly — the five-point win belied just how much better of a team UA was than MSU — you deserve to climb above all the other one-loss teams. With what's essentially a scrimmage that counts next week, the Tide has two weeks to get ready for an Iron Bowl in which Auburn will be playing the ever-dangerous role of spoiler. (Last week: No. 4)
Next up: vs. Western Carolina, Nov. 22
3. Oregon — It's not you, Ducks, it's the Tide's win.  The bye weekend came at an excellent time for the wounded Ducks as they look to finish out the season strong and get ready for the Pac-12 title game in early December. (Last week: No. 3)
Next up: vs. Colorado, Nov. 22
4. Mississippi State — When comparing two teams with the same record, the résumés certainly come into play.  MSU's is vastly superior to the team immediately south of them, which is why it's MSU and not the Big 12 slotted here. In all honesty, however, Arizona State had initially been penned in here before they were stunned in Corvallis. (Last week: No. 1)
Next up: vs. Vanderbilt, Nov. 22
5. Baylor — They beat TCU, they get the remaining spot.  However, it's a tenuous placement as I very nearly slotted Ohio State here.  And, to be blunt, I probably should've as the Buckeyes' case is ever-so-slightly stronger than the Bears.  For now, though, it's BU's spot to lose. (Last week: No. 5)
Next up: vs. Oklahoma State, Nov. 22
(Dropped out: None)
HEISMAN RACE, BY THE NUMBERS
A statistical look at how some of the top contenders for this year's stiff-armed trophy fared this past week. Also, each week at least one name will be sliced from a list that began in Week 6 at a baker's dozen and, if need be, names will be added as well.
J.T. Barrett, QB, Ohio State (9-1, No. 8)
Saturday: 15-25 (60%), 200 yards, three touchdowns, one interception; 189 rushing yards, one touchdown
Season: 165-258 (63.9%), 2,356 yards, 29 touchdowns, eight interceptions; 771 rushing yards, nine touchdowns
Trevone Boykin, QB TCU (9-1, No. 4)
Saturday: 26-36 (72.2%), 330 yards, one touchdown, one interception; two rushing yards
Season: 229-386 (59.3%), 3,021 yards, 24 touchdowns, five interceptions; 548 rushing yards, seven touchdowns
Rakeem Cato, QB, Marshall (9-0, unranked)
Saturday: 23-37 (62.2%), 297 yards, four touchdowns, one interception; 12 rushing yards
Season: 168-284 (59.1%), 2,613 yards, 26 touchdowns, one interceptions; 359 rushing yards, six touchdowns
Amari Cooper, WR, Alabama (9-1, No. 5)
Saturday: eight receptions, 88 yards, one touchdown
Season: 87 receptions, 1,303 yards, 11 touchdowns; 14 rushing yards
Melvin Gordon, RB, Wisconsin (8-2, No. 20)
Saturday: 25 carries for 408 yards (16.3 ypc), four touchdowns
Season: 223 carries for 1,909 yards (8.6 ypc), 23 touchdowns; 11 receptions, 83 yards, two touchdowns
Marcus Mariota, QB, Oregon (9-1, No. 3)
Saturday: bye week
Season: 186-277 (67.1%), 2,780 yards, 29 touchdowns, two interceptions; 524 rushing yards, eight touchdowns; one reception, 26 yards, one touchdown
Shaq Thompson, LB/RB, Washington (6-5, unranked)
Season: 61 tackles, one interception, three fumble recoveries, three forced fumbles, four touchdowns (three fumble returns, one interception return); 61 carries for 456 yards (7.5 ypc), two touchdowns; four receptions, 56 yards
Jameis Winston, QB, Florida State (10-0, No. 3)
Saturday: 25-42 (59.5%), 304 yards, one touchdown, one interception; three yards rushing
Season: 221-336 (65.8%), 2,844 yards, 18 touchdowns, 12 interceptions; 63 rushing yards, three touchdowns
(Dropped out: Nebraska running back Ameer Abdullah, Miami running back Duke Johnson, Mississippi State quarterback Dak Prescott)
(Added: Washington linebacker/running back Shaq Thompson)
JT's Personal Top Fivesman
1. Mariota (and, yes, Gordon's huge day made it closer)
2. Gordon
3. Barrett
4. Cooper
5. Boykin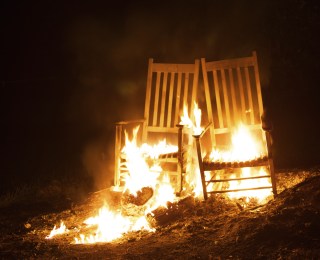 COACHING HOT SEAT
My weekly look at a couple of the current head coaches who could be ex-head coaches by season's end — if not sooner.
1. Will Muschamp, Florida
The end has to be near, right?  Any momentum gained from the monumental upset in The World's Largest Outdoor Cocktail Party was washed away in a sea of late mistakes that cost the Gators a home win against South Carolina.  When you're a bad team trying to put away a mediocre one, you can't afford a blocked field goal and a blocked punt in the fourth quarter.  That falls squarely on the shoulders of the coaching staff, and served as a symbol of the Muschamp error era in Gainesville.  The end is nigh, it's just a matter of the timing.
2. Brady Hoke, Michigan
The Wolverines are just 7-11 the last 18 games, including an unacceptable 5-8 mark in Big Ten play.  They're just 2-5 against UM's biggest rivals, Ohio State and Michigan State, with the gap between them and their two biggest rivals as great as it's ever been.  Add in the firing of UM's athletic director, and Hoke's time in Ann Arbor is rapidly coming to an end.  In fact, we're now at the point where it's a matter of when, not if, the fourth-year coach is summarily dismissed.
3. Kliff Kingsbury, Texas Tech
I've said it before and I'll say it again: I don't know if Kingsbury is on the hot seat, but I do know that he would be if I were the athletic director, new contract or not.  With the loss to Oklahoma, Tech is now 3-7 and won't be playing in a bowl game for just the second time since 2000.  Since winning the first seven games of his tenure in Lubbock last year, including the first four Big 12 games, Kingsbury's Red Raiders have gone 4-11 overall and 1-11 in conference play.  Tech's lone Big 12 win since mid-October last year came against lowly Kansas, and two of their three non-conference wins came against FCS-level Central Arkansas (by seven points) and UTEP (by four points).  Is Kingsbury becoming the Anna Kournikova of college football, being all about "the physical package" than on-field substance?  The current trend says it very much appears that way.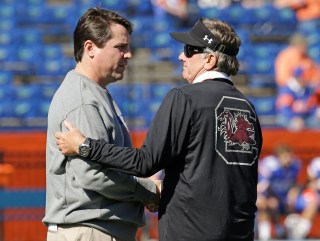 HE SAID IT
"I'm getting old when you start feeling for the other coach." — Steve Spurrier, following South Carolina's bizarre win over Florida.
HE SAID IT, THE SEQUEL
"Pretty good for someone who runs a 5.5 40… with a big tail." — Ohio State head coach Urban Meyer, talking about J.T. Barrett and his ample rump setting a school record with an 86-yard touchdown run against Minnesota.
HE SAID IT, THE THREEQUEL
"It's just like being in the playoffs now. We can't afford to lose." — Alabama head coach Nick Saban, proving once again that the Chicken Littles who spread the false fear that a playoff would hurt college football's regular season were full of…
HE SAID IT, THE QUADQUEL
"They told me it was cold. I told them it wasn't cold." — Texas head coach Charlie Strong, on his message to his Longhorn team prior to becoming bowl-eligible with the win over Oklahoma State.
HE SAID IT, BONUS EDITION
"There is no foul on the play. I accidentally threw my flag instead of the bean bag." — A Pac-12 official during the Arizona State-Oregon State game doing the most Pac-12 official thing ever.
HE WROTE IT
"I don't know if it will be this week or next or after FSU, but there seems to be no question Muschamp's magic act will soon close. You can't lose six of eight home games and survive. You just can't. The LSU loss earlier in the season was crippling. This loss Saturday to a mediocre South Carolina team was a killer." — Gainesville Sun columnist Pat Dooley, on the window rapidly closing on the tenure of Will Muschamp at Florida.
COAT OF THE YEAR
I have no idea what this coat is, what animal pelts it may or may not be made of, or pretty much any of the back story behind it.  That doesn't matter; just revel in its sheer majesty.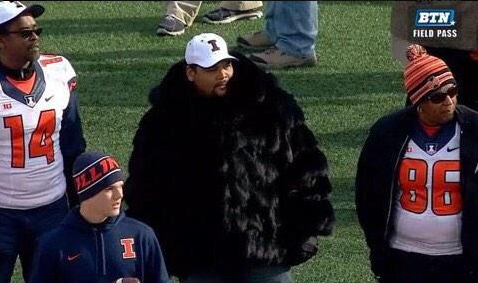 COAT/HAT OF THE CENTURY, DOG DIVISION
Smokey has long been one of my favorite college football mascots, right up there with Uga, the Mountaineer and Chief Osceola and Renegade.  After this picture, however, the UT mascot may have just taken overtaken the solo top spot.
DUDE OF THE DAY
Temperature in the teens, wind chills in the single digits — or worse — snow, the whole winter wonderland experience.  So, what's your go-to snack given those conditions? If you're a Minnesotan, it's ice cream of course.
OBC TROLL OF THE DAY
Steve Spurrier is simply the best, especially when he's trolling Clemson.
ONSIDE KICK OF THE DAY
The recovery of an onside kick is not rare enough that it deserves much if any mention.  When such a kick is successful at the start of a game?  Yep, we'll highlight it.
CONCENTRATION OF THE DAY
In Kansas' near-upset of TCU, Nigel King went and did this.
STREAKING
Florida State has won a nation's best 26 straight games, a record for an ACC school and tied for 17th all-time with Nebraska (1994-96), Cornell (1921-24), and Michigan (1903-05).  The Seminoles' last loss came Nov. 24, 2012, a 37-26 home setback to in-state rival Florida, and FSU has won 19 of those 26 games by at least 14 points.  With Mississippi State 11-game streak coming to a screeching halt, Marshall, at 11 in a row, is the only other FBS team with a double-digit winning streak, although Colorado State and Ohio State at eight are gaining on it.
SMU's 11 straight losses serve as the longest losing streak in the country, and they remain the only winless team at the FBS level in 2014.  Georgia State, meanwhile, has lost nine in a row after opening the 2014 season with a win.
GOING BOWLING
For the sixth consecutive week, six or more teams officially qualified for postseason play.  There are now 60 teams eligible for the 76 spots in this year's 38 bowl games, with three weeks remaining before bids are handed out.  Below are the nine teams that hit the six-win minimum this week.
BYU (accepted invitation to play in inaugural Miami Beach Bowl)
Cincinnati
North Carolina State
Penn State
Rutgers
South Alabama
Texas
UCF
UTEP
SID NOTE OF THE WEEK
Wisconsin's Melvin Gordon set a school, Big Ten and FBS record with 408 rushing yards on 25 carries (16.3 ypc). The NCAA single-game record was 406 rushing yards by TCU's LaDainian Tomlinson vs. UTEP, Nov. 20, 1999. The Big Ten record was 377 set by Indiana's Anthony Thompson at Wisconsin on Nov. 11, 1989. The school record was 339 yards by Ron Dayne in 1996 against Hawaii.
S.I.D. NOTE OF THE WEEK II
The Gophers were 8-3 in their last 11 Big Ten games entering Week 12. The 8-3 mark is the best record for Minnesota in an 11-game conference stretch since it also went 8-3 from Nov. 4, 1967 – Nov. 23, 1968. The Gophers lost the 12th game in each case, though, to Indiana in 1969 and to Ohio State in 2014.
S.I.D. NOTE OF THE WEEK III
By allowing 45 points at Oregon Nov. 1, Stanford saw a streak of holding teams below 30 points end at what was then a nation-best 31 games. Since 2004, there have been only three longer streaks of holding opponents under 30 points — Alabama (36 from 2004-06), Alabama (35 from 2010-13) and Iowa (32 from 2007-10).
S.I.D. NOTE OF THE WEEK IV
Utah State is the only team at the FBS level with five players who have thrown at least two touchdown passes on the season in quarterback Darell Garretson (8), quarterback Craig Harrison (3), quarterback Kent Myers (4), quarterback Chuckie Keeton (2) and wide receiver Ronald Butler (2). Additionally, the Aggies are the only team in the country to have four different starting quarterbacks win at least one game in 2014.
S.I.D. NOTE OF THE WEEK V
Northern Illinois has set the MAC record for consecutive bowl appearances by a member of the conference. The Huskies current six consecutive bowl appearances is the best-ever in the 67-year history of the league. Beyond appearing in six consecutive bowl games, the Huskies will have done so with four different head coaches — Jerry Kill (2008, 2009), interim Tom Matukewicz (2010), Dave Doeren (2011) and current Head Coach Rod Carey (2012, 2013).  At 8-2, the Huskies are bowl-eligible for a seventh straight year and the third straight under Carey.
OFF THE CHARTS
The winningest football programs this decade entering Week 12, courtesy of the South Carolina sports information department: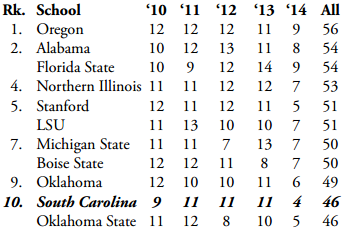 OFF THE CHARTS, THE ENCORE
Freshman participation chart through Week 11, courtesy of the North Carolina State sports information department: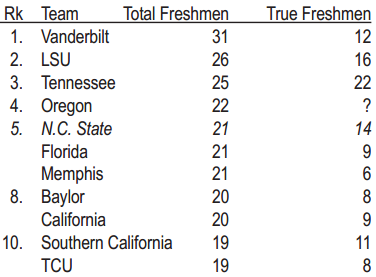 SAY WHAT?
(This is from the Hawaii sports information department. Don't say I never learned ya anything unrelated to college football.)
What's that punctuation mark in the word Hawai'i? In the Hawaiian language, it's called an 'okina, which translated literally means separator. Phonetically it is referred to as a glottal stop, similar to the sound that would be made in the English "oh-oh." The 'okina is actually a letter in the Hawaiian language.
DULY NOTED
There are two active FBS players with more than 1,500 career rushing yards and 1,000 receiving yards: Arizona State's D.J. Foster (1,866 rushing yards, 1,713 receiving yards) and Illinois' Josh Ferguson (1,724, 1,118).
DID YOU KNOW THAT…
… prior to Baylor this year, the last team to beat Oklahoma in Norman and Texas in Austin the same season was Nebraska in 1960?
… only five schools — Alabama, Florida State, LSU, Oregon and South Carolina — have been ranked in the Associated Press preseason Top 12 each of last four years? The Tide, Ducks and Gamecocks are the only ones that have finished there all three seasons; only UA and UO of those three are currently there this season.
… entering Week 12, Ohio State was No. 1 in its own starting field position (39-yard line), No. 2 nationally in opponents' starting position (25) and No. 1 in starting position difference (14 yards)? No other team has even a 10-yard difference.
… Oklahoma is the only FBS team to allow less than 160 rushing yards in every game this season?
… Arkansas has faced seven consecutive SEC teams that have been ranked in the Associated Press Top 25?  Saturday's game against No. 20 LSU, however, snapped a streak of five straight conference games against Top 10 teams.
… Navy has not finished worse than sixth in rushing offense since 2002 and have been No. 1 four of those years?  The Midshipmen currently lead the country in rushing once again.
… LSU is now 26-2 following a loss under head coach Les Miles? The Tigers had lost back-to-back games only one time under Miles, those coming in 2008 to Ole Miss and Arkansas, before losing this weekend to Arkansas after falling to Alabama last week.
… North Carolina has 24 touchdown passes thrown by five different players, but only two of those are quarterbacks?  The quarterbacks are Marquise Williams (18) and Mitch Trubisky (3), while wide receivers Ryan Switzer and Quinshad Davis and punter Tommy Hibbard have tossed one apiece.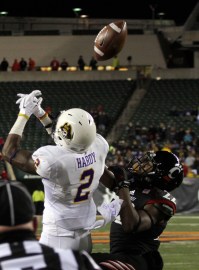 … East Carolina's Justin Hardy has caught at least two passes in every career game he's played, a streak that currently stands at 45 straight contests?
… Utah State wide receiver Hunter Sharp leads the nation with four touchdown receptions of 70-plus yards (81, 72, 75, 70) in 2014 and is one of just two FBS players the last five years to accomplish this feat (USC's Marqise Lee, 2012) in a single season?
… Wake Forest linebacker Brandon Chubb is the older brother of North Carolina State linebacker Bradley Chubb, and that both are the cousins of Georgia running back Nick Chubb? Brandon and Bradley's father and Nick's uncle, Aaron Chubb, played linebacker at UGA.
… Chris Shula is the defensive coordinator John Carroll University, a Div. III football program whose stadium bears the name of his grandfather Don Shula?  The 28-year-old coach is also the son of former Cincinnati Bengals head coach Dave Shula and the nephew of former Alabama head coach Mike Shula.