A statistical snapshot of the week that was in college football…
-12.8 — Negative pass efficiency rating for Cole Stoudt in Clemson's 22-point loss to Georgia Tech.  Stoudt, playing in place of the injured Deshaun Watson, completed 3-of-11 passes for 19 yards, no touchdowns and three interceptions.  Two of those picks were returned for touchdowns by the Yellow Jackets.
.628 — Winning percentage of visiting teams in Pac-12 road games (27-16) this season.
.869 — Nebraska's winning percentage in home games since 1990 (146-22), the top mark in the country.  Florida State is next up at .856 (121-20-1).
0 — Number of both points and punts for San Jose State in its loss to Hawaii.  The Spartans' 11 drives ended on downs three times; with missed field goals three times; with turnovers three times; and the end of the half/game twice.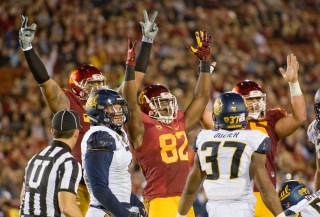 1 — Number of touchdowns scored by USC seniors this season, which came Thursday night in the win over Cal on tight end Randall Telfer's 15-yard scoring catch.
4 — Receptions East Carolina's Justin Hardy needs to surpass Oklahoma's Ryan Broyles' FBS record of 349 career catches.  Hardy, with 346 receptions, has three regular season games plus a bowl game to eclipse Broyles' mark set from 2007-11.
4-26 — South Carolina's record vs. Florida from 1911-2009.  Since then, the Gamecocks own a 4-1 mark against the Gators.
5 — Wins vs. teams ranked No. 1 in the Associated Press poll for Alabama's Nick Saban, breaking the tie for most all-time he had been in with Jimmy Johnson, Jack Mollenkopf, Joe Paterno and Lou Holtz.
13 — Consecutive road games won by Ohio State, the longest such streak in the country.  Missouri has won nine in a row on the road.
14 — Interceptions thrown this season by Penn State's Christian Hackenberg on 373 attempts, one year after tossing 10 in 392 attempts.  Additionally, the true sophomore has completed less than 50 percent of his passes in three straight games.
17 — Consecutive road losses for Hawaii prior to the win over San Jose State Saturday night.  That streak had been the longest in the country.
17 — Consecutive SEC losses for Arkansas before the win over LSU.  Prior to that, the Razorbacks' last conference win was Oct. 13, 2012, against Kentucky.
32.1 — Percentage of 28 passes completed by Dane Evans in Tulsa's 31-7 loss to UCF Friday night, the lowest of his career.  Evans also tossed three interceptions and totaled just 69 passing yards in accumulating a career-low pass efficiency rating of 43.2.
34-0 — Oklahoma's regular season record the game after a loss since 2004.  The last time the Sooners lost back-to-back regular season games was in 1999, Bob Stoops' first year in Norman.  Those losses were to Notre Dame by four and to Texas by 10.
42 — Days between Georgia's fourth home game of the season at Sanford Stadium (Oct. 4 vs. Vanderbilt) and its fifth (Nov. 15 vs. Auburn).
50 — Career starts for Michigan State defensive end Marcus Rush, setting a school record for a player at any position.
53 — Consecutive games for Iowa without a missed or blocked extra point, the longest streak of any school in the nation.
92 — Consecutive games in which Stanford has scored at least 10 points, the longest current streak in the country.
190.9 — Rushing yards per game Wisconsin's Melvin Gordon is averaging this season, which is more than 82 FBS teams average per contest.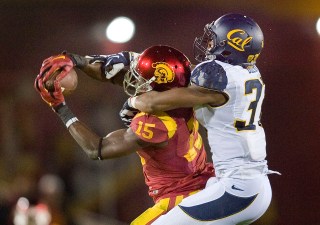 214 — Yards receiving for Nelson Agholor in USC's win over Cal Thursday night.  That gives Agholor back-to-back 200-yard receiving games (220 vs. Washington State), the first time a Trojan has ever turned that trick.
+221.4 — The differential between rushing yards gained vs. rushing yards allowed by Wisconsin entering Week 12, the best mark in the country by far (Navy's +174.3).  That differential will only increase exponentially as UW outgained Nebraska 581-118 on the ground.
277 — Rushing yards for Navy quarterback Keenan Reynolds in the win over Georgia Southern.  Incidentally, those two teams combined for 769 yards rushing and just 144 passing.
307 — Rushing yards for Indiana's Tevin Coleman in the 45-23 loss to Rutgers.  In.  A.  Loss.
316.8 — Pass efficiency rating for Zach Terrell in Western Michigan's 51-7 win over Eastern Michigan.  Terrell only misfired on two of his 19 passes, throwing for 357 yards and four touchdowns.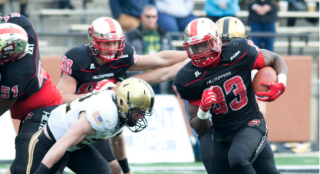 345 — Rushing yards for Western Kentucky's Leon Allen, making him the third player to top the 300-yard mark in Week 12.  Prior to Week 12, no FBS player had rushed for more than 300 yards in a single game this year.
424 — Passing yards for Blake Frohnapfel in UMass' 24-10 win over Ball State Wednesday night.  Frohnapfel, who didn't throw a touchdown pass in the contest oddly enough, has now thrown for more than 400 yards three times this season, including a 589-yard effort in late September.  This was the first game, however, the Minutemen won during one of the senior's 400-yard games.
436 — Career-high passing yards for Gunner Kiel as Cincinnati became bowl-eligible with a Thursday night win over East Carolina.
472 — Career-high passing yards for Pete Thomas in Louisiana-Monroe's loss to Louisiana-Lafayette.  His previous career-high was 387 in 2011 when he was at Colorado State.
483 — Rushing yards for Pittsburgh's James Connor the past two games, 220 in Week 12 and 263 in Week 10.  Oddly enough, the Panthers lost both games.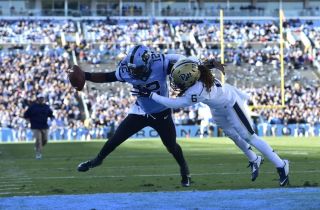 628 — Rushing yards for North Carolina's Marquise Williams, setting the school's single-season record for a quarterback previously set by Jim Lalanne in 1940 (541).
670 — Rushing yards for Melvin Gordon on 34 carries spanning two career games against Nebraska, a ridiculous 19.7 yards per carry.
1941 — Last year Temple beat Penn State on the gridiron.  Since then, the Owls are 0-38-1, including Saturday's setback to the Nittany Lions.
1950 — Last football meeting between Maryland and Michigan State prior to Saturday night's encounter.
1960 — Prior to Saturday's game against UTSA, Southern Miss' last game in the city of San Antonio.  The Eagles, though, suffered their first loss in the city, dropping their all-time record there to 4-1.
1999 — Last year both Oklahoma and Texas were unranked in the Associated Press poll before Week 12 of the 2014 season.