As is the case each and every season, each and every week, any omission below is not on purpose, it's merely intentional.
HISTORIC REPEAT
As it turns out, while Samaje Perine made history, the timeframe in which he did it wasn't historically unprecedented.
In Oklahoma's win over Kansas, Perine set the FBS single-game rushing record with 427 yards.  That performance broke the record of 408 set a week ago by Wisconsin's Melvin Gordon.  Most assumed Perine's breaking of a rushing record that was a week old had never happened before; Anthony Thompson would point out what the word "assume" makes out of all involved.
Back on Nov. 11, 1989, the Indiana running back's 377 yards broke the previous mark of 357 yards.  That record was first set by Washington State's Rueben Mayes in 1984 and tied by Cal State Fullerton's Mike Pringle on Nov. 4, 1989, exactly one week before Thompson broke it.
Below is how the FBS rushing record has progressed over the past four-plus decades:
347 — Ron Johnson, Michigan, 1968
350 — Eric Allen, Michigan State, 1971
356 — Eddie Lee Ivery, Georgia Tech, 1978
357 — Rueben Mayes, Washington State, 1984
357 — Mike Pringle, Cal State Fullerton, 1989
377 — Anthony Thompson, Indiana, 1989
386 — Marshall Faulk, San Diego State, 1991
396 — Tony Sands, Kansas, 1991
406 — LaDainian Tomlinson, TCU, 1999
408 — Melvin Gordon, Wisconsin, 2014
427 — Samaje Perine, Oklahoma, 2014
Perine was also second to Thompson in something else — percentage increase of the previous record.  Thompson bested the old mark by 5.6 percent;  Perine, meanwhile, topped Gordon's week-old record by 4.7 percent.
Some would say, though, the most impressive record belongs to Gordon.  The Badger back did his record-setting damage in three quarters of work and on just 25 carries; the only other players on that list with less than 30 carries were Ivery (26) and Allen (29).  Gordon's 16.2 yards per carry is easily the best mark among the group, with only Ivery (13.7) within three yards.   Perine did average 12.6 ypc, the third-best among that group of 11 players.
At the opposite end of the yards-per-carry spectrum were Thompson and Sands, who averaged 7.25 yards on 52 carries and 6.8 yards on 58 carries, respectively.
Of course, Perine is the only true freshman to break the record… and he did it in three quarters plus two fourth-quarter plays after not starting a game played in the rain… and he is the only player to rush for 200-plus yards in both halves of a game, all of which makes his performance arguably the greatest of all-time regardless of how you attempt to parse out the numbers.
PROJECTING CFP TOP FOUR
Unlike previous weeks, there was no upheaval around the top of the College Football Playoff Top 25 in Week 14.  The highest-ranked team to lose was No. 8 Ole Miss, and, with two losses, it's unlikely the Rebels were a realistic playoff option to begin with.
Thus, when the CFP committee releases its newest Top 25 Tuesday, there's likely to be no change in the all-important Top Four.  One potential asterisk, though — the committee could again drop unbeaten and third-ranked Florida State behind another one-loss team.  They did so two weeks ago after FSU's 14-point win over 4-6 Virginia; with FSU winning by three to a 6-5 Boston College squad, the possibility is certainly there.
Fourth-ranked Mississippi State's lone loss was to No. 1 Alabama, and MSU had little problem dispatching a bad Vanderbilt team in Week 13.  It would not be out of the question, then, for the Bulldogs to leapfrog the Seminoles.  That said, it's not going to happen this week.  I don't think.  Maybe.
Adding it all up, and realizing we still don't have much of a clue as to how the "Game Control Gang" shoots, here's what the CFP Top Four should look like come Tuesday night:
1. Alabama
2. Oregon
3. Florida State
4. Mississippi State
What's going to be interesting is that fourth spot over the next couple of weeks.
If — very strenuously stressing the word "if" — Alabama, Oregon and Florida State win out, they are virtual locks for three of the four spots at the playoff table.  All three are currently highly-ranked, would have either zero or one loss and would be conference champs, something the committee is expected to take into account when résumés are similar.  That would leave one spot for, presumably, four teams: Mississippi State, No. 5 TCU, No. 6 Ohio State and No. 7 Baylor.
Should all four of those teams win out — the whole "if" thing again, as well as assuming no two-loss team or teams would be under consideration — their résumés when it comes to wins over current CFP-ranked teams and wins vs. bowl-eligible teams would look thusly:
Baylor: three (TCU, Kansas State, Oklahoma) and four (those three, plus Texas; Oklahoma State is a possibility)
Mississippi State: two (Auburn, Ole Miss) and six (those two, plus Arkansas, LSU, South Alabama, Texas A&M; Kentucky and UAB are possibilities)
Ohio State: three (Michigan State, Minnesota, Wisconsin) and seven (those three, plus Cincinnati, Maryland, Rutgers, Penn State; Illinois and Navy are possibilities*)
TCU: two (Minnesota, Kansas State, Oklahoma) and five (those three, plus Texas, West Virginia; Oklahoma State a possibility)
In that scenario, MSU could be in trouble because of both its résumé when it comes to CFP-ranked wins and the fact that it wouldn't be a conference champion, while TCU could have issues because it lost head-to-head to Baylor.  That could very well mean the final spot may come down to Baylor and Ohio State.  If that were to be the case, the Buckeyes and the Big Ten would have to be very confident in the position in which they would sit for the four-team tourney.
Of course, losses by any of those four teams and/or any of the Top Three the next two weeks and all scenario hell breaks loose.  In other words, buckle up as it will still potentially be a bumpy ride over these next two weekends.
(*not considering Michigan as a possibility because, in the scenario, Ohio State wins out)
CONFERENCE CHASE CLARITY
13 regular-season weeks down, one — two if you're the Big 12 — to go.
Entering Week 14, both of the divisions in the ACC have been decided, as has the Big Ten East and Pac-12 North.  In the Big Ten West and both the SEC East and West, only two teams have a shot at claiming each division title.
The only divisions in which three teams still have a shot?  The Big 12 and Pac-12 South.
With that in mind, below are the updates as to where each of the Power Five divisional races stand.
ACC
Atlantic
Florida State (8-0) clinched the division title in Week 12, and will face Georgia Tech in its third consecutive ACC championship game.  It will also be the Seminoles' fifth appearance overall in the 10-year history of the contest, tied with Virginia Tech for the most in league history.  This year's game will be played Sat., Dec. 6 at Bank of America Stadium in Charlotte, NC.
Coastal
Thanks to Duke's loss to North Carolina Thursday night, Georgia Tech (6-2, conference schedule complete) claimed the division.  The Yellow Jackets will play in their second ACC championship game the last three years and their fourth overall.  The Blue Devils (4-3) would've won the Coastal by winning its last two games thanks to the head-to-head tiebreaker advantage over the Yellow Jackets.
BIG TEN
East
With the win over Indiana, Ohio State (7-0) clinched the division and will play in its second consecutive Big Ten championship game.  This year's game will be played Sat., Dec. 6 at Lucas Oil Field in Indianapolis, IN.  Michigan State (6-1) can still claim a share of the East title with a win and an OSU loss to Michigan next Saturday, but the Spartans' 49-37 loss to the Buckeyes in Week 11 gives OSU the head-to-head tiebreaker.
West
This is simple and very straightforward: the winner of the Week 14 matchup featuring Wisconsin (6-1) and Minnesota (5-2) will claim the West title and face OSU in the conference championship game.  Both Iowa (4-3) and Nebraska (4-3) were eliminated from contention with their Week 13 losses.
BIG 12
There was no scenario in which the Big 12 could've been clinched in Week 13, and there are no scenarios in which it can be clinched in Week 14, which means the conference champ will not be decided until Week 15.  There are three teams involved in the race, and all are at 6-1: Baylor, Kansas State and TCU.  The only type of clarity that could be offered next week is if Texas upsets TCU, which would leave the Baylor-Kansas State game the following week as the de facto league title game — provided the two get past Texas Tech and Kansas, respectively, in Week 14 of course.  However, if TCU beats Texas and Baylor and K-State handle their business as heavy wagering favorites, the following would be the scenarios for Week 15 in which each team could clinch:
Baylor: beats Kansas State; BU holds head-to-head over TCU
Kansas State: beats Baylor, TCU loses to Iowa State
TCU: beats Iowa State, Baylor loses to Kansas State; TCU holds head-to-head over K-State
PAC-12
North
Oregon (7-1) clinched the division title in Week 11 and will play (picks Pac-12 South team's name out of a hat) in the Pac-12 championship game, which will mark UO's first appearance since the inaugural one in 2011. This year's game will be played Friday, Dec. 5 at Levi's Stadium in Santa Clara, CA.
South
There was one scenario entering Week 13 in which the South would've been decided: USC beating UCLA combined with Washington State beating Arizona State.  Neither of those happened, and USC was eliminated, so the South is now a three-team race consisting of Arizona, Arizona State and UCLA, all of which are 6-2.  Below are the scenarios that need to happen for each team to clinch the division in Week 14.
Arizona: beats Arizona State, UCLA loses to Stanford.
Arizona State: beats Arizona, UCLA loses to Stanford
UCLA: beats Stanford; Arizona-Arizona State result wouldn't matter as UCLA holds head-to-head tiebreaker over both.
SEC
East
Georgia (6-2, conference schedule complete) beat Missouri (6-1) earlier this year, so the Bulldogs need a Tigers loss to a suddenly-revitalized Arkansas this coming Saturday to win the East.  A Mizzou win, however, would clinch the program's second straight appearance in the SEC championship game.  As an aside, if the latter happens, how deep into the offseason will UGA be kicking itself over that inexplicable loss to Florida?
West
If Alabama (6-1) beats Auburn in the Iron Bowl next Saturday, the Tide will play the East representative in the SEC championship game.  If UA falls, Mississippi State (6-1) would earn the trip to Atlanta with a win over Ole Miss in the Egg Bowl next weekend. The Tide owns the head-to-head over the Bulldogs, so a tie would go to UA.  The Rebels (4-3) eliminated themselves from contention with an embarrassing loss to Arkansas.
SATURDAY RESET
Below is a list of links for all of the Week 12 posted by the CFT crew, placed in one handy and convenient space for you, our beloved and dear readers.
CFT TOP FIVE
A snapshot look at how my ballot would look Sunday if I, ya know, had a real vote.
1. Florida State — Boy, Seminoles, you're making it harder and harder for me to argue on your behalf.  Yet another escape, this one at home to 6-5 Boston College, almost had me pulling the trigger on a drop down the rankings.  I will say, though, at least FSU played not only an FBS team but a Power Five conference member unlike some teams. (Last week: No. 1)
Next up: vs. Florida, Nov. 29
2. Alabama — You played an FCS team in Week 13; like momma said, if you don't have anything good to say don't say anything at all. (Last week: No. 2)
Next up: vs. Auburn, Nov. 29
3. Oregon — The status quo in my personal Top Five continues as the Ducks took care of their business against an overmatched Colorado.  The only thing standing between UO and a spot in the playoffs is the Week 14 rivalry game with Oregon State and the Pac-12 championship game against (throws darts at South teams names scrawled on wall). (Last week: No. 3)
Next up: vs. Oregon State, Nov. 29
4. Mississippi State — At least in 2014, there's not a much better way for an SEC team to bounce back from a tough loss than squaring off with wobbly Vanderbilt.  Next, however, comes one of the biggest Egg Bowls in the rivalry's history, with a potential SEC championship game appearance and playoff spot hanging in the balance. (Last week: No. 4)
Next up: at Ole Miss Vanderbilt, Nov. 29
5. Baylor — The Bears dispatched Oklahoma State with relative ease, and, with TCU idle and Ohio State struggling against Indiana, could very well find themselves sitting in the fifth spot when the CFP rankings are released Tuesday night. (Last week: No. 5)
Next up: at Texas Tech, Nov. 29
(Dropped out: None)
HEISMAN RACE, BY THE NUMBERS
A statistical look at how some of the top contenders for this year's stiff-armed trophy fared this past week. Also, each week at least one name will be sliced from a list that began in Week 6 at a baker's dozen and, if need be, names will be added as well.
J.T. Barrett, QB, Ohio State (10-1, No. 6)
Saturday: 25-35 (71.4%), 302 yards, four touchdowns, two interceptions; 78 rushing yards
Season: 190-293 (64.8%), 2,658 yards, 33 touchdowns, 10 interceptions; 849 rushing yards, nine touchdowns
Trevone Boykin, QB TCU (9-1, No. 5)
Saturday: bye weekend
Season: 229-386 (59.3%), 3,021 yards, 24 touchdowns, five interceptions; 548 rushing yards, seven touchdowns
Rakeem Cato, QB, Marshall (11-0, unranked)
Saturday: 20-38 (52.6%), 284 yards, two touchdowns, one interception; 41 rushing yards
Season: 188-322 (58.4%), 2,897 yards, 28 touchdowns, eight interceptions; 400 rushing yards, six touchdowns
Amari Cooper, WR, Alabama (10-1, No. 1)
Saturday: three receptions, 46 yards
Season: 90 receptions, 1,349 yards, 11 touchdowns; 14 rushing yards
Melvin Gordon, RB, Wisconsin (9-2, No. 16)
Saturday: 31 carries for 200 yards (6.5 ypc), two touchdowns; four receptions, 64 yards, one touchdown
Season: 254 carries for 2,109 yards (8.3 ypc), 25 touchdowns; 15 receptions, 147 yards, three touchdowns
Marcus Mariota, QB, Oregon (10-1, No. 2)
Saturday: 24-32 (75%), 323 yards, three touchdowns; 73 rushing yards, one touchdown
Season: 210-309 (68%), 3,103 yards, 32 touchdowns, two interceptions; 597 rushing yards, nine touchdowns; one reception, 26 yards, one touchdown
Jameis Winston, QB, Florida State (11-0, No. 3)
Saturday: 22-32 (68.8%), 281 yards, one touchdown, one interception; minus-four rushing yards
Season: 243-368 (66%), 3.025 yards, 19 touchdowns, 13 interceptions; 59 rushing yards, three touchdowns
(Dropped out: Washington linebacker/running back Shaq Thompson)
(Added: None)
JT's Personal Top Fivesman
1. Mariota — Gordon may have closed the gap with his record-setting performance in Week 12, but it's still Mariota's trophy to lose.
2. Gordon — Barring an inexplicable turn of events, Gordon is looking at the highest Heisman finish for a running back since Alabama's Mark Ingram won the award in 2009.
3. Barrett — Thanks to Winston and Johnny Manziel, what Barrett's doing as a redshirt freshman is not unprecedented; the circumstances that led him to the starting job in the first place is, though.
4. Cooper — Rewriting the school and SEC record books is impressive enough, but doing it with a first-year coordinator and deep stable of running backs makes his season all the more remarkable.
5. Boykin — You'd be hard-pressed to find a more improved player at any position in the country.  The fact that his team's winning certainly doesn't hurt Boykin's candidacy either.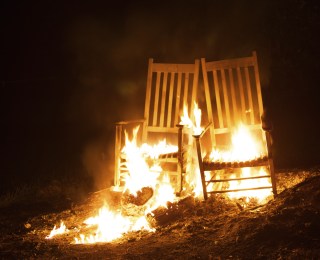 COACHING HOT SEAT
With Will Muschamp's firing, there are now five FBS head coaching jobs open.  Below is a look at a couple of more coaches who could find themselves in the coaching unemployment line at season's end  — if not sooner.
1. Brady Hoke, Michigan
Win totals that have gone from 11 his first year in 2011 to 8 to 7 to 5 this year during Hoke's four seasons in Ann Arbor, coinciding with the Wolverines' roster transitioning from Rich Rodriguez's recruits to Hoke's.  A 2-5 record against UM's chief rivals, Ohio State and Michigan State, with that record expected to drop to 2-6 this coming Saturday.  That's unacceptable for such a storied football program, and those in and around it continue to insist that it's a matter of when, not if, Hoke is canned.  At some point after The Game this Saturday, likely before the next weekend, Hoke will officially be ousted and the Wolverines will begin a search for its third head coach since Lloyd Carr stepped down in 2007.
2. Kevin Wilson, Indiana
With a 3-2 record to start the season, there was talk that Wilson had finally started turning around the Hoosiers football program.  With a six-game losing streak entering Week 14 — five of them by 16 or more points — the pitchforks are being gathered up and the torches lit in and around Bloomington.  IU is first and foremost a basketball school, but even a hoops-mad institution won't suffer a head coach with a 13-34 overall and 5-26 Big Ten mark for much longer; Bill Lynch, the man Wilson replaced, was 6-26 in Big Ten play before he and the university "parted ways."  A loss to Purdue this Saturday would be Wilson's third in four meetings with the in-state rival.  It would also probably be the last as Wilson likely wouldn't be able to survive the totality of his résumé despite a vote of confidence from his boss.
3. Kliff Kingsbury, Texas Tech
Lather, rinse and repeat from a week ago, with only the records changed to indict the guilty: I've said it before and I'll say it again: I don't know if Kingsbury is on the hot seat, but I do know that he would be if I were the athletic director, new contract or not.  With the win over Iowa State, Tech is now 4-7 and still won't be playing in a bowl game for just the second time since 2000.  Since winning the first seven games of his tenure in Lubbock last year, including the first four Big 12 games, Kingsbury's Red Raiders have gone 5-11 overall and 2-11 in conference play.  Tech's two Big 12 win since mid-October last year were against 3-8 Kansas and 2-8 ISU, and two of their three non-conference wins came against FCS-level Central Arkansas (by seven points) and 6-5 UTEP (by four points).  Is Kingsbury becoming the Anna Kournikova of college football, being all about "the physical package" than on-field substance?  The current trend says it very much appears that way.
HE SAID IT
"We lost because we didn't deserve to win. We didn't play well enough. We had too many busts. Our execution was subpar. Our tackling was horrendous. Too much leaky yardage. We beat ourselves in a lot of instances. We lost some opportunities, obviously on offense. Put the ball on the ground. Didn't take advantage of some opportunities." — Nebraska head coach Bo Pelini, following a home loss to Minnesota that knocked the Cornhuskers' out of contention for the divisional title.
HE SAID IT, THE SEQUEL
"It's definitely a little bit of redemption. It does feel good to have it off my back and move away from all the negatives of last week. I had a lot of support from my teammates, coaching staff and family. The whole week they kept my head up." — Ohio State's Jalin Marshall, on a four-touchdown performance against Indiana coming a week after a rough outing in a win over Minnesota.
HE SAID IT, THE THREEQUEL
"It was a tough one. They put it to us pretty good. I was concerned all week, for whatever reason, that we weren't locked in totally. I think that showed in the beginning of the game. That's my fault, I've got to make sure our kids are, but it just felt like a weird week for whatever reason." — Ole Miss head coach Hugh Freeze, after a stunning 30-0 loss to Arkansas.
HE SAID IT, THE QUADQUEL
"It just got to that point where we were thinking about resting him and then someone said he only needs 38 more yards. That's too close not to do it and there is still way too much time left in the game. Samaje overheard somebody say that and he told Coach Gundy: 'Coach that doesn't matter to me'. That's how special he is." — Oklahoma head coach Bob Stoops, on the decision to leave Samaje Perine in the game on his way to setting the single-game rushing record.
HE SAID IT, BONUS EDITION
"A guy [who] had a silver spoon in his mouth all his life, Ohio State, prima donna state quarterback talking about, 'It's an embarrassment.' He ain't ever coached." — Western Carolina head coach Mark Speir, blasting Kirk Herbstreit for what the FCS coach considered to be disparaging remarks on ESPN's College GameDay show.
"JESUS, GIRLS AND MARCUS MARIOTA"
Trust me when I tell you to click play on the video below.
The questioner, incidentally, is a 12-year-old sixth-grader at O'Hara Catholic in Eugene.  Bravo, young man.  Bravo.
KICKOFF OF THE DAY
There are intentional onside kicks, and then there's what the wind did to this kickoff in the Penn State-Illinois game — much to the chagrin of the Nittany Lions.
NERD OF THE DAY
If ever there was a photo that encapsulated what most people think of when it comes to Ivy League football, this is it.
That would be Harvard's kicker.  And that would be Harvard's kicker wearing prescription glasses.  Yep, perfect.
PLENTY OF GOOD SEATS AVAILABLE
How did Florida fans celebrate the Will Muschamp era being put out of its misery earlier this week?  By staying at home Saturday, apparently.
The Swamp, awash in apathy, is a sad sight indeed.
STREAKING
Florida State has won a nation's best 27 straight games, a record for an ACC school and one that stands alone as the 19th-longest streak in Div. 1/FBS history.  The Seminoles' last loss came Nov. 24, 2012, a 37-26 home setback to in-state rival Florida, and FSU has won 19 of those 27 games by at least 14 points.  Marshall, at 12 in a row, is the only other FBS team with a double-digit winning streak, although Colorado State and Ohio State at nine straight are closing in on that plateau.  Incidentally, that's CSU's longest winning streak since 1997 (also nine in a row).
SMU's 12 straight losses serve as the longest losing streak in the country, and they remain the only winless team at the FBS level in 2014.  Georgia State, meanwhile, has lost 10 in a row after opening the 2014 season with a win.
GOING BOWLING
For the seventh consecutive week, six or more teams officially qualified for postseason play.  There are now 71 teams eligible for the 76 spots in this year's 38 bowl games, with two weeks remaining before bids are handed out.  Below are the 10 teams that hit the magic six-win minimum mark this week.
Arkansas
Florida
Houston
Middle Tennessee State
North Carolina
San Diego State
South Carolina
Stanford
Texas State
Western Kentucky
SID NOTE OF THE WEEK
Ranked USC vs. ranked UCLA: UCLA holds a 13-11-1 lead when both teams enter the game ranked by the Associated Press (not including USC's 2005 win that was vacated due to NCAA penalty). USC's wins were in 1947-52-67-69-72-73-76-78-81-88-2002; the Bruins' wins were in 1946-51-53-54-65-66-80-82-86-93-2012-2014; and the tie was in 1939.  The Bruins came into Saturday's game No. 11, the Trojans No. 24.
S.I.D. NOTE OF THE WEEK II
Wisconsin running back Melvin Gordon set the single-game record of 408 rushing yards on just 25 carries in Week 12, averaging 16.3 yards per carry. No other player among the top five on the FBS single-game rushing list had fewer than 37 carries. Additionally, his yards per carry average broke the FBS record for rushing average by a player with at least 25 carries, previously held by Arizona's Ka'Deem Carey at 14.6 ypc (2012 vs. Colorado).
S.I.D. NOTE OF THE WEEK III
Exiting Week 12, Ohio State quarterback J.T. Barrett's 38 touchdowns responsible for through the first 10 games of the season were the most in the last 10 years for a first-year FBS quarterback.  Barrett's total eclipses the 33 touchdowns responsible for that Texas A&M's Johnny Manziel accounted for in 2012.  After four more in Week 14, Barrett now has 42.
S.I.D. NOTE OF THE WEEK IV
Pittsburgh running back James Conner has 84 rushes that have resulted in a first down this year. Next best in the FBS is Minnesota running back David Cobb at 74.
S.I.D. NOTE OF THE WEEK V
There are 10 FBS players who have totaled at least 40 passing touchdowns and 40 rushing touchdowns in a career: Cody Fajardo (Nevada), Josh Harris (Bowling Green), Colin Kaepernick (Nevada), Dan LeFevour (CMU), Jordan Lynch (Northern Illinois), Antwaan Randle El (Indiana), Denard Robinson (Michigan), Brad Smith (Missouri), Tim Tebow (Florida), Pat White (West Virginia).
OFF THE CHARTS
From the Wisconsin sports information department, on Melvin Gordon.  Totals are heading into Week 13.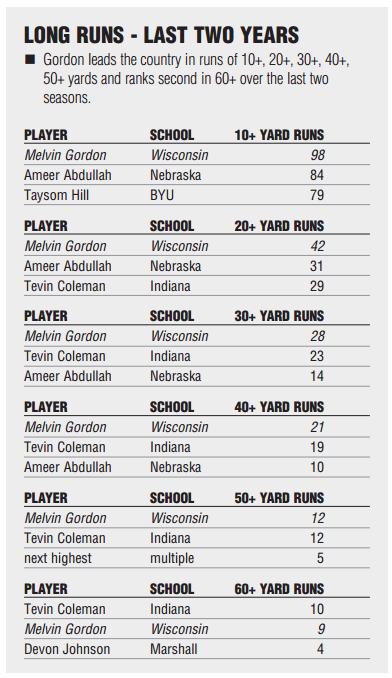 OFF THE CHARTS, THE SEQUEL
Courtesy of the Louisiana Tech, and heading into Week 13: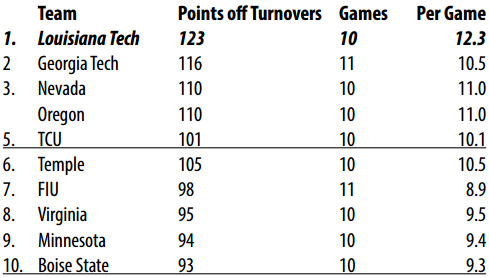 SAY WHAT?
The last two times Nebraska has played Wisconsin, the Blackshirts have allowed the Badgers to gash them for 1,120 yards rushing (581 in Week 12 this season, 539 in the 2012 Big Ten championship game).  UW averaged 10.9 yards on its 103 carries in those two games.
DULY NOTED
Air Force has won six more games than it did in 2013, the biggest improvement in the country.  TCU and Memphis have won five more than a year ago, while Cal and UTEP have won four more each.
DID YOU KNOW THAT…
… Wisconsin's Melvin Gordon topped the 2,000-yard mark on his 241st carry of the season, which is the fewest carries for a running back to get to 2,000 yards in FBS history? The previous record holder was Penn State's Larry Johnson, who reached 2,000 yards on 251 carries in 2002.
… for the first time in FBS history, an entire division has qualified for the postseason?  Thanks to Arkansas' upset of Ole Miss, all seven SEC West teams are now bowl-eligible.
… Colorado State's 16-3 record in its last 19 games is the fourth-best current stretch in the country?  The only ones better are Florida State (19-0), Marshall (17-2) and Michigan State 17-2).
… 2014 marks the first time in the history of the Hawaii football program that the Rainbow Warriors will not play their last regular season at home? UH's first season of football, incidentally, was 1909 when its nickname was the "Fighting Deans" and it was the "College of Hawaii."
… No. 8 Ole Miss' 30-0 whitewashing at the hands of Arkansas was the worst shutout loss by an Associated Press Top-10 team since 1990? That year, No. 5 USC lost 31-0 to No. 21 Washington.
… while Army has retired four numbers, the service academy does not issue the No. 12 to any of its players? Rather, the number is reserved for the Corps of Cadets, the 12th man of Army football. The four numbers that have been retired, incidentally, are 24 (Pete Dawkins), 35 (Felix "Doc" Blanchard), 41 (Glenn Davis) and 61 (Joe Steffy).
… entering Week 13, Baylor led the Big 12 in total offense (585.1 ypg), scoring offense (50.1 ppg), total defense (322.2 ypg) and scoring defense (21.0 ppg)?  Not only that, but the Bears were No. 1 in the conference in rushing defense (107.8 ypg) and No. 2 in rushing offense (230.9 ypg).
… only three times –- 1997, 1995 and 1979 –- has an Ohio State team had touchdown passes in every game during the season? Redshirt freshman J.T. Barrett has thrown at least one touchdown pass in all 11 games in 2014 and now has 33 on the season, breaking the record of 30 set by Troy Smith in 2006.
… Washington State and Cal are the only teams in the country with eight players who have caught at least 20 passes this season?  Arizona is next with seven players who've reached the 20-plus plateau.
… Rutgers has blocked 41 kicks (punts and field goals) since 2009, by far the most at the FBS level?  Fresno State and USC are next with 28 and 27, respectively.
… North Texas is 0-10 in four years under Dan McCarney when scoring exactly 21 points in a game? Three of those losses have come in 2014.
… Tony Lippett started at both wide receiver and cornerback in Michigan State's Senior Day win over Rutgers?  Lippett became MSU's first two-way starter since Allen Brenner (receiver, safety) in 1968.  The senior, who played both positions as a freshman, also became just the eighth Spartan ever to top 1,000 yards in receiving in a single season, and the first since B.J. Cunningham in 2011.
… Anu Solomon is the first freshman in Arizona history to pass for more than 3,000 yards in a single season?  Solomon passed that mark last weekend, and now has 3,116 yards on the season.  That's the fifth-highest total in school's history.
… Pittsburgh running back James Conner has rushed for 120-plus yards and three-plus touchdowns in a game five times this year? In the last decade, no Power Five player has more.  Wisconsin's Melvin Gordon has done it four times in 2014.
… running back Samaje Perine is the first Oklahoma true freshman to rush for more than 1,000 yards in a season since Adrian Peterson in 2004?
… 21-year-old Utah freshman defensive end Wallace Gonzalez spent the past three years as an outfielder in the Houston Astros' farm system? Gonzalez was selected in the 29th round of the 2011 Major League Baseball draft.
… Cal kicker James Langford is related to baseball Hall of Famer Ty Cobb and former U.S. President Harry S. Truman?
… USC kicker Matt Boermeester's father, Peter, was a kicker at UCLA (1977-79)? The elder Boermeester still ranks ninth on the Bruins' career field goals list (31) and 19th in points scored (160, leading UCLA in scoring his last two seasons), and his school record for consecutive games with at least one field goal (15) still stands.