As is the case each and every season, each and every week, any omission below is not on purpose, it's merely intentional.
PROJECTING CFP TOP FOUR
As it turns out, there was some significant upheaval — and near-upheaval — around the top of the College Football Playoff rankings that will continue to reverberate for days to come.
First and foremost, obviously, was No. 4 Mississippi State suffering its second loss of the season and seemingly knocking itself out of playoff contention.  Additionally, No. 6 Ohio State suffered a loss (star quarterback J.T. Barrett to a season-ending injury) in a win that could (maybe) (possibly) do serious damage to its playoff hopes as well.
Toss in near-misses from No. 3 Florida State (five-point win over 6-5 Florida) and No. 7 Baylor (two-point win over 4-8 Texas Tech) against bad football teams, and there will be some very eager and attentive bystanders when the new rankings are released Tuesday.  Hell, No. 1 Alabama's season was on the line as it trailed Auburn by 12 in the third quarter at home before going on a 34-3 run to put the game away.
The team that arguably gained the most this weekend?  TCU, and they were sitting at home on their couches watching the mayhem develop.
About the only certainty coming out of Week 14 is that four different conferences will grab the four available playoff spots.  Which four, and which order, won't be determined until next Saturday's play has ended.
Entering Week 14, the Top Four, in order, was Alabama, Oregon, Florida State and Mississippi State.  What will it look like when the rankings are released?  My best guess is…
1. Alabama
2. Oregon
3. Florida State
4. TCU
The main wildcard in all of this — maybe not in this week's rankings but certainly the final one — is the Buckeyes.  If OSU can beat a very good and 14th-ranked Wisconsin in the Big Ten championship game, would the committee put the Buckeyes in ahead of what would presumably be a pair of one-loss teams, Baylor and TCU, that won't play in a championship game, knowing that the player who helped get the Buckeyes to 11-1 won't be available?  And, as asked earlier Saturday, would the committee's view of OSU depend on how Barrett's replacement, Cardale Jones, performed in his first career start on one of the biggest stages?  We simply don't know the answers to any of those types of questions, and won't begin to get answers until, at the earliest, Tuesday evening.
Of course, the Bears still have their own stiff test to pass, hosting No. 12 Kansas State in Week 15.  And then there are the Horned Frogs, who can do nothing to improve its résumé — but could potentially damage it if they struggle — as it closes out the regular season against 2-9 Iowa State.
And then there's this: what if one of Alabama, Oregon or Florida State — or some combination of the three — lose in their respective conference championship games next weekend?  All hell breaks loose, that's what happens.  The best thing is, at least for non-fans of those squads, it's entirely possible.  FSU plays a Georgia Tech team that's won five straight, including Saturday's win on the road against ninth-ranked Georgia, and runs the hard-to-defend option offense; Arizona, which has dropped No. 25 Utah and No. 13 Arizona State in back-to-back weeks, will prove to be a stiff test for UO, especially seeing as the Wildcats beat the Ducks by seven in Eugene earlier this year; and Missouri, despite the faulty thinking of some, will not be a pushover for UA, especially with that ferocious Mizzou defensive line.
While one of the seven teams may have been "eliminated" in Week 14, there remains plenty of potential for mayhem and carnage in Week 15.  Yep, this playoff thing sure is hurting the best regular season in sports…
A-C-C!!! A-C-C!!!
I don't know if you noticed or not, but the ACC had a very good day today… and very much at the expense of its big football brother, the SEC.
For those unaware, allow me to count the SEC carcasses left strewn about the South after getting trucked by ACC programs:
Clemson 35, South Carolina 17
Georgia Tech 30, Georgia 24
Louisville 44, Kentucky 40
Florida State 24, Florida 19
I don't know if that's happened before, especially of late, but I'm quite certain it wouldn't take long to call the roll of the times it has.  Sure, all four wins came against the weak link in the SEC chain, the East, but it was still an impressive performance by a much-maligned conference.
CONFERENCE CHASE CLARITY
And then there was one.
With the 2014 regular season complete, just one of the Power Five conferences has yet to find itself a champion, that being, of course, the Big 12.  In Week 14, The Big Ten West, Pac-12 South and both the SEC East and West were clinched.
Below you'll find not only the Big 12 scenarios in play for Week 15, but how the Week 14 divisional clinchers came about.
ACC
Atlantic
Florida State (8-0) clinched the division title in Week 12, and will face Georgia Tech in its third consecutive ACC championship game.  It will also be the Seminoles' fifth appearance overall in the 10-year history of the contest, tied with Virginia Tech for the most in league history.  This year's game will be played Sat., Dec. 6 at Bank of America Stadium in Charlotte, NC.
Coastal
Georgia Tech (6-2) clinched the division in Week 13 thanks to Duke's loss to North Carolina. The Yellow Jackets will play in their second ACC championship game the last three years and their fourth overall.
BIG TEN
East
Ohio State (8-0) clinched the division and a spot in the Big Ten championship game in Week 13 with its win over Indiana.  This year's title game will be played Sat., Dec. 6, at Lucas Oil Field in Indianapolis, IN.
West
Thanks to its win over Minnesota (5-3), Wisconsin (6-2) claimed the West and a spot in the Big Ten championship game.  It'll be the Badgers third appearance in the four-year history of the event.
BIG 12
There were no scenarios in which a team could've clinched the conference in Week 14.  There are three teams remaining at 7-1 with a shot at the league title and what could be a spot in the CFP: TCU, Baylor and Kansas State.  TCU plays 2-9 Iowa State in Week 15, while the latter two face each other.  Here are the scenarios in which each team can the conference next weekend:
Baylor wins the Big 12 if… it beats Kansas State; BU holds head-to-head over TCU
Kansas State wins the Big 12 if… it beats Baylor, TCU loses to Iowa State
TCU wins the Big 12 if… beats Iowa State, Baylor loses to Kansas State; TCU holds head-to-head over K-State
PAC-12
North
Oregon (7-1) clinched the division title in Week 11 and will play (picks Pac-12 South team's name out of a hat) in the Pac-12 championship game, which will mark UO's first appearance since the inaugural one in 2011. This year's game will be played Friday, Dec. 5 at Levi's Stadium in Santa Clara, CA.
South
Thanks to its win over Arizona State (6-3) Friday and 6-3 UCLA's loss to Stanford, Arizona (7-2) earned a trip to its first-ever Pac-12 championship game.
SEC
East
Thanks to its win over Arkansas and 6-2 Georgia's inexplicable loss to Florida earlier this year — had to throw that in — Missouri (7-1)  will play in the SEC championship game for the second consecutive year.  Because of the head-to-head tiebreaker, UGA would've won the East with a Mizzou loss.
West
Thanks to a loss by Mississippi State (6-2), Alabama (7-1) had already clinched the SEC West prior to the Iron Bowl.  The win in the rivalry game, though, ensured there wouldn't be division co-champions.
SATURDAY RESET
Below is a list of links for all of the Week 12 posted by the CFT crew, placed in one handy and convenient space for you, our beloved and dear readers.
Amari Cooper helped save Alabama and the SEC's playoff bacon — for now — with a come-from-behind trouncing of Auburn in the Iron Bowl.
Mississippi State's 31-17 loss to Ole Miss likely opened up a spot at the College Football Playoff table.
With the romp over Oregon State in the Civil War, Oregon states its case for leapfrogging Alabama into the No. 1 spot in the CFP rankings.
Once again, Florida State assumes the role of Houdini and escapes with a 24-19 win over Florida.
Ohio State won the battle in its annual rivalry game with Michigan, but the Buckeyes may have lost the College Football Playoff war in the process.
Wisconsin punched it ticket to a third Big Ten championship game in four years with a 34-24 win over Minnesota.
Clemson ends its five-game losing streak against in-state rival South Carolina, and gives Dabo Swinney his first win against Steve Spurrier since his first season with the Tigers.
Georgia Tech reaches 10 wins in a season for the first time since 2009 by stunning Georgia in overtime Between the Hedges.
Cody Kessler made history as USC sent Notre Dame to its fourth straight loss to end the regular season with a 49-14 waxing.  Kessler's six touchdown passes were the most ever thrown against the Irish in a single game.
CFT TOP FIVE
A snapshot look at how my ballot would look Sunday if I, ya know, had a real vote.
1a. Alabama — After weeks of defending the unbeaten one, I've gone over to the dark side.  The thing is, I could flip a coin and go for either Alabama or Oregon in this spot, hence the and b designations.  If someone were to flip the two, you would get very little argument from me.  (Last week: No. 2)
Next up: SEC championship game vs. Missouri, Dec. 6
1b. Oregon — The case for the Ducks to be No. 1?  Three wins over teams currently ranked in the CFP Top 25 to two for the Tide.  Again, you could flip the two and get little or no argument from me. (Last week: No. 3)
Next up: Pac-12 Championship game vs. Arizona, Dec. 5
3. Florida State — That tears it, FSU.  After weeks of slotting you in the one hole, you go out and lay that egg against Florida.  Yeah, it's a rivalry game and the Gators had nothing to lose, but you had everything to lose — and damn-near did.  I still like you, Seminoles, but enough's enough.  Go to the corner and think about what you've done… besides winning 28 straight, of course. (Last week: No. 1)
Next up: ACC Championship game vs. Georgia Tech, Dec. 6
4. TCU — For weeks I've been busting the balls of the CFP committee for ranking TCU ahead of Baylor, a team the latter beat earlier this season.  Now, I've joined the dark side a second time in the span of four spots.  BU's overall résumé plus the close call against a really bad Texas Tech team was the final straw in pushing TCU into this spot ahead of the current No. 5, even with a slightly less impressive body of work. (Last week: unranked)
Next up: vs. Iowa State, Dec. 6
5. Ohio State — OSU has wins over CFP-ranked Michigan State and Minnesota, Baylor has a win over CFP-ranked TCU.  The Buckeyes have wins over eight bowl-eligible teams, the Bears four.  Advantages, OSU.  Certainly the injury to J.T. Barrett factors in, but can we wait to see how the Buckeyes perform with their backup against a very good Wisconsin team before burying them? And, if they beat the Badgers, the Buckeyes will be in my Final Four regardless of what the Horned Frogs or Bears do. (Last week: unranked)
Next up: Big Ten championship game vs. No. 14 Wisconsin, Dec. 6
(Dropped out: No. 4 Mississippi State, No. 5 Baylor)
HEISMAN RACE, BY THE NUMBERS
A statistical look at how some of the top contenders for this year's stiff-armed trophy fared this past week.
J.T. Barrett, QB, Ohio State (10-1, No. 6)
Saturday: 13-21 (61.9%), 176 yards, one touchdown; 89 rushing yards, two touchdowns.
Season: 203-314 (64.6%), 2,834 yards, 34 touchdowns, 10 interceptions; 933 rushing yards, 11 touchdowns
Trevone Boykin, QB TCU (10-1, No. 5)
Thursday: 20-34 (58.8%), 233 yards, two touchdowns, one interception; 50 rushing yards, one touchdown
Season: 249-420 (59.3%), 3,254 yards, 26 touchdowns, six interceptions; 598 rushing yards, eight touchdowns
Amari Cooper, WR, Alabama (10-1, No. 1)
Saturday: 13 receptions, 224 yards, three touchdowns
Season: 103 receptions, 1,573 yards, 14 touchdowns; 14 rushing yards
Melvin Gordon, RB, Wisconsin (9-2, No. 14)
Saturday: 29 carries for 151 yards (5.2 ypc), one touchdown; two receptions, four yards, one touchdown
Season: 283 carries for 2,260 yards (8.0 ypc), 26 touchdowns; 17 receptions, 151 yards, three touchdowns
Marcus Mariota, QB, Oregon (10-1, No. 2)
Saturday: 19-25 (76%), 367 yards, four touchdowns; 39 rushing yards, two touchdowns
Season: 229-334 (68.6%), 3,470 yards, 36 touchdowns, two interceptions; 636 rushing yards, 11 touchdowns; one reception, 26 yards, one touchdown
(Dropped out: Marshall quarterback Rakeem Cato, Florida State quarterback Jameis Winston)
(Added: None)
JT's Personal Top Fivesman
1. Mariota — The Ducks quarterback remains an overwhelming favorite, and it's hard to see any scenario in which he's not hoisting the stiff-armed trophy in mid-December.
2. Gordon — The Badgers running back would certainly be a worthy recipient if he were to stun the college football world by winning it, but don't bet on that happening.
3. Barrett — This is where the contenders begin to vie simply for a trip to New York City to be a part of the ceremony, and Barrett has done more than enough to earn a ticket — even with the injury.
4. Cooper — A receiver hasn't been to the NYC ceremony since 2003 (Pitt's Larry Fitzgerald), and just 15 receivers in its 79-year history have landed in the Top Five in votes.
5. Boykin — The junior has gone from throwing an interception every 29 attempts in 2012 to every 25 in 2013 to every 70 in 2014, a big reason why TCU's in the CFP hunt.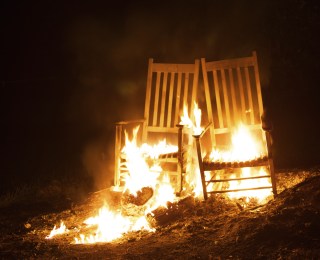 COACHING HOT SEAT
With Will Muschamp's firing at Florida and Bobby Hauck's "resignation" at UNLV, there are now six FBS head coaching jobs open.  Below is a look at a couple of more coaches who could find themselves in the coaching unemployment line shortly after season's end.
1. Brady Hoke, Michigan
Win totals that have gone from 11 his first year in 2011 to 8 to 7 to 5 this year during Hoke's four seasons in Ann Arbor, coinciding with the Wolverines' roster transitioning from Rich Rodriguez's recruits to Hoke's.  The first bowl-less season since 2009.  Fourth- and fifth-place divisional finishes in 2014 and 2013, respectively.  A 2-6 record against UM's chief rivals, Ohio State and Michigan State.  All of that is simply unacceptable for such a storied football program — especially the huge gap between UM and its rivals — and those in and around it continue to insist that it's a matter of when, not if, Hoke is canned.  At some point in the not-too-distant future, perhaps as early as this week, Hoke will officially be ousted and the Wolverines will begin a search for its third head coach since Lloyd Carr stepped down in 2007.
2. Paul Rhoads, Iowa State
Admittedly, it's not easy to win in Ames.  Rhoads, though, seemed to be bucking that trend, becoming just the second head coach in the football program's history (A.W. Ristine between 1902-05) to win five or more games in his first four seasons as head coach.  He'd also led the Cyclones to three bowl appearances in his first four years; in the previous 118 years, ISU played in nine bowl games.  However, the last two years have seen a decided dip in performance, with ISU posting a 5-18 overall record and a 2-15 mark in Big 12 play in 2013 and 2014.  Whether anyone could do a better job than Rhoads is arguable, but it's likely a question that those in decision-making positions will be asking themselves in the coming days and weeks.
3. Al Golden, Miami
For the first time this season, Golden makes an appearance in this anti-rarified air.  After three straight losses to end the season, including embarrassing ones to Virginia and Pittsburgh, I believe there are a growing number of U fans who are hoping for a Golden disappearance.  Golden, though, hung with the program through the dark days of NCAA sanctions, so he's earned a certain level of loyalty from the administration.  It thus seems at least mildly unlikely that he'd be on the receiving end of a boot this year; he would, though, enter 2015 squarely on the hot seat.
4. Kliff Kingsbury, Texas Tech
Lather, rinse and repeat from a week ago, with only the records changed to indict the guilty: I've said it before and I'll say it again: I don't know if Kingsbury is on the hot seat, but I do know that he would be if I were the athletic director, new contract or not.  With the loss to Baylor, Tech finishes the 2014 season 4-8 and won't be playing in a bowl game for just the second time since 2000.  Since winning the first seven games of his tenure in Lubbock last year, including the first four Big 12 games, Kingsbury's Red Raiders have gone 5-12 overall and 2-12 in conference play.  Tech's two Big 12 win since mid-October last year were against 3-8 Kansas and 2-8 Iowa State, and two of their three non-conference wins came against FCS-level Central Arkansas (by seven points) and 6-5 UTEP (by four points).  Is Kingsbury becoming the Anna Kournikova of college football, being all about "the physical package" than on-field substance?  The current trend says it very much appears that way.
HE SAID IT
"That was a sick feeling. … We lost a Heisman candidate today." — Ohio State head coach Urban Meyer, when asked what it was like watching J.T. Barrett going down to what appeared to be a fairly significant injury.
HE SAID IT, THE SEQUEL
"I'm disappointed in my decision to squib kick. That gave them the field position to get it in range and kick it. That was a poor decision on my part. That was no one's decision but mine." — Georgia's head coach Mark Richt with a mea culpa for the squib kick that allowed Georgia Tech to tie the game with a field goal late and ultimately lose it in overtime.
HE SAID IT, THE THREEQUEL
"Clemson was better than us. They played better and they coached better. Give those guys credit, they are better than us. They are a better team than we are. Simple as that." — South Carolina head coach Steve Spurrier, after his Gamecocks saw their five-game winning streak against the Tigers snapped.
HE SAID IT, BONUS EDITION
"That's pathetic.  That's a terrible job by our defensive coaching staff." — Mississippi State head coach Dan Mullen, talking about the big plays given up by his defense in the loss to Ole Miss.
HE SAID IT, ONE MORE
"It hurts. It hurts a lot. … There is a lot of hurt in the locker room and disappointment." — Maryland head coach Randy Edsall after his team blew a 25-point lead in a 41-38 loss to Rutgers.
HE SAID, MULLEN BONUS EDITION
"It just sucks to live in Mississippi and not win this game." — Mullen, following the Egg Bowl loss.
SPORTSMAN OF THE YEAR
Say what you want about Devin Gardner the quarterback, but Gardner the human being and Gardner the man is 100-percent class.
"It's like having a little brother out there get hurt. I didn't want to see that at all," the Michigan quarterback said when asked after the game why he went out to comfort a rival player.
Gardner's parents, his university and all of UM Nation should be very, very, very proud.
HERSCHELING OF THE WEEK
Herschel Walker was the original mother trucker when it came to freshmen running backs.  Thanksgiving Day, LSU's Leonard Fournette paid homage to the Georgia great.
Now, with all due respect to Fournette…
… Herschel is more of a mother trucker than anyone will ever be.  Now, you kids, get off my lawn…
EDWIN MOSES MEMORIAL HURDLER OF THE DAY
This is Oregon quarterback Marcus Mariota.  This needs no explanation.
FURS OF THE DAY
Joe Willie Namath and The Coach, Lee Corso, straight pimpin' on the set of College Gameday?  Yes, please.
The only thing that could've made that scene better?  Broadway Joe attempting to plant a big ol' wet one on Corso.
GAMEDAY SIGN OF THE DAY
Alabama reminding Auburn fans their place in college football history?  Yep, Alabama reminding Auburn fans their place in college football history.
STREAKING
Florida State has won a nation's best 28 straight games, a record for an ACC school and one that is tied with Alabama (1991-93; 1978-80), Oklahoma (1973-75) and Michigan State 1950-53) for the 19th-longest streak in Div. 1-A/FBS history.  The Seminoles' last loss came Nov. 24, 2012, a 37-26 home setback to in-state rival Florida, and FSU has won 19 of those 28 games by at least 14 points.  Thanks to twin Friday losses by Marshall (11 in a row) and Colorado State (nine), Ohio State at 10 in a row is the only other FBS team with a double-digit winning streak.  OSU's streak is the second double-digit one in Urban Meyer's three seasons with the Buckeyes.
SMU's 13 straight losses serve as the longest losing streak in the country, and they finished as the only winless FBS team in 2014.  Georgia State, meanwhile, has lost 11 in a row after opening the 2014 season with a win.  Since moving up to the FBS level in 2013, the Panthers have lost 23 of their 24 games; the only win came against FCS-level Abilene Christian by one point at home.
GOING BOWLING
For the eighth consecutive week, six or more teams officially qualified for postseason play.  There are now 79 teams eligible for the 76 spots in this year's 38 bowl games, with one week remaining before bids are handed out.  Below are the eight teams that hit the magic six-win minimum mark this week.
Fresno State
Illinois
Navy
Ohio
Pittsburgh
Tennessee
UAB
Virginia Tech
(Appalachian State, Georgia Southern and Old Dominion all reached the six-win minimum for bowl-eligibility, but will not play in the postseason as this is their first season at the FBS level and there are enough eligible teams to fill the bowl slots.)
S.I.D NOTE OF THE WEEK
USC and Notre Dame have two of the top gridiron heritages in the country. The schools both have won 11 national titles (USC in 1928-31-32-39-62-67-72-74-78-2003-04 and Notre Dame in 1924-29-30-43-46-47-49-66-73-77-88). Notre Dame is tied for second in all-time victories among Division I-A schools (881, with Texas) and USC is ninth (803, not including 14 wins vacated due to NCAA penalty). In career winning percentage, Notre Dame is first (.732) and USC is eighth (.701). USC has appeared in 50 bowls (with 32 wins, not including one win vacated due to NCAA penalty), while Notre Dame has been in 33 bowls (with 16 wins). Thirteen players from both schools have won Heisman Trophies (USC's Mike Garrett, O.J. Simpson, Charles White, Marcus Allen, Carson Palmer, Matt Leinart and Notre Dame's Angelo Bertelli, John Lujack, Leon Hart, John Lattner, Paul Hornung, John Huarte, Tim Brown). Notre Dame has had 188 All-American first teamers, while USC claims 161. USC has 31 players in the College Football Hall of Fame and Notre Dame has 44. Both schools have had five players selected first in the NFL draft and both are well-represented in the Pro Football Hall of Fame (11 by USC and 10 by Notre Dame).
S.I.D. NOTE OF THE WEEK II
Army has the most players from different states with 36 while Navy is second with 26. Nebraska is third with 25, followed by Alabama and Syracuse with 24 each and Kansas with 23.
S.I.D. NOTE OF THE WEEK III
Nebraska's game with Iowa Friday marked the 25th consecutive season the Huskers have played on the day after Thanksgiving. NU met Oklahoma in the final six seasons of the Big Eight Conference (1990 to 1995), then played Colorado in all 15 of the Huskers' Big 12 Conference years (1996 to 2010) before taking on Iowa each of the past four seasons. The Cornhuskers are 19-6 in those contests.
S.I.D. NOTE OF THE WEEK IV
Of the 64 Power Five conference members, 21 of them have been bowl-eligible in at least eight of the last nine years: Clemson, Florida State, Georgia Tech, Virginia Tech, ACC; Oklahoma, Oklahoma State, TCU, Texas, Texas Tech, West Virginia, Big 12; Nebraska, Ohio State, Rutgers, Wisconsin, Big Ten; Oregon, Pac-12; Alabama, Florida, Georgia, LSU, Missouri, South Carolina, SEC.
S.I.D. NOTE OF THE WEEK V
Purdue played at Indiana for the second year in a row, the first time in the 124-year history of the in-state rivalry that back-to-back games have been played in Bloomington. It was the first time since 1904 and 1905 that back-to-back games in the series were away from West Lafayette — the 1904 game was in Indianapolis, while the 1905 game was in Bloomington.
OFF THE CHARTS
From the Air Force sports information department, and entering Week 14:
OFF THE CHARTS, THE SEQUEL
From the Michigan sports information department, and entering Week 14:
OFF THE CHARTS, THE THREEQUEL
From the Oklahoma sports information department, here's a look at the all-division NCAA single-game rushing leaders:
SAY WHAT?
In Week 13, Arkansas became the first unranked team in FBS history to post back-to-back shutouts against ranked foes, winning 17-0 vs. No. 20 LSU and 33-0 vs. No. 8 Ole Miss? Additionally, the Razorbacks have played the toughest schedule in the nation, with its opponents combining for a record of 71-30 (.689) entering Week 14.
DULY NOTED
This was just the 12th time in the 86 meetings between the storied football programs that both USC and Notre Dame played each other while unranked. The Irish holds an 8-4 edge in those games.
DID YOU KNOW THAT…
… Florida State's Jameis Winston is the first quarterback to win his first 25 career starts since Jimmy Harris went 25-0 at Oklahoma from 1954-56?  After the win over Florida, Winston is now 26-0 as a starter.  Harris started only those 25 games in his OU career, so Winston is the first quarterback in FBS history to win his first 26 starts.
… Kansas State wide receiver Tyler Lockett is the only FBS player this season with 1,000 receiving yards, 200 kickoff return yards and 200 punt return yards?
… Arizona State running back D.J. Foster is the the only active FBS running back with over 1,000 rushing yards (1002) and over 600 receiving yards (646) this year?
… no SEC team had ever won 11 games or more in four consecutive seasons until Alabama earned its 11th victory with a win over Auburn?  From 2011-13, the Tide won 12, 13 and 11 games, respectively.
… prior to the Georgia Tech game Saturday, Georgia had never played an overtime contest at Sanford Stadium?
… until 2014, Texas had not lost to both Baylor and TCU in the same season since 1933?
… UCLA has won nine or more games for the third straight season, the first time in school history it has won at least nine in back-to-back-to-back years?
… Fresno State became just the 20th FBS team out of 496 since 1980 that has started out 0-3 but went on to play in a bowl?
… Ohio State vs. Michigan has been the regular season-ending game for each team every year since 1935 except one? In 1942 the Buckeyes ended the season with a game against the Iowa Pre-Flight Seahawks, while the Wolverines closed out the year against the Iowa Hawkeyes.
… in the 1942 Civil War between Oregon and Oregon State, the former recovered seven fumbles while the latter intercepted seven passes?
… Saturday's Egg Bowl battle between No. 4 Mississippi State and No. 8 Ole Miss was the fifth game in the in-state rivalry that both teams have been nationally ranked and first since 1999? Additionally, the Rebels' and Bulldogs' 18 combined wins were the most at the time of the matchup in series history.
… in the 30 games that Frank Howard coached for Clemson against South Carolina, Clemson scored 411 points and South Carolina scored 411 points? The College Football Hall of Famer, whose career with the Tigers stretched from 1940-1969, had a 13-15-2 record vs. the Gamecocks.
… Florida State has 82 players on its roster from the state of Florida, while Florida has 75 players from its state? A total of 11 FSU/UF players went to the same high school as a player on the other team's roster.
… no USC players claim Indiana as home, but 12 Notre Dame players came to South Bend from California high schools?
… North Texas has a higher percentage of players on its roster from the state of Texas than any of the 12 FBS programs in the Lone Star State? 96 of UNT's 105 players are from Texas, which is 91 percent. UT-San Antonio has the second-highest percentage at 88 percent, while Baylor has 87 percent and Texas has 85 percent. SMU and TCU have the fewest Texas players on their rosters, with 69 and 68 percent, respectively.
… after playing in a bowl game just once in the first 135 years of the football program, Rutgers has played in/qualified for a bowl game nine of the last 10 years?  Additionally, Kyle Flood is the first coach in school history to lead the Scarlet Knights to bowl eligibility in each of his first three seasons as head coach.
… after playing games in four different states during the first five weeks of the season, Bowling Green played its final seven games of the regular season in the state of Ohio?
… Georgia Southern is the first Sun Belt team to win at least a share of a conference championship in its first year in the league? Additionally, and of those schools that began their first year of FBS play with a conference affiliation, Georgia Southern became only the third to win a league title in its inaugural season, joining Nevada (1992) and Marshall (1997).
… Bill Snyder has 187 career victories as head coach at Kansas State, which are 147 more than any other coach in K-State history?  His 187 wins are second among all active FBS head coaches (Virginia Tech's Frank Beamer, 230) and 32nd all-time.
… of the 13 coaches who currently serve as head coaches at their alma maters, only two of them have been there for a decade or more?  Those two are Virginia Tech's Frank Beamer (21) and Oklahoma State's Mike Gundy (10).  Pat Fitzgerald, in his ninth season at Northwestern, would hit double-digits in 2015.