Early in the fourth quarter of Ohio State's win over Michigan, J.T. Barrett went down with what turned out to be a fractured right ankle.  The injury ended Barrett's first season as a starter, and could potentially damage the Buckeyes' shot at a potential playoff shot.
As Barrett lay on the Ohio Stadium turf, however, that was a mere afterthought as all of the attention turned to Barrett, the person. Some what unlikely was one of the players who, in very public fashion, turned his attention to the fallen player.
https://twitter.com/freepsports/status/538785347589926914/photo/1
That display of unsolicited sportsmanship was one of the classiest gestures you'll ever see in a sporting arena.  Gardner was rightly applauded near and far for providing comfort to "the enemy."
Wednesday, Gardner took to Instagram to display a letter sent to him by an OSU official, who in it lauds Gardner for his class and humanity.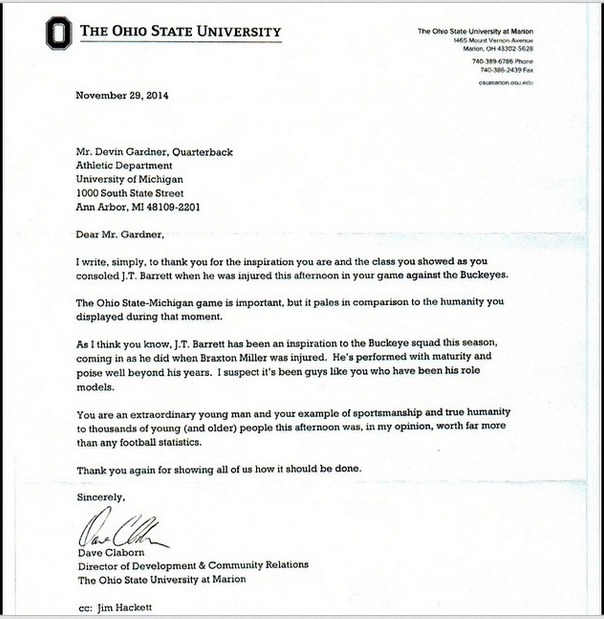 "I really appreciate Dave Claborn & the OSU athletic department for this kind letter! Just saw it today and was very moved! #RivalryAsideForABriefMoment #TheGame #GoBlue," Gardner wrote on the social media website.
An emotional and fierce rivalry on the field, respect — and sportsmanship (most of the time) — off of it.  Yet another reason why The Game is the greatest rivalry in all of sports*.
(*Yes, I know.  The comments section is there for the whine, so please spare me your emails.  Thanks in advance.)