As is the case each and every season, each and every week, any omission below is not on purpose, it's merely intentional.
FOUR TEAMS, TWO SPOTS, ONE CFP HEADACHE
All of the various scenarios entering weekend, with the potential for complete and utter chaos lurking on the horizon, and what did we get?  Chalk.  Chalk as far as the eye can see.
That, though, doesn't mean all four playoff spots have been decided and everything was wrapped up in a nice, neat bow.  Far from it, in fact, as we got chaos, just not the kind of chaos that ensues after upsets.  What we do know: Alabama and Oregon have locked up two of the spots.  The only question when it comes to those two teams is which one will be the top seed and which will be the No. 2 seed.  Regardless, though, the Tide will be playing in the Sugar Bowl and the Ducks the Rose Bowl.
After that?  Let the debating and campaigning and jockeying commence in earnest.
After 15 weeks of play, the remaining two playoffs spots will come down to four teams: unbeaten, fourth-ranked Florida State and one-loss Baylor (No. 6), Ohio State (No. 5) and TCU (No. 3).  You could make a valid argument for any of those four to be a part of the playoff, with three of them — the one-loss teams — playing their best football of the season at the moment.
So, which direction will the committee go?  I have no clue, but we can look at the raw numbers to see which way they may lean.
With that, let's go to the Tale of the Four Résumés…
Baylor
Wins vs. bowl-eligible teams: 5, two of those coming on the road
Wins vs. currently-ranked teams: 3 (No. 3 TCU, No. 9 Kansas State, at No. 20 Oklahoma)
Loss: to 7-5 West Virginia on the road
Florida State
Wins vs. bowl-eligible teams: 9, three of those coming on the road
Wins vs. currently-ranked teams: 3 (No. 11 Georgia Tech, No. 18 Clemson, at No. 21 Louisville)
Loss: none
Ohio State
Wins vs. bowl-eligible teams: 9, five of those coming on the road
Wins vs. currently-ranked teams: 2 (at No. 8 Michigan State, No. 13 Wisconsin)
Loss: to 6-6 Virginia Tech at home
TCU
Wins vs. bowl-eligible teams: 6, two of those coming on the road
Wins vs. currently-ranked teams: 2 (No. 9 Kansas State, No. 20 Oklahoma)
Loss: to No. 6 Baylor on the road
Let me get this out of the way right from the start: there is no way in hell that the committee leaves out an unbeaten Power Five team that won its conference's title game.  It's simply not going to happen, so we can all stop that noise right now.  Thus, there are essentially three teams fighting for the lone remaining spot.  So, on top of the above, here are some additional factors that the committee will take into consideration:
When it comes to the résumés of Baylor and TCU, those took a hit today as Oklahoma's loss to Oklahoma State will very likely knock the Sooners out of the Top 25, giving each of those teams one less quality win.
Ohio State, meanwhile, still has that 800-pound Virginia Tech gorilla on its back, an inexplicable 14-point loss to a bad Hokies team in Columbus back in Week 2.  The Buckeyes may be playing as well as any team in the country right now, but that loss still resonates three months later.
"Other relevant factors such as key injuries that may have affected a team's performance during the season or likely will affect its postseason performance." That's from the CFP's protocol, and became relevant because Ohio State lost starting quarterback J.T. Barrett to a season-ending injury.  Cardale Jones, based on his performance in his first start, made it obsolete.
The only common opponents — aside from the Big 12 schedule — among the three teams is Minnesota and SMU.  The Horned Frogs beat the Gophers at home 30-7 in Week 2, while the Buckeyes handled them 31-24 on the road in Week 12.  SMU lost to TCU 56-0 in Week 3 and to Baylor 45-0 in Week 1.
Baylor beat TCU head-to-head Oct. 11, a 61-58 come-from-behind win in Waco.  Again, Baylor beat TCU on the field.
Ohio State is an undisputed conference champion, while Baylor and TCU, as commissioner Bob Bowlsby even acknowledged, are co-champions.  That is one piece of the criteria the committee will consider — "the committee will be instructed to place an emphasis on winning conference championships" the CFP protocol states.
Strength of schedule, per ESPN: OSU 45th, TCU 54th, BU 59th.
Add it all up, and how will the semifinal matchups look come Sunday afternoon?  Here's my best guess as to what I think the committee will do.
SUGAR BOWL: No. 1 Alabama vs. No. 4 Ohio State
ROSE BOWL: No. 2 Oregon vs. No. 3 Florida State
Were that to happen — and I firmly believe there's a better than 60-40 chance that it will; if you think I'm nuts, then I have a lot of company — look for the speculation to begin surfacing almost immediately that the Big 12 will indeed petition the NCAA for a waiver that would allow it to hold a championship game with just 10 teams, while simultaneously beginning a search in earnest to expand by two teams.  Also, if the Big 12 gets shut out, that conference has only itself to blame for what some people consider a gaming of the system by playing one less game than the other Power Five conference teams.  One less game equals one less chance at a loss, as the logic goes.
One final thought: the cry for an eight-team playoff will be ear-splittingly loud regardless of which of the Power Five conferences get left out, whether it be the Big Ten or Big 12.  For those who think that it'll be the four-team status quo for the entire length of the 12-year agreement, you're sadly naive.
FIRST LEAGUE CROWN SINCE…
Taking a look at the historical perspective of the 2014 conference champion — or co-champions as the case may be — from all 10 FBS leagues.
AAC
Cincinnati, Memphis and UCF all shared this year's conference championship.  All-time league titles for the three teams are, in order, five, 13 and four.  The Tigers earned their first since the sixties, while the Bearcats won its fifth title in the last seven years.  All four of the Knights' titles have come since 2005.
ACC
Florida State claimed its third consecutive conference championship and its fourth overall since the ACC went to a league title game in 2005.  Overall, the Seminoles claim 18 league championships — 15 in the ACC, 3 in the Dixie Conference — in the program's history.  The 15 in the ACC is the most for any of that conference's programs.
BIG TEN
Ohio State claimed its first-ever Big Ten championship in a title game and its 35th B1G title overall.  It's also OSU's first league title since 2009.  The Buckeyes also won two Ohio Athletic Conference titles prior to joining the Big Ten.
BIG 12
With the co-championship, TCU has now won or shared conference championships in five different leagues since 1994: the SWC, WAC, Conference USA, MWC and Big 12.  The Horned Frogs have won 18 in the program's history.  Six of those — in three different leagues — have been won during Gary Patterson's 15-year tenure in Fort Worth.  Baylor has won eight conference championships overall, including back-to-back Big 12 titles.  The first six titles for the Bears came in the SWC.
CONFERENCE USA
This was Marshall's 13th conference championship and first since 2002.  The Herd can claim titles in the West Virginia Athletic Conference (three), Buckeye Conference (one), Southern Conference (three), MAC (five) and Conference USA (one).
MAC
Northern Illinois, playing in its fifth consecutive conference championship game, has now won the MAC three times in that span, with four MAC titles overall. The Huskies also won eight titles as members of the Interstate Intercollegiate Athletic Conference Champions.
MOUNTAIN WEST
Boise State won its second MWC conference championship in the three years since it joined the league.  All told, the Broncos have won 18 conference championships in four different leagues (six Big Sky, two Big West, eight WAC and two MWC).
PAC-12
Oregon has won two Pac-12 championship games, and has claimed four of the last six Pac-10/12 titles.  The Ducks own seven Pac-10/12 championships overall as well as five Pacific Coast Conference crowns.
SEC
Alabama has won two of the last three SEC championship games and five total (in nine appearances) since the conference went to this format for the 1992 season.  Overall, the Tide claims 28 league titles (24 SEC, four Southern Conference).
SUN BELT
Georgia Southern, in its first year at the FBS level, claimed the undisputed SBC championship in 2014.  As an FCS program, the Eagles won nine conference championships.
SATURDAY RESET
Below is a list of links for all of the Week 15 posted by the CFT crew, placed in one handy and convenient space for you, our beloved and dear readers.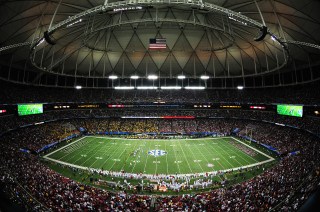 CFT TOP FIVE
A snapshot look at how my ballot would look Sunday if I, ya know, had a real vote.
1a. Alabama — Just like last week, flip a coin to pick between Alabama or Oregon at No. 1 and, on whatever side it landed, you'd get no argument from me.  > they will head into the playoffs as the co-favorites, along with… (Last week: No. 1a)
Next up: to be determined
1b. Oregon — See above. Lather, rinse, repeat, move on. (Last week: No. 1b)
Next up: to be determined
3. Florida State — Regardless of how much they've "struggled," FSU has passed each and every test they've faced in 2014, the only team in the country that can make that claim.  That's good enough for me. (Last week: 3)
Next up: to be determined
4. Ohio State — Yeah, I went there.  There might only be two teams other teams would prefer to play less than OSU right now, and those reside in the top two spots. The Buckeyes on a neutral field would be a tough out for anyone. (Last week: No. 5)
Next up: to be determined
5. Baylor — Compare the résumés back up toward the top, factor in the head-to-head, and there's no way a reasonable person would have TCU ranked ahead of BU. (Last week: unranked)
Next up: to be determined
(Dropped out: No. 4 TCU)
HEISMAN RACE, BY THE NUMBERS
A statistical look at how the top contenders for this year's stiff-armed trophy fared this past week.
J.T. Barrett, QB, Ohio State (10-1, No. 5)
Saturday: Did not play (injured)
Season: 203-314 (64.6%), 2,834 yards, 34 touchdowns, 10 interceptions; 933 rushing yards, 11 touchdowns
Trevone Boykin, QB TCU (10-1, No. 3)
Saturday: 30-41 (73.2%), 461 yards, four touchdowns, one interception; 44 rushing yards; one reception, 55 yards, one touchdown
Season: 279-461 (60.5%), 3,715 yards, 30 touchdowns, seven interceptions; 642 rushing yards, eight touchdowns; one reception, 55 yards, one touchdown
Amari Cooper, WR, Alabama (10-1, No. 1)
Saturday: 12 receptions, 83 yards
Season: 115 receptions, 1,656 yards, 14 touchdowns; 14 rushing yards
Melvin Gordon, RB, Wisconsin (9-2, No. 13)
Saturday: 26 carries for 76 yards (2.9 ypc)
Season: 309 carries for 2,336 yards (7.6 ypc), 26 touchdowns; 17 receptions, 151 yards, three touchdowns
Marcus Mariota, QB, Oregon (10-1, No. 2)
Friday: 25-38 (65.8%), 313 yards, two touchdowns; 33 rushing yards, three touchdowns
Season: 254-372 (68.3%), 3,783 yards, 38 touchdowns, two interceptions; 669 rushing yards, 14 touchdowns; one reception, 26 yards, one touchdown
(Dropped out: None)
(Added: None)
JT's Personal Top Fivesman
1. Mariota — After that performance in the Pac-12 title game, just go ahead and give the trophy to him now; everybody else is fighting for place and show positions.
2. Gordon — There's nothing Gordon could've done to overtake Mariota in the Heisman chase.  Second would the the highest finish for a back since Alabama's Mark Ingram won it in 2009.
3. Barrett — Because of injury, Barrett didn't play in the Big Ten title game; in no way, shape or form should that have any impact on an earned trip to New York City for the ceremony.
4. Boykin — Career-high 469 yards in the blowout of Iowa State moves the most improved player in the country up one spot on my list, but it's still not enough to crack the Top Three.
5. Cooper — For someone who set an SEC title-game record with 12 receptions, Cooper had a quiet night.  Still very much deserving of a mid-December Big Apple vacation.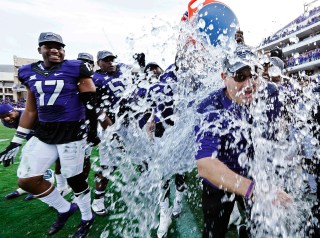 HE SAID IT
"I think I'd be sad for my kids. Upset or mad is UAB dropping football." — TCU head coach Gary Patterson, when asked if he would be upset if his Horned Frogs were left out of the playoffs.
HE SAID IT, THE SEQUEL
"That locker room was like we had won the national championship" — SMU interim head coach Tom Mason, after the Mustangs won their first game of the 2014 season in the finale against UConn.
HE SAID IT, THE THREEQUEL
"I told Blake I wanted him to play this game like 'Cool Hand Luke.' He looked at me and said 'Who the hell is that?'" — Alabama head coach Nick Saban, on the advice he gave starting quarterback Blake Sims prior to the SEC championship game.
HE SAID IT, BONUS EDITION
"I'm the dog they dropped off down at the Humane Society. He has a little bit of about every breed in him." — New Florida head coach Jim McElwain at his introductory press conference Saturday, when asked about his influences on the offensive side of the ball.
GREATEST. FAN. EVER.
Forget greatest high school fan ever; this OG — with bluetooth even — may be the greatest fan in the history of any sport.
I've never actually seen Snoop Dogg's dad, but in my mind he looks EXACTLY like that.  Out-freaking-standing.
Play on playa.  Play on.
UPCHUCK OF THE WEEK
I can honestly say this is something I've never seen before in a college football game: a center puking on the ball prior to a snap, and then snapping it anyway.  Impressive concentration, I'll say that.
GAMEDAY SIGN OF THE DAY
This one, pumping up Baylor's CFP candidacy to TCU's detriment, is pretty self-explanatory.
SIGN OF THE DAY, PERIOD
Yet another Baylor-trumps-TCU sign, this one extolling the head-to-head advantage the Bears hold on the Horned Frogs.
THE PRICE OF BEDLAM
If you were an Oklahoma State fan, you had to dig a little deeper than your Oklahoma counterpart to pay for a parking spot prior to the Bedlam matchup in Norman Saturday.
TBDBITL
When it comes to marching bands at the FBS level, it doesn't get any better than Ohio State's.  And, when it comes to The Best Damn Band In The Land, it doesn't get any better than the double "Script Ohio."
RANDOM NON-SPORTS TWEET OF THE DAY
STREAKING
Florida State has won a nation's best 29 straight games, a record for an ACC school and one that is tied with Miami of Florida (1990-93) and Michigan (1901-03) for the 13th-longest streak in Div. 1-A/FBS history.  The Seminoles' last loss came Nov. 24, 2012, a 37-26 home setback to in-state rival Florida, and FSU has won 19 of those 29 games by at least 14 points.  Ohio State at 11 in a row is the only other FBS team with a double-digit winning streak.  Alabama, Boise State and Oregon have each won eight straight.
With SMU's 27-20 win over UConn, the Mustangs' nation's worst losing streak of 13 straight was snapped.  The win also helped SMU avoid the football program's first winless season since 2003.  The "honor of the longest losing streaking now falls to Georgia State, which lost 11 in a row to close out the season after opening 2014 with a win.  Since moving up to the FBS level in 2013, the Panthers have lost 23 of their 24 games; the only win came against FCS-level Abilene Christian by one point at home.  Colorado, incidentally, has the longest losing streak among Power Five conference schools at eight straight.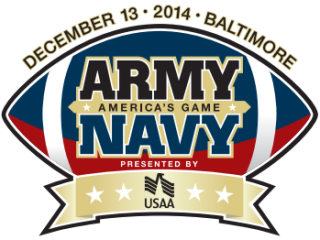 S.I.D NOTE OF THE WEEK
Eighty-five of the 114 Army-Navy games have been played within Philadelphia city limits. The 2011 game at FedEx Field in Landover, Md., marked only the eighth game the Army-Navy Classic was played outside Philadelphia since 1945. The 1983 game was played at the Rose Bowl, while the 1989, 1993, 1997 and 2001 confrontations took place at Giants Stadium. M&T Bank Stadium (formerly PSINet Stadium) in Baltimore played host to the classic in 2000 and 2007. The 2011 game was the first to be hosted by the Washington, D.C. area.
FedEx Field in 2011 was the 16th different site since the birth of the series in 1890. Those sites follow: West Point (3, at two locations), Annapolis (3), Palmer Stadium (1), Franklin Field (18), Polo Grounds (9), Baltimore Stadium (2), Soldier Field (1), Yankee Stadium (2), Municipal/John F. Kennedy Stadium (41), Veterans Stadium (17), Rose Bowl (1), Giants Stadium (4), M&T Bank Stadium (2), Lincoln Financial Field (8) and FedEx Field (1).
The 2014 version of one of the greatest rivalries in any sport will again be played at M&T Stadium, with kickoff set for 3 p.m. ET next Saturday.
S.I.D. NOTE OF THE WEEK II
Alabama's win over top-ranked Mississippi State on Nov. 15 was the program's seventh victory over the nation's No. 1 team. The Crimson Tide owns a 7-4 record in 11 all-time games against top-ranked teams, which equates to a winning percentage of .636 that is the best in college football history. Alabama is 4-1 against No. 1 teams since Nick Saban took over in Tuscaloosa in 2007. Alabama has defeated Florida (2009), LSU (BCS 2011), Notre Dame (2012) and Mississippi State (2014) with the only loss coming to LSU in the 2011 regular season.
S.I.D. NOTE OF THE WEEK III
The ACC swept its four rivalry games with the SEC this year with Clemson defeating South Carolina; Florida State downing Florida; Georgia Tech defeating Georgia; and Louisville defeating Kentucky. That's the first SEC sweep for the ACC since 2000, when the Tigers, Seminoles and Jackets all emerged with a win over their in-state archrivals.
S.I.D. NOTE OF THE WEEK IV
Since Paul Johnson brought his spread option attack to Georgia Tech in 2008, the Yellow Jackets have run for more yards than any other FBS team nationally. In that time, Tech has run for 28,277 yards or 16.066 miles, averaging 307.35 yards per game, which is also the best in the nation.
S.I.D. NOTE OF THE WEEK V
TCU's 21.7 points per game improvement this season from a year ago (46.8, 2014; 25.1, 2013) is on pace to break the Big 12 record of 19.1 set by Oklahoma in 1999 (35.8, 1999; 16.7, 1998) and would be the largest improvement by any team since Northwestern went up 24.0 points between 1999-00.
OFF THE CHARTS
Courtesy of the Louisiana Tech sports information department, and entering Week 15, the most conference championships for FBS football programs: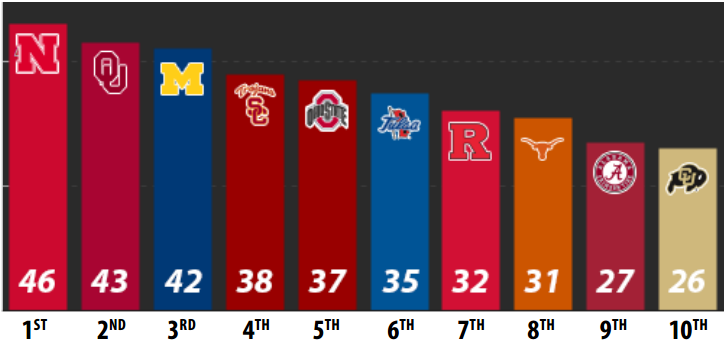 OFF THE CHARTS, PART II
Courtesy of the Missouri sports information department:

OFF THE CHARTS, PART III
Courtesy of the Wisconsin sports information department: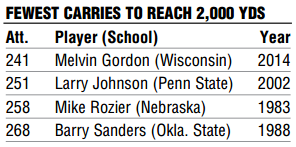 SAY WHAT?
Oklahoma's 35 10-win seasons are tops in college football history, followed by Alabama with 34.  Bob Stoops has 12 of those seasons (in 16 years) for the Sooners while Nick Saban has seven (in eight years) for the Tide.
DULY NOTED
The 76 points Louisiana Tech scored in its Week 14 win over Rice is equal to or more than five of the eight performances by Tech's men's basketball team this year.
DID YOU KNOW THAT…
… Tyler Lockett is now Kansas State's all-time leader in receptions (236), receiving yards (3,546) and receiving touchdowns (27), and that all three of those records had previously been held by his father, Kevin Lockett (1993-96)?
… Oklahoma's school record for rushing yards in a game had stood for 43 years (Greg Pruitt, 294 vs. Kansas State in 1971) before Samaje Perine set the FBS record with 427 yards two weeks ago vs. Kansas?  Did you also know that I included this nugget because Pruitt remains one of my all-time favorite Cleveland Browns?
… Melvin Gordon (2,336) and Corey Clement (844) have combined to rush for 3,180 yards this season, breaking the FBS record for rushing yards by teammates of 3,053 set by Gordon and former Badger James White last year?
… TCU's Trevone Boykin is only the third player in FBS history to average more than 300 yards passing and 50 yards rushing in a single season?  The other two were Baylor's Robert Griffin III and Texas A&M's Johnny Manziel.
… the Washington State twosome of Washington State's Vince Mayle and Isiah Myers (2,455) have combined for the most receiving yards of any wide-receiving duo in the country?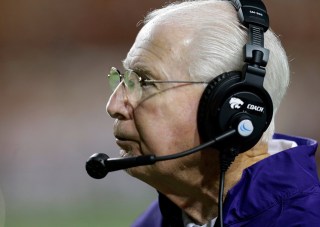 … during Bill Snyder's 23-year tenure at Kansas State, the Wildcats have won 10 or more games nine times?  Prior to Snyder's arrival, K-State won 10 or more games once in 93 years.
… Oklahoma State head coach Mike Gundy is the older brother of Oklahoma running backs coach Cale Gundy? Other Bedlam ties include OSU quarterback Daxx Garman and OU cornerback Cortez Johnson being teammates at Arizona before transferring out.
… Alabama (2008-14) and Miami of Florida (1986-92) are the only FBS football programs to ever be ranked No. 1 for at least one week in seven consecutive seasons?
… since the start of the 2002 season, Ohio State has been ranked in the Associated Press Top 10 more times than any other school (155 weeks). Oklahoma (130) and LSU (129) are second and third, respectively.
… ACC teams have more wins (10) against Power Five conferences than any other league? The next closest is the Pac-12 with eight.
… Ohio State, Florida State and Missouri have the nation's longest current true road game winning streaks at 13, 12 and 10 in a row, respectively?  UCLA is next at seven in a row away from home.
… Alabama, Baylor and Florida State/Boise State have the nation's longest current home winning streaks at 16, 15 and 13 in a row, respectively?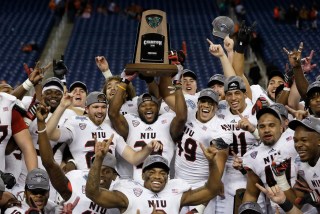 … Northern Illinois' 57 wins since 2010 are the most among Group of Five teams and fourth among all FBS schools behind only Oregon (59), Alabama (58) and Florida State (58)?  The next-closest Group of Five program is Boise State (53).
… UCF has won 25 straight games that have kicked off at 3 p.m. ET or later?
… Saturday's ESPN College Gameday show originating from Waco for the Kansas State-Baylor game was the first-ever for the pregame extravaganza on that campus?
… Old Dominion, in its first season at the FBS level, won its last three games of the season, and won each of those on the game's final play?
… for the first time in the event's four-year history, two Pac-12 teams, Oregon and Arizona, ranked in the Top 10 played each other in the conference championship game?
… Saturday's Kansas State-Baylor game was the first time in the series (12 games total) that both teams have been ranked coming into the contest?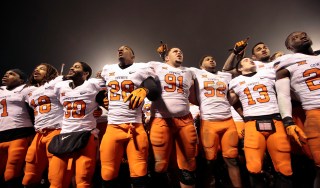 … prior to the Week 15 Bedlam matchup with Oklahoma State, Oklahoma hadn't played a regular-season home game in the month of December since 1985 vs. SMU?
… Saturday's game against TCU is the latest regular-season contest in Iowa State history?
… since 1980, only 21 of the 496 FBS teams that started a season 0-3 went on to become bowl-eligible?  Fresno State in 2014 was the 21st.
… prior to the Conference USA championship game, Louisiana Tech and Marshall hadn't met in football since 1942?
… Bowling Green's MAC championship game appearance Friday in Detroit marked BGSU's first game outside the state of Ohio since a road contest at UMass on Sept. 27?
… Army has had seven different players rush for more than 100 yards in a game during the 2014 season?
IN CLOSING…
I just wanted to extend a hearty and heartfelt thank you to all of our readers for making the month of November the highest-trafficked month during my six years at CFT.  Not only that, it was the highest in the eight-year history of CFT, period.  Specifically, though, I'd like to thank the readers of the Fifth Quarter.  This is easily the most rewarding feature I work on here, and the fact that so many of you enjoy it makes it that much more enjoyable.  This, unfortunately, will serve as the last Fifth Quarter of the 2014 season, so, at least when it comes to this space, I'll see y'all next September after Week 1 of the 2015 season.