Rewind to a couple of months ago, most insiders at both the professional and collegiate level would've scoffed in your general direction at the mere suggestion there was the possibility that Jim Harbaugh could deign to drop back down to the collegiate level after such a successful stint at the professional one.  Fast-forward to today and…
Surprise!
Tuesday at noon ET, the previously scoffed was officially announced: Jim Harbaugh is the new head coach at the University of Michigan.
Let that sink in for a moment. And then a couple of moments more. A man who had led the San Francisco 49ers to NFC Championship game appearances his first three years with that NFL club is now, after one non-playoff season, out in the Bay Area and in at Ann Arbor.
Surprise? Uh, wow! is more like it.
It's an unexpected win on multiple levels for those who still put the acronym "FBS" above "NFL."  How so?  Allow me to count down the ways.
THE SPORT
Yes, the NFL is still king when it comes to any American sport. However, college football has just sneaked into the king's court and swiped one of its most successful, visible and well-known princes. Regardless of the reasons behind it, this is huge for the sport.
It could very well be the reported $8 million-per offer (that wasn't) waved in his face that pushed Harbaugh back to the collegiate level. It could very well be that the available NFL openings weren't even remotely worth considering and that the less-than-amicable divorce persuaded the coach that long-term sustainability in the pros simply wasn't possible at the moment, even as an eventual return to The Shield might be in the cards as Harbaugh's a restless soul. Regardless of the myriad could-very-well-be's, there's one irrefutable truth: college football got over, and got over at the expense of the behemoth that is the NFL.
Aside from what's really just flexing and gloating over being on the good side of a coaching move for once instead of another Chip Kelly the other way, there's this: much like with Alabama and Ohio State and Tennessee and Texas and a handful of other historically significant football programs, the sport is a better one when Michigan is relevant. And, since that epic No. 1 vs. No. 2 clash in the 2006 edition of The Game, UM has been anything but that on the national stage, aside from being the butt of increasingly easy one-liners.
Yes, Harbaugh's hiring doesn't guarantee a move back to relevance; it does, though, get the football program pointed in that direction.
I say this armed with the knowledge that Harbaugh's "act" eventually got old at the professional level. At the collegiate level, the nerds that littered the Stanford roster had no problem with said "act," and even flourished after previously floundering prior to his arrival.
Your loss, NFL, is college football's gain.
THE CONFERENCE
Prompted by numerous members of the media, Kevin asked Monday if Harbaugh was the Big Ten's "savior." The short, easy and undeniably correct answer? Despite the hype from national pundits, of course he's not. It's a laughable and knee-jerk supposition. There's not a single person who can "save" the Big Ten from its wounded football reputation nationwide.
What Harbaugh can do, though, is become one of the pieces to the conference's puzzle that helps shift its national reputation from one of disdain and derision to, well, something more palatable than that. Gradually. Eventually, that reputation will evolve… though, slowly but surely, the pieces are coming together for the conference at the position it matters most: head coach.
Just look at the Big Ten East's coaching roster, which is becoming a veritable northern lite version of the SEC West when it comes to name recognition: Harbaugh, Ohio State's Urban Meyer, Michigan State's Mark Dantonio, Penn State's James Franklin.  An impressive-looking roster to be certain.
Yes, the B1G West needs to step-up its coaching game — to paraphrase Lou Brown in "Major League," though, "there are two or three potential all-stars there" — but, then again, so do the SEC East coaches when it comes to recent performance.
Savior he's not when it comes to the singular, but Harbaugh could be one of many who helps "save" the conference from its recent past.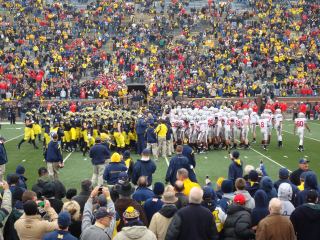 THE GAME
For those who are new to CFT, or have come aboard after my most recent "confession," here you go: I was born, raised and lived a sizable portion of my life in Northeast Ohio, and was a fan of all things Cleveland sports and, yes, THE Ohio State University. I still consider The Game to be the greatest rivalry in all of sports, and consider any argument to the contrary invalid.
There was high-level hatred for That School Up North — hatred that's waned quite significantly over the past few years given my job, I should note — although respect for TSUN has always been paramount and, more importantly, a given. While the grudging respect for UM is still there amongst my family and friends, the hate has, on many levels, been replaced by something much, much worse: pity.
Yep, the storied rivalry that has a section of it cordoned off as "The 10-Year War" has morphed over the past decade or so, since the arrival of The Sweatervest, into one side feeling sorry for the other in every other game of the year but The Game. Pity? You kidding me? That can't stand. It's not right. Hell, it's borderline un-American.
And something that Woody would punch someone over. Or impale someone with a yard-marker over.
Yet that's the current state of the rivalry. Certainly Harbaugh can change the buzz around the rivalry off the field, especially with Meyer and his stout pedigree firmly entrenched in Columbus. Off-field buzz is one thing; on-field success for both sides is what's needed.
Whether Harbaugh can take his Stanford success of a handful of years ago and ratchet it up several notches is the The Big Game question that will determine where this rivalry moves nationally.
(Photo credit: Michigan athletics)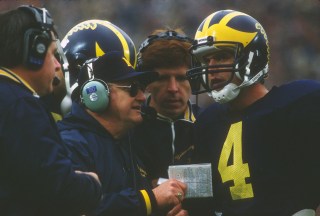 THE SCHOOL
In the grand scheme of things, the three previous topics are important off into the future. In the here and now? They pale in comparison to what this hiring means to the hundreds of thousands of alumni and millions of fans of this storied program.
Hope.
Boundless, unabashed hope for a fan base mired in mediocrity and a suffocating malaise that stretches back to Brady Hoke's well-intentioned but ultimately torturous tenure to the epic fail of a Rich Rodriguez experiment to Lloyd Carr's inability to solve the vexing 'Vest problem after winning a national championship less than five years before Jim Tressel's arrival.  Harbaugh is the veritable oasis in the midst of years of desert wandering, with the football program stumbling upon the drink of water at the exact right moment in the coach's career.  Hope in what's being dubbed "Ann Arbaugh?"  Yes, he's just that.
And it's not just that Harbaugh comes armed with a pedigree that, at the collegiate level, took an academically-inclined Stanford program into one of football relevance on a national scale and, at the professional level, took a 49ers club that had been spinning its wheels for years and, very quickly, turned it into an annual Super Bowl contender. Yes, that résumé is certainly part of it; a large part of it, actually.
There's this, though — he's one of them. He's one of them, one of those "Michigan Men" that the man who hired him was determined to phase out.  And he's not just a "Michigan Man" at the collegiate level.  It's more ingrained than just a four- or five-year year stint on the campus.
Jim's dad, Jack Harbaugh, was the Wolverines' defensive backs coach under Bo Schembechler from 1973-79, the first year when Lil' Jim was 10-ish. Jack's son went to middle school and junior high and high school in Ann Arbor before graduating from high school in Palo Alto, Calif. … and then played his college football at Michigan… and then got his first FBS head-coaching job at Stanford… and then got his first NFL job in the Bay Area… and then, now, returned to Ann Arbor where his formative years truly began.
Most people don't come full-circle once; UM's new head coach has now done it twice.
While he's been here, done that twice when it comes to Ann Arbor, he'll be coming into his first go-'round as the leader of the state's flagship football program. What he won't be coming into is a bare personnel cupboard.
For all of the on-field angst that Hoke inspired — after an initial 11-2 record with RichRod-recruited players, UM proceeded to go 8-5/7-6/5-7 — the fired head coach recruited well. In 2013 and 2012, UM's recruiting classes were ranked fifth and seventh nationally and second in the Big Ten, respectively, according to Rivals.com. Even in 2014, amidst much speculation that Hoke was as good as done, he still pulled in a class that ranked 31st in the country and fourth in the conference.
What that says is that, even as it's been tattered and tarnished a bit, the Michigan brand still means something on the recruiting trail. What it also says is that Harbaugh, who maneuvered his way through the academic minefields at Stanford to pull in top-level talent, is the type of recruiter who can restore some of the lost brand luster by simply being in the living room.
And then there's this: the Hoke system is closer — much, much closer — to the Harbaugh system than the RichRod system ever was to his successor's.  In other words, there's talent in that cupboard that Harbaugh will immediately recognize and can utilize, while Hoke fumbled through the ingredients he inherited trying to find the right recipe… and damn-near burned down the kitchen in the process.
The Harbaugh hire has a chance to be a program-changing moment for UM football.  Now it's up to Harbaugh to take what he's got, add to it, and turn it into something befitting such a storied institution.  No pressure, coach.  No pressure at all.