WHO
No. 2 Oregon (13-1) vs. No. 4 Ohio State (13-1)
WHAT
The College Football Playoff championship game, presented by AT&T
WHEN
8:30 p.m. ET
WHERE
AT&T Stadium, Arlington, Tex.
HEAD COACHES
Ohio State's Urban Meyer (37-3 in three years with Buckeyes, 141-26 overall)
Oregon's Mark Helfrich (24-3 in two seasons with Ducks)
STATISTICAL LEADERS
Ohio State
Rushing: Ezekiel Elliott, 1,632 yards, 14 touchdowns
Receiving: Michael Thomas, 50 receptions; Devin Smith, 886 yards, 12 touchdowns
Punt returns: Jalin Marshall, 12 yards per on 21 returns, one touchdown
Kick returns: Dontre Wilson. 24 yards per
Punting: Cameron Johnston, 45.3 yards per, 24 of 45 inside 20
Tackles: Joshua Perry, 118
Tackles for loss: Joey Bosa, 20
Sacks: Joey Bosa, 13.5
Interceptions: Vonn Bell, six
Passes defensed: Doran Grant, 14
Oregon
Rushing: Royce Freeman, 1,343 yards, 18 touchdowns
Receiving: Byron Marshall, 66 receptions, 834 yards; Devon Allen, seven touchdowns
Punt returns: Charles Nelson, 15.5 per on 11 returns, two touchdowns
Kick returns: Devon Allen, 26.1 per on eight returns
Punting: Ian Wheeler, 39 yards per, 10 of 41 inside 20
Tackles: Erick Dargan, 90
Tackles for loss: DeForest Buckner, 13
Sacks: Tony Washington, six
Interceptions: Erick Dargan, seven
Passes defensed: Troy Hill, 19
STATISTICAL MATCHUPS
Ohio State's 10th-ranked rush offense (262.2 ypg) vs. Oregon's 50th-ranked run defense (154.2 ypg)
UO's 18th-ranked rush offense (241.9 ypg) vs. OSU's 33rd-ranked run defense (139.8 ypg)
OSU's 52-ranked pass offense (247.5 yp) vs. UO's 103rd-ranked pass defense (259.5 ypg)
UO's 11th-ranked pass offense (311 ypg) vs. OSU's 17th-ranked pass defense (188.2 ypg)
OSU's 5th-ranked scoring offense (45 ppg) vs. UO's 29th-ranked scoring defense (22.5 ppg)
UO's second-ranked scoring offense (47.2 ppg)) vs. 23rd-ranked scoring defense (21.2 ppg)
STAT THAT MIGHT MEAN SOMETHING… OR NOTHING
Oregon is 115th out 125 teams in penalty yards per game at 72, while Ohio State is 46th at 48.46 ypg.  The Ducks are 116th in penalties per game (8.07) and the Buckeyes are 51st (5.64).
COMMON OPPONENTS
Michigan State.  Oregon won 46-27 in Eugene Sept. 6, Ohio State won 49-37 in East Lansing Nov. 8.
LOSSES
Ohio State: 35-21 to Virginia Tech (7-6) in Columbus Sept. 6
Oregon: 31-24 to No. 10 Arizona (10-3) in Eugene Oct. 2
PORTFOLIO
Wins vs. bowl teams: Ohio State 11, Oregon 8
Wins vs. current CFP Top 25 teams: OSU 4, UO 5
Wins in true road games: OSU 4, UO 5
Wins by 10-plus points: OSU 10, UO 12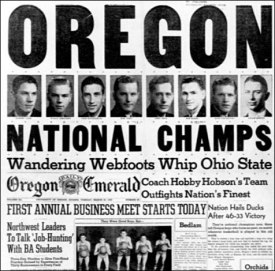 NOTES TO NOTE
— Ohio State and Oregon played in the first-ever NCAA men's basketball championship game in 1939. The Ducks won by a score of 46-33, and it's very possible that both team will top the winning cager's point total in this title matchup.
— Ohio State is 8-0 all-time vs. Oregon on the gridiron. The first game was played in the Rose Bowl following the 1957 season, the last coming in the Rose Bowl after the 2009 season. Of the six games played in between those two Rose Bowls, five were played in Columbus and one in Eugene. The average margin of victory for the Buckeyes is 16.6, with the Ducks not scoring more than 17 points in any of those contests.
— There are three players (tight end Pharaoh Brown, defensive back Troy Hill, wide receiver Dwayne Stanford) from the state of Ohio listed on Oregon's roster, while there are no players from the state of Oregon listed on Ohio State's roster. Neither coaching staff has any assistants who are from the opposite state.
— 23 Ducks were born in Oregon, while 62 Buckeyes hail from Ohio. Seven of Urban Meyer's nine assistants, the lone exceptions being co-defensive coordinator/safeties coach Chris Ash and defensive line coach/assistant head coach Larry Johnson, were born in Ohio. Meyer was as well.
— Ohio State claims seven national championships, the first in 1942 and the last in 2002. Oregon has never won a national championship since it began playing football in 1915.
— The three finalists for the 2014 Heisman Trophy were Wisconsin running back Melvin Gordon, Alabama wide receiver Amari Cooper and Oregon quarterback, and winner, Marcus Mariota. The Buckeyes beat Gordon's Badgers in the Big Ten championship game, then in their next game beat Cooper's Crimson Tide in the Sugar Bowl semifinal.
— In the 2007 BCS title game, Meyer's Florida Gators beat Ohio State and Heisman winner Troy Smith 41-14. In the 2009 BCS title game, Meyer's Gators beat the Oklahoma Sooners and Heisman winner Sam Bradford 24-14.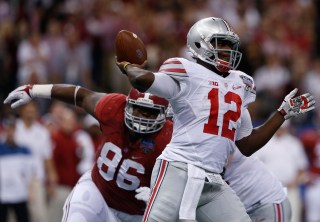 OHIO STATE WINS IF…
… Cardale Jones remains Cardale Jones and doesn't turn into a pumpkin at midnight.
Jones, who found himself third on the quarterback depth chart in mid-August, has started the past two games and showed absolutely no signs that the stage was too big for him.  In 69 pass attempts this season, including 52 in the wins over Wisconsin and Alabama, Jones has thrown just one interception.  Some of the most impressive throws for Jones, nicknamed 12-gauge for both his number and arm strength, have been his decisions to throw the ball away and live to play another down.
In the Ducks, Jones will be facing a defense that intercepted just 12 passes this season (their .857 picks per game is 75th nationally) and has shown a propensity to give up yards in chunks through the air.  Jones, and the stout OSU rushing attack led by Ezekiel Elliott for that matter, will get their yardage if the defensive theme from the 2014 season continues.  The Buckeyes need to capitalize on their scoring chances and, again, avoid the turnovers on which the Ducks' offense thrives and, ultimately, buries the opposition.
Big plays have been a staple of OSU's offense, especially after Jones took over.  However, given their opposition's offensive firepower, long, sustained drives — that end in touchdowns, not field goals — might be in order as it looks to keep the Ducks off the field.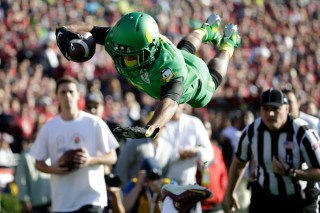 OREGON WINS IF…
… it creates turnovers and general havoc around an inexperienced quarterback.
OK, maybe not at the level of the semifinal blowout of Florida State, when the Seminoles coughed the ball up five times in looking like a team that hadn't played the game in years, but the Ducks will need to, as they have all season long, continue creating turnovers in what's expected to be a back-and-forth offensive affair.  This season, the Ducks are plus-20 in turnover margin, the best in the country this season.  Just as importantly, the Ducks need to capitalize off the turnovers like they did in the semifinal, scoring touchdowns after all five Seminole miscues.  In UO's lone loss of the season, to Arizona, the Ducks were unable to score any points off of the Wildcats' two turnovers.
In OSU's only loss of the year, to Virginia Tech, the Buckeyes turned it over three times to the Hokies' defense.  Overall, the Buckeyes are T-61st in turnovers lost with 22, so there could be opportunities for the Ducks' defense to get the ball back for its high-powered offense.
Both teams have shown all season long that, for the most part, no defense will stop their respective offenses for any appreciable length of time.  Thus, a safe bet is that whichever team wins the turnover battle will stand a better-than-average chance of winning the game. It may be trite or a cliché, but that, the number of turnovers, will very likely prove to be the bottom line.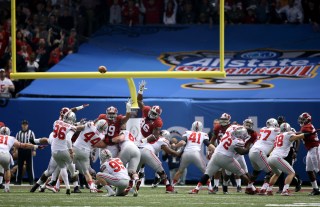 IF IT COMES DOWN TO A FIELD GOAL…
… Ohio State could be screwed.
Sean Nuernberger has made just 13 of his 20 field-goal attempts this season.  He's missed half of his 10 attempts from between 40-49 yards, and hasn't attempted one from beyond 50.
Meanwhile, two Oregon kickers, Aidan Schneider and Matt Wogan, have combined to make 16 of the team's 19 field-goal attempts.   Oddly enough, though, they've missed four extra point attempts this season, while Nuernberger has made all 83 of his point afters.
When it comes to punting and the possibility of flipping field position, though, that's a decided advantage for OSU.  Cameron Johnston is one of the top punters in the country, averaging 45.3 yards per punt (seventh nationally).  He's put 24 of his 45 punts inside the 20-yard line, and 16 of his efforts went 50 or more yards.
Conversely, UO's punter, Ian Wheeler, averaged just 39 yards per punt, with only 10 of his 41 boots pinning the opposition inside the 20.
INJURY REPORT
This is another significant advantage, Ohio State.
Devon Allen, Oregon's kick return and receiving touchdown leader, has already been ruled out after sustaining a knee injury on the opening kickoff of the Florida State win.  And that's on top of its top cornerback, Ifo Ekpre-Olomu, having missed the playoffs because of a significant knee injury and its top tight end, Pharaoh Brown, out with a gruesome injury sustained in early November, out as well.  The Ducks' top offensive linemen have been beat up to varying degrees throughout the season, but are all relatively healthy and will play in the title game.
While not an injury, there will be another absence of significance for the Ducks as second-leading receiver, yardage-wise, Darren Carrington will miss the title game because of a failed drug test.  Special teams ace Ayele Forde will not play either because of his own suspension for a failed drug test.  The injuries and suspensions, though, means that the Ducks will be without three of their top five pass-catchers in 2014 for the biggest game in the football program's history.
For OSU, they are relatively healthy for having played 14 games, (likely) getting back top tight end Jeff Heuerman and running back Dontre Wilson (broken foot) for good measure. Heuerman, despite missing four complete games, is tied for the team lead among tight ends with 17 receptions while Wilson is sixth on the team with 112 rushing yards and fifth in receptions with 21.
Wilson, incidentally, is from Texas and was originally committed to the Ducks before flipping to the Buckeyes in February of 2013.
FASHION REPORT
For those into this kind of thing — not that there's anything wrong with it — below are the uniforms that both teams will be wearing during Monday night's first-ever CFP championship game: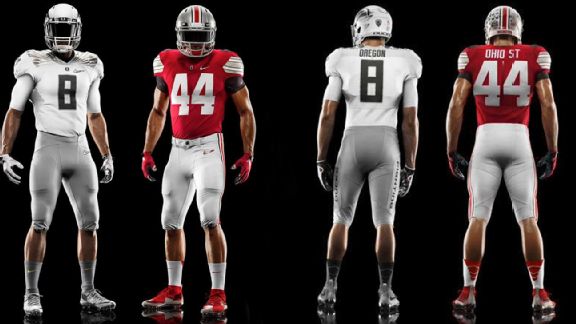 (Photo credit: Nike)
THE LINE
Ohio State, +7 (opened +7)
Over/under, 73½
https://twitter.com/ESPNCFB/status/554503090737405952/photo/1
THE PREDICTION
Ohio State 48, Oregon 43