One of the longest-tenured athletic directors in the country has decided to call it quits.
In a press release late Thursday afternoon, Missouri announced that Mike Alden's last day on the job will be Aug. 31 of this year.  In his statement, Alden said that "[a]fter several months of contemplation, I have decided that it is time for a change, both for me and for the university I dearly love."
A press conference will be held Friday morning and will feature Alden, president Bowen Loftin and Dean Michael Clay.
Even as Alden is leaving a post he has held since 1998, he won't be leaving the university as he will transition into an instructor in the Positive Coaching Program in Mizzou's College of Education.
While Alden can boast of numerous accomplishments during his nearly two decades as the head of Mizzou athletics, shepherding the Tigers into the SEC will likely be his lasting legacy.  After a trying first season, Mizzou has claimed back-to-back SEC East titles in football the past two seasons.
Beyond the on-field success, the move to the SEC will continue to pay financial benefits to the entire athletic department long after Alden steps down.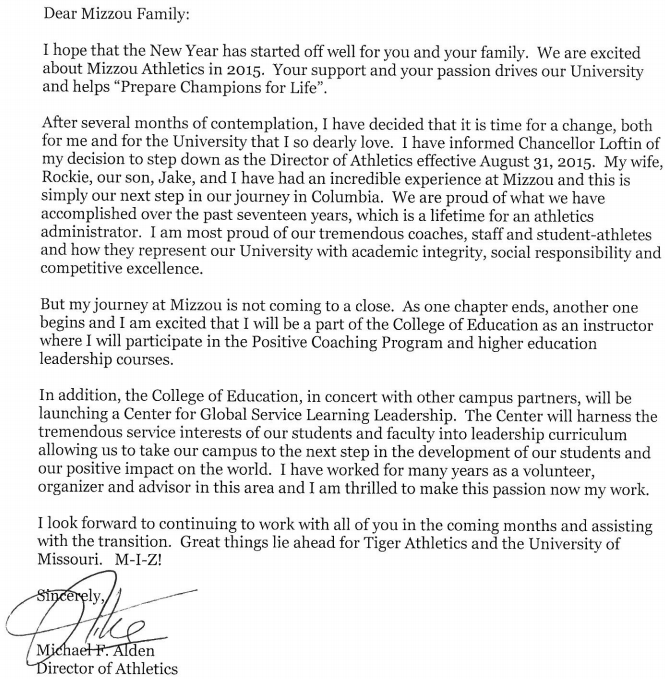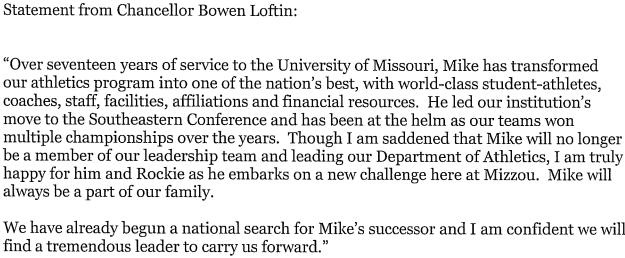 UPDATE [7:30 p.m. ET]: The University of Missouri officially became a member of the SEC in 2012. Three years later, the Tigers football team already owns two SEC East championships.
The school has proved to be a tremendous addition to the conference, and SEC commissioner Mike Slive acknowledged the role Mike Alden played in the transition: