The work week began with word that a Michigan player has decided to leave Ann Arbor.  As it turns out, it'll end the same way.  Times two.
First off, on Instagram Friday, Russell Bellomy announced that he will transfer out of the UM football program. In a very heartfelt statement, the quarterback asked that "you respect my decision and support me in whatever I do."
Below is the statement, in its entirety.
"To those of you that know me well, I always try my hardest never to get emotional; however, I write this with a heavy heart. My heart is packed full of experiences, acquaintances and irreplaceable memories that I will reminisce on for the rest of my life. I love each and every one of my teammates, both former and present, and I hope y'all know that every day I busted my butt for you and the benefit of UM.

"I will receive my degree at the end of this semester and have decided to sign my release that enables me to play my 5th year as a graduate student at another university. I pray that you respect my decision and support me in whatever I do, because this was not an easy process. I am forever grateful to have attended and played for UM and I wouldn't trade it for anything in the world. "For I know the plans I have for you…" #GoBlueAlways"
As noted in the statement, Bellomy will be a graduate transfer, which means he would be eligible to play in 2015 if he decides to move on to an FBS program. The release granted by Michigan, which Bellomy showed on his social media post, allows him to transfer to any school not on the Wolverines' schedule.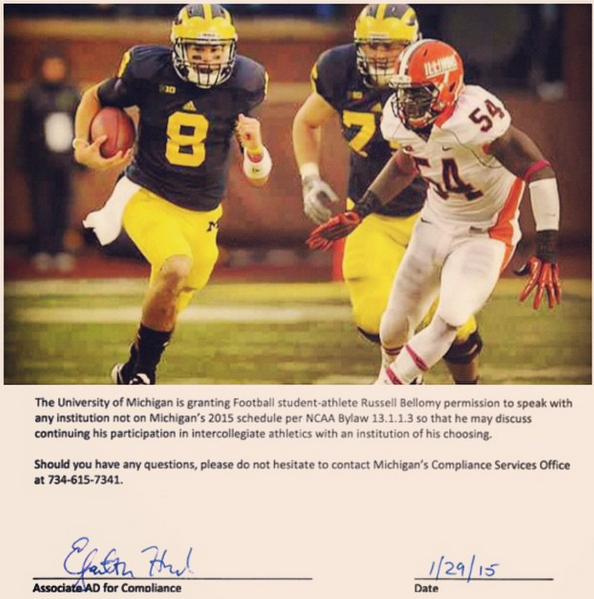 Bellomy, a three-star member of the Wolverines' 2011 recruiting class, played in six games during his time at UM, completing 4-of-23 passes for 46 yards and four interceptions.  Three of those interceptions came in a 23-9 loss to Nebraska in October of 2012, a game in which he was forced into action because of an elbow injury to starter Denard Robinson.
A short time later, teammate and defensive end-turned-tight end Keith Heitzman did the same thing as Bellomy, and on the same website to boot.
"The past few years have been an unforgettable journey full of ever lasting memories, both exciting and saddening. I have experienced the spoils of winning and the heartbreak of losing. I have always blamed my struggles on external factors and never realized that all of this was part of the process of becoming a Michigan man. It has been the most challenging yet rewarding 4 years of my life and for that I will be forever grateful.

"However, this moment right now has manifested itself into the toughest experience as of yet. I have signed my release form allowing me to talk with other schools for the potential to transfer. As of right now I will leave this great institution in the spring with a degree in hand and friendships that will last a lifetime. I have to make the best possible decision for me, therefore, I feel like I need to explore my options. I have to thank all the fans for their continued support through the turbulent times over these past few years and promise that Michigan is destined for greatness in the future. #forevergoblue"
Last season, Heitzman caught two passes for 32 yards and a touchdown in playing in all 12 games.  Heitzman was a three-star member of UM's 2011 recruiting class, and will be eligible to play immediately at an FBS school because he will be a grad transfer.
Monday, it was reported that running back Justice Hayes would be leaving as a graduate transfer. Prior to that, and between the firing of Brady Hoke and the hiring of Jim Harbaugh, linebacker Michael Ferns and offensive lineman Kyle Bosch left the program as well. Both of those players ultimately landed at West Virginia.