Three Mississippi State football players, including a potential Heisman Trophy contender in 2015, were reportedly involved in a spring break incident in Florida recently.
Rumors of an incident involving quarterback Dak Prescott first popped up on an MSU message board titled Elitedawgs.com.  Maroonandwhitenation.com subsequently confirmed the initial report, adding to the story that the other two players involved were defensive end Torrey Dale and quarterback Damian Williams. On Prescott's Instagram account, he posted that he was heading to spring break with both Dale and Williams.
As for what reportedly went down in Panama City, the initial posting on the incident went as such…
[Dak] got hit with a bottle in the head…other player hasnt been named yet. They were at a Waka Flocka concert…no idea extent on injury at this point. Rumored, i repeat rumored to be Tenn fans that jumped them- but no idea at this point
… with these updates from maroonandwhitenation.com adding additional texture to the growing story:
It was probably Southern Miss fans according to the players.

…

sources confirm Dak was backed into a corner and surrounded, then jumped by a fairly large number of people. Reason is unknown.
MSU has yet to address what if any type of issue any of its players may have had recently while on spring break. While there has been no official confirmation of either the incident or any injuries, a photo posted on the message board shows an individual whose face and tattoos bear a striking resemblance to Prescott with what appears to be a significant cut on his forehead: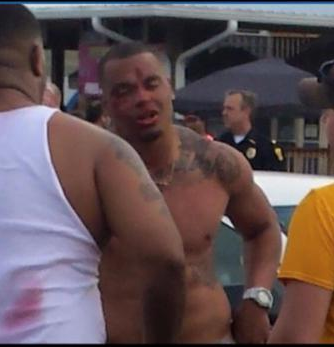 Shortly after the initial reports surfaced, Alex Scarborough of ESPN.com tweeted the following:
Additionally, members of Prescott's family told the Jackson Clarion-Ledger that the quarterback "is recovering from lacerations to his face after a group of men attacked the Mississippi State quarterback and his teammates during a trip on spring break." The paper added that "[t]he injuries the senior sustained are not serious and the group is returning home after the incident."
After Georgia running back Todd Gurley's impermissible benefits suspension, Prescott moved to the forefront of the Heisman race.  While he and the Bulldogs faltered down the stretch — even as he was one of three finalists for the award — Prescott's once again viewed as one of the favorites entering the middle portion of the offseason.
The other two players reportedly involved were both reserves last season.