Stick a bunch of smart, highly-paid people in a room for two days and ask them to figure out a simple issue and what do you get? A complicated solution, that's what.
Big 12 commissioner Bob Bowlsby new tiebreaker procedures – among four choices, he noted – to determine its champion at its spring meetings in Phoenix Wednesday, seen below via ESPN's Max Olson: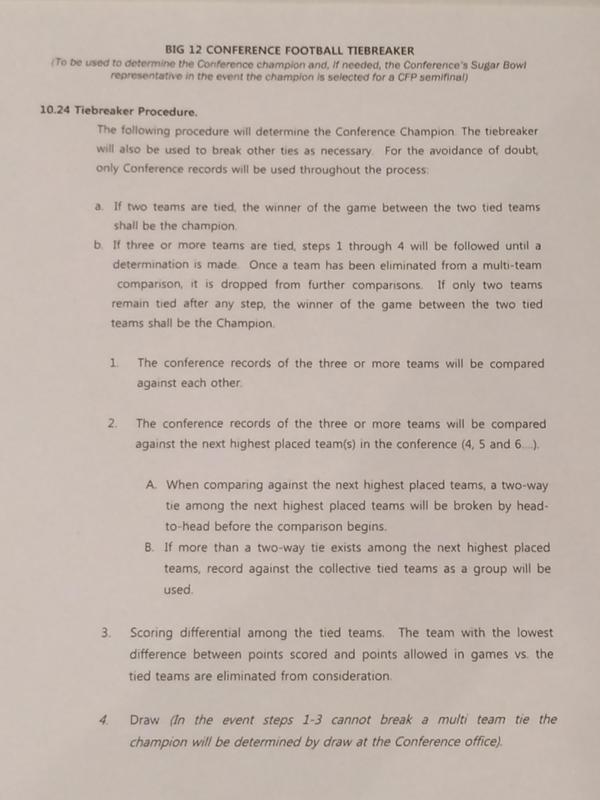 Though the intent is clear with tiebreaker B1, Mike Finger of the San Antonio Express-News astutely pointed out the wording needs to be ironed out:
Here's a fun (?) little example of why wording matters in the Big 12 tiebreaker: pic.twitter.com/hYbmeXYuE2

— Mike Finger (@mikefinger) May 6, 2015
Essentially, three teams finish 8-1 in 2015, the league has put in place procedures to guarantee only one of them holds a trophy at season's end.
If this tiebreaker had been in place in 2008, Texas Tech (which got blown out by OU) eliminated first, Texas would win H2H w OU.

— Stewart Mandel (@slmandel) May 6, 2015
And in the rare event where three times tie in the standings and on the scoresheet? Well, now that I think about it, that's exactly the type of thing that would happen in the Big 12.