Northern Illinois will have a brand new playing field in Huskie Stadium this fall, and thankfully (or mercifully) the program will not be installing a non-traditional field the way programs such as Boise State and Eastern Michigan have. Surely somebody might have been tempted to toss the idea fo an all-black playing field around the NIU offices, even if in jest. Instead, NIU is serving up six options and giving fans a chance to decide which field design should be used for the MAC power moving forward.
The first two designs, shown in the Instagram image below, should be out of the running from the start. The first has no color in the end zones and what appears to be the shadowy image of corn. NIU broke out corn uniforms last season, if you recall. With no offense intended to the great corn community, let's hope NIU fans are quick to dismiss this field design. The second option adds a black background to the end zones and adds a larger outline of the state of Illinois at midfield underneath the "NIU" logo. It's OK, but let's move on.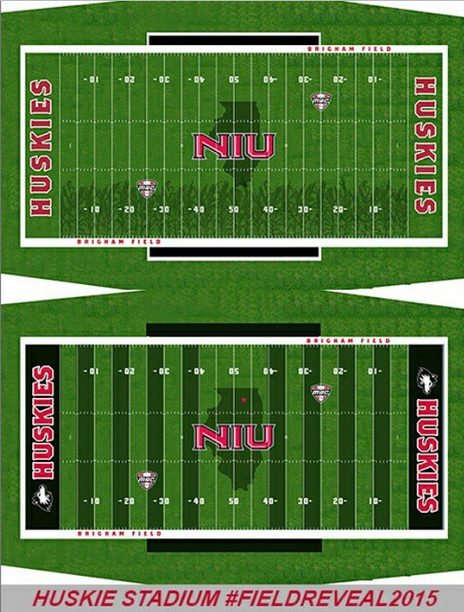 Moving to the second two options, we see the husky logo make an appearance at midfield, with "NIU" plastered across the end zones on a black background. So far, this is the leading candidate, and we don't even have to waste much time on the next option, which puts the "NIU" logo back at midfield and writes "HUSKIES" in the end zones. The outline of the state of Illinois is also huge. We get it. You are in Illinois.
Now let's move on to the final two options for fans to consider. Personally, the option with the gigantic husky logo shadowed into the field is the best of the six options on the ballot.  The sixth option with the red end zones is not terrible, but c'mon. What other school is going to have a logo practically take up the entire field?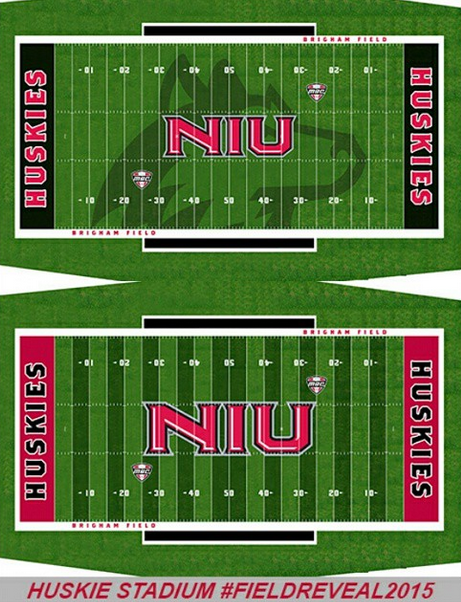 NIU will eliminate one option each day until the final design is made official. Which one is your favorite?