What with Ohio State winning 10 of the last 11 and 12 of the last 14 (including the vacated one in 2010), the rivalry around The Game with Michigan hasn't been much to speak of on the field since the turn of the century.  Off the field?  That, with the arrival of Jim Harbaugh in Ann Arbor, is becoming another matter entirely.
The latest social media dust-up between the two storied football programs involves what one Buckeye-centric website referred to in a headline as "ridiculous anti-Ohio State propaganda" on the part of UM.  The alleged propaganda in question centers around a recruiting flyer that compares the respective coaching résumés of UM passing game coordinator/quarterbacks coach/wide receivers coach Jedd Fisch and OSU wide receivers coach Zach Smith.
In the flyer, the Wolverines tout the number of receivers Fisch has sent to and coached in the NFL as compared to Smith.  It also compared the head coaches under which the assistants have worked.  The negative undertone of the recruiting tool didn't sit well with the Buckeye assistant, who took to Twitter to voice his displeasure over what some are considering some rivalry dirty pool.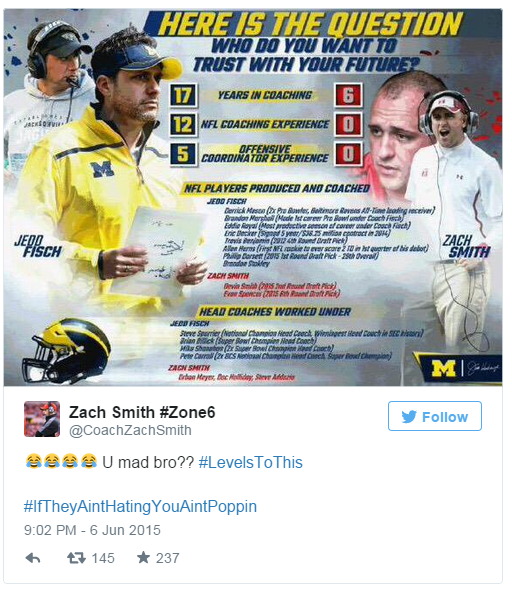 After engaging fans with a series of retweets and responses, Smith then dropped the mic by posting a photo of the bling he's accumulated at the collegiate level.
Even former OSU offensive coordinator, and current Houston head coach, Tom Herman got in on the social media fun by comparing some won-loss records.
If late November in Ann Arbor is half as entertaining as the social media blowups between the two sides, the whole of college football will be in for one hell of a show a little less than six months down the road.