It wasn't enough for Michigan State to hand out victory rings to players in honor of winning the Cotton Bowl. The Spartans had to have the jewelers add just a little bit more to brag about, deservedly so.
Take one look at the Cotton Bowl championship rings and you will notice all of the ingredients that are SOP for bowl rings. Just for good measure though, you will also see the score from Michigan State's victory over Michigan (bottom right in below photo).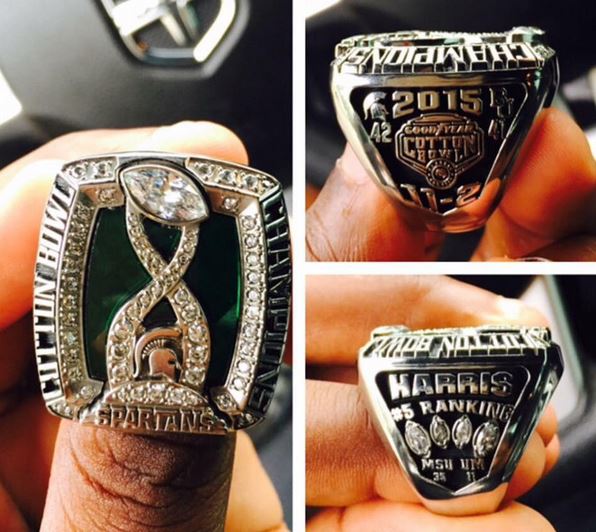 For Michigan State, any victory over the Wolverines is a proud moment. This one may have been just a bit more personal after Michigan linebacker Joe Bolden attempted to rally the Wolverines in a pregame intimidation showing by driving a tent stake into the turf at Spartan Stadium prior to kickoff. Mark Dantonio was none too pleased with the shenanigans, and Brady Hoke apologized for the incident (which he says he was unaware of, and I'm inclined to believe that 100 percent).
Michigan State has won six of the last seven meetings with Michigan. The series rivalry continues this fall when the Wolverines host the Spartans on October 17 in Michigan Stadium.
Helmet sticker to Football Scoop.