And the P.R. hits keep on a coming for the Florida State football program.
Shortly after FSU announced that true freshman quarterback De'Andre Johnson had been dismissed from the team for punching a woman in the face at a bar, reports surfaced that teammate Dalvin Cook had been arrested and charged after punching a woman in the face at a bar, prompting head coach Jimbo Fisher to reportedly ban his Seminole players from frequenting drinking establishments.  As it turns out, this isn't Cook's first distasteful brush with the law during his brief time in Tallahassee.
Andy Staples of SI.com has uncovered an official document that shows Cook was cited by the City of Tallahassee Animal Services in July of last year.  From Staples' report, as well as a redacted copy of the citation Cook was issued:
Meanwhile, on July 25, 2014, Cook was cited for violating two aspects of Tallahassee's city ordinance involving animal care. According to a report attached to the citations, Cook had three pit bull puppies—the officer estimated one to be eight months old and two to be two months old—chained together. "The dogs were tethered directly around the neck by a heavy chain," animal control officer Sheree Mifflin wrote. "The dogs were unable to move and the smaller puppies were choking." Mifflin wrote that Cook could not provide any identification, so she called a Tallahassee police officer to identify Cook. Cook was fined $275 for chaining the dogs in that manner and $275 for failing to provide shelter. According to Leon County's official records site, the cases for both citations remain open.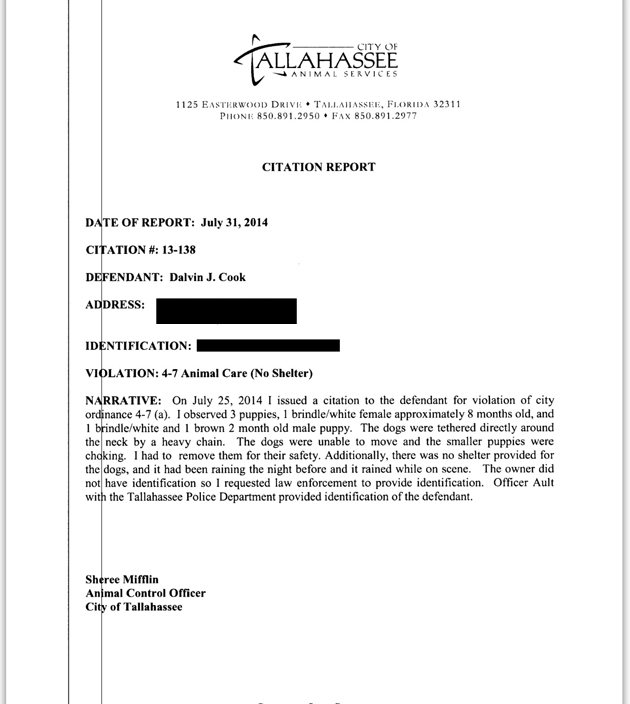 (Expect to see a Dalvin Cook/FSU/PETA post at some point here this week.)
But wait, there's more. Cook's actually had three off-field situations as the running back was charged with criminal mischief for the infamous BB-gun fight that damaged several vehicles.
What if any impact this pooch narrative, when combined with punching a woman, will have on Cook's status with the team moving forward is unclear. Barring a Johnson-like video surfacing — and given the fact that Cook led the 'Noles in rushing as a true freshman last season — the guess here is that his status with the team will be just fine. Whether that's right or wrong is another story for another day.