Yeah, this development might invite some negative — and some would say well-deserved — scrutiny for the LSU football program.
Wednesday, Les Miles confirmed that Jevonte Domond, who had been indefinitely suspended for a little over two months, has been reinstated to his football team.  Back in May, Domond was arrested for felony domestic abuse, although he has yet to be formally charged.
To say the least, the details of what led to the arrest are quite disturbing, and why the national rumblings over the reinstatement are already beginning.
The alleged victim, Domond's fiancée, accused the lineman of strangling her as she stood over the crib of the couple's child. She further alleged that he slammed her on a couch before, after she pepper sprayed him twice to no avail, he followed her to the police station.

Domond, who denied the charges, claims the alleged victim pulled a knife on him earlier in the day; she admitted to such a move, although it was claimed to be in self-defense. There's also reportedly a witness to the incident.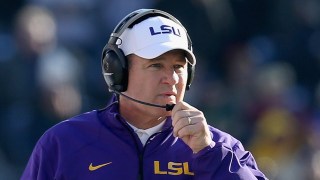 According to Miles, Domond is back with the alleged victim and "everything is positive."
"He's in position to compete to play," Miles said. "We're letting the disposition of whatever entanglement he's involved in run its course. He's not suspended."
East Baton Rouge District Attorney Hillar Moore, who declined to pursue charges against three other LSU football players earlier this month, said earlier this week that the case against Domond is still pending.
Domond played in one game last season after signing with the Tigers from the JUCO ranks in the Class of 2014.
(Photo credit: LSU athletics)