Finally, after (nearly) seven long, agonizing months filled with seemingly nothing but arrests, suspensions, transfers, lawsuits and yet another Sharknado, the dawn of a new season is nearly upon us.
In just 17 days, we'll all be hunkered down in front of the television taking in the glory (?) that is the South Carolina Gamecocks and North Carolina Tar Heels throwing down at a neutral site in Charlotte, and chase that FBS opener down later that night with the return of a certain high-profile coach as Michigan travels to Utah for a significant early test of the new era in Ann Arbor.
In between now and then? Previews. Glorious, illuminating, voluminous previews as far as the eye can see.
We'll kick off the look at the upcoming season the same way we have the past six years: storylines that you should pay attention to or could be in play in the coming months.
Proceed, and enjoy.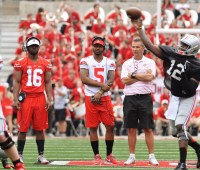 WHO'LL ORCHESTRATE OSU'S BUCK-TO-BUCK BID?
The riches Ohio State possesses at the quarterback position borderlines on the embarrassing, so much so that two-time Big Ten Offensive Player of the Year Braxton Miller, still not fully recovered from a second shoulder surgery that knocked him out for all of 2014, has moved to another position as he looks to get on the field in some fashion his senior season.  That leaves regular-season hero J.T. Barrett and postseason whirlwind Cardale Jones to vie for the opportunity to line up under center and guide the Buckeyes' offense in their attempt to go back-to-back in the College Football Playoff.
It seems that most view Jones, perhaps in part because of his outgoing personality vs. Barrett's naturally reserved, quiet nature, as the favorite to win the job; the question is, should they?  Or better yet, have they forgotten?
After getting off to a rough start last season in place of Miller — three touchdowns and four interceptions in the first two games, which included the lone loss to Virginia Tech — Barrett bounced back to have a season for the OSU ages, finishing the last 10 games with 31 touchdowns and just six interceptions before going down with a season-ending leg injury in the regular-season finale against Michigan.  His 45 total touchdowns set a Big Ten record, breaking the standard previously held by Purdue's Drew Brees, and he rushed for nearly 1,000 yards as a redshirt freshman.  And all of that production, people seem to forget as well, came after he beat out Jones in summer camp for the No. 2 spot behind Miller, just prior to the reemergence of the senior's shoulder issue.
It's not like Jones is chipped chopped ham, though; in his first three starts, all in the postseason, the rifle-armed 12-Gauge passed for 742 yards, five touchdowns and two interceptions as OSU dropped Wisconsin 59-0 in the Big Ten title game and topped No. 1 Alabama and No. 2 Oregon in the playoffs.  The fact that Ezekiel Elliott ran for nearly 700 hundreds in those starts certainly didn't hurt… or was it Jones and his arm's ability to stretch the field and add another element to the passing attack that Barrett — or most any other quarterback for that matter — couldn't that opened things up for Eazy-E?
Decisions, decisions, decisions this OSU coaching staff will have to make, decisions that make them the envy of nearly every other coaching staff in the country.  Really, how can they go wrong with whomever they choose?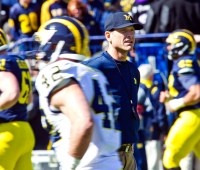 HOW MANY B1G CALLERS AHEAD OF US, JIMMY?
Even considering the once-in-a-lifetime quarterback situation for the defending national champions, there wasn't a bigger storyline this college football offseason than Jim Harbaugh's self-imposed NFL exile ending and his return to this level of the sport — and at his stumbling, struggling alma mater Michigan no less.  The former Stanford head coach had made headlines on a seemingly daily basis since his hiring, from his Twitter posts to forays into baseball to shirts-and-skins to epically awkward interviews to satellite camps to "Attacking this day with Enthusiasm Unknown to Mankind" to just about anything, really, that the coach did.
With the clock ticking down on the start of a new season, though, the attention shifts from Harbaugh, the off-field character, to Harbaugh, the on-field coach.  Or, more precisely, how fast can he get the Wolverines back to national prominence?  To be blunt, Harbaugh's timing couldn't have been "worse" divisionally, with hated rival Ohio State at the top of the college football world and poised to be there for years to come with a recruiting cupboard continually restocked on an annual basis with top-shelf talent, and hated in-state rival Michigan State playing — and recruiting — at a level unseen in East Lansing.  Harbaugh & Company are already playing from behind when it comes to those two East rivals, but Harbaugh's not exactly coming to the fight empty-handed.
For all of the on-field angst that Brady Hoke inspired — after an initial 11-2 record with RichRod-recruited players, UM proceeded to go 8-5/7-6/5-7 — the fired head coach recruited well. In 2013 and 2012, UM's recruiting classes were ranked fifth and seventh nationally and second in the Big Ten, respectively, according to Rivals.com. Even in 2014, amidst much speculation that Hoke was as good as done, he still pulled in a class that ranked 31st in the country and fourth in the conference.
And where did Harbaugh cut his FBS head-coaching teeth?  Stanford, neither a bastion of college football elite nor a recruiting hotbed… until Harbaugh planted the seeds of what became a Pac-12 powerhouse down on The Farm.  While many in Block M Nation would like it to, a Cardinal repeat likely won't happen overnight, Harbaugh getting his beloved UM back to the national stage.  Based on his track record, though, I wouldn't bet against it happening sooner than later.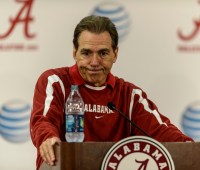 CAN THE SEC TRUDGE BACK TO THE CFB MOUNTAINTOP?
This time last year, in this very space, I was posing the exact question after the SEC went title-less for the first time in seven years, and now the "drought" is at two years running.  Once was a cute but annoying quirk… twice was a cause for concern… three times in a row would be, what, southern football Armageddon?
To answer the initial question, yes the conference certainly can get back.  But, unlike in year's past, there's not a single team in the conference — not a damn one — that you can say with any degree of certainty has a shot at being head and shoulders above anyone else in the country.  Or even marginally better, for that matter.
Based on recent pedigree and current talent, Alabama would certainly be this league's bellcow, but they have question marks in the secondary… and in the depth at the running back position… and at the quarterback position, with the latter especially worrisome given the need to replace All-World wide receiver Amari Cooper.  LSU is absolutely loaded at the skill positions on offense but, once again, will head into a season with significant issues at quarterback, not to mention having to replace defensive chief John Chavis, who left for West rival Texas A&M a few months back.  Mississippi State and Ole Miss could take a step back from historic seasons of a year ago, although the former, unlike most in the league, has the benefit of returning one of the top quarterbacks in the country in Dak Prescott.  Texas A&M, meanwhile, could finish anywhere from first to last in the West, depending on how quickly Chavis can rebuild a porous defense.  And did you know that of Arkansas' six SEC losses in 2014, four came by seven points or less?
In the East, Georgia seems to be the overwhelming betting favorite to reach Atlanta, with anything less than a divisional title already being considered yet another disappointment for Mark Richt and his football program.  Everyone (sheepishly raises hand) always overlooks Missouri in the preseason, although a weakened defensive line, one of the keys to Mizzou's back-to-back division titles, would give observers a valid reason to be skeptical.  South Carolina should (somewhat) bounce back from a subpar 2014 season, while Florida and Tennessee aren't ready for a return to primetime just yet.  The SEC plucking its national contender from the East would be, as it has been in the past, unlikely, although UGA emerging wouldn't exactly qualify as a stunner.
Add it all up, and it could — should I stress "could?" — leave the SEC pinning its postseason hopes to Auburn.  And even the Tigers have significant question marks, especially when it comes to the defense.  Will Muschamp was a dumpster fire as a head coach in The Swamp, but he's still one of the top defensive minds in the country, as evidenced by Gus Malzahn scooping him up after his dismissal and amidst a bidding war.  The Tigers will continue to run the football with great success as they have in years past, and Jeremy Johnson is the kind of passer Nick Marshall only was in his dreams.  If Muschamp can make a quick turnaround of a really bad defense, AU will not only challenge rival 'Bama for West supremacy but make a season-long sprint toward one of the four spots in the College Football Playoff.
So many question marks littered throughout this conference has me asking my own question, though: could the SEC, perish the thought, be shut out of the second year of the CFP?  More than anything, the ACC may have something to say about that than the SEC's preeminence.  Speaking of which…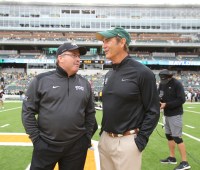 WHICH P5 GETS THE CFP HOSE THIS SEASON?
Because of the College Football Playoff's current limitations, namely a four-team field, at least one Power Five conference will be shut out of the postseason big dance every year.  Last season it was the Big 12, even as both Baylor and TCU had very valid arguments for inclusion.  Who gets screwed without being taken to dinner this season?
For the sake of argument — and just to generally piss people off — I'm going to lock the Big Ten, Big 12 and Pac-12 into three of the four spots.  Certainly there are valid reasons against locking any of those conferences in, from Ohio State imploding from the massive weight of its defending champ status — and Michigan State and/or Wisconsin being unable to run with any fumbled opportunity — to the committee again deciding that the lack of a conference championship game should go as a mark against Baylor/TCU to the Pac-12, arguably the deepest overall conference in the country, eating itself from the inside and spitting out a chewed-up champion.
That sake-of-the-argument scenario leaves us with just two: the ACC and the SEC.  Despite the flaws so prominently pointed out above, the SEC is still a preeminent football conference, with several powerful programs possessing the ability and talent to rise up and compete with anyone nationally.  And I just don't know yet that the committee members, right or wrong, are ready quite yet to have an SEC-less postseason.  Which brings us to the ACC.
Realistically, there are three teams who could end up in the playoff discussion — and that's actually one more than the Big 12 could very well have: Florida State, Clemson and Georgia Tech (yes, I went there; deal with it).  The flaws for that trio are very real, though, and could prove fatal to the conference's postseason chances.
FSU has to replace its Heisman-winning quarterback among 12 starters lost, and its two toughest games are on the road… against Clemson and Georgia Tech.  Clemson will likely have the most explosive offense in the conference — provided Deshaun Watson can stay upright — but its dominating 2014 defense was decimated by attrition and could certainly prove to be a liability, especially early on with games against Louisville and Notre Dame the first month or so of the season. Tech, meanwhile, will run… and run… and run the football, but its defense was substandard last season — and that's putting it nicely — so much so that that unit could prove to be the downfall of any playoff hopes the Yellow Jackets entertain.
In essence, the ACC's hopes for another postseason could very well come down to FSU sweeping the road games against Clemson and Georgia Tech, while also going unblemished in the rest of a slate that will include an under-the-radar home game against Louisville… or Clemson coming out unscathed in a seven-game stretch that includes matchups with Louisville, Notre Dame, Georgia Tech — those games are back-to-back-to-back — Miami, North Carolina State (beware, the Pack) and FSU… or Georgia Tech doing, well, un-Tech like things against those two teams while also holding serve in the Coastal.
If just one of those three scenarios play out, and that team can come out on top in the conference championship game, an undefeated ACC rep should have its seat at the postseason table regardless of what the other P5 leagues do.  If none of those play out, the ACC very well could find itself without a chair when the playoff music stops.
My guess?  The ACC joins the 2014 Big 12 as jilted power members.  Realistically, though, and given how wide open this season promises to be, any of the Power Five conferences could find itself on the playoff sidelines… and that's just the latest example of why the College Football Playoff is vastly superior to the BCS — and why an eight-team playoff would be vastly superior to the current four-team model.  Alas, that's another story for another day.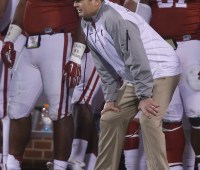 THE "IT" TEAM TO "BE BACK" IS…
Every year, there is one team that the national media, in an unconscious decision among the collective that ultimately gains momentum, taps to be the team that's (ahem) "on the rise," that will bounce back to prominence after toiling for years in the mid-pack.  Normally it's a team with a storied past; this season, the "it" team appears to be USC, with some even considering (gasp!) Texas for that role, even as it seems more often than not to be an SI-like curse than anything.
While I think the Trojans will be a very good team, and I think the Longhorns are still a year away under Charlie Strong — give the man time, UT fans, I beg you — there's a fair-to-middlin' chance Oklahoma could very well bounce back the furthest of any so-called traditional power.  Possibly not bounce back high enough to realistically be in the national discussion for a playoff spot, but high enough that it'll help rinse away the stench of an 8-5 2014 campaign.  Maybe.
One of the reasons to be optimistic about the 2015 Sooners is the schedule, with only a road trip to an improved Tennessee and the annual hate-fest with Texas — and maybe the game at Kansas State — seemingly standing in the way of a 9-0 start heading into an absolute meatgrinder of a closing quarter of the season: road trips to Baylor and Oklahoma State, with a home date against TCU sandwiched in between.
If in those nine games leading into that brutal three-game closing stretch the Sooners can get the quarterback position solidified… if Samaje Perine can simply match, or even come close to, his stunning freshman season on the ground… if the run defense can match its stellar 2014 level while the pass defense simultaneously morphs into one that doesn't resemble toast, and burnt toast at that… if they can avoid injuries… if all of that happens to one degree or another, they can then head into those three games armed with the knowledge that they can compete with any team in the country let alone the conference.
Another season like 2014, though, and it'll be back to the calls for Big-Game Bob to either step away or move on growing louder and louder in and around Norman.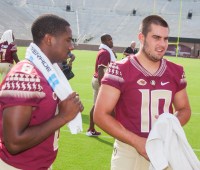 PLAYOFF TEAMS WITH UNDER-CENTER QUESTIONS
While Ohio State has the aforementioned embarrassment of riches at the quarterback position, the other three 2014 playoff participants are in the exact opposite position, at least when it comes to experience.
Alabama, Florida State and Oregon all have the unenviable task of attempting to get back to the playoffs while simultaneously breaking in a new starter at quarterback.  That task is made even more daunting for the Ducks and Seminoles as they have to replace Heisman-winning signal-callers Marcus Mariota and Jameis Winston, respectively.  At least FSU has Notre Dame graduate transfer Everett Golson, the starter in the 2012 BCS championship game, to fall back on, and even then the early reports coming out of summer camp are that Sean McGuire, not Golson, may very well be the favorite to replace Winston.
Oregon, meanwhile, could be in the best shape of the trio to withstand the new-quarterback hurdle, and it has almost nothing to do with the new quarterbacks themselves.  The Ducks are blessed not only with one of the deepest and most talented set of skill-position players in the country, but an offensive system that theoretically allows Mark Helfrich to plug anyone of talent under center and be successful.  Yes, some are better at it than others, and Mariota was a once-in-a-decade talent at the collegiate level, but the system plus the players around him puts either Jeff Lockie or FCS transfer Vernon Adams — welcome aboard! — into the enviable position of being somewhat of a game manager, not necessarily needing to be anything even remotely resembling a Super Mario clone.
In Tuscaloosa, the positives are that Lane Kiffin returns as the offensive coordinator, and in his first season with the Tide he turned first-time starter Blake Sims into a 3,500-yard passer who threw just 10 interceptions. Florida State transfer Jake "Jacob" Coker was expected to grab the starting job in that first year, only to see Sims rip it away; Coker has again been expected to run away with the starting job this year, only to see the second-year Tide player again fail to grab the starting job by the throat against the likes of true freshman Blake Barnett, redshirt freshman David Cornwell and junior Alec Morris.  Add in the loss of one of the best receivers in the country and the uncertainty, health-wise, of the depth behind stud running back Derrick Henry, and the unknown at the quarterback position could make this one of the most challenging years offensively in Nick Saban's time with the Tide.