Yes, I know — another meaningless preseason poll tossed atop the overflowing pile of myriad other meaningless preseason polls. Hey, but at least this one isn't SEC-heavy, so we have that going for us, which is nice.
OK, technically it's not as SEC-heavy as others as this one contains "just" six teams from that conference and just two in the Top 10, the same number that comes from the Pac-12 for the former and one less than that league's three in the latter.  For comparison's sake, the preseason coaches' poll included eight teams from the SEC (three in the Top 10), while the FWAA Super 16 poll saw five teams man those 16 spots (three Top 10 as well).
The Big 12 and Big Ten are also well-represented here, with four teams apiece making the cut.  The ACC brought up the Power Five rear with three teams included.
Rounding up the Top 25 conference-wise was one from the football independents (guess who!) and just one, Boise State, from the Group of Five.
Below is the entire Top 25, which was a consensus of polls cobbled together by myself, Kevin McGuire and three other individuals who would prefer to remain nameless.  Below that is where you may complain and/or whine and/or moan about how disrespected your team and/or your conference is.
Enjoy.  And complain/whine/moan.
1. Ohio State
With all due respect to those who think otherwise, how could any other be team be slotted in this spot? Not only are they the defending national champions who topped the Nos. 1 and 2 teams in the country to end the season — not to mention putting a 59-0 Big Ten title game pasting on a Wisconsin team that finished the season ranked 13th — but the Buckeyes return 15 starters from that squad. And then there's the schedule. After a season-opening road trip to Blacksburg to take on Virginia Tech, the only team to leave a blemish on last year's 14-1 mark, OSU will be double-digit favorites in every game leading up to the Nov. 21 home game against Michigan State. A repeat is far from a given, but given the combination of returning talent and schedule, it's a given the Buckeyes will have a realistic shot at going back-to-back.
2. TCU
With Trevone Boykin back leading the offense as a Heisman Trophy favorite, you know the Horned Frogs should have plenty of sizzle on offense. TCU returns 10 starters on offense, and Gary Patterson should manage to keep the defense up to par to live up to Big 12 favorite hype. TCU could very well run the table this season, assuring the Big 12 of not being left out of the playoff this season.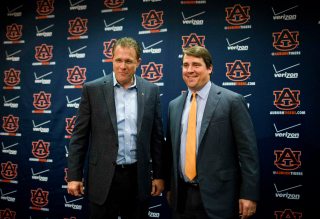 3. Auburn
As detailed in the Six-Pack of Storylines, the SEC's hope for a return to Title Land could very well hinge on the Tigers.  And the Tigers return to prominence could very well hinge on Will Muschamp, the fired Florida head coach who was brought in by Gus Malzahn to revamp and rebuild an AU defense that spewed water and oil all over the field in 2014.  The run-heavy spread offense should be in capable hands, even with new triggerman Jeremy Johnson under center; how the defense fares with Muschamp as its general will determine just how far Malzahn's troops will go in 2015.
4. Oregon
The Ducks may still be the team to beat in the Pac-12, but the gap could be closing between Oregon and other Pac-12 contenders. Gone is Marcus Mariota but the offense should continue to pile up big numbers with FCS transfer Vernon Adams likely stepping in. There could be a bit of an adjustment, and an early road contest at Michigan State could be trouble, but Oregon should still manage to be among the best out west.
5. Michigan State
The Spartans have one of the best quarterbacks in the country in Connor Cook, a stout offensive line and, despite the loss of coordinator Pat Narduzzi and all four "No Fly Zone" starters in the secondary, one of the top defensive in the Big Ten, but could still find themselves anywhere from a one-loss team to one with three or more.  Why the latter projection?  One, they have to replace their top two running backs.  Two, their schedule includes road trips to Ohio State, in-state rival Michigan and Nebraska, as well as a home game against an Oregon team in Week 2 that will be a consensus Top-Five squad.
6. Arizona State
In a conference with plenty of quarterback talent, Arizona State's Mike Bercovici could be one of the best. With a sturdy offensive line in front of him, Bercovici will still have to build some new chemistry with his receivers, but D.J. Foster is back and he can provide some options in Todd Graham's offense. Defensively the Sun Devils bring back seven starters and should be one of the more stable defensive units outside of Utah and Stanford.
7. Alabama
Year-in and year-out, the Tide rolls out a defense that, regardless of how many key pieces need replaced, is one of the top units in the country; this year should be no different, especially as they return seven of 11 starters from a defense that finished sixth in the country in points allowed.  Like so many others, though, the Tide will need to replace their starting quarterback from the year before.  Making matters worse for the first-time starter, the Tide's normally loaded backfield is lacking in running back depth.  Nick Saban's charges should still be one of the top teams in the country, but it could be a tougher struggle to get there than in past years.
8. Baylor
Baylor returns a loaded team in terms of starting experience with 17 back from last season's co-Big 12 champions. The schedule, however, could be an obstacle for the Bears with road games at Oklahoma State and TCU coming in consecutive weeks in late November, immediately following a home game against Oklahoma. Shawn Oakman leads a feisty and underrated Baylor defense, but will the Bears be able to make enough big stops when needed the most?
9. USC
The Trojans are on the right path to the top of the Pac-12 mountain, but the preseason media poll may be a tad premature. USC may not even make it out of the Pac-12 South with how tough the division might be. Cody Kessler can put up Heisman numbers but must be more consistent to guide the Trojans to the conference title game. USC is getting there, but they are not quite there just yet.
10. Georgia Tech
Paul Johnson's Yellow Jackets have become a bit of a trendy pick this offseason. Finishing the season with a win at Georgia, a close call against Florida State and a victory over Mississippi State in the Orange Bowl gives Georgia Tech momentum not seen in years. The formula for success will remain the same; grind yards out on the ground, mix in a surprise pass here and there and have the defense force some turnovers. Don't expect much to be different this season.
11. Georgia
You'd be hard-pressed not to label the Bulldogs as the most complete team in the SEC East and the class of the division — even as Missouri has one the last two titles in that part of the conference.  Can, though, UGA — finally — take that step up to the next level and not only actually win a conference title but be a contender on the national stage?  One thing's for certain: if they don't, the fan base no longer has Mike Bobo to blame for whatever woes befall the program.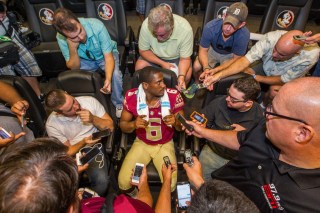 12. Florida State
The Seminoles lose a ton of starting experience from last year's team, but Jimbo Fisher has built Florida State to the point where it can focus more on reloading rather than rebuilding. The talent pool can run that deep. The biggest addition to the program will come from Notre Dame transfer quarterback Everett Golson, who could step right into the starting role behind a new-look offensive line. The status of Dalvin Cook is a bit of a wild card entering the 2015 season.
13. Notre Dame
The conversation about Notre Dame begins with Malik Zaire, the redshirt sophomore quarterback who was officially handed the keys to Brian Kelly's offense when Everett Golson transferred over the summer. Zaire is a read-option whiz who should guide the Irish into running the ball more, as they did 51 times in an upset of LSU in the Music City Bowl last December. Zaire shouldn't turn the ball over 22 times — as Golson did last year — which will be a boost for an offense returning one of the nation's best offensive linemen (left tackle Ronnie Stanley) as well as its entire receiving corps. Notre Dame only has to replace two regular starters from its 2014 defense in nose guard Jarron Jones (injured) and cornerback Cody Riggs (graduated), though 26-game starter KeiVarae Russell returns to his cornerback perch following last year's academic suspension. If the Irish defense can overcome some thin defensive line depth, guys like Jaylon Smith, Joe Schmidt, Russell and Max Redfield should help lead what could be one of the nation's better back seven groups. The Irish face tough road games at Clemson and Stanford and draw Georgia Tech and USC at home, and how they fare in those four games will determine if Kelly's sixth year in South Bend is a success or a disappointment.
14. Clemson
The Tigers were named the preseason favorite in the ACC, despite having just six returning starters in 2015. But the starters that do return are special, including quarterback Deshaun Watson. Many peg Watson as a strong Heisman contender. Fortunately, Dabo Swinney and company have recruited well over the years to give the Tigers some good depth this season that should grow as the season progresses. An early road trip to Louisville could be a litmus test for whether this team is worthy of the preseason hype or not.
15. Wisconsin
The biggest thing first-year head coach Paul Chryst has going for him is arguably UW's placement in the weaker of the two divisions in the Big Ten.  Or perhaps that they, again, avoid having to face East powerhouses Ohio State and Michigan State.  While Corey Clement will help make it a near-seamless transition, the answer to the question of can Joel Stave be an adequate triggerman in a Badger offense expected to pass the ball more under Chryst could very well determine where in the college football pecking order UW falls.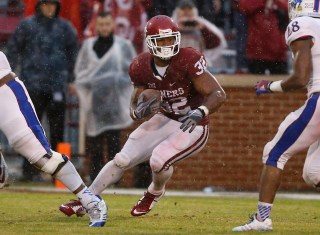 16. Oklahoma
Oklahoma entered the 2014 season as a somewhat trendy pick, thanks in large part to dismantling Alabama in the Sugar Bowl the previous postseason. But injuries and inconsistent play proved too much to handle as the Sooners lost to every ranked opponent on its schedule last fall. That said, Samaje Perine emerged as a solid running threat and the Sooners look top open things up offensively with Lincoln Riley taking over as offensive coordinator. If Baker Mayfield can step right in and provide some stability at quarterback, Oklahoma could make some things happen in the Big 12.
17. Stanford
Defense has been the fuel to Stanford's success in recent years, but this year just four starters are back. There could be some adjustments to make as a result, which means the offense may have to avoid a slow start that hurt the Cardinal last fall. An experienced offensive line should help Kevin Hogan get in a groove and getting Oregon at home could be pivotal in the Pac-12 North.
18. Arkansas
Even before the significant injury suffered by Jonathan Williams, I was suspect about all of the hype surrounding the Hogs entering 2015 and didn't have them ranked in my personal Top 25.  Getting Alabama, Ole Miss, LSU and an improved Tennessee on the road doesn't portend well for the wild expectations for 2015 success.  The Razorbacks did, though, lose four of their 2014 SEC games by a total of 22 points, with two of those coming on the road and one in overtime.
19. UCLA
Last year's sexy pick has lost a bit of sizzle, but Jim Mora has the Bruins thinking big in 2015. In a wide open Pac-12 South, the Bruins must solve a quarterback question in an otherwise solid offense. The addition of Tom Bradley as defensive coordinator should work well with eight returning starters, including Myles Jack at inside linebacker and Eddie Vanderdoes at defensive tackle.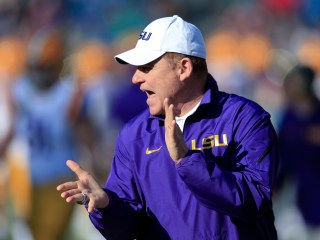 20. LSU
The Tigers are loaded with talent at the skill positions… loaded with talent along the offensive line… loaded with talent in all three defensive units.  So why the low Top-25 ranking?  As has been the case seemingly throughout Les Miles' entire tenure in Baton Rouge, it's the quarterback, stupid.  If they can get even average play at the position, the Tigers will challenge for a spot at the playoff table.  If they don't, the temperature on The Hat's hot seat will continue to be ratcheted up.
21. Boise State
The lone Group of Five program represented in our Top 25, Bryan Harsin's Broncos are poised to make a run at an unbeaten season that would earn themselves a New Year's Six bowl bid and a spot on the periphery of the playoff discussion.  The first two weeks of the season will show whether Boise is a contender or pretender: A home date against Washington and former BSU head coach Chris Petersen, followed by a road trip to BYU the following weekend.  Win both of those, and the table is set for a potentially magical system.
22. Ole Miss
Like many other of the top teams in the SEC in general and the West specifically, the Rebels are looking to replace their starting quarterback.  The fact that Ole Miss will bring a very talented defense to the table will help transition to a new player under center, although games at Alabama, Auburn and Mississippi State will (again) show just how far the Rebels still need to go to become an elite program.
23. Arizona
This division is stacked with talent. Arizona has one of the top defensive players in Scooby Wright and one of the more exciting quarterbacks in Anu Solomon. Running back Nick Washington is coming off a season with over 1,300 yards and 16 touchdowns too. Rich Rodriguez has a good group of Wildcats to work with, although the schedule does them few favors in conference play.
24. Nebraska
Transitioning from the volatile Bo Pelini to the laid-back Mike Riley could prove to be a culture shock for the players and athletic department and fans.  The offense under Riley could prove to be the same as the Cornhuskers are expected to be much more reliant in the passing game than under the previous regime, which will place an onus squarely on a quarterback, Tommie Armstrong, who completed just 53.3 percent of his passes last season in his first year as a starter.  September games against BYU and at Miami should show just where the 'Huskers stand in the first year under Riley.
25. Oklahoma State
If you want a sleeper pick in the Big 12, Oklahoma State feels like a good option. Mike Gundy's squad returns seven starters on each side of the football and sees Mason Rudolph take over as starting quarterback. Emmanuel Ogbah has become a force to reckon with on the defensive line and the Cowboys get Baylor and Oklahoma at home to close out the season. That could be huge.