As is the case each and every season, each and every week, any omission below is not on purpose, it's merely intentional.
WACK-12
The Pac-12 came into the 2015 season looking to challenge the SEC for conference football supremacy.  While that may end up still being the case, it was a rough Week 1 in myriad regards for the Left Coast league, particularly its northern division.
First and foremost, No. 21 Stanford went into Evanston as heavy favorites only to be upended and upset by Northwestern.  And it wasn't just that one of the preseason favorites in the North was beaten, it was that they were roughed up by the Wildcats and seemed to play timid on both sides of the ball.  More embarrassingly, a couple of hours later Washington State lost to FCS Portland State, which came into the game a 30-point underdog.
The South contributed to the first-week malaise as No. 15 Arizona State, viewed by some as a darkhorse playoff candidate (sheepishly raises hand), capped off the night with a 20-point loss to unranked Texas A&M.  At least that, though, was a loss to a Power Five school, and one from the stacked SEC West no less, in what was essentially a home game for the Aggies.
Add in Washington's loss to Boise State — no shame in that — and Colorado's loss to Hawaii Thursday night — a whole hell of a lot of shame in that — and it turned into a horrific lost weekend for the conference.  That said, remember how many were writing the Big Ten off a year ago at this time?  Yeah, it wouldn't be wise to repeat that history.
WEAK 1?
If you thought that the Week 1 schedule, especially Saturday, was especially lacking when it came to compelling on-paper matchups, you're not alone.  In fact, the raw data is sitting right along side you.
Opening weekend, and including the two still remaining, there were/are 87 games involving FBS teams.  Of that, 11 pitted Power Five vs. Power Five (for this exercise, I'm considering BYU a P5); another 47 — more than half — featured FBS teams playing an FCS team.  There were 22 Power Five teams that opened their season against an FCS team, with the ACC far and away leading the cupcake way with seven.  The Big 12, Big Ten and Pac-12 had four apiece, while the pastry alley that is the late-season SEC lagged behind with three.
There were also 23 games played between Power Five and Group of Five teams.  The SEC accounted for eight of those games, while the Big 12, Big Ten and Pac-12 saw four each.  The FCS-heavy ACC had three such games.
It wasn't just the Power Fives feeding on the FCS, though, as 25 Group of Five teams opened against the former Div. 1-AA.  The remaining six games saw Group of Five squads squaring off against each other.
While most of the FBS feasted on their FCS cupcakes, a handful choked on them.  Two that lost to FCS teams were Power Five members in the aforementioned Wazzu and Kansas (South Dakota State, more on that below) and two were Group of Five teams in Army (Fordham) and Wyoming (North Dakota).
BAD BLOOD CHEAP SHOT?
Vernon Adams transferred from Eastern Washington to Oregon earlier this offseason and ultimately earned the Ducks' starting quarterback job.  As luck would have it, Adams' current and former teams squared off in the season opener in Autzen Saturday night, and there was one interesting development in UO's 61-42 win.
While Adams was a popular teammate, some of his former EWU compadres reportedly didn't appreciate that he "abandoned ship."  Could the following be an example of that?
@DufresneLATimes take a look. https://t.co/sugjyrmNca

— Matthew Asher (@MatthewAsher) September 6, 2015
Adams briefly left the field and was examined by team doctors for a possible concussion,  While he ultimately returned to the sidelines, he didn't return to the game. The player responsible for the fourth-quarter hit, John Kreifels, was ejected for targeting.
Prior to the brutal hit, Adams had totaled 340 yards of offense — 246 passing, 94 rushing — and two passing touchdowns.
THE ROSEN ONE
For at least one game, the production matched the hype.
In his first start as a true freshman, Josh Rosen lived up to his recruiting billing as he tossed three touchdown passes and threw for 351 yards in the win over Virginia.  The three statistics that will likely be most pleasing to head coach Jim Mora and offensive coordinator Noel Mazzone, though, are no interceptions, completing passes to 11 different players and completing exactly 80 percent of his passes (27-35) against what's actually an above-average Cavalier secondary.
To put an exclamation point on the performance, Rosen had just one fourth-quarter pass attempt, meaning he accumulated his stats in essentially three quarters worth of work.
If Rosen, the top quarterback in the Class of 2015, can continue to play at or near this level, the Bruins could very well turn into the team to beat in the Pac-12 South — especially as they will avoid Oregon on this year's schedule.
Oh, and then there's this:
JAYHAWKS GONNA JAYHAWK
The more things change, the more things stay the same.
The departure of Charlie Weis as a head coach and the addition of, ultimately, David Beaty brought a modicum of optimism to the woebegone Kansas football program.  Saturday afternoon, that optimism went down in flames as KU became the first Power Five team in Week 1 to lose to an FCS team.  And, fittingly, they did so in prototypical Jayhawk fashion.
Training South Dakota State by three points with less than 10 seconds remaining, the Jayhawks were in position to, with a spike, attempt a game-tying field goal.  Instead, well, the Jayhawks did this:
Yep, that was quarterback Montell Cozart fumbling the snap prior to what was supposed to be a spike to stop the clock, putting the finishing touches on a 41-38 loss.  And, given that this is a program that's won just 12 games since the end of the 2009 season, that was a very fitting punctuation to the opener.
MOODY MOTHER NATURE
As my wife said, maybe it was that time of the month?  Whatever the case, she was an issue for several games over the weekend.
To kick things off meteorologically — yes, I made that up — the Stony Brook-Toledo game was the second in as many years to be declared a no-contest.  As was the case in the Thursday night shutdown, weather — particularly lightning — forced the Idaho-Florida game last September to be called off and not rescheduled.  The Rockets' game with the FCS won't be rescheduled either.
Saturday, the LSU-McNeese State game was initially delayed because of lightning strikes in the area.  Four hours later, the game was officially cancelled and won't be rescheduled.
Weather continued to wreak havoc in other areas of the country as the Georgia-Louisiana-Monroe was called early in the fourth quarter due to lightning while the Illinois-Kent State, which kicked off Friday night, was postponed to Saturday, again due to lightning.  Among others, the Miami-Bethune Cookman game also delayed midway through the second quarter — they ended up shortening the third and fourth quarters to 10 minutes each —  and the Tennessee-Bowling Green game saw an hour-long stoppage of play… and I'll let you go ahead and guess the reason behind those.
There was also a weather delay for Cincinnati-Alabama A&M, with the UC student section biding their time in a manner that didn't sit well with security.
SATURDAY RESET
Below is a list of links for all of the Week 1 gamers posted by the CFT crew, placed in one handy and convenient space for you, our beloved and dear readers.
Derrick Henry's hat trick, punishing run defense propels Alabama to an impressive win over Wisconsin.
Texas completely outclassed in blowout loss to Notre Dame.
Newcomers help push Texas A&M to an impressive season-opening upset of Arizona State.
No. 6 Auburn hangs on vs. Louisville in Atlanta, where Tigers hope to return in December
Mangum Miracle at Memorial: BYU stuns Nebraska on last-second Hail Mary
With its stunning 27-10 home win over Penn State, Temple snapped a 39-game winless streak against the Happy Valley bunch.
Boise State spoiled Chris Petersen's return to the Smurf Turf, with the defense throttling Washington's offense enough to come away with a 16-13 win.
After what was by their standards a sluggish first half, Baylor was able to easily to easily pull away with a 56-21 win that left both BU and SMU feeling good about themselves.
The Charlotte 49ers' FBS debut was a successful one, even as it came at the expense of a Georgia State team still struggling with its transition from the FCS.
Pretty or not, second-ranked TCU went on the road, did it's job and will head back to Fort Worth with a 23-17 win over an underrated Minnesota squad on any potential playoff résumé.
South Carolina took advantage of North Carolina's red-zone blunders to eke out a four-point win Thursday night.
CFT TOP FIVE
A snapshot look at how my ballot would look Sunday if I, ya know, had a real vote.
1. Ohio State — If there's a repeat of Week 2 of the 2014 season, OSU, obviously won't be here this time next weekend.  I get the feeling, though, that the Buckeyes won't let history repeat itself in Blacksburg Labor Day night. (Last week: N/A)
Next up: vs. Hawaii, Sept. 12
2. TCU — It may have been "ugly" in the eyes of a few, but that was a quality road win Thursday night against a good Minnesota football team.  Some might hold the win against the Horned Frogs and think about dropping them a bit; I'm not one of the some. (Last week: N/A)
Next up: vs. Stephen F. Austin, Sept. 12
3. Auburn — Once you get past Nos. 1 and 2, the next three spots could be given to anywhere from five to eight teams.  For the moment I'll give the spot to AU, despite the fact that Jeremy Johnson threw three interceptions and the run defense was gashed for 240 yards. (Last week: N/A)
Next up: vs. Jacksonville State, Sept. 12
4. Oregon — 438 yards passing and 42 points allowed against an FCS team opening weekend? That could be a cause for concern, although the Ducks have the kind of offensive firepower that will allow them to outscore a lot of mistakes.  Notice I said a lot, not all. (Last week: N/A)
Next up: at No. 5 Michigan State
5. Michigan State — Other than the closer-than-expected 13-point spread, the most worrisome aspect of MSU's opener?  The "No Fly Zone" secondary allowing Western Michigan to throw for 365 yards. With the Ducks on tap, the Spartans might want to consider getting that aspect cleaned up. (Last week: N/A)
Next up: vs. No. 7 Oregon
GOLFER TWEET OF THE DAY
Jordan Spieth is a professional golfer with multiple major championships already on his résumé.  He's also a former Texas Longhorn who was not pleased with his alma mater's offensively offensive display against Notre Dame.
HAIL MARY JOSEPH
Jordan Westerkamp did it to Northwestern.  Now, two years later, the Nebraska wide receiver knows how it feels to be on the other end.  "It," of course, was the gut-punch of a touchdown with no time left that lifted BYU to a miraculous win at Memorial Stadium.
INTENSITY PERSONIFIED
I think it's safe to say that Will Muschamp hasn't lost any of his "spirit" in the move from Florida head coach to Auburn defensive coordinator.
I honestly believe the blood vessels in Muschamp's don't burst out of fear of its host body.
300 LBS. OF BEAST MODE
Robert Nkemdiche is a 296-pound defensive tackle for Ole Miss.  Saturday afternoon, he did this…
YOU SAY NEUTRAL, I SAY [/CHUCKLE]
This tweet pretty much sums up the "neutral field" game Saturday between Tennessee and Bowling Green in Nashville.
HE SAID IT
"The score. You can't score six points and beat anybody." — Stanford head coach David Shaw, when asked about the most frustrating aspect of the 16-6 loss to Northwestern.
HE SAID IT, THE SEQUEL
"While you were getting set up I was taking a quick look at my friend Mike Riley on the TV there and my heart goes out to him and the team. He's a good friend of mine and a really good person and a really good coach. Nebraska's to be praised. They played really hard right to the end, and so did we. Sometimes one play determines a game." — BYU head coach Bronco Mendenhall following the thrilling win over Nebraska.
HE SAID IT, THE THREEQUEL
"The atmosphere was unbelievable.  You know, it's like a home game." — Auburn head coach Gus Malzahn, on the "neutral field" Georgia Dome matchup with Louisville.
HE SAID IT, BONUS EDITION
"After every first game there are always skeptics, but we're ready to bounce back, and we'll definitely be ready for Oregon." — Michigan State linebacker Riley Bullough, following a closer-than-expected win over Central Michigan.
HE SAID IT, THE FINAL ONE
"I'm really proud of Temple. I'm proud of our fans, our students. I'm proud of our trustees, our president and everybody that stuck with us in some dark times. Hopefully, this won't be the highlight of the season. That's my goal." — Temple head coach Matt Rhule, following his program's first win over Penn State since 1941.
STREAKING
With a rematch of its last loss still to be played, Ohio State owns the nation's longest winning streak at 13 straight.  Up next are Boise State (10), TCU (nine), Memphis (eight), Appalachian State (seven), Western Kentucky (six) and Michigan State and Navy (five each).
The "honor" of the longest losing streak belongs to Georgia State, which has lost 12 in a row after opening 2014 with a win.  Since moving up to the FBS level in 2013, the Panthers have lost 24 of their 25 games; the only win came against FCS-level Abilene Christian by one point at home.  Colorado, incidentally, has the longest losing streak among Power Five conference schools at 10 straight.  Eastern Michigan and UNLV have each lost eight in a row, while Southern Miss has lost seven.
THIS IS STILL…
… one of the most astonishing stats in college football: Nebraska's Memorial Stadium has been sold out every game since Nov. 2, 1962, a streak of 342 consecutive sellouts. People of the Corn, you are truly amazing. And damn loyal.  And probably hurting after that last-second loss ended the Cornhuskers' 29-game winning streak in season openers, the country's top such streak that dated back to 1986.  That honor now belongs to Florida and its 26 straight.
S.I.D NOTE OF THE WEEK
Stanford, UCLA and Wisconsin are the only schools to have their respective football teams ranked in the preseason Associated Press Top 25 and be rated among the top 25 in the latest Academic Ranking of World Universities. The Bruins are ranked 13th in the AP poll, followed by the Badgers 20th and Cardinal 21st. Stanford is second, UCLA is 12th and UW is 24th in the ARWU.
S.I.D. NOTE OF THE WEEK II
Navy coach Ken Niumatalolo, who enters his eighth year as the Midshipmen's head coach, has more head-coaching experience than the other five AAC West division coaches combined (six years).
S.I.D. NOTE OF THE WEEK III
Stanford and Texas are the only schools out of the 68 Power Five and independent programs in 2015 who play 12 FBS opponents and face 11 P5 schools/Notre Dame.
S.I.D. NOTE OF THE WEEK IV
Oregon State is the only team in the nation, per a recent survey, that has no quarterbacks with playing experience and has only eligible freshmen signal-callers.
OFF THE CHARTS
Courtesy of the UCF sports information department
Prior to Week 1, best winning percentage for FBS schools in their current stadiums:
School – Stadium Opened – Record – Winning Pct.
1) Baylor – 2014 – 6-0 – 1.000
2) Ga. Southern – 1984 – 181-33 – .846
3) Marshall – 1991 – 142-26 – .845
4) Boise State – 1970 – 244-51 – .827
5) Alabama – 1929 – 239-52-3 – .818
6) Auburn – 1939 – 303-75-7 – .796
7) UCF – 2007 – 40-11 – .784
8) Ohio State – 1922 – 417-110-20 – .781
9) Old Dominion – 2009 – 32-9 – .780
10) Tennessee – 1921 – 449-121-17 – .779
OFF THE CHARTS, PART II
Courtesy of the TCU sports information department
Since 2005, and prior to Week 1, private FBS schools winning percentage: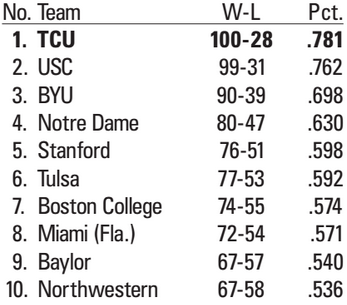 OFF THE CHARTS, PART III
Courtesy of the Ohio State sports information department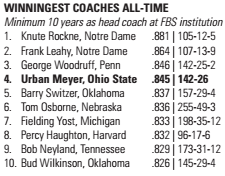 OFF THE CHARTS, PART IV
Courtesy of the UNLV sports information department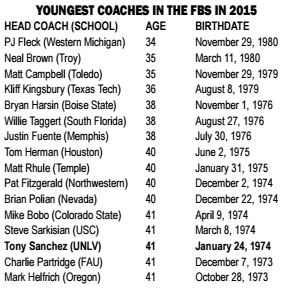 OFF THE CHARTS, PART V
Courtesy of the Louisiana Tech sports information department
Total conference championships won


SAY WHAT?
Pittsburgh's Pat Narduzzi opened his head-coaching career with a win over Youngstown State, a school with which he has very deep ties. Narduzzi grew up in Youngstown, Ohio — as did the Penguins head coach, Bo Pelini — and began his collegiate playing career at Youngstown State, where his father was head coach for 11 seasons (1975-85).
DULY NOTED
TCU's 21.4 points per game improvement last season broke the Big 12 record of 19.1 set by Oklahoma in 1999 (35.8; 16.7, 1998) and was the largest improvement by any team since Northwestern went up 24.0 points between 1999-00. The Horned Frogs went from scoring 301 points in 2013 to 604 in 2014.
DID YOU KNOW THAT…
… Texas has been outscored by 97 points its last three games?  They lost to TCU 48-10 in the 2014 regular season finale, 31-7 to Arkansas in the bowl game and 38-3 to Notre Dame in the 2015 opener.
… Baker Mayfield's first career start at Oklahoma produced a school record for most passing yards in an opener?  Mayfield's 388 yards in the win over Akron bested Sam Bradford's 363 in 2007.
… Navy quarterback Keenan Reynolds needs 13 more rushing touchdowns to break Wisconsin's Montee Ball's FBS record of 77?  Reynolds' 65 career ground scores are already the most-ever for a quarterback.
… Cal defensive end Cameron Saffle's mother, Shauna Saffle, was one of the first 50 employees at Microsoft?
… Minnesota head coach Jerry Kill served as the best man at TCU head coach Gary Patterson's wedding ? The 54-year-old Kill and 55-year-old Patterson grew up two hours apart in Kansas, with the latter offering the former the offensive coordinator job when he took over at TCU in 2000. Kill declined his good friend's offer and the two ended up facing each other the past two seasons, including the Horned Frogs' (score) win over the Gophers Thursday night.
… Urban Meyer is the only head coach in college football history with more than two 20-plus winning streaks, and he did it at three different schools? Meyer did it three times at Florida, once at Utah and once at Ohio State. Eight other head coaches accomplished that feat twice, but all of those came at one program.
… Ole Miss has increased its win total by one game each year under Hugh Freeze — 7 in 2012, 8 in 2013, 9 in 2014?
… Iowa has produced more active FBS head coaches than any other school? The specific number produced would be five: Bret Bielema (Arkansas), Bob Diaco (UConn), Dan McCarney (North Texas), Bob Stoops (Oklahoma) and Mark Stoops (Kentucky).
… Alabama, Arkansas, Vanderbilt and Virginia all have 10 bowl teams from the 2014 season on its schedule this year, the most of any FBS teams?
… Clemson, Michigan State, Oregon and Utah State are the only teams to record 30-plus wins and three bowl victories the past three seasons?
… Arizona State is now 0-7 all-time against the SEC after Saturday night's loss to Texas A&M?  The win, incidentally, extended A&M's 16-game non-conference winning streak since joining the conference in 2012.
… Florida State (40), Ohio State (38), Alabama (38), Oregon (37) and Northern Illinois (36) have the most wins since 2012? Alabama (73), Oregon (71), Ohio State (67), Florida State (66), Stanford (62) and LSU (61) have won the most games over the last six seasons.
… Oregon has scored 32 non-offensive touchdowns since 2010, the most of any FBS team?  Oklahoma State is next with 30 followed by Utah's 29.
… Baylor's offense is the only one in the country to rank among the top-four in total offense each of the last four years? The Bears had the No. 1 offense the past two seasons, and finished second the previous two seasons.
… Clemson played 13 true freshmen in the season opener against Wofford, the most in a single game since 1943? That year the United States government drafted Clemson's entire junior and senior classes, so Frank Howard's team was made up of entirely freshmen and sophomore.
… Wake Forest entered the 2015 season with the fewest seniors (six) on its roster in the country? UCF, meanwhile, is the only team in the country without a senior at one of the one of the offensive skill positions (quarterback, running back, wide receiver, tight end).
… Tulsa returns 100-percent of its passing and rushing totals from 2014 and 94-percent of its receiving total?
… TCU was the only school in the nation entering this season whose linebackers had never started a collegiate game?
… MAC teams returned 12 of their 13 starting quarterbacks, the highest percentage of any conference in the nation?  The only team that doesn't is Miami (Ohio).
… eight teams began the 2015 season with the same head coach as a year ago but with brand new offensive and defensive coordinators? Those eight are Bowling Green, Hawaii, New Mexico State, UCF, USF, Utah, Utah State and Vanderbilt.
… SMU will not leave the state of Texas to play a game until its road trip to USF Oct. 24? All of the Mustangs' first six games will be played in the state — four at home, one each at TCU and Houston — while nine of the 12 on the schedule overall take place in the state as well.
… Purdue later Sunday will become the first-ever Big Ten team to travel to Huntington, WV, to play Marshall?
… Vanderbilt managed to lose to Western Kentucky 14-12 despite overwhelmingly leading in time of possession (36:39-23:21), first downs (20-11) and total offense (385-246)?