As is the case each and every season, each and every week, any omission below is not on purpose, it's merely intentional.
YOU CAN'T SPELL "OVERRATED" WITHOUT S-E-C
Well, technically you can, but just let me go.  I'm on a roll.
Last week, the Associated Press voters turned the SEC into the only conference in that poll's history to have 10 teams ranked in its Top 25.  Most outside the South scratched their heads at such deference to the conference, but the coaches in the league ran with it in trumpeting the superior firepower their collection of teams had to offer.  And then Week 2 happened.
Second-ranked Alabama looked presentable against decided underdog Middle Tennessee State (and by "presentable" think Ohio State-Hawaii), while sixth-ranked Auburn was taken to overtime, at home, by FCS Jacksonville State.  No. 18 Arkansas was embarrassingly dropped at home by Toledo of the MAC, followed by 21st-ranked Missouri hanging on for a 27-20 win over an Arkansas State team that was on the wrong end of a 55-6 USC woodshedding in Week 1.
The non-conference kick-to-the-tentacles day for the SEC was punctuated by 23rd-ranked Tennessee.  Up 17-3 on No. 19 Oklahoma entering the fourth quarter, the Vols gave up a pair of touchdowns to send the game into overtime.  The Sooners, on the road, scored two touchdowns in the two overtime sessions while the Vols managed just one in a gut-wrenching home loss that gives UT a 2-30 record vs. AP-ranked teams since 2009.
At least No. 16 Texas A&M (56-23 over Ball State) and No. 17 Ole Miss (73-21 over Fresno State) stepped on an inferior opponent's throat and didn't allow them to breathe.
Based on results and not on reputation, the SEC should have, at the very most, six teams ranked in the newest AP Top 25 — my ballot, if I had one, would have four: Alabama, Texas A&M, Ole Miss and Georgia and no I didn't forget about LSU or Auburn.  And that's no slight to that conference or any of their teams; rather, that's a nod to some quality teams throughout college football, some that are (gasp!) better than some of the currently-ranked ones in the SEC.  In a few hours, though, we'll see how many voters can leave their biases at the door and vote for the here-and-now — without tapping into their memory banks.
YOU GO GIRL!
Earlier this past week, we noted that Kent State head coach Paul Haynes promised that his walk-on female kicker, April Goss, would see the field at some point this season.  As it turns out, some point was Saturday.
Following a Golden Flash touchdown late in the second quarter of the game against Delaware State, regular kicker Shane Hynes went out for the point after attempt.  Haynes, though, called a timeout and, when the special teams unit went back out on the field, Goss trotted out along with them.
And, as they say, the rest was history.
As noted in the tweet, Goss became the second female to score in an FBS game.  The first, Katie Hnida, originally on the roster at Colorado before transferring under what ultimately became controversial circumstances, was successful on two point-after attempts for New Mexico in 2003. Months prior to that debut, Hnida attempted an extra point in the Las Vegas Bowl — it was blocked — becoming the first female to play in an FBS game.
Congratulations to Goss for grabbing her piece of history.  And a personal thank you as well for giving my nine-year-old daughter something to cheer wildly about yesterday evening.
YOU GO GIRL! PART DEAUX
Unbeknownst to many, or even most, people, the SEC made some of its own gender history Saturday night.
The SEC oversees Sun Belt Conference officiating, and utilized a crew from that conference for the Texas A&M-Ball State game because of the number of league home games this weekend.  Sebrina Brunson was an alternate on that crew and, after halftime, took over an on-field spot on that crew.
A league spokesperson subsequently confirmed to the Associated Press that Brunson became the first female to ever officiate an SEC game.  Kudos to the SEC for at least partially breaking down that barrier.
IRISH TITLE HOPES SNAPPED?
Entering the 2015 season, many an observer was viewing Notre Dame as a viable playoff contender. In a span of seven days, however, the Irish may have seen their postseason hopes dashed.
First, top running back Tarean Folston was ruled out for the remainder of the year because of a torn ACL suffered in the season-opening win over Texas. Then, a week later, starting quarterback Malik Zaire sustained what will be a season-ending fractured ankle in the win over Virginia.  And, suffice to say, it was a painfully horrific way for Zaire's season to come to an end.
So, for the remainder of the year, the keys to the Irish offense will be in the hands of redshirt freshman DeShone Kizer.  Kizer did his part in relief of Zaire as he tossed a pair of touchdown passes, including a 39-yarder with 12 seconds left to lift ND to a 34-27 win over UVa.
That said, what would the Irish give for a do-over from Everett Golson on his transfer to Florida State?  The Irish aren't out of playoff contention by any stretch of the imagination, but the twin losses to key offensive performers makes it a significantly tougher row to hoe for the Golden Domers.  Well, that and a schedule that includes games against Georgia Tech, Clemson and USC.
HARBAUGH'S GONNA HARBAUGH
For the most part, it was a kinder, gentler Jim Harbaugh in Week 1.  For the home opener, the khaki gloves came off.
Late in the second quarter of Michigan's win over Oregon State, a Wolverine was, wrongly as it turned out, flagged for roughing the punter.  And, being the gentleman that he is, Harbaugh decided to gently point out that fact to the men in black & white.
And by "gently" I mean he stomped and tossed his playsheet and generally ranted and raved about what was admittedly a bad call.
For some reason, I get the feeling that's not the last time we'll see an animated Harbaugh roaming the Ann Arbor sidelines.
NICE, JOHNSON
He'll get barely if any Heisman buzz, but what Matt Johnson has done the first two games of the season deserves some recognition.
In the first two games of the season, and against Power Five teams Tennessee and Maryland no less, the Bowling Green quarterback has thrown for 915 yards and eight touchdowns.  491 of those yards and six of those touchdowns came during a career-high performance in BGSU's 48-21 upset of Maryland in College Park Saturday; his previous career-high prior to this season was 393 yards against Northern Illinois in the 2013 MAC title game.
Perhaps the most impressive part of Johnson's early-season performance, even above the fact that it's come against to P5 teams?  He missed most of the 2014 season with a hip injury that also kept him out of spring practice this year.
Thanks in large part to Johnson, the Falcons will have to be considered not only the favorites in the MAC East but one of the teams who could potentially grab the Group of Five's New Year's Six bowl bid.
LESS WEAK 2
Just a little bit, though.
In the 87 games that were played opening weekend, a full 47 were FBS vs. FCS — 22 involving Power Five conference teams, 25 involving the Group of Five.  A week later, that number was cut nearly in half to 25 — 15 for P5s, 10 for G5s.  The power conferences will, though, get a heavy dose of the G5s in the 76 total games played this weekend (including Thursday/Friday nights), with 31 games between those two football caste systems scheduled.
Last week there were 11 games pitting P5s against each other; in Week 2, that number dipped a bit to 10.  Six of those contests are non-conference matchups (Oregon State at Michigan; Washington State at Rutgers; Notre Dame at Virginia; Iowa at Iowa State; Oklahoma at Tennessee; and Oregon at Michigan State) while eight teams will open up conference play (Wake Forest at Syracuse; Georgia at Vanderbilt; Kentucky at South Carolina; and LSU at Mississippi State).
Rounding out Week 2's 76 games are 10 G5-G5 clashes.
SATURDAY RESET
Below is a list of links for all of the Week 2 gamers posted by the CFT crew, placed in one handy and convenient space for you, our beloved and dear readers.
CFT TOP FIVE
A snapshot look at how my ballot would look Sunday if I, ya know, had a real vote.
1. Ohio State — Defensively, it was as impressive a performance as there was in Week 2.  Offensively… it was as impressive a defensive performance as there was in Week 2.  Both quarterbacks looked tentative and uncertain in the win over Hawaii; Urban Meyer needs to get that position cleared up sooner rather than later. (Last week: No. 1)
Next up: vs. Northern Illinois, Sept. 19
2. Michigan State — You beat the seventh-ranked team in the country, you get moved right on to the heels of the defending champs.  In fact, the only thing that kept me from moving the Spartans up one more spot was a less-than-impressive win over Western Michigan in Week 1. (Last week: No. 5)
Next up: vs. Air Force, Sept. 19
3. TCU — What did we learn in TCU's 70-7 shellacking of Stephen F. Austin?  The Horned Frogs are still a damn-good football team and, well, that's about all we learned.  How good TCU is might not actually be known for another month. (Last week: No. 2)
Next up: vs. SMU, Sept. 19
4. Alabama — Let me be blunt here: I flat-out whiffed on 'Bama in Week 1.  The Tide should've been included in the original Top Five, and I just completely forgot about them.  Consider this a market correction, even as they failed to impress much in the win over Middle Tennessee State. (Last week: NR)
Next up: vs. No. 17 Ole Miss, Sept. 19
5. Oregon — Lose by three on the road to one of the Top Five teams in the country?  My conscience won't allow me to move them out quite yet, especially as the likes of Baylor and USC and Notre Dame and a handful of others undefeated teams simply don't look better than a one-loss Oregon. (Last week: No. 5)
Next up: vs. Georgia State, Sept. 19
(Dropped out: No. 3 Auburn, my dignity for actually having Auburn ranked that high)
OFFERING ONE UP TO ST. TIMOTHY
I don't think much needs to be added to this.
Hey, who am I to judge a man's/woman's choice for a final resting spot?
WOO PIG BINKIE!!!
In the end, Bret Bielema stuck his foot in his mouth with his in-week touting of the strength of Arkansas' schedule and the SEC overall leading into his Razorbacks losing to Toledo.  His talking also left him open to this:
You know what they say: live by the word, die by the meme.
BILLY MADISON GAMEDAY SIGN OF THE DAY
Michigan State fans reached back to a cinematic classic for this zinger aimed at Saturday's opponent Oregon.
As Michael Kelso is wont to say…
GAMEDAY SIGN OF THE DAY, ALL DIVISIONS
As funny as the above was to my 12-year-old self, the one below is just exceptionally well done.
Ouch.  Oh, and that would be Miley Cyrus circa 2004.
HELMET OF THE YEAR
I'm far from a fan of the myriad uniform combinations Oregon employs.  And I'm normally not a fan of cartoon characters masquerading as college football logos.  I'm a huge fan, however, of the helmet the Ducks decided to wear for the Michigan State game Saturday night.
Nicely done, Nike.  Nicely done.
THAT'S A BUTCH MOVE
Al Golden entered the 2015 season on one of the hottest coaching seats in the country.  How hot does it remain?  Some fans want the university to go back to the future for a savior.
I hate the smell of desperation this early in the morning…
TELLTALE TWEET OF THE WEEK
In numbers form, this is pretty much all you need to know about the state of the Texas Longhorn football program heading into Week 2.
And yes, Mack, I know it's not your fault and you had nothing to do with the state of affairs in Austin.
It's not just Charlie Strong, incidentally, that has the wrath of Longhorn Nation.
What an absolute mess in Austin athletics — the "huge" win over Rice notwithstanding — none of which is Mack's doing, of course.
HE SAID IT
"I don't know if anybody listens to me or not, but this is mainly about the players. The guys that are out there playing, and their families that are watching it." — Michigan's Jim Harbaugh, following the buildup to his first home game as his alma mater's coach and all of the pregame focus being on him.
HE SAID IT, THE SEQUEL
"Let's not go heaping too much praise on them just yet. They're kind of like mushrooms; we like to keep them in the dark and feed them manure." — Houston's Tom Herman, following the "upset" win over Louisville and with the first scatological reference of the "he said it" era.
HE SAID IT, THE THREEQUEL
"I don't know. I guess you ask [athletic director] Gene Smith. That's the guy to talk to." — Ohio State's Urban Meyer, when asked how he thought he's handled the Buckeyes' quarterback situation.
HE SAID IT, BONUS EDITION
"You're a helluva player, but have some damn class. " — Tennessee head coach Butch Jones to Oklahoma's Eric Striker, who was seen taunting the Neyland Stadium crowd following the Sooners' double-overtime win.
HE SAID IT, THE FINAL ONE
"We won the game, but that's not acceptable. You guys should be embarrassed having to write about it." — An unhappy Jim McElwain, following Florida's uneven seven-point win over East Carolina in Gainesville.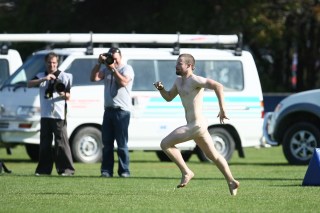 STREAKING
Two wins to start the 2015 season has pushed Ohio State's nation's best winning streak to 15 straight.  Up next are TCU (10), Memphis (nine), Western Kentucky (seven), Michigan State (six) and Navy (five).
The "honor" of the longest losing streak had belonged to Georgia State, which had lost 12 in a row until Saturday night's 34-32 win over New Mexico State.  The win also marked GSU's first-ever win over an FBS-level team as an FBS team themselves.  Additionally, Colorado ended its nine-game losing streak, the longest amongst Power Five teams, with a 48-14 win over UMass.  With those outcomes, UNLV now owns the nation's longest losing streak at eight straight.
MY ANNUAL REMINDER THAT…
… Notre Dame, UCLA and USC are the only teams that have never played a non-FBS/Div. 1-A school since the current setup was established in 1978.  Following the 2016 season, and because of a conference mandate, Big Ten teams will no longer be permitted to schedule games against FCS programs.
S.I.D NOTE OF THE WEEK
In a claim that the great Kellen Moore can't even make, Jake Browning became the first true freshman to win the starting quarterback spot as well as the first true freshman QB to start for head coach Chris Petersen at either his current home of Washington or his former home of Boise State.
S.I.D. NOTE OF THE WEEK II
UNLV's Tony Sanchez is just the fifth man in the modern era of college football to move directly from being a head coach at a high school to being head coach at a university that was part of what is now known as the FBS. Sanchez, of course, only had to move across the city after going 85-5 in six seasons while leading 2014 national champion Bishop Gorman High School in Las Vegas. Jim Bradley, who passed away in August, was the first to do it when he went across town to take over at NMSU.

S.I.D. NOTE OF THE WEEK III
The meeting with UCF marked the first for Stanford against a current FBS program from the Sunshine State. Stanford faced Pensacola in 1903 and 1904 when the team was stationed in the San Francisco Bay. Stanford has won three postseason games (1986 Gator Bowl, 1993 Blockbuster Bowl, 2011 Orange Bowl) played in the state of Florida.
S.I.D. NOTE OF THE WEEK IV
Thursday's game at Western Kentucky marks Louisiana Tech's first return to Bowling Green since 1939, a span of 76 years. That gap between trips to Bowling Green is the longest in school history between trips to a single opponent. The previous longest drought was a 62 years in between trips to Baton Rouge to face LSU (1941 to 2003) as well as 62 years before returning to New Orleans to face Tulane (1936 to 1998).
OFF THE CHARTS
Courtesy of the Louisiana Tech sports information department

OFF THE CHARTS, PART II
Courtesy of the Michigan State sports information department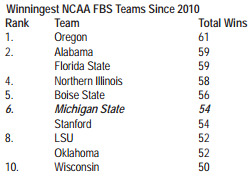 OFF THE CHARTS, PART III
Courtesy of the Mountain West sports information department

OFF THE CHARTS, PART IV
Courtesy of the Oregon sports information department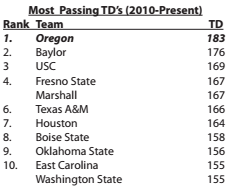 SAY WHAT?
Qadree Ollison became the first freshman in ACC history to run for 200 or more yards (207) in the Week 1 win over Youngstown State and he did it in just the second half after an injury sidelined Pittsburgh's James Conner.
DULY NOTED
V'Angelo Bentley is the only player in Illinois history to record a kickoff return, punt return, interception return and fumble return for touchdown in his career. Harold "Red" Grange is the only other Illini player with kickoff, punt and interception returns for TDs, but he never returned a fumble for a score.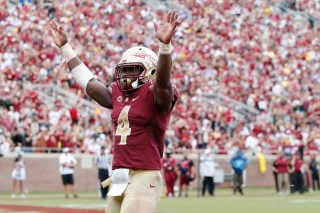 DID YOU KNOW THAT…
… Dalvin Cook's 266 yards rushing were the second-most in Florida State history?  Cook's performance is topped only by Greg Allen's 322 yards in 1981.
… Kentucky's win over South Carolina in Columbia ended a 22-game losing streak in true road games?
… Miami sophomore running back Joe Yearby posted career-highs in all-purpose yards (243), rushing yards (146), receiving yards (97) and touchdowns (two, one each rushing and receiving) in the Friday night win over FAU?  Fellow running back Mark Walton set a career-high for rushing touchdowns with three in that victory as well.
… Utah State's Chuckie Keeton last weekend became the second FBS quarterback to ever start five season openers, joining Tulsa's T.J. Rubley (1987-91)?
… Wake Forest linebacker Brandon Chubb has a brother, Bradley Chubb, who is a linebacker at North Carolina State while his cousin Nick Chubb is a star running back at Georgia?  Additionally, he had another cousin who played defensive back at Georgia while his father was a linebacker at UGA.
… Washington State linebacker Peyton Pelluer's dad (Scott, 1977-80), grandfather (John, mid-fifties) and great-grandfather (Carl, twenties) all played for Wazzu?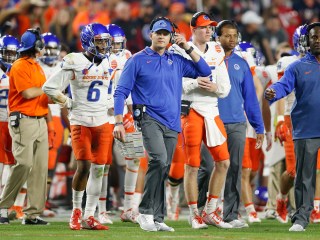 … this season there are 14 individuals serving as the head coach at their alma maters? Those are Troy Calhoun (Air Force), Bryan Harsin (Boise State), John Bonamego (Central Michigan), Ruffin McNeill (East Carolina), Paul Haynes (Kent State), Jim Harbaugh (Michigan), Pat Fitzgerald (Northwestern), Mike Gundy (Oklahoma State), David Shaw (Stanford), Kliff Kingsbury (Texas Tech), Matt Wells (Utah State), Sean Kugler (UTEP), Frank Beamer (Virginia Tech) and Paul Chryst (Wisconsin).
… Oregon had been a wagering favorite for 46 straight games before they headed into their game against Michigan State as three-point underdogs?  Alabama has a current streak of 69 straight games as the favorite, which is tops in the country.
… Sept. 12 marks the latest LSU has opened a season since 1998 when the Tigers beat Arkansas State 42-6 on Sept. 12? LSU's original 2015 opener against McNeese State last weekend was cancelled due to weather in general and lightning specifically.
… UCF's game against Stanford Saturday was its first against a team from the state of California?
… with the win over North Carolina Central, Duke has started a season 2-0 for the third straight year for the first time since a streak of six in a row from 1949-55?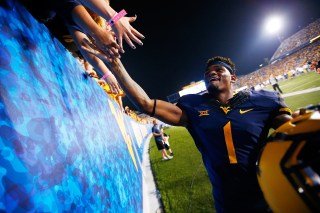 … in 2014 and 2015, West Virginia posted back-to-back shutouts in home season openers at Mountaineer Field at Milan Puskar Stadium for the first time in program history?
… Washington State's Bob Robertson is the longest-tenured radio play-by-play announcer in college football with 49 years behind the mic?  The first time Robertson was on the radio call for a Wazzu game, a gallon of gas would set you back 30 cents.
… with the Illinois game originally scheduled for last Friday night delayed because of lightning, Kent State has had postponements in each of their last two road trips? The first of the two was Buffalo last November because of a snowstorm.
… there are just three Group of Five teams that have played in at least five straight bowl games?  That trio consists of Boise State, Northern Illinois and San Diego State.
… there are just six teams that won't play back-to-back home games this season? The unfortunate six are FIU, Louisiana-Monroe, Middle Tennessee, San Diego State, UMass and Western Kentucky.
… Tulsa was the first school to play in five straight New Year's Day Bowl Games? Those were the Sun Bowl (1-1-42), Sugar Bowl (1-1-43), Sugar Bowl (1-1-44), Orange Bowl (1-1-45) and Oil Bowl (1-1-46).
… only Hawaii and New Mexico State will have all new offensive, defensive and special teams coordinators in 2015?
IN CLOSING
Friday night, and in his first career start as a sophomore, Dubois (Pa.) Beavers quarterback Matt Miller passed for what's believed to be a national high school record 782 yards, helped lead his team to 90 points… and lost.  That's in large part because Meadville's Journey Brown ran for 722 yards and 10 touchdowns in leading the Bulldogs to a 107-90 win over the Beavers.  Deadspin.com writes that Brown "had a chance to set the national high school record [for single-game rushing yards], but the Bulldogs took a knee" at the end of the game.